The moss wall art technique is a standout solution for anyone who wants to add greenery to their space but doesn't have sufficient natural light to support live plants. The living walls created by this method are visually captivating and help filter the air in your room, making them a perfect addition to workplaces and home offices. Moss is a great way to create a statement within your home. Whether you add it to your walls or as a decorative element on shelves and tables, many DIY moss wall art ideas can be achieved with the simplest of supplies. Here are some unique DIY Moss wall art ideas for creating your own moss room.
Moss walls are the new interior design trend. Its subtle, organic look is perfect for the minimalist's home, and adding a moss wall is an easy way to give any room a unique and classy feel. So, Add a natural wall art touch to your apartment with these DIY moss wall art ideas! These unique, one-of-a-kind designs are great for any space, from a bathroom to your bedroom. These designs are perfect for personalizing spaces and making them more enjoyable or relaxing.
These 23 DIY Moss Wall Art Ideas might be just what you need to create a beautiful, natural focal point in your home.
Benefits of DIY Moss Wall Art ideas:
The moss wall art ideas have been in the market for a long time. The moss wall art is straightforward in adding a natural element to your home décor. It is also an excellent choice for those who want to create a natural look without spending too much money.
Here are the benefits of DIY Moss Wall Art ideas:
It's cheaper than other types of wall art – One of the main benefits of DIY Moss Wall Art ideas is that it is much cheaper than other types of wall art. You can buy a roll of moss canvas at any nursery or home improvement store for less than ten dollars, and if you have some extra time on your hand, you can also grow your own moss from scratch! You can use this material as a backdrop in many different ways, including framed photographs and paintings, or as a display for small plants like succulents or cacti.
You can customize them according to your taste – The great thing about DIY projects are great that they allow you to be creative and express yourself by adding your personal touch to them. This makes them truly unique! There are no rules when decorating with moss; they will look great anywhere in your home if you have enough patience.
How To Make A Faux Living Moss Wall
If you love the look of a bit of greenery, but don't want to maintain a plant, try making a faux moss wall! It will add some natural elements to your home. This is one project that is as easy as it looks. It will add some natural elements to your home. This is one project that is as easy as it looks. A faux moss wall art adds a warm and cozy vibe to your living room or bedroom. You can create this unique wall art with just a little hot glue and some Mood Moss!
Related:
Preserved Moss Wall Art
Moss wall art is a trending home decor idea. It's eco-friendly, easy to maintain, and can bring a natural touch to any space. This DIY project makes a great gift for the gardener in your life. This DIY preserved moss wall art tutorial will take you through all the steps needed to make a stunning moss art board, from choosing your materials to mounting it on your wall. It will look great on a pale-colored wall or next to a plant.
How To DIY A Preserved Moss Wall
A moss garden is a way to add greenery and color to your home. The low maintenance makes it an easy plant to have around, and the natural foliage acts as an excellent air purifier. It also looks cool when you mount dried mosses and use them as art pieces around the house! Moss walls are a popular design choice for garden rooms and conservatories. Preserved moss is easy to install and can be painted any color you like.
DIY Moss Art Wall
These unique and modern wall decorations will give your home a warm, inviting, and relaxing vibe. Make it easy on yourself by using natural moss instead of fakes. Not only are these easy to create, but they are very inexpensive as well! And the best part? This eco-friendly project is perfect for any space, no matter where you live…even if it's in the middle of nowhere! This moss art wall decoration is easy to make and can be done in just a few hours. It also helps that no expensive tools need to be purchased to make this moss art decoration, making it an affordable DIY project for anyone who wishes to bring some nature into their home!
Easy DIY Moss Wall
Moss walls offer a natural touch to your home, providing a soothing, relaxing feeling wherever they are placed. The DIY easy DIY Moss Wall is fun to make and will add instant charm to any room in your house. There are many benefits to using moss as décor. Moss creates a feeling of peacefulness, and it brightens up any room. It is also easy to grow, making it the perfect addition to any indoor space. It's attractive, especially in bathrooms and nurseries.
Huge DIY Moss Wall
Looking for something different? You've found it! This DIY moss wall art is the perfect addition to any living space. With a guide to making it, you can create this unique piece of nature on your own. The finished product is a modern wall hanging that makes a great centerpiece in any room and will make any home feel less sterile and cozier. Create your moss wall art! This beautiful DIY piece combines nature and modern design. With a step-by-step video guide and everything you need to create the moss wall art, this is an ideal present for any avid gardener or nature enthusiast.
Preserved Moss Wall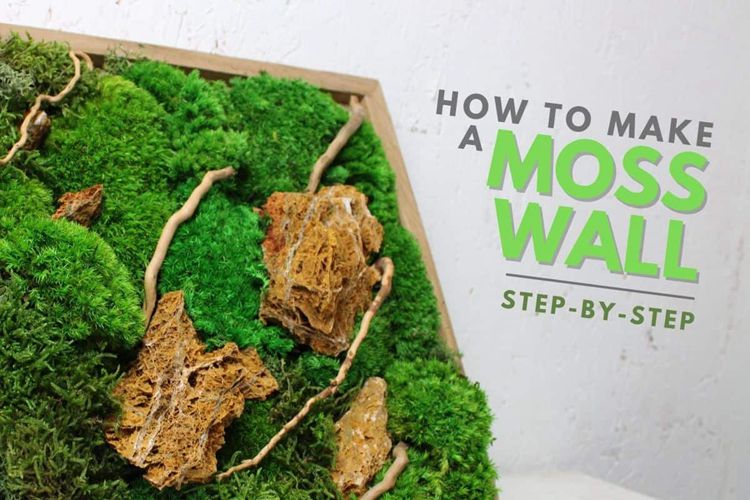 This tutorial guide will show you how to make a moss wall that looks professionally done. Moss walls are beautiful; natural decorations will give your room a fresh look and feel. They also play a significant role in the health of your houseplants because they help retain moisture and provide nutrients to them. A preserved moss wall is easy to make and provides a beautiful treatment for your walls. The art can be used as a feature on its own or in combination with other design elements such as candles and fresh flowers.
A fantastic DIY tutorial. terrariumtribe
How To Make A Moss Wall
Moss walls are a beautiful way to go green and are super easy to make. Moss walls look great in your bedroom, bathroom, or office. This wall art project is simple to create and will add a fantastic accent to your home. By combining fairy lights and Ecoscraps panels, you can create a green accent for your home in just a few steps. It not only helps you preserve money on decorating, but it also helps save the environment.
Making A Moss Art Wall
The video guide shows you how to create your moss art. Get the kids in on this fun project and get your room looking more like a garden with no extra effort! Create a one-of-a-kind piece of art with the DIY Moss Wall Art. It's easy to create, with simple step-by-step instructions and different design options that you can mix and match. Make this a fun craft for the whole family. The moss is already attached for you, so there is no need to worry about handling it or growing your own - pick your favorite design!
Mini Self Watering Moss Wall
Love nature and are interested in gardening? If you are, this DIY mini self-watering moss wall is the perfect addition to your home! Constructed out of glass, it has been designed to be attractive and convenient. This self-contained system has a submersible pump and gooseneck light that ensure minimal effort is required on your part. Grab hold of this beautiful piece now! The mini terrarium grows that excellent green carpet of moss without needing to be watered daily with a simple tilt of the table. Refill with water when it appears dry.
How To Build A Moss Wall
Although building a moss wall may seem daunting, creating your own can be pretty simple and inexpensive. In this video, you'll learn how to ensure that the wall you build is beautiful, sturdy, and long-lasting. Moss walls are ideal for hallway spaces or other areas that aren't necessarily dedicated to single-purpose decors, like the dining room or kitchen. They provide a unique feature that is both interesting and eco-friendly. You'll also learn how to care for your moss walls so that they last for years.
DIY Moss Art
Add a touch of outdoors to your interior with DIY moss art. This fun and easy craft is a great way to decorate your home, office, or nursery. It's reusable, too: Change its look any time by adding more moss or removing some to emphasize certain areas of your design. Moss art is a beautiful and natural DIY project you can do in minutes. This art style is versatile and can be made on nearly any surface. They are so low-maintenance that you can leave them as they are or create your custom touches to make them truly original.
Moss World Wall Art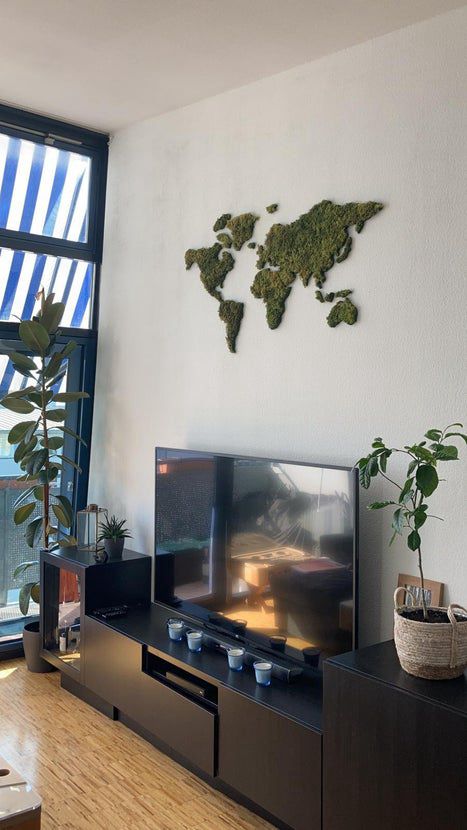 This DIY moss wall art adds a rustic, organic touch to your walls. The process is simple and uses minimal materials, so it's perfect for budding artists who like to create. Make your walls unique with this DIY moss world wall art using preserved mosses, food color, and hot glue. This project is easy to make and looks fantastic. A perfect gift idea for mothers, friends, or anyone who loves nature and handmade items.
Living Wall Art
Get your home prepared for spring with this DIY Living Wall Art project. This design uses faux plants to last longer than real ones to create the illusion of a thriving and blooming garden. If you love nature and want to bring some green into your home without spending too much money, this is the way to go! Your next living wall art project can be created quickly, inexpensively, and with the help of these step-by-step instructions!
Moss Map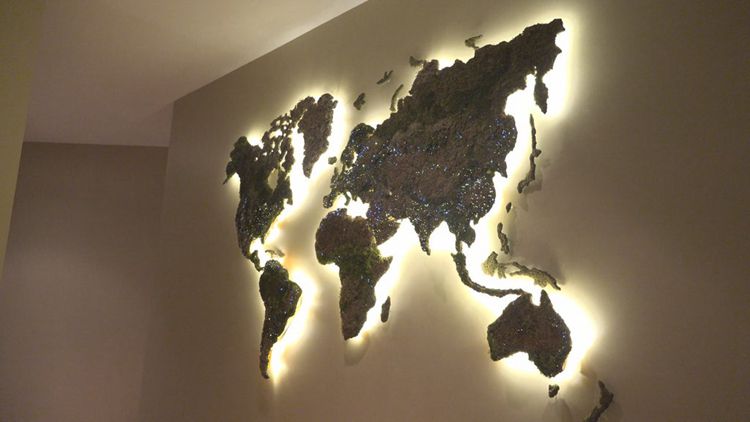 Bring nature into your room with this DIY moss map. It's easy, affordable, and beautiful - made from wood and preserved moss, you can use an Arduino LED light control system to change its colors at night when the glow-up begins! This living wall art is an excellent project for your home, whether you're a DIY enthusiast or love moss-covered walls. You'll learn how to make a moss map that changes colors at night when the glow-up begins.
How To Build A Frame For Moss Art
Moss art is a beautiful way to show off your green thumb or bring the outdoors inside. Moss is a beautiful thing, and there are many different types of moss that you can use in your artistic endeavors. A common way to display moss art is to mount it on a piece of wood, then hang it on the wall or attach it to something else. You can make this simple frame out of regular flat wood or use recycled materials like branches and twigs. You can even add a lovely open back to the frame for some dramatic effect.
DIY Living Moss Picture Frame
Easy steps will teach you to make a living moss picture frame in this video. All you need are three materials: (1) an art panel, (2) decorative gravel, and (3) live moss. Start by attaching the panel to your wall and filling the frame with decorative gravel. Next, place the live moss on top of the board from one end to the other. When it's finished, it will look like an expensive piece of design that blends nicely with any room in your home! All of this for less than $10? Yes — and it won't break your bank account either! With this easy tutorial, anyone can create their own living moss picture frame in no time.
How To Build A Moss Wall Terrarium
Did you understand that mosses have no roots, stems, or leaves? They grow as a layer over rocks, rotting trunks, and other materials on the ground. Mosses also thrive in the wild's damp or humid areas, making them ideal for living in terrariums. Moss terrariums are miniature gardens that take your living room from drab to fab! They're easy to make and a way to re-purpose glass containers. This tutorial shows you how to build your moss wall terrarium step-by-step, so let's get started!
How To Create A DIY Moss Wall
Pearl and Moss are the most versatile wall decor you will find. They can be used to create a beautiful moss wall or form a stunning centerpiece flower arrangement. The process outlined in this tutorial will show you how to create a DIY moss wall using simple white picture frames, Moss, stones, crystals, or any other decorative material that suits your tastes! This process is easy and can be done in any room of your home or office.
DIY Moss Wall Art
Green wall art is a creative and easy way to bring nature indoors. Whether it's your bedroom, living room, or office – mosses are low maintenance and will add a touch of a natural feeling. Being a natural product, live moss wall art will dry out if it isn't hydrated. Keep your mosses happy by feeding them every few weeks with water and air – a little misting and gentle brushing does the trick!
DIY Moss Wall
Transform your living space with this DIY project. You can easily make moss wall art by creating a small square of contact paper and hot gluing moss bags. These steps will guide you in creating the perfect focal point piece for any room in your home. This DIY video will have you make a moss wall art with floral moss bags! Use this easy-to-make project to decorate your home with a beautiful, natural touch.
DIY Moss Tree Wall Decor
This project is an easy, affordable method to add natural beauty and impact your home decor. It does not require much effort or time, but it does require patience. The results are stunning! Moss trees are the ideal decor for a wall in any room, but it can be tricky to find one that suits your interior style. By making your DIY version using moss and natural greenery, you can make a living piece of art that matches your taste. It's perfect for any decor - from traditional to modern- and will definitely give your room a "wow" factor.
Moss Wall For Aquarium DIY
Take your decoration to an extraordinary level and make one of these moss wall aquariums! With this project, you'll be able to create a unique aquatic scene using a variety of colorful plants. You'll love how this aquarium looks in your home and how easy it is to keep up with. You can create this unique aquarium by following the easy steps presented here. With just a few simple supplies and a little patience, you can build your moss wall aquarium in no time.
Related: