If you're looking for a fun, effortless weekend project, consider making some yard art. Whether you're already in the middle of a garden renovation or just getting started, plenty of DIY yards art ideas will give your space a unique look and feel. They're relatively cheap to make and, in most cases, don't require heavy equipment. You can use scrap materials from around your house and add your personal touch to them. Get creative and see what you come up with!
There's nothing like having an outdoor space adorned with fun, colourful decorations. As summer winds down and the weather gets cooler, you may want to consider creative ways to decorate your garden while it's still in season. Here are some unique DIY projects that will help you add a little life to your lawn or garden so that you never have to worry about the great outdoors looking dull.
If you're looking for a fun, innovative way to add some colour to your outdoor space, we've got 8 DIY yard art ideas to inspire you!
Benefits of DIY Yard Art Ideas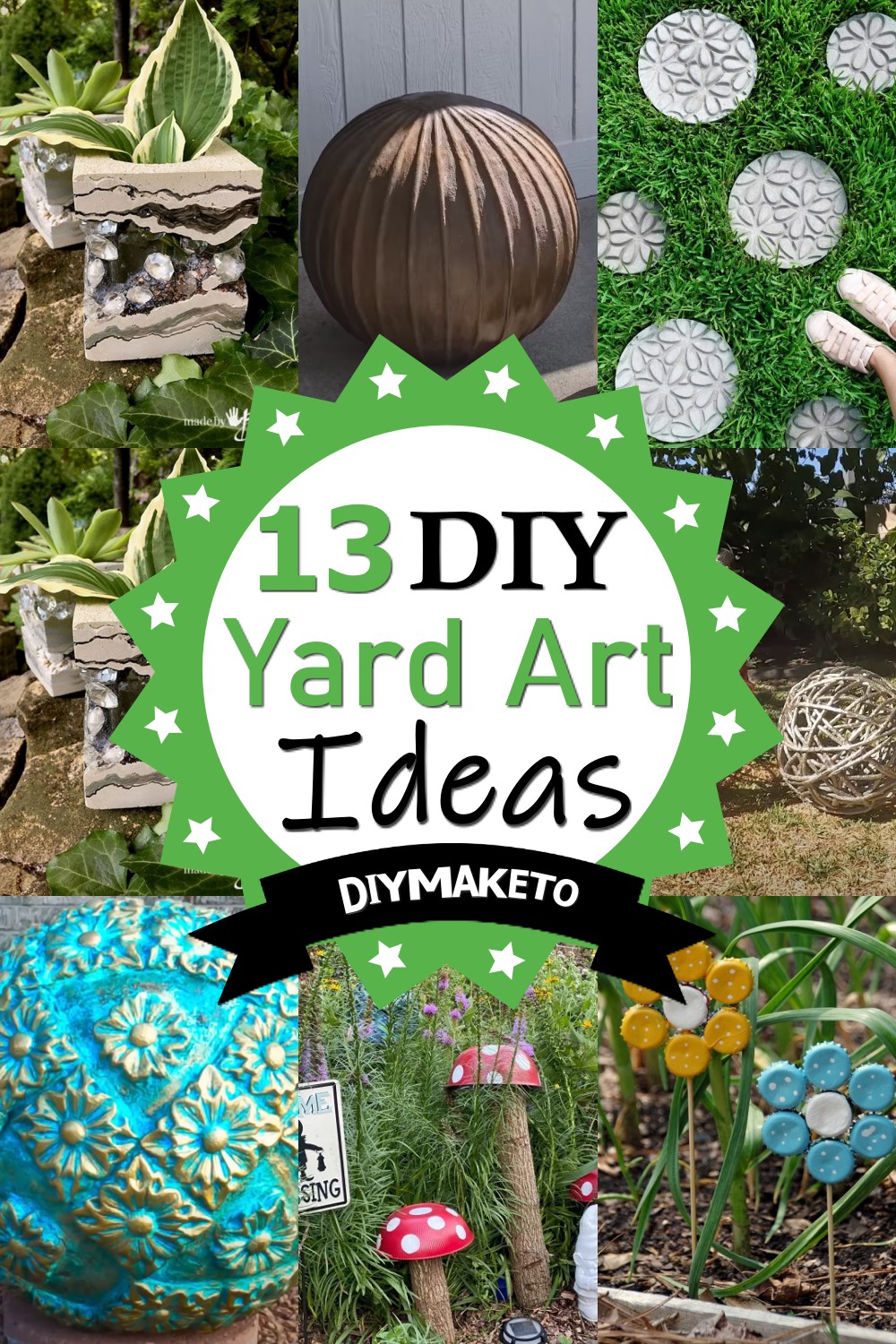 1. You can create and design your yard art projects in any way you like.
2. You can make it fit your style and personality.
3. You can use any materials you want for your DIY yard art project, whether wood, metal, stone, or anything else.
4. You can start from scratch and create something completely new or modify an existing piece into something new and unique.
5. It's great for the environment because there is no need to cut down trees or destroy other natural resources to create something beautiful for your home or garden.
DIY Embossed Stepping Stones
Create a unique pathway in your yard with this DIY Stepping Stones project. A charming addition to any lawn, these individualized stones will guide your steps across the grass. Not only functional, these DIY stones will also serve as standout yard art pieces, enhancing the overall aesthetic of your outdoor space.
Unique Layered Concrete & Jewel Vases
Enhance your outdoor decor with unique layered concrete and jewel vases. Introduce a dash of creativity to your yard art by shaping original vases with layered concrete and a sparkling jewel core. This innovative idea ensures your vases are a stunning conversation piece and an attractive highlight of your space.
Easy DIY Cement Pot And Garden Art From A $2 Ball
Create elegant, low-budget yard decor using a simple DIY method for a cement pot. Gather minimal materials like concrete, a rope, a ball, and paint. The process involves wrapping a concrete-dipped rope around the ball, letting it dry, and then extracting it. Finally, paint the resultant hollow round centerpiece for a charming and inexpensive addition to your yard.
DIY Concrete Balls Painted
Enhance your yard's appeal with a DIY Concrete Balls Painting project. This easy, art-inspired task involves preparing cement balls in diverse designs and painting them according to your yard decor. It's a perfect way to infuse your personal touch into your outdoor space quickly.
DIY Large Cement Orb Sculptures For A Beautiful Home
Enhance the aesthetics of your living space with these Large Cement Orb Sculptures. These spherical art pieces elevate home and garden creativity, presenting various design possibilities. Try creating an edging pattern like the one in the photo, or experiment with different color schemes.
How to make Sea Glass Stepping Stones For Yard Art:
You'll learn how to make sea glass stepping stones in this video. Make unique stepping stones, perfect for your garden or to decorate the front of your home. Just collect the beautiful sea glass you find on the beach and glue it to these pre-made concrete stepping stones. Making mosaic stepping stones is a fun, easy project that anyone can do in their yard. These beautiful sea glass stepping stones are perfect for patios and pathways. They work great on a path to the front door, as part of an outdoor kitchen design, or even as a decorative element in your garden bed!
Difficulty Level: Moderate
Tools: Plastic tub, paintbrush
Materials: Sea glass, cement, spray paint
DIY Copper Garden Art From Copper Tubing:
If you love the look of copper, try creating your garden art with it. Use a section of copper tubing to create a lovely piece of wall art, or find a larger project like this diy. Copper has become a hot trend in decorating over the last few years, so why not take advantage and add some beautiful copper items to your home? You can create awesome DIY Copper Garden Art from copper tubing available at your local hardware store. Get crafty and turn this copper into the garden art piece of your dreams.
Difficulty Level: Easy
Tools: Tin snips, tape measure
Materials: Nursery pot, copper pipe, concrete
Related:
Make A Bottle Cap Flowers For Frugal DIY Garden Art:
Make a decorative garden art by creating your bottle cap flowers. You can use old soda or beer bottles to create these colorful and fun lawn ornaments. They are a great way to use up those caps that accumulate over time and make your yard look more original than the white-washed bottles you have seen. All you need is some canning rings, glue, and a couple of other common items to create these colorful flowers that will help to liven up any outdoor space in your home.
Difficulty Level: Easy
Tools: Glue gun paintbrush
Materials: Bottlecaps, wooden skewer, paint
Recycled Garden Mushrooms Yard Art Idea:
This DIY Recycled Garden Mushrooms Yard Art Idea is the perfect way to add life to your dull backyard. This easy-to-make Mushroom yard decoration will transform your yard into a fun and colorful area that guests will love! Plus, it's a great idea for a DIY birthday party or anniversary gift. You can use real plants or artificial flowers with this craft project; it will look great either way! This simple tutorial shows you how to make a recycled yard art mushroom garden. A perfect project for those short on time and a budget.
Difficulty Level: Easy
Tools: Paintbrush
Materials: Spray paint, round bowls, glue, thick branches or tree stumps
DIY Yard Art Pitcher Idea With Bling: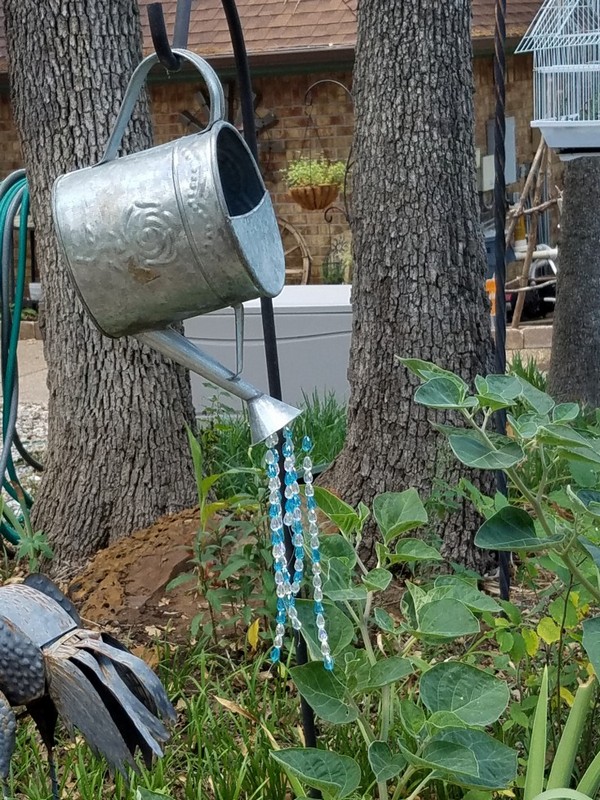 Showcasing your favorite drink has never been easier! With this DIY Yard Art Pitcher idea, you can easily make a pitcher that adds some fun to your patio or garden area year-round. It is a great centerpiece for entertaining and is also perfect for parties. The best part of this craft is that adding bling is easy and gives the illusion of being perfectly polished! This outdoor decor provides you with a sense of perfect ambiance and durability.
Difficulty Level: Easy
Tools: Scissors
Materials: Old watering can, plastic beads
3 DIY Screwball Flowers Yard Art Idea:
If you love flowers but don't have the time, patience, or green thumb to grow real flowers back in your home, this tutorial is for you! These screwball flowers are a fun and easy way to create a bunch of colorful wooden balls on any wall or fence. You can power drill your wood and screw the screws into each ball, even if it's "invisible" under the ground, away from view. Make something beautiful from recycled materials by turning the screws into beautiful flowers. The rustic aesthetic style of this project is both easy to create and offers the bonus of making your home more unique.
Difficulty Level: Easy
Tools: Drill
Materials: Wooden ball, screws, spray paint, metal rods
DIY Stone Cactus Yard Art Idea:
Make a one-of-a-kind cactus garden with this simple DIY project. The easy way to create a beautiful backyard oasis is by planting a variety of succulents in different sizes and colors. Find an interesting container, add your plants of varying heights, then mix and match them to create an eye-catching display. You can also mix succulents with other flowering or non-flowering plants; have fun playing with color combos!
Difficulty Level: Easy
Tools: Paintbrush
Materials: Rocks, sand, paint
DIY Plywood Crafts Holiday Yard Art Decorations:
This yard decoration project demonstrates how you can make fantastic decorations to celebrate the holiday season and spread some cheer. You only need a few plywood scraps, paint, and a little inspiration! You'll be able to quickly and easily make various festive plywood lawn decorations to decorate your front yard—or anywhere else you want. You have free reign to let the creative juices flow, so don't be afraid to get creative! These holiday crafts can be used as colorful and beautifully simple yard art year-round.
Difficulty Level: Moderate
Tools: Jigsaw
Materials: Plywood, paint, screws
See More Projects
23 DIY Moss Wall Art: Bring nature indoors and create your unique, tranquil oasis in no time by following these 23 DIY Moss Wall Art ideas.
29 DIY Squirrel Feeder Plans: Get close to nature with our 29 DIY Squirrel Feeder Plans. Create fun, efficient feeders to entertain squirrels and add life to your backyard.