The DIY Fish Tank is a no-fuss, low-cost way to feed and protect your favorite pets. It's an affordable solution for those looking to get their feet wet in the hobby of fish-keeping! Here are some unique DIY Fish Tank Projects that will walk you through all the materials required, plans, and information on how to build your own aquarium. These DIY fish tank projects and patterns are perfect for anyone that loves to be creative and make something with their hands. So, Learn how to build a beautiful fish tank with the step-by-step instructions and tutorials below.
DIY Fish Tank Projects And Ideas
The DIY Fish Tank plans are a great way to have your own fish tank home. With these plans, you can build your own fish tank without spending too much money or buying aquarium supplies. The best part of these DIY Fish Tank plans is that they are cheap and easy to follow. All you need is some essential tools and materials, and you will be able to construct your own fish tank in no time! This will be an excellent project for anyone who wants to learn how to build something fun and valuable simultaneously. To get started with this project, you should check out these DIY Fish Tank plans today!
If you are looking for a great way to keep your fish happy and healthy, you should build one of these 24 DIY Fish Tanks and make sure that your fish feels at home.
See More: DIY Seashell Crafts To Make This Summer
Advantages of DIY Fish Tank plans:
Fish tanks are great for home decor and entertainment. They are also a great way to encourage learning as your children grow up. This article will give you some ideas on how to build a fish tank that you can do yourself.
Some common Advantages of DIY Fish Tank plans are listed below
You can save money. You may be able to build one for less than it costs to buy one already made. If you have the time, you can make one yourself from scratch or plans found online.
You will get precisely what you want! You don't have to settle for what's available in stores if you want something different or more specialized for your needs. For example, if you want a large tank that wouldn't fit through your door or down your stairs, buy the supplies and build it yourself!
It's fun! Building things is fun, whether it's an aquarium or some other type of project. This can be a great way to bond with family members while simultaneously getting something done around the house.
DIY Tv Cabinet Shelf With Aquarium
Making The Best And Easiest DIY Aquariums
How To Build An Aquarium
How To Make A Simple Fish Tank
Unique Fish Tank From Tubelight
DIY Glass Aquarium
Do you want to make your own aquarium? DIY Glass Aquarium gives you ideas for creating beautiful, natural-looking aquascapes with clear step-by-step instructions. Use it as a decorative centerpiece or home for your aquatic pets. It comes with everything you need to set it up, from the glass bowl to the pump and water filter. This aquarium is perfect for your home, office, or dorm. It's easy to clean and will look great in any space. With this guide, you can start showing off your aquatic creatures in minutes!
Related:
How To Build An Aquarium At Home
Have you ever desired to have an aquarium at home? If so, then this is the project for you. You can build your own aquarium at home without needing professional help. This guide will show you how to create a beautiful tank that will be a focal point in your home. This is easy to clean and maintain. Aquariums help you relax as well as provide entertainment to the whole family.
DIY iMac Fish Tank
This DIY iMac fish tank is a great way to re-purpose an old desktop computer. A fish tank is usually the first thing people think of when upgrading their desks; as it turns out, it's not a bad idea! The fish will enjoy being able to interact with plants and other objects in your space, just like they would in nature. Make a stunning fish tank out of your old iMac. It's easy, cheap, and the best part: If it breaks, you can take it apart and use the monitor for something else.
DIY Fish Tank
If you love the look of fish tanks but don't have the space for something large and complicated, this DIY model is for you. All you need is a few simple materials and a little time; it's possible to do this project with kids. Learn how to create a beautiful DIY fish tank by following these simple steps. This is the perfect addition to your home, office, or any room that could use some color and character! With step-by-step instructions and pictures, this DIY project will be finished in no time!
DIY Plastic Bottle Fish Tank
Make this cute, breathable fish tank for your pets! The plastic bottle fish tank is made from a simple plastic bottle and a few other materials you probably have lying around the home. You can easily customize it to make it unique or to fit your pet's personality. Simply follow the instructions in this video, and you'll be set. Follow along as the video shows the creation of a small plastic bottle fish tank, complete with water and decorations.
DIY Aquarium
This simple DIY aquarium project is excellent for children of all ages. It's fun to introduce kids to science and animal care by allowing them to observe nature as it unfolds in their own homes. This DIY Aquarium is a great beginner tank and can hold small, peaceful fish or plants. It would be best to use this aquarium for the initial maintenance of your pet or to get them started in the world of aquariums!
Homemade Fish Tank
This DIY fish tank is a great way to put your creativity to good use. Not only will it look great in any room, but you can also make a custom aquascape no matter how limited your space or budget is. You'll have something to show for your efforts and have set up an environment that's unique and all your own! This tank is a fun project that you can do with your kids. With its simple design, it will be easy to put together as well as maintain. Each fish tank has its own unique design, so you can choose one that suits your fancy.
DIY Plastic Bin Fish Tank Setup
The DIY Plastic Bin Fish Tank Setup can be built in just a couple of hours and requires only a few materials. Packed with texture and movement, this plastic bin aquarium is ideal for small fish. This simple, cheap way to make a fully functional fish tank. It's not loud and pumps the water up and down like an actual ocean level. This is the perfect weekend DIY project and is great for children and adults alike. Be sure to get everything beforehand so you can start assembly as soon as possible!
DIY Mini Aquarium
Have you ever desired to have an aquarium at home? Now, you can build your own small tank and watch the fish swim around. DIY Mini Aquarium will allow you to cultivate your own aquatic plants and aquatic animals, an excellent addition to any home or office. It can be placed on your windowsill or the table; it can take its place in the center of the room or one corner. This small fish tank has a decorative design that allows it to fit almost anywhere. Follow the straightforward steps in this guide below to make your own mini aquarium!
DIY Cardboard Fish Tank
Have you ever thought of building a fish tank out of cardboard? Well, now you can! Easy to assemble and fun to decorate, this DIY aquarium is the perfect addition to any household. It's easy to bring your pets into the home and offers a unique look for displaying marine life in any living space. The project does not involve cutting or drilling, so it's excellent for beginners. There are no limits to what you can create as a fish tank. Use recycled materials and anything from hobby stores to make your own unique aquarium that can be customized for any room in the house.
DIY Fish Tank
Are you a fish owner who has always wanted to own an aquarium but can't afford to buy one? Then this DIY Fish Tank is perfect for you. It is easy to assemble, affordable, and, most importantly, it can fit in your living space. It will accentuate any décor and give your home an exotic look. Learn how to build an impressive fish tank that is also a beautiful piece of art. This DIY fish tank will fill your home with a calming and tranquil atmosphere that will make any visitor feel welcome.
How To Setup A Fish Tank
Have you ever wanted an aquarium but don't know how to set it up? This guide will tell you everything you need to know about aquariums. A fish tank can be a fun and relaxing addition to a home or office. This guide will teach you how to set up a fish tank. You will learn about different resources needed to make an aquarium, including suitable materials, equipment, and accessories.
How To Build A Glass Aquarium
Building an aquarium for your home or office can be a gratifying DIY project. Learning how to build a glass aquarium is easy, and it will give you something beautiful and functional to use long after the project is completed. You can create an aquarium out of any type of glass, but it's best to have access to recycled glass tested for lead and other metals. This will ensure that you aren't harming your fish or yourself by using water from an unsafe source.
How To Make A 2.5 Feet Aquarium
Aquariums are a stunning addition to any home, office, or business. They create an inviting and calming atmosphere while enhancing the decor of any space. Don't just sit there! Dive into this fabulous DIY project this weekend and make your own aquarium tank! With this Tutorial, you will learn how to make a 2.5 feet aquarium complete with a light fixture and filter. You will be able to start your very own planted tank without spending a fortune on equipment. This will save you hundreds of dollars compared to purchasing most kits with everything, including chemicals and substrate.
How To Make Your Aquarium
Building your own aquarium is not as difficult as you think it is. The aquarium is something extraordinary and can be a great addition to the interior of your home or even bring joy to children motivated by nature and fish. Aquariums give reason to talk about them at all times. An aquarium is a miniature ecosystem requiring constant maintenance and careful planning. This DIY guide video teaches you how to set up and maintain an aquarium, from choosing and buying fish to plant selection and feeding your animals.
How To Make A Multi-Level Fish Tank
If you've been looking to make your own fish tank but don't want to spend too much money, here is a great and easy way to make a multi-level fish tank. The beauty of a fish tank is that you can customize it however you like. It's also great because you get fish to enjoy as pets and plants and rocks that look amazing in the tank. In this video tutorial, The creator shows you how to make a multi-level fish tank that looks great with just any decor and is straightforward.
Monster Fish Tank DIY
This DIY creature fish tank has a monster-standing structure and is super easy to put together. It creates the perfect home for your little monster fish and makes them feel safe and comfortable, just like at home! This colossal aquarium offers plenty of room to swim around or relax. In addition to providing your fish with water, the Fish Tank affords them a perfect environment to live in. the tutorial shows you the complete procedure.
DIY Fish Aquarium On A Budget
Are you looking for how to make a fish tank easy on a budget? This easy DIY video guide will show you how to build a beautiful, low-cost, unique fish tank out of recycled materials. No degree in engineering is required. This gorgeous DIY fish tank is perfect for someone looking to own their very first aquarium without having to break the bank. It also makes an ideal gift for a loved one!
DIY Robotic Fish Tank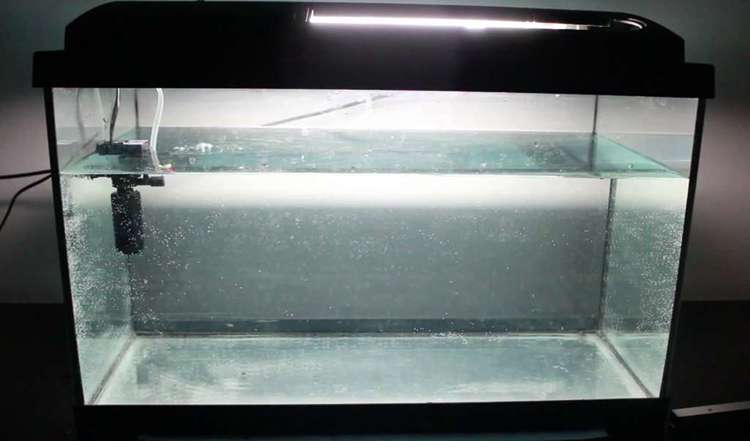 The DIY Robotic Fish Tank is the perfect gift or addition to your home. This fish tank is a great way to add a little fun and color to your living space. Not only does it keep your fish happy and healthy, but it also adds an element of class. Make your home more stunning and classy with the DIY Robotic Fish Tank. This system takes care of your fish, ensuring they are healthy, happy, and swimming in clean water. No maintenance or feeding is required, so you can focus on other things and enjoy watching your fish swim back and forth in their tank!
DIY TV Fish Tank
This DIY TV Fish Tank is a fun and creative way to upcycle your old tv frame. It's also a great way to engage your children (or children at heart) in their room decor, allowing them to express their creativity. The fish tank sits securely on top of the TV frame, holding water and fish securely. This impressive piece of furniture can be used for anything from a nightstand to an office desk – and it looks great no matter where you put it!
DIY Fish Tank Coffee Table
Your living room is the heartbeat of your home, So what better way to make your living space more personalized than a DIY fish tank coffee table? It lets you admire your fish and get creative with how you display them without taking up too much space. It's a perfect project for beginners looking for an easy-to-do, budget-friendly project. You can make your own one-of-a-kind piece of furniture in just a single day.
How To Build A TV Fish Tank
If you're looking for a fun and stimulating way to include your fish, the DIY TV Fish Tank is one of the best ways to build an aquarium into an entertainment center. Whether for your child's room or for entertainment, this project allows everyone to enjoy watching their fish swim back and forth amongst digital video game systems and televisions. Learn how to build a custom fish tank with this step-by-step guide. Fishing is a fun hobby. Consider turning it into a unique aquarium if you have an old TV or computer monitor sitting around the house.
DIY Fish Tank
Fish tanks can be expensive, but this DIY setup is perfect if you are passionate about fish and aquariums. It's easy to assemble and maintain; all you need are additional accessories like water plants, accessories, and feeders! This DIY fish tank is easy to set up and can be taken apart again quickly and easily. With its thick glass walls, this aquarium allows plenty of light for your fish and aquatic plants to thrive. It's modern, stylish, and simple—and provides a relaxed environment for your fish to swim worry-free.