If you're tired of looking at the same old boring computer case or want to make your computer look better, this list is for you. We've collected 21 DIY computer case ideas from all over the web, and they're all easy enough that anyone can do them. Some of these are simple, and you can even get your kids involved in creating their custom computer case. While some involve more skill and will take a little longer, they'll add a personal touch to impress your friends. Some are just fun and unique things to do with your old case when it's time to upgrade. Check out the list of DIY Computer Case ideas below!
If you're an electronics enthusiast and want to build your own computer, these DIY case ideas are precisely what you need. All of these computer cases are made with either wood or something similar, which means they can be customized to suit your needs. Creating an extraordinary computer case doesn't have to be complicated. Here are 21 DIY designs that will inspire you to build your own gaming or workstation.
If you are tired of boring old computer cases, why don't you make your own? Check out this list of 21 DIY computer case ideas.
 Benefits of building a DIY computer case:
You can build your own computer case and save money with DIY computer case ideas. You can choose the material you want for your computer case and make it according to your needs.
There are many benefits of building a DIY computer case:
Cost-effective: You will not have to spend thousands buying a new computer case when you can easily make one at home. This way, you would save money and get the same result as if you had purchased it from a store.
Customizable: You can customize the look of your DIY computer case as per your choice. You can also add features you want to include in your computer case. For example, add one to the design if you want a fan in your system.

Easy installation:

 Since these cases are made by hand, they are straightforward to install into any computer system or laptop without any risk of damaging them. Furthermore, they do not require special tools or skills to install them so anyone can do this job easily without problems!
DIY Compact Pc Case Wooden
Transform your ordinary computer case into an eye-catching, compact wooden masterpiece with this DIY idea. This small, stylish wooden PC is great for gaming, as it features an external space for a PC fan to exhaust heat efficiently. You will Elevate your setup and impress your friends with this sleek and functional addition.
DIY Wooden PC Case
Upgrade your computer with this DIY bent wooden case for optimal airflow and performance. Not only will it keep your PC cool, but it will also transform your ordinary setup into a stunning showpiece for your room. This chic and functional bent wooden case enhances your space and creates an eye-catching centerpiece.
Minimalist Wooden Itx Pc
To build this minimalist wooden ITX PC case, you'll need minimal woodworking skills and a bit of technical mastery. The project involves using two exhaust fans and mini PC hardware that can be customized according to your needs. It merges the simplicity of design with tech-inspired functionalities.
I Built a 3D Printed Gaming PC
Turn a regular computer case into a fashionable decor using the 3D Printed Gaming PC project. Upgrade your PC's look by carefully working on its parts and creating an eye-catching 3D-printed exterior. This project boosts your gaming experience and adds a visually appealing aspect to your setup.
DIY Wooden Computer Case
Why not make your very own wooden computer case? This computer case is made for people who like to be different and want to add a distinctive personality to their computer. This wooden case has all the usual features of a standard computer case but has the added advantage of being unique and stylish. This guide will walk you through the easy steps needed to create a stylish and unique computer case that can be customized with your personal touch.
Skill level: advanced
How To Build A Wooden Computer Case
Building your own computer case is a great way to learn more about computers and their inner workings. Building a computer case will save you money over buying a pre-made case and then putting parts in it. When building your own computer case, there are a few things that you should consider before starting the design process: form, fit, function, and finish. The process of building a custom computer case can seem daunting. But with the right tools, materials, and some patience, it's easy enough for anyone to create a great-looking, custom-designed computer case.
Skill level:  Beginners
How To Build A Lego Computer Case
Building your own computer case is fun and will add value to your home. Before you begin, ensure that you have enough space to fit your Lego computer case. You need patience, as it might take more than a few hours to complete the project. Building a computer using Lego is fun, exciting, and something you want to try. You may not be able to match the speed of modern computers, but your creation will be unique!
Skill level: Beginners
4.DIY Travel Comp uter Case
Looking for a fun weekend project with a DIY twist? Try making your own computer case! The process isn't as daunting as you think, and the results are gratifying. Whether you go for something bold and colorful or simple and classy, there's no denying that your new computer case will make an excellent conversation piece. If you've got the DIY spirit, it's time to tackle your first computer case. It's an excellent project for those who enjoy using tools and working with their hands.
Skill level: advanced
DIY Computer Case With Aerocool Dream Box
Whether you're a PC DIY enthusiast or simply looking to upgrade your home computer, the Aerocool Dream Box is exactly what you need. You can make a stylish, superbly crafted PC case that can be installed in horizontal and vertical orientations. With a larger top-opening panel, it helps you install the latest hardware with ease. This guide will show you the complete step-by-step instructions and follow-up steps.
Skill level: Intermediate
6. DIY Computer Case With Wood
This DIY computer case is an excellent project for DIY enthusiasts who want to make their own computer case. Using wood, you can build your own case without much trouble. It's perfect for those who want to save money and make something uniquely theirs. This computer case is made entirely from wood, giving it a nice rustic look. It's easy to make and can be completed in under a weekend.
Skill level: Intermediate
DIY Personalized Computer Cases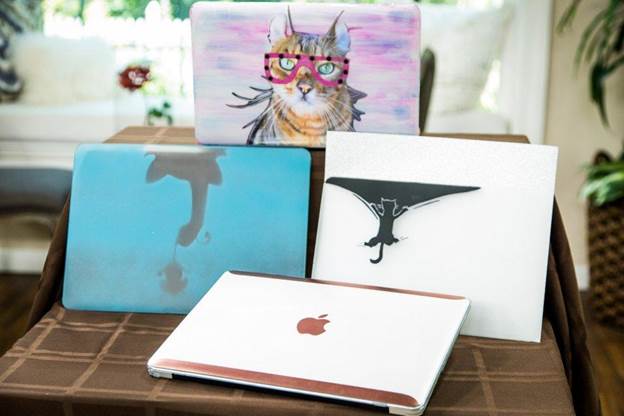 A personal computer case is a great way to customize your computer and make it unique. You can also use the case to add something extra to the room or even get ideas for other crafts you may want to try. Customizing your computer case is a fun, easy way to make it stand out from everyone else. Stickers, decals, or markers make adding a personal touch easy without the need for expensive professional equipment.
Skill level: advanced
DIY Small Computer Case
If you want a computer case that will not cost much and do not want to spend a dime on buying one, then DIY is the best option for you. You can build your own computer case at home using things readily available on the market. If you want to save some money and still get to have your very own DIY small computer case, then this guide is for you. Have a look at it that will help you save money without spending too much on it
Skill level: Beginners
DIY Wooden Computer Case
A computer is one of the most necessary pieces of equipment for a professional, and that's why you must ensure you have a durable case. The DIY Computer Case lets you build your own computer in minutes, with a minimum-tools-needed design and choices in colors. In this guide, you will look at the step-by-step instructions on how to build a wooden computer case with pictures!Skill level: beginners
DIY Computer Case using Ikea Ribba Picture Frames
A picture frame is a quick and affordable way to make a custom computer case. They are made of plastic, making them easy to assemble and disassemble when you need to move them. This also allows you to use pre-made panels of any size and shape. This DIY computer case is made out of IKEA Ribba frames. It's easy to make, and you can customize it based on your preferences. Use this tutorial to make your own!
Skill level: Intermediate
DIY PC Case Under $20
Creating a PC case is simple and fun. A computer case serves as a shielded housing for the components of your computer. It also cools the system's hardware and keeps dust and dirt away from those sensitive components. The DIY PC Case is perfect for those looking to create a custom computer case on a budget. This chassis has plenty of room inside for all your components, plus it's easy to assemble and looks great when finished. This video will show you how to Build a low-cost but reliable computer case.
Skill level: Beginners
How To Build A PC Case From Scratch
Are you looking for a new PC case? Do you want to build your own PC case? Then this video tutorial is for you! Building your own computer case can be quite an exciting experience. One of the best parts is that it's relatively inexpensive if you have the tools. All you need to do is drill holes in the base plate and mount the components. You'll also need patience, but in the end, you'll have a unique piece of art.
Skill level: Beginners
DIY PC Case
Building your own computer is the best way to get precisely what you want and need. You can turn your idea into reality with the DIY PC case. This video includes all the essential steps and complete procedures to make it easier to build a computer. This DIY PC Case is a great way to personalize your own computer. By using the few tools included, you can change the appearance of your case, making it unique and more attractive.
Skill level: Beginners
14. How To Make A Modern PC Case
A modern case can be an elegant and reflective statement about what you're using your computer for. Your computer case is an essential part of your system. It keeps dust out of the delicate circuits and contains fans to cool down your components. It'll also protect it from shock, dust, and other damage. If you're planning a custom PC, this video guide will help you choose the correct parts for your case.
Skill level: advanced
DIY Computer Case Engraving
Whether you're building your computer or just interested in using a custom engraving design on your case, this guide will show you several different methods for making your own. You'll need high-precision hand tools and an electric drill with appropriate electronics bits. The most accurate method, though it requires a little more work and patience, is by hand. This guide describes how to engrave your computer case by hand or with an automated machine. It covers several techniques and offers suggestions for creating your own designs.
Skill level: Advanced
DIY Computer Case
You will learn a lot about computers by building your own computer case. It's also a great way to save money because buying pre-made cases can get expensive. The DIY computer case is a wonderfully simple way to create a computer. It is a great way to learn how to build something, and if you make it the right size, you can even start small and grow into a more extensive system later on. The DIY computer case makes it easy to build your own computer; when you're finished, you can set it up anywhere in your home or office.
Skill level: Intermediate
DIY Laptop Case
Look no further if you're looking for an inexpensive DIY laptop case. These DIY laptop cases can be made in any color and with whatever design you want. Create a custom laptop case for any occasion or event. Go through this guide and make an outstanding laptop with a durable finish that will last for many years as it doesn't crack when folded over or peeled up like most other vinyl brands.
Skill level: Beginners
DIY PC Case
This is a DIY computer case made from cherry wood and aluminum. The result is the perfect combination of elegance, durability, and functionality. It can be used as a basis to build any custom computer you would like to have more personal. The wooden frame allows for ventilation and keeping your components cool, while the aluminum shell protects your computer and adds an attractive aesthetic to it. It looks nice, and you can use it to build a custom computer for yourself or as a gift to your friends.
Skill level: Intermediate
How To Mod A Computer Case
Modifying a computer case is not the most challenging thing in the world, but it will take time and money. If you love modding and computers, you should start researching how to do this project now. There are many reasons to mod a computer case. You might want to customize your PC for the cooling system, or you might want to add some LED lights or just make it look better. This guide will give you some tips on modulating a computer case.
Skill level: Intermediate
DIY Wooden Computer Case
Building your own custom computer case can be a rewarding process and is quite fun! If you enjoy woodworking, this DIY project will be perfect for you. This course teaches you how to make the sides and top of the computer case and install all the necessary hardware. This project covers everything from shaping the wood to painting it and everything in between! This guide describes the basic steps to choosing, designing, and building your own custom desktop computer case.
Skill level: Beginners
Card Box Computer Case
If you're struggling to find a computer case that is cheap and easy to assemble, but offers the necessary protection for your computer, try making one out of cardboard. Cardboard is recyclable, buy it in bulk from a packing company or retailer, and you'll be sure to get the most bang for your buck. This Card Box Computer Case is easy to make, convenient, and inexpensive. With one large box, you can pack your computer up in a tight space with enough room for your power cords and accessories.
Skill level: Beginners
More DIY Projects:
22 DIY Computer Desks: Discover 22 easy DIY computer desk plans to change your work area. Be creative, save cash, and make your own customized workspace.
21 DIY Phone Holder Ideas: Transform everyday items into fun and functional phone holders using these easy and fun DIY projects with step by step instructions.