How To Make Flower Vase From Seashells:
Do you want to recycle seashells? If yes, then you're in the right place. Seashells and sea glass can be used to give attractive shapes, as well as help with your home decor/decorativeness. You can make a cute flower vase by doing this very easy craft. You will feel like playing with your hands and getting involved in this activity, but don't forget to share your joy with others! Here is how to make a Flower Vase From Seashells, and you will surely enjoy doing this.
How To Make Easy And Beautiful Diy Seashell Craft:
Diy seashell craft is a beautiful and simple craft you can make with your kids. You can use the shells from the beach or pool to make this diy craft. You don't need much time, but you could make beautiful items with little pieces of shells. Once you get started, it is hard to stop at just one. You can create these simple DIY seashell crafts year-round or use them as decorations for a beach party or wedding.
Coastal Seashell Wreath Idea:
If you love the ocean, this seashell wreath is a fantastic idea to decorate your home. It's not only an easy DIY project, but it's also super cute! The perfect piece for your coastal-inspired decor. Use a foam ring to create the shape of your wreath base, then glue shells and other nautical trinkets onto it. This project is easy sufficiently for kids to help with too!
Beachcomber Seashell Candleholder Crafts Idea:
This project is simple and fun to make. With just a few supplies, you can create your own Seashell Candleholder for any room in the house! Shells can be used for decorating a table or mantlepiece, as part of a centerpiece for your next party, or even as thoughtful gifts. So, Create a unique seashell candle holder for your home with the help of this Beachcomber Seashell Candleholder Crafts Idea. This craft is perfect for adding a beach-friendly touch to any area in your home.
Make a DIY Mermaid Crown with Seashells:
If you love mermaids, this DIY Mermaid Crown is the perfect project for you. Using seashells and glue, you can make this stunning crown at home with your little ones! Great for dress-up play, parties, or any special occasion. The materials required for this activity can easily be found around the beach. If you cannot find the exact shells you need, try substituting similar ones from your local pond, river, or lake.
Easy Marbled Seashell Art For Kids:
This easy marbled seashell art project is a great way to create a one-of-a-kind decor piece that can be used in your home or given as gifts! This easy marbled seashell art requires virtually no skill so that anyone can make a beautiful decorative piece for their home. Even though it only takes about 15-20 minutes, it looks like you spent hours on it. The possibilities are endless — Give your kids a fun arts and crafts project they can do all alone. Use this guide as your starting point for creating a unique masterpiece every time.
Santa Seashell Ornament DIY:
Are you looking for simple yet thoughtful Christmas gifts to give your loved ones? This Santa Seashell Ornament DIY can be a great option! All kids will love this adorable Santa Seashell Ornament DIY! This seashell craft is easy enough for toddlers and preschoolers, but it will be a beautiful decoration for years to come. Great idea for Christmas gift giving, or create them as gifts to loved ones and family members.
How To Make Shell Candles:
Shell candles are a beautiful and unique addition to any room. You can make your own shell candles using fresh or dried shells in any shape you like. These are a unique handmade addition to any home, adding a rustic look and a touch of nature. Making shell candles with this tutorial is simple and allows you to customize them in your own way to give as gifts or decorate for holidays such as Thanksgiving or Christmas.
Make A Beautiful Decoupage Shell Dish:
Looking for a unique seaside-themed decor? This decoupage shell dish will be the perfect addition to your collection. You can customize it in your craft store or craft it yourself, making it easy to fit into your home and style. Decoupage is an easy technique that will give a new life to an old shell. Follow these simple steps and make a beautiful decoupage shell dish you can use in the kitchen, bathroom, or anywhere else it needs to shine.
Paint Seashells with Nail Polish:
This is a terrific project for all ages, especially if you love painting and painting accessories and have always wanted to create a masterpiece on top of a real seashell. The easy, fun craft will make you love seashells like never before. This guide leads you through every step, from choosing your shell to deciding what color scheme you want to use and which paint manufacturers can work best.
Map Seashell Gift For Christmas:
This DIY Map Seashell makes a great gift for someone you love. With a little help, it can be created in just a few minutes and will surely bring a smile to anyone who receives it. Once they're done, they look so cool that you might even want one yourself! So, Add a touch of whimsy to your home with this DIY map seashell project. This is even the perfect gift for friends, family members, and loved ones who love maps and travel. The step-by-step instructions will guide you through creating these beautiful seashells while teaching you the basics of mosaic art and design.
Quick And Easy Seashell Art Craft:
This easy seashell art craft is a great way to display your seashells and other sea-inspired objects. You'll need some paper, a shadow frame, glue, and small glass seashells or feathers. You'll have a fun centerpiece that impacts any room in your home in only a few minutes. Pick up a shadow frame from the craft store and use it as a display piece for your seashells. Hang your shadow frame on the wall using twine to make an interesting wall hanging; you're sure to add some character to your abode!
Make A Glamorous Oyster Shell Ornament:
Looking for a memorable and creative way to decorate your Christmas tree? How about trying to make an oyster shell ornament? You can easily make these ornaments and then hang them on SO, Make a glamorous oyster shell ornament in this minute craft tutorial. Shells come alive when they're allowed to show off their beautiful colors. Using a few materials, you can transform the humble shell into an artistic piece of nature art or a cheeky household decor accent.
Ideas For Displaying Seashells With Ornaments Crafts:
Seashells can make for a unique and beautiful home decor item. You can display them by themselves or use them in crafts to create something whimsical, elegant, or fun. These ideas for displaying seashells will help you create a beautiful and interesting vignette for any room in your house. Your guests will be amazed at how you added so much character to an everyday object by combining it with some pretty shells. Use this guide to learn more!
DIY Ring Holder From a Scallop Shell:
This scallop shell makes a perfect shelf for your jewelry, coins, and keys. The bright, bold colors will brighten up any room in your home. The piece is versatile and can be painted gold or silver to match any other decor and also makes the perfect table decoration. Feel free to add other small shells of your choice - this gives you multiple options for using the scallop shell holder. You can get an idea from the link below.
Sea Shell Crafts For Toddlers With Coastal Garland:
Seashell crafts for toddlers are a fun way for your child to make something beautiful with their own hands. Sea shells have been used to create works of art for thousands of years, and your child will love making a craft that can be displayed in their bedroom or nursery. Whether you choose an easy beginner craft or something slightly more challenging, these ideas keep kids busy for hours.
DIY Seashell Christmas Ornaments Crafts:
If you love a good DIY project, these DIY seashell ornaments are a great one to tackle. They're easy enough for even beginner crafters, and they make great gifts too! These simple seashell ornaments will also make a beautiful addition to your holiday decorations. Get a few supplies and make a beautiful addition to your holiday decorations. You'll need shells, a mod podge, a string of lights, and some paint. Follow this simple step-by-step instruction on how to make these beautiful DIY seashell ornaments!
Resin Door Knobs Crafts: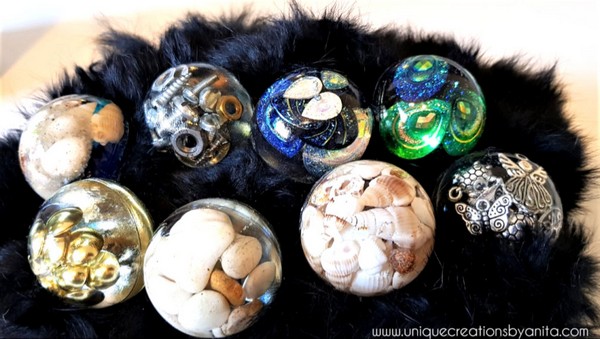 This resin door knob will add extra fun to your decor and make your home look amazing. It's easy to make and easily customized because you can personalize it with a little paint or colored glitter. Get started with these sea-inspired ideas for making your own seashell craft projects. These seashell knobs are easy to make and are great projects for kids. They'll love using the molds to place their favorite shells exactly where they want them on their new door handle or hang them up as ornaments too!
Make Your Seashell Necklace:
Do you love the beach? Do you love to go treasure hunting while on a seaside adventure? Then this necklace is perfect for you! Crafted using real seashells, it comes together quickly, allowing you to make one over the weekend. Add your favorite beads, and consider yourself ready to wear this beautiful necklace. It will become an absolute favorite you'll want to wear daily! So, Create your own seashell necklace with this easy weekend project. This beachy necklace is a quick and easy way to dress up any outfit.
Sand Clay Handprint Keepsake With Seashells: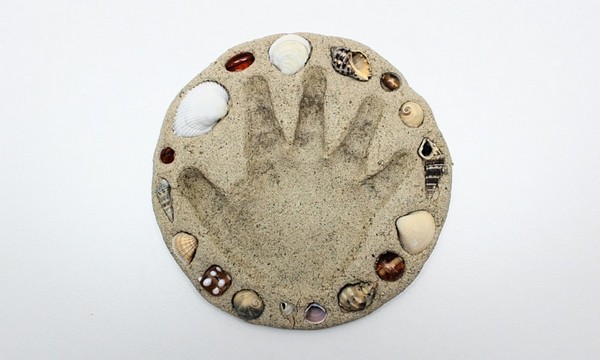 This is a wonderful project to make with the whole family on a sunny day at the beach. And if you plan a beach trip, this activity will keep kids busy while they wait for the waves. The sand clay only takes 10 minutes to make; then, you can mold your handprint in any shape you like! So, You can celebrate your special day with these creative keepsake crafts made from sand clay, and seashells! This unique handprint keepsake is a great way to commemorate a birthday, promotion, or other memorable occasions.
DIY Sea Shell Fish In An Aquarium Craft:
When you think of aquariums, you probably think of tropical fish. But why not make one with a different kind of ocean-themed decoration? With this DIY Sea Shell Fish in Aquarium craft, your child will learn how to create a unique and gorgeous decoration for the nursery. They can easily make the piece themselves without any problems from cutting glass or delicate pieces of shells falling apart. The guide below will teach you the complete procedure.
Handmade Seashell Crafts For Adults With Wreath Idea:
Love seashells? Well, this DIY seashell wreath is perfect for you because you get to create it from scratch. All that's needed is a few dollars and some supplies from the craft store — it's as fun as it is easy! You'll have a unique piece of decor that you made yourself. So, Create a wreath using sea shells and supplies from the dollar store, or look for old wreaths at garage sales. This project is simple and inexpensive, but it looks great. Use this guide to learn more.
Seashell Flower Garden Craft Idea:
Turn your seashells into a beautiful flower garden wall hanging! Seashells have a beaded garland that looks like flowers and hang on string netting. It is easy to hang them onto the wall just by using pushpins. These flowers look great in any room, inside or out, especially against a light-colored wall. This is a straightforward way to add natural beach beauty everywhere you go. The guide below will show you the complete procedure.
Make A Magnet With Seashells Crafts:
Try this DIY craft and make a magnet with seashells. Collecting shells on vacation is both fun and therapeutic. When you get home, displaying what you have collected is always nice, but taking them out of the sand and packing them away isn't always an option. Make a magnet with the ones you collect, so they are out of harm's way while still being able to be seen! These Seashell magnets are a simple way to showcase your seashell art and make beautiful wall decorations for your home. This project is for all-level crafters and takes about an hour to complete.
Butterfly Seashell Crafts For Kids:
Who doesn't like butterflies? This seashell craft is super easy to do and will look beautiful hanging on the wall or a shelf. Impress your family and friends with these easy butterfly crafts that you can make at home. They are super cute and will be a great addition to any room in the house. The best part is that you can customize the colors and have a unique piece of decor.
Make Simple Seashell Wind Chimes:
Simple to make, this seashell wind chime is a great project for those who are new to crafting! This wind chime is the perfect decoration for your home or garden. The chime is hand-crafted from driftwood and shells you collect from the beach­ so you can make it a true one-of-a-kind piece. Choose from various shapes and colors to make your creation extra special! Use it in your home or give it as a gift to someone special.
DIY Coral and Shell Resin Bangles:
These beautiful bracelets are made with real coral and shells formed over the years into graceful shapes. Mixed with resin, they have a beautiful glossy finish that is perfect for everyday wear. With a colorful design, they will bring the tropics into your home. These bangles crafts are also perfect as a gift to your loved ones as they are very easy to make. You can even make them for yourself. What's great is that you'll only need a few materials to make these yourself - or have everyone in the family join in!
Beachcomber's Picture Frame With Easysculpt Epoxy:
At first glimpse, this may seem like a difficult project to undertake by yourself. However, with the help of this guide and tools, you will have no trouble creating this beautiful picture frame with beach pebbles and shells. Whether you're a person who gets homesick or loves the beach, this gift is something anyone would cherish for many years! You can hang it in your home, and every time you see it or look at it, you will bring back memories of all your fun trips to the beach.
DIY Seashell Ornaments Crafts:
Seashells are beautiful little objects that make great decorations. They are pretty to look at and can be used in many other ways, like making homemade seashell decorations. Gather some pretty shells and add ribbon and tissue paper to create your own seaside decorations. So, if you want to learn some extraordinary DIY seashell ornaments crafts ideas, go through this guide below!
Cute Mermaid Wand Craft Idea:
This cute Mermaid Wand is the perfect craft project for kids of all ages. You can use a hot glue gun or craft glue to assemble this easy-to-make yet fun wand accessory. At the end of the process, you have a beautiful decorative piece in store for your little one's collection! This wand is a great gift idea; just wrap it up in pretty wrapping paper and tie it up with a lovely bow.
Make Seashell Christmas Ornaments:
This festive craft makes your home a little piece of the beach in time for Christmas. These mini-shell ornaments bring the mysteries of the ocean home for Christmas or any other time of the year. To personalize, you'll need broken shells from around the beach and bits of colorful sea glass. It's up to you how many you make for display or how many family members to gift! This guide shows you the complete procedure.
DIY Tropical Seashell Fish Craft:
Kids will have fun creating their own fish crafts with these easy-to-use seashells. The kids will love decorating them with beads, sequins, and other craft materials to make a fishing or mermaid scene if they want. They can make a fun summertime craft perfect for the beach or a kid's room. This is a fun and simple project anyone can enjoy doing together! With a little glue or water and some creativity, even the littlest crafter will have fun with this DIY craft for kids.
DIY Jellyfish Seashell Craft Idea:
This DIY Jellyfish Seashell Craft is the perfect activity for a day spent on the beach. It is a great way to let your child create something beautiful and spend time together crafting. This craft allows children to express their creativity and allows you to see the world through your child's eyes. It's also wonderful for helping kids express themselves in words and journaling! Go through this guide to learn more!
Make A DIY Beach Tray With Seashells:
Do you love the beach and spend a lot of time there? Why not make a seashell tray that can take pride in your home? It's easy to do and will make a lovely gift for people who share your passion for beach-related things! This DIY seashell tray is a great gift idea for beach lovers or anyone with a summer home. You can also use it as a decorative display piece around your house.
How To Make A Seashell Mirror Idea:
Seashell mirrors are the way to go if you're looking for a DIY mirror project that you can make on the weekend. This is an easy project; you can control how many seashells are used and how they are arranged on the mirror frame. You could also experiment with different kinds of shells. This incredible seashell mirror takes regular old shells and turns them into a charming addition to your home. You can easily customize it to suit the colors and décor of any room. It also makes a great gift idea, perfect for weddings or birthdays!
DIY Seashell Candles-Made With Beeswax:
Do you love candles? Do you love the beach? Why not make your own seashell candles and have them around to remind you of a tropical getaway? They are fun to make, inexpensive, and so impressive! So, Decorate your home with your own custom-made sea shell candles. They are beautiful and easy to make, and beeswax is highly scented. You only need a few simple elements, some natural materials, and some time to craft these gorgeous DIY seashell candles.
Make Seashell Fish Craft Idea:
This seashell fish craft is a great way to bring ocean magic into your home. Whether you hang them individually or as a group, they'll add fun and color to any wall. With this step-by-step guide, you will learn how to make seashell fish crafts that are sure to impress family and friends, making them perfect for craft fairs or school projects on coral reefs worldwide!
Paper Plate Seashell Craft For Preschoolers:
Every child loves to get their hands dirty, so this fun paper plate seashell craft for preschoolers is sure to please. It will allow them to use their creativity and create something that may look very different in the end! This project can be used as an ocean or beach-themed activity or as a decoration for Mother's Day or Father's Day. There are so many great ways to use the materials and create something incredible. use this guide to learn more!
DY Candy Seashells Craft:
The DY Candy Seashells Craft is a fun and creative candy craft you can make at home. The guide contains all the materials required to create awesome seashells that look great as decorations when finished, with two styles of seashells included for you to make! Create your own unique shells or follow the instructions and make one of the suggested designs.
Crab Fridge Magnets Crafts Idea:
These cute little crabs and turtles are crafted from real shells, taken right out of the sea. They make a beautiful decoration for children's rooms or even the office, and they're just the perfect size to hold small reminders close to hand. Your children will be delighted to make this wonderful crab magnet craft. Your child can match them up with other beach-loving crafting activities too! The finished products are great for the refrigerator door or any magnetic surface in the house because they are sturdy. They make great handmade gifts, too!