Whether you're a seasoned enthusiast or a beginner, there are plenty of free crochet patterns to choose from. With so many free patterns available and the possibility for customization, it's hard to go wrong with a crochet project. While crocheting has no specific health benefits, studies have shown that crocheting can help with depression and stress relief. It's also a low-key exercise that can aid in developing motor skills and hand-eye coordination for children. A quick Google search will bring up thousands of free crochet patterns, but if you'd like to get started with some favourites, here are some Free Crochet Carrot Patterns for those crafty carrots in your life.
Amigurumi Carrot Patterns Free
Crocheting a carrot isn't just fun with a skein of orange yarn—it's also a great way to use up scraps. Who knew you could make so many things with those little leftover bits? From the simple Carrot Hair Clip to the fancier Crochet Carrot Rattle, this list has something for every taste.
Whether you're looking for a last-minute gift or want to try crocheting, this compilation of Free Crochet Carrot Patterns will have you thinking of all the possibilities that come from an ordinary orange vegetable.
If you love and adore these cute little orange vegetables, then these 17 Free Crochet Carrot Patterns are for you to try!
Here are some tips for crocheting carrot patterns
1. The best material for these Free Crochet Carrot Patterns is cotton yarn, but any kind will do. Try using scraps that you have lying around to decorate it!
2. Carrots can be made in different sizes by changing the hook size. If you want thicker carrots, use bigger hooks and vice versa for thinner carrots.
3. If you want to make your carrot stand out, try using a different colour than the rest of the body! You can also try making stripes on your carrot by changing colours every few rounds/rows until you reach the top of the head (or whatever part of your carrot).
Crochet Carrot Applique Pattern:
This crochet carrot applique makes an adorable decoration for hats, bags and many other projects. The pattern can be used with any medium-weight yarn that you are comfortable using with a size G/4.00 mm crochet hook. It is a simple design that you can use as is or add fancy embellishments like ribbon to make it your own. Follow this crochet pattern in this video to make easy appliques for hats and scarves. Once you've made a few, you can use these colors to re-create your favourite seasonal vegetables!
Related:
Crochet Carrot Nose For Snowman:
Crocheting a carrot nose for your snowman is a fun and easy way to personalize him. Perhaps it's a cute orange nose, but you enjoy making it look like a turnip instead? This is a beginner-friendly project, and the pattern is easy to follow. You will only need two colours of yarn and a G hook. This crochet carrot nose pattern will teach you how to make a realistic carrot nose that is great for any snowman.
Crochet Carrot Rattle:
Your little one will love this crochet carrot rattle. Crochet this cute carrot rattle for a new baby, or add it to your collection of toys. The bright colours and simple patterns make this project easy to do. It's a perfect addition to a springtime birthday or Mother's Day gift! Not only is it adorable, but there will be plenty of enjoyment that comes with shaking this super soft carrot around, especially as a teething toy for your little one!
Easter Carrot Hair Clip:
This free crochet carrot pattern is a unique accessory for girls of all ages. The cheerful carrot design uses just one yarn colour and a single crochet stitch. You can personalize the clip using different colours or add a face to create an adorable character. This carrot clip is made from all-natural, eco-friendly materials and features beautiful, realistic leaves. It's great for Easter egg hunts and springtime playdates! The pattern below will teach you the complete procedure!
Crochet Carrot Treat Bag Pattern:
Crochet a Carrot Treat Bag that's ready for the Easter basket, spring picnic or everyday fun. This easy-to-make carrot crochet bag uses worsted-weight yarn and would not cost you too much. This pattern is easy and only uses beginner stitches, so it's excellent for crocheting beginners. It's a fun project you can complete in just a few hours! A fun way to store or present treats or as a cute Easter basket decoration.
Beanie the Easter Bunny with Carrot:
This super cute crochet bunny hat is so adorable. It is crocheted in soft, Acrylic yarn to keep your little one warm and cosy! This hat is perfect for any Easter outfit or costume. This is a great gift for your family and friends. And the best part is that it's straightforward to make – you only need basic crochet skills and free time! It also makes a great baby shower gift! This adorable beanie will have your little one wearing it all day long. Crochet this simple yet fun pattern in no time at all!
Crochet Carrot Bag:
This adorable crochet carrot bag is the perfect accessory for any outfit. Grab it as a gift for your favourite glamourous friend, or make one yourself! Add a flower to turn this crochet bag into a clutch purse. This cute little bag is a quick and easy crochet project. It is ideal for beginner crocheters and kids and makes an adorable pencil case or snack bag for young kids. Follow along with this free crochet pattern to create this cute carrot bag! It's sure to be the perfect addition to any Easter or springtime get-together.
Amigurumi Carrot Patterns Free:
Learn how to make this adorable and fun carrot amigurumi toy in just a few hours. This crochet carrot free pattern is ideal for beginners and more advanced crocheters who want to make fun pieces. The outcome will impress everyone who sees it! This Amigurumi Carrot pattern is so cute! Make a carrot for the spring holidays or for your child to play with and display. This crocheted carrot may be small, but it's sure to be sweet! Use this guide to learn more!
Mini Carrot To Crocheting:
Do you like to decorate your interior with cute little things? Or maybe you would like to make a gift for your friends, family and acquaintances? Then this crochet carrot pattern free is perfect for you! It is made from cosy chunky yarn, making it fluffy and nice to touch. It is also convenient and straightforward to keep in your purse. You can use this mini crochet carrot to decorate your home. It's adorable and unique, and it's a perfect gift for Easter or in the spring and summer months.
Crochet Carrot Garland:
Beautiful handmade carrot garland that is perfect for spring. This is the perfect addition to Easter decor! Use one or several of these carrots as a bunting, small bunches for an Easter table, or dress up a basket. Bright and colourful, this adorable carrot garland is sure to make your kitchen look cheery! This project comes together quickly and easily with my step-by-step instructions. So, go through this guide that will show you the complete procedure!
Small Crochet Carrot Pattern:
This is a fun project using tiny hooks and whimsical yarn. You can make 6 different adorable carrot designs; just choose your preferred weight yarns in the appropriate hook sizes (normally referred to as 'G' or '4 mm' depending on your preference). These are fun and quick to make! It can be used as a keychain, as an addition to your hanging wall garden, or even as part of an adorable present for kids. Use this guide to learn more!
Carrot Brooch:
This crochet carrot brooch is a fun, easy project that could be used as a hair clip or brooch pinned to the corner of a shirt. It would also be perfect for Easter decorations. Make these adorable Easter treats in cotton candy colours and make an even bigger statement wherever you go! Fun and easy to make, this Crochet Carrot Brooch is a great Easter accessory. It could also be used as part of your spring decorations or to add some spice to your outfit.
Crochet Carrot Free Pattern: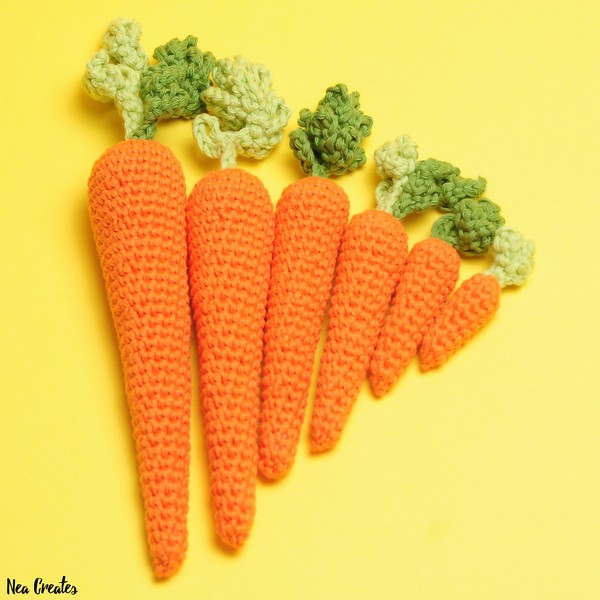 Did you know that Amigurumi can be made for any occasion, not just for babies and kids? This carrot is a great way to practice crochet skills—From tiny to large, every last one of these little crochet veggie pals is adorable. This carrot amigurumi pattern is written with helpful photos and explanations in easy-to-understand terms - making it suitable for beginners. This sweet, adorable little carrot amigurumi brightens anyone's day. Good luck!
Carrot Stitch Beanie Pattern:
This beginner-friendly crochet hat features a unique Carrot Stitch pattern that will make you want to stay cosy all winter. The cute carrot stitch makes it a fun and stylish accessory that will draw attention. This easy beanie design will add color to your fall wardrobe. It's worked up in a rich shade of brown and highlighted with orange to create the perfect carrot stitch look. This beanie is made in an easy-to-crochet pattern that's fun to do and works up quickly! Make your own with the help of this guide.
Crochet Amigurumi Carrot:
This crochet carrot amigurumi is a super easy, fast and fun 3-4-hour project. This little vegetable will make a great gift for Easter, Halloween or any other spring and fall celebration. This is a great beginner project for someone wanting to learn the basics of crochet Amigurumi or for a more experienced crocheter looking for a fun, fast, and cute project. This guide shows you the complete step-by-step instructions and follow-up steps.
Giant Carrot Crochet Pattern:
The Giant Carrot Crochet Pattern enables you to crochet a giant carrot plushie that's perfect for kids' birthday gifts or Easter. It's also great for Halloween decorations! With this pattern, you can swap the safety eyes for tapestry eyes to make this giant carrot suitable for babies. This simple pattern is suitable for beginner crocheters or adults who want to learn how to crochet. It gives them hours of enjoyment!
Crochet Carrot Cake:
This adorable crochet carrot cake is perfect for a baby shower, birthday party or springtime picnic. The adorable little carrots, which can look like whatever your heart desires, are made from yarn and held together by delicious-looking icing. When you follow this simple crochet pattern, you will learn how to make the carrots visible through holes in the icing and have plenty left over for a side dish to serve with this delightful dessert. The pattern also comes with a tutorial to help you along the way.