Who does not like cats and their cute little kittens? Their adorable innocent features and fuzzy fur skin make them cuddly and most favorite pet animals among the people of the whole world. From kids to adults and babies to elders, everyone has the craze for holding this lovely and loyal pet in his hands and sitting in his lap. Due to some unwanted truths and circumstances, it becomes hard for everyone to keep a cat in his home as a pet animal. So, we decided to provide you an alternate idea to see your favorite pet in your hands every time anywhere in your home where you want. We got you covered with a fab collection of free crochet cat patterns with a wide range of ideas and ways to keep this cute and lovely animal in your own home.
Your Halloween décor will not be completed without adding an opened eyes black cat to your home decor. And you will love to make a fun storage basket or hanging mini basket in cat pattern that will become a focal point of others. Moreover, crochet hat patterns are also included in your favorite pet animal that you will love a lot and feel proud to brighten up your fall and winter wardrobe with cat pattern accessories. Don't go anywhere because you will meet really friendly and cuties cat amigurumi patterns waiting for you impatiently to take ahead your hands for friendship with them. You will love to embellish and decorate your home with the given crochet ct coaster patterns and so many more fun ideas that will grab your attention and make you crazy for them!
Crochet cat patterns are also so much fun to crochet, but again, they will work great as your kid's favorite stuffed toy. They could even take care of them just like real cats. Plus, crochet cat patterns, crochet cat plushies, and amigurumi are the hot trends these days. You cannot only crochet them for cuddling and playing, but also, you can crochet them to add a bit of décor to your home.
You Can Also See:
Moreover, these free crochet cat patterns and plushies will make a great gift for your beloved ones. So, please select your favorite cat pattern from this list and make it with your own hands.
Try this lovely and so cute  Free Crochet Superstitious Black Cat Wreath Pattern to embellish your home and give it a more welcoming touch. It will greet your guests and say hi to them this Halloween, and it increase the decor of your Halloween. Hang it simple or attach ears and tail and a haunting striped bow to give it a more festive and appealing touch.
If you want to give your kitchen decor a more fun and interesting touch, this Free Crochet Cream Cute Cat Dishcloth Pattern will be a playful choice. It's effortless and interesting to do a project that can be personalized in your favorite color shades. Moreover, if you are arranging a Halloween party, then this kitty dishcloth will help you a lot to fulfill your desire and give your kitchen a more festive look and make your dishwashing period joyful.
Making Halloween costumes more festive and interesting, it should be scary and stunning too. You will really stand out with this Crochet Witchy Cat Hat Pattern in a big crowd and look more stylish along with Halloween ready too. The nose and ears give it more appealing and a complete effect, and the eyes make it look more scary and terrifying than a Halloween costume demands. So, make it black or in any color that suits and customize this crochet hat freely for yourself, family and friends.
Meet this snuggly and cushy Free Crochet Fat Cat Stuffie Pattern that you would love to see in your home, whether it's your own bedroom or kid's room. Plus, its stitching construction and squishy texture come due to Bernat Baby Velvet and Bernat Crushed Velvet's use. And its tight stitch texture adds density and beauty to this stuffed toy that will cheer up your kids all the time while playing with it. Crochet it in any color contrast and make it a very personalized gift that your guests will receive with open arms.
This Free Crochet Witch's Cat Amigurumi Pattern will add fear and style at the same time to your home this Halloween. Make it for pairing with which or add it to your Halloween decorations to make a statement of your choice. No, matter what color shade you would love to choose for it, it will go perfectly with traditional black or any other color that fits your personality.
Here is a charming and adorable pair of Crochet Cat And Mouse Party Favors Pattern that will bring a smile to everyone's face. Their innocent features and mini sizes make them more charming and popular among the party favors. You can crochet them in various colors and shades that will add a pop of colors to your party theme and home decor. You can also turn them into lovely and pretty handmade amigurumi or stuffed toy ideas.
Are you prepared for Halloween and complete your decorations? If not, we assure you that your Halloween decor ideas will be incomplete without adding this cute mini Free Crochet Halloween Witch Cat Pattern. It's lovely and very innocent wearing a witch hat that looks so snuggly and impressive. It is effortless to hook up, and you will not have to spend a lot of time completing it.
Use this Free Crochet Cat Bookmark Pattern for various purposes, from Halloween decorations to cat appliques or cat motifs. It will also work great as Halloween ornaments that will add a festive and interesting effect to your place. It works up so fast, and you could make a couple of these bookmarks in no time. Make it for yourself or a gift to your loved ones who are new to the crocheting world or who really love to see cats in their home.
Make your summer days more enjoyable by crocheting a very loyal friend of yours with this Crochet Cat Days Of Summer Plush Pattern. It really cute and crocheted with outfit details. Its bikini outfits give it a complete finishing look and enhance its personality. It will be with you even while you will go to the beachside and enjoy the hot summer days with your friends or family.
Add this lovely and cutie Free Crochet Pusheen The Cat Pattern to the collection of your kid's stuffed toys, where it will make its own specific place. It is not very hard to crochet it, but you should be well with round, increase, decrease, and change colors before you start working it. Crochet it in the same color or modify it according to your own likings and gift t to your beloved ones or kids as love;y stuffed toy.
These cute softies will add an interesting and snuggly flair to your stuffed toy collection.  It's adorable and squishy that you would love to hug them and snuggle with their face. So try this Free Crochet Cat Squishy Pattern that will spread smiles to all of you with their smiley faces. You can also charm p your home with these little cat amigurumi patterns by adding them to your bedrooms, the corner of your home, or anywhere else you like to place them.
Add these cute little Crochet Cat Coasters to your home and give it a festive and fun decor. These adorable cat coasters will also work great on the dining table while your kids will have a meal or enjoy snacks. So, it will create a kids-friendly decor to your home and add an appealing and welcoming touch to it. Quick and easy to make – it will do a great beginner-friendly project also.
Make your very own and personalized Halloween-ready hat with this stunning and impressive Free Crochet Halloween Black Cat Hat Pattern. It is amazingly crocheted in orange and black colors that will really fit the Halloween theme. Still, you can go with any other color if you like to customize its color combination. Plus, it is designed for toddlers, but you can adjust the size according to the head of your needs n.
Do you love to make little and functional projects that must be cute? If yes, you are also going to fall in love with this Free Crochet cat Basket  Pattern that will hold your tiny stuff and make fun decor too. It is quick and fast to work up, so you can crochet more than one in various colors to make a pretty and colorful storage idea.
This Crochet Cat Applique Pattern is one of those patterns that work up instantly and prove very functional for different purposes. This cute and adorable cat applique will make an ornament, decorative item, or beautify blankets or other crochet projects by adding them as motifs. You can even embellish your presents or gifts by adding them to their wraps.
Free Crochet Cat Butt Coasters Pattern
Free Crochet Kayleigh Cat Icorn Pattern
Free Crochet Cat Ami Keychains Pattern
Crochet Shadow The Black Cat Pattern
Free Crochet Cat Pajama Eater Pattern
Free Crochet One Piece Cat Pattern
Crochet Cuddly Cat Scarf Pattern
Free Crochet Cat Pattern:
Free Christmas Cat Crochet Pattern:
Ginger Cat Crochet Pattern By Amigurumi:
Amigurumi Free Crochet Cat Patterns:
Free Crochet Lady Cat Amigurumi Pattern:
Free Cat Crochet Pattern:
Free Crochet Cat:
Crochet Cat Pattern Amigurumi:
Amigurumi Cat Crochet Patterns: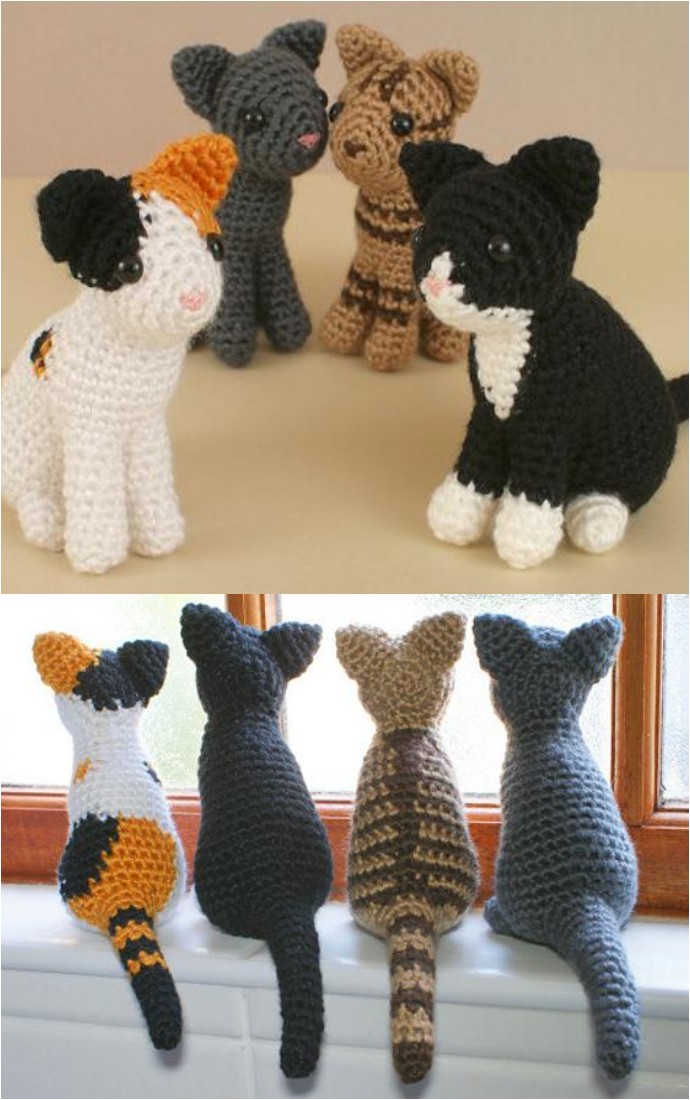 Ballerina Cat Doll Amigurumi Pattern: