If you're looking for something special to crochet, you've come to the right place. These Avocado Crochet Patterns are perfect for all ages, from beginners to more advanced crocheters.
You can even use different yarn weights to make a bigger or smaller crochet avocado than what is shown in the pattern. This 12 Free Crochet Avocado Pattern collection will bring color to your kitchen! From quick and easy patterns that take less than an hour to more complex ones that will take a bit longer to finish, there will surely be one pattern you'll love making.
Free Crochet Patterns For Edible Avocados
If you love avocados, you'll want one of these cute crochet amigurumis! We've assembled a collection of patterns for the best crochet avocado pals around. With these crochet patterns, you can make a crocheted avocado friend for all your avocado-addicted friends! These patterns are easy to follow and will let you create a perfect little avocado friend you can always keep.
These practical Avocado Crochet Patterns will brighten up any kitchen and become a nice decorative piece for the home.
Here are some ideas for using these tiny crochet pieces:
Use them as party favors at a Mexican-themed event or summer barbecue.
Add one to each place setting at your next dinner party instead of a flower.
Crochet Avocados can make pillows, lampshades, and anything else you can think of!
They are also great for a kid's room or nursery. You can make them out of bright colors or muted tones to create a more sophisticated look.
Free Crochet Avocado Pattern: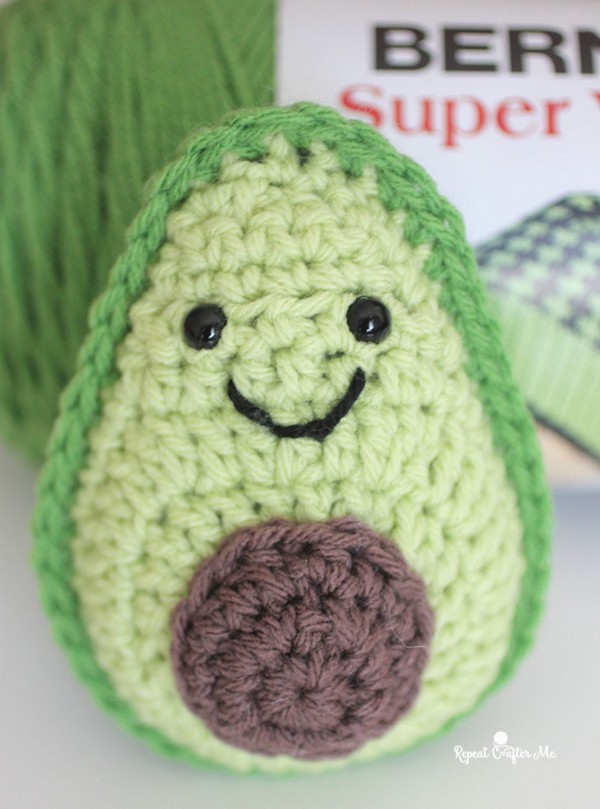 Who doesn't love avocados? They're healthy and delicious, and their unique shape is just pure adorable! This little guy (or girl) is easy to make and makes a fun gift for avocado lovers. It also makes a wonderful home décor piece with its bright green color, fleur-de-lis eyes, and leaf stem. Now you can crochet your Avocado! This pattern is worked in the round, so there isn't any sewing required. This can be done with cotton or any medium-weight yarn you want.
Related:
Crochet Avocado Coaster:
Do you love Avocado? Do you admire their beautiful green color and unique texture? Crochet yourself this cute little coaster and show your appreciation for avocados. It's soft and fun, which makes it perfect for any occasion. This is a great little project to make as a gift or for yourself. You'll need basic crochet skills, but it's not too challenging." You can use your choice of yarn and hook, depending on the size you want. It is crocheted in a spiral, so it becomes one piece, and you don't have to sew anything together. Enjoy!
Crochet Avocado Keychain:
This fun and easy crochet avocado keychain is a fun little project to whip up in an hour or two. Whether you're looking for a gift for someone with an avocado obsession or want something to keep your keys company, this little guy is just the thing! Acrylic yarn is easy to work with, and you'll be whipping this little Avocado up in no time! The pattern includes detailed instructions and photos, making it easy to follow. It's a great stash buster - use up your scrap yarn and make a cute little keychain that looks great on keys or a zipper pull.
Mini Avocado Crochet Pattern:
Are you looking for the perfect crochet Avocado pattern? Learn how to crochet amigurumi avocado easily with this free pattern video tutorial. You can create your own amigurumi avocado with the right yarn and hooks! This adorable Avocado is perfect for any fruit or veggie lover. The pattern calls for basic crochet skills, making it easy to follow and quick to complete. This Cute Mini Avocado Crochet Pattern Amigurumi is the perfect addition to your kitchen accessories collection. You will love this easy and simple-to-make pattern.
Crochet Avocado Pillow:
Love avocados? Then you will love this crochet avocado pillow pattern, and you don't need any other pillow when you have one! This pillow pattern is so ridiculously easy and fun to make. There are so many reasons to love this gourd: the texture created by the puff stitches, its plumpness, squishiness, shape, softness, and warmth. It's a great gift for adults, older kids, and teens. Cuddle buddies are always in style! This pillow pattern is sure to be a must-make!
Easy Crochet Avocado Tutorial:
This Avocado is the simplest and cutest crochet you could make for a gift. It's free in all sizes, so even if you're new to crocheting, this will be easy for you and sure to add some spice to your kitchen. The Avocado is a quick project that works quickly! With this pattern, you can create your Avocado to practice crocheting in rounds, decreasing stitch, and increasing stitch. This Easy Crochet Avocado video Tutorial includes instructions on how to turn your crocheted Avocado into a plush toy by stuffing it with filling.
Avocados Christmas Amigurumi:
This crochet pattern is suitable for advanced beginners who already have some experience with crochet. Use a 2.5mm hook and the 2mm yarn, which is not too thick nor too thin and has a great stitch definition. This pattern uses only single, double, half-double, and slips stitches. The most time-consuming part is the avocado arms and legs, which have multiple layers, but the result is worth the effort if you love avocados.
Increase or decrease this pattern depending on the size of your yarn and the size of your hands. This Amigurumi toy has a sparkling design and is the perfect size to keep you company on a special holiday. It can be used in any Christmas home decor. This item is an excellent gift for your family and friends.
Avocado Amigurumi Free Pattern:
This cute crochet avocado will bring a smile and perhaps a little squeal of delight. It is made in the round with single crochet stitches and becomes an adorable and realistic-looking avocado using a front post double crochet stitch. The eyes are made from black buttons, and you'll have to sew those on yourself. These patterns are a fun way to add some whimsy to your collection and make a great gift for yourself, your family, or your friends.
Avocado Keychain To Crocheting:
If you love avocados, you'll love this crochet pattern for an adorable little avocado keychain. You can make this little guy in just a few hours and with just one ball of yarn. The pattern is easy enough for anyone to master. This quick and easy avocados pattern works quickly due to its fun design; it's an excellent crocheting project for intermediate crocheters. With the full instructions, this free avocado crochet pattern will help you make your own adorable Avocado Keychain in no time!
Avocado Ornament Crochet Pattern:
Avocado is a modern and trendy crochet pattern perfect for beginners! If you want to make something more complicated, try the crochet avocado free pattern. The yarn is so soft and cuddly; it will become your new favorite. Super cute, this little guy can be made quickly in any color; make sure you use a yarn and hook size suitable for the weight of the yarn. You're going to love this avocado ornament crochet pattern. They are great for gift-giving and home decorating and the perfect way to brighten up any place!
Softie Free Pattern:
The Crochet Avocado Softie Pattern will teach you how to make a sweet little avocado softie that can be a great addition to any home or office. You can customize the size of your Avocado by changing the hook size, yarn weight, or both! Crochet this adorable Avocado in three parts and then make it your own with a fun filling. The pattern includes information on how to crochet the Magic Circle, a great technique to learn by taking a few minutes to crochet an avocado.
Crochet Bunting:
Are you an avocado lover? This crochet avocado pattern free is perfect for you! Enjoy this easy-to-follow crochet pattern featuring a bright green avo. This design is great for any season or occasion, such as Easter, Mother's Day, and more. Make one or many and hang them around your home to add that pop of color! You can make this Avocado Bunting Pattern with Cotton worsted weight yarn dark green, light green, and brown, Size H-8 5.00mm crochet hook. This fun project takes only a few hours, so it's perfect for a weekend project.