Whether you want to attract attention to your posteriors or keep your things organized, free crochet bag patterns can be a perfect way. The flexibility of the craft means that bags come in all shapes and sizes and can be as simple or complex as you want them to be. If you're a beginner, try out some of these patterns and see how easy they are to make! Maybe you're even looking for a pattern with an outside pocket so you can stash away your keys or phone while they're not in use. The possibilities are endless! If you're new to crocheting, there's no need to worry—we have instructions for beginner bags, too!
There are so many free crochet bag patterns out there, and it's not just one type of bag—it's all kinds. You can choose from a messenger bag, a drawstring bag, a Tote bag, and much more! These free crochet bags for adults are also very functional and practical but, at the same time, stylish. What's more, these gifts will surely be appreciated by the people you love because most of these free crochet bags look more expensive than they were to make. Enjoy your crochet party, and make as many bags as possible for every occasion!
These 44 free crochet tote bag patterns are fun to make, and you can use them to practice new and interesting techniques.
Tips For Crochet Bag Patterns Of All Kinds
Crochet is a fun, versatile hobby. It can be used to create beautiful blankets, clothing, and accessories. Crochet bag patterns are also a wonderful way to show off your crochet skills.
Crochet bags are great for storing items in your purse or carrying items when shopping. The best part about crochet bags is that they can be customized to suit your needs. You can make them as large or small as you want, depending on what you need them for.
Crochet bags are easy to make and require little time or effort. Here are some tips to help you get started:
Choose the right yarn - Choosing the right type of yarn is very important when making a crochet bag because it will determine how durable the bag is and how long it will last before needing repair or replacement. Look for high-quality yarns that are strong and sturdy. Choose colours that will complement each other well so that the finished product looks great no matter what type of outfit you wear with it!
Choose material - Look for materials that are easy to clean and maintain, such as cotton or linen fabrics (if making a fabric-based bag).
Crochet Night Out Bag Pattern:
This crochet night-out bag pattern is so valuable and attractive. You can also make this crochet bag for all your family members' use and style. Making this beautiful crochet bag pattern requires a little effort and dedication, and you can enjoy the satisfaction of having created something beautiful. It is a gorgeous free pattern you can use to make crochet bags for your entire family. It's especially perfect as it's designed to be just the right size to fit everything you need while on the go with your little one. The bag features a crocheted strap, stud closure, and interior pockets for convenience. The design is a good balance between cute and valuable;
Crochet Halloween Treat Bag Pattern:
If you love Halloween and all the fun it brings, then this crochet treat bag pattern is for you. This simple project features Halloween-themed fabric, including pumpkins, bats, spiders, and more, creating a fun embellishment on the front of the bag. The Crochet Halloween Treat Bag is the perfect bag for your little monsters to bring their treats in on Halloween. Kids love carrying this cute treat bag back to school, trick or treating, or visiting friends. It's excellent for taking candy from one house to another.
Crochet Navy Stripes Bag Pattern:
Perfect for the beach, a picnic, or just as a casual accessory, this navy striped bag can be made by anyone who knows how to crochet. Crochet a beautiful navy striped bag with this free pattern. You can use it as a clutch or a purse since it features an over-the-shoulder strap to carry on your arm. The crochet navy striped bags are perfect for spring or summer and can be made in any colours you like. This beginner-friendly pattern works quickly and is an excellent choice for an enjoyable afternoon of crocheting! This bag is the perfect accessory for any outfit. It's roomy enough to carry all your essentials and can be made from any yarn weight you like.
Crochet Carry Me Away Tote Bag Pattern:
A simple but fun tote bag pattern that is perfect for showing off your crochet skills. This pattern contains all you need to complete the bag and make it your own with some simple design ideas. The Carry Me Away Tote Bag is made from a single skein of yarn and works up beautifully in various fibres. Its sturdy construction makes it great for everyday use or quickly takes on a weekend project. This crochet bag pattern is made for all you crocheters out there! This tote bag is perfect for all your shopping needs!! It can be used as a beach bag and much more!!
Crochet Boho Market Bag Pattern:
A beautiful and trendy market bag is perfect for carrying all of your goodies, whether it be to a local farmer's market or the grocery store. The large size of this bag will carry everything from groceries to books or toys. Working up this crochet pattern is quick and easy! The crochet market bag pattern is an easy, beginner-friendly project that can be completed on the weekend. This free pattern will take you through the beginning stages of crocheting a bag, including how to make your very first foundation chain and basic crochet stitches.
Free Crochet Chic Carry All Bag Pattern:
If you are looking for a quick and fun crochet project, look no further. This carry-all bag pattern stitches up fast, so there's no need to put this on the back burner. Using a granny square as its base, it starts with a bright, bold rainbow of stripes. You can experiment with different shades that suit your personality, but the red colour used in the example is a great start! The Crochet Chic Carry All Bag is a fun project anyone can work up. It's made with super chunky yarn and finishes as a one-piece bag, which means less sewing!
Free Crochet Spider Webby Bag Pattern:
Get the kids out of the house this Hallowmas with a craft that can be made for them to enjoy. This spider webby bag crochet pattern is an intermediate-level project that will be worth learning and perfecting. This little bag can be used as a pillowcase or a decorative accessory in your child's room. Pair this with other Halloween projects, like wreaths and decorations, so they have all their bases covered come October 31st! This spider webby crochet bag pattern is excellent for Halloween decor and to keep your little ones busy on those long afternoons. This bag is a perfect beginner project and a great gift idea.
Free Crochet Cream Nautical Striped Bag Pattern:
This is a crochet pattern and not an actual item. This crochet cream nautical striped bag is perfect for summer and as a gift. The bag is designed to hold just about any smartphone or clutch. The yarn can be substituted with any other medium-weight yarn similar in size. This gorgeous striped bag is perfect for summer. It's a great size to hold all your essentials, but not so large that it becomes heavy. The striped pattern is super easy to make and looks fantastic when finished!
Free Crochet Ribbed Project Bag Pattern:
This bag is made with soft, high-quality cotton, ideal for indoor and outdoor use. It features a beautiful colour-blocking and ribbed design, making it an instant classic! This ribbed crochet bag is perfect for toting your current project or using it as a crossbody bag. The colour blocking creates an instant classic look that can be created in different shades and colours to make this bag feel just like you! The beautiful crochet bag is made with high-quality cotton, perfect for indoor or outdoor use.
Free Crochet Nautical Tote Bag Pattern:
This easy-to-make tote bag is crocheted in shades of blue and tan or your favourite colour combo. This beautiful nautical crochet tote bag is perfect for taking your favourite books and other knick-knacks on the go. The two contrasting colour schemes mean that this tote will go with any outfit – from jeans to dresses. It measures 15" x 15" when complete, with a handy pocket for holding your cell phone, keys, or other small belongings. The straps are finished with a picot edge for an extra-soft feel against your skin and are crocheted in Caron One Pound yarn.
Free Crochet Flame Stitch Bag Pattern:
Crochet is a fun and easy craft to learn, and this pattern makes it even more enjoyable with its quick-to-make design. The Flame Stitch Bag features a trendy chevron pattern that showcases an advanced stitch but is still quick enough for beginners to master. Pair the bag with jeans and sneakers for weekend adventures, or wear it with your favourite heels to dress up a casual outfit. Every girl should have this wonderful, stylish, modern accessory. You can make it a perfect gift for your mother and sister. With this crochet tutorial, you will see how easy it is to make such a beautiful bag.
Free Crochet Outlined Squares Shoulder Bag Pattern:
This crochet bag design is a must-have for any wardrobe. This purse is an instant classic with its trendy crochet. It's also designed for everyday use and functional – large enough to hold everything you need without being bulky, sturdy enough to carry heavy items without ripping, and functional enough to carry easily. Add fun and flair to your crochet with this stylish shoulder bag pattern. The design uses the popular lined stitch and can be customized to fit your needs. Adjust the width, length, and straps for your perfect look. Pair with a functional zipper closure or use decorative buttons for another statement piece. The shoulder strap is removable, so it can also be worn as a crossbody bag if desired.
Free Crochet Vintage Lace Bag Pattern:
Vintage lace makes an elegant addition to any accessory collection, and this bag is the perfect place to showcase it. Whether travelling or heading to a picnic, this vintage-inspired crochet bag will make you look effortlessly cool. Made with simple stitches and minimal shaping, it comes in three sizes, so there's one for every occasion. This crochet bag pattern is the perfect choice for summer - it's quick to make and easy to carry. With its vintage lace trim, it's sure to make every outfit look more stylish.
Free Crochet Phat Fat Bag Pattern:
This crochet Phat Fat Bag Pattern is one you will use repeatedly. The perfect everyday bag for moms, teachers, small kids, and more! This bag is perfect for the crafter who needs a handy place to store all their supplies while working. It's big enough to hold yarn and your project but small enough to fold up and take with you when you can't sit still. The drawstring closure helps keep everything secure and hidden inside, so you don't have to worry about unravelling your crocheting or other craft projects.
Free Crochet Scary Skull Bag Pattern:
Do you love Halloween? Are you looking for a fun project to crochet? Look no further... This pattern is a great gift idea and will be a hit with all your friends. It is also an easy bag to make because of the simple stitches. Make a fun, eccentric bag out of a single skein of bulky weight yarn and change the look of your trendy accessory with this quick and easy crochet pattern. If you are looking for a quick crochet project, this is the perfect pattern! With only one skein of yarn required, this easy crochet pattern is also a great stash buster for using up any leftover bulky weight yarns in your stash.
Free Crochet Heart Tote Bag Pattern:
Are you ready to crochet this beautiful and elegant crochet Heart Tote Bag? It is perfect for flower girls, bridesmaids, and women! The Crochet Heart Tote Bag Pattern includes instructions for making the pictured bag, a crochet heart, and joining multiple hearts. It's a fun and easy project which you can use to hold your next Valentine's Day gift or to decorate an already existing tote bag. Make this stylish bag and give it to a loved one or yourself. You can also sell them for charity for a great cause. Great for crochet lovers, fashionistas, and anyone who wants to show off their skills.
Free Crochet Everyday Bag Pattern:
Knitting up a cute little bag is the perfect way to stay organized and style. This simple crochet bag perfectly answers your 'n' go needs. This crochet pattern gives you the skills to make this bag in rich colours. With this crochet pattern, you can create your own stylish bag in any rich colours available. The bag is crocheted in rows, and then turned inside through one of the openings to create the bottom seam. This simple crochet bag is perfect for any occasion and would make an excellent gift.
Free Crochet The Terra Produce Bag Pattern:
Easily throw one of these bags into your cart, then use it repeatedly before tossing it in the washing machine. Keep your produce fresh and free of bruises and spillage with the Terra Bag. Its collapsible design folds up when not in use and can be washed between uses or hung to dry. The pocket is great for smaller items like coupons, shopping lists, and wrappers. This reusable produce bag is a simple pattern to make. Once you learn the basic stitch, you can use it for any project that needs a long chain, like leg warmers and infinity scarves. It's perfect for veggies, pears, and bananas!
Free Crochet Ocean Serenity Bag Pattern:
This bag pattern is easy to follow, and the pattern is so lovely—a great way to spend a few peaceful hours crocheting or watching your favourite show. The result is an adorable bag that you'll love to carry! Crocheters are always in need of more storage space! This pattern will help you create a unique bag with plenty of room to hold your things. It's an easy crochet project that would make an excellent gift for someone special. Whether you're going for a picnic or just hanging around the house relaxing -- this bag is sure to be your go-to bag to carry everything you need!
Free Crochet Fresh Market Tote Bag Pattern:
The Fresh Market Tote is an easy and stylish tote bag for carrying all your essential food items. This bag is perfect for the farmer's market or grocery store, but it is also an ideal purse for any occasion! The Fresh Market Tote has lots of pockets to keep everything organized, including a pocket to hold coupons or gift cards you might want to carry. With two handles and a long strap, this bag can be carried in many different ways. The back of the bag is open through a centre seam so it can be folded over for carrying; this makes this bag very versatile!
Free Crochet The Jackfield Tile Tote Bag Pattern:
Crochet this beautiful tote bag with a lovely pattern that is easy to follow and fun to make. The Jackfield Tile Tote Bag is a great crochet bag that is versatile enough to be used for many things, such as a beach bag, shopping bag, market bag, or even as an office tote. It's made using your favourite yarn; the Jackfield Tile Tote Bag can be made round or square. This easy-to-follow pattern features a series of linked double crochet stitches worked in the round. The bag is crocheted in the round, and the yarn is held double throughout for extra thickness, giving it a sturdy feel.
Free Crochet Rustic Pumpkin Favor Bag Pattern:
Equip your next Halloween party with our crochet rustic pumpkin favour bags. These kitchen-ready bags are sized to fit the standard candies or treats you're gifting and make a great last-minute activity for kids, young and old! This is a crochet pattern to make your own rustic pumpkin favour bag! Use it for your Thanksgiving fall decor or as an Autumnal centrepiece for any occasion. Add a cute rustic touch to your Halloween table with your favourite handmade bags. Here is the pattern for this cute little pumpkin favour bag! They are perfect for Halloween parties, trick or treating, and can even be used as a Halloween decoration!
Free Crochet Titan Tapestry Bag Pattern:
A simple and fast crochet pattern creates a colourful and fun tapestry bag with an adjustable strap. Great for beginners, this project will work to be a perfect size for many different uses. This Crochet Titan Tapestry Bag Pattern pattern is perfect for the occasional bag user or your best friend who loves to use their purses. If you are looking for crochet pattern inspiration, look no further! This bag uses Tapestry crochet and is worked in the round. It's also straightforward to adjust for a different-sized bag by adding more rounds to or taking away from the body of the bag.
Free Crochet Simple Drawstring Bag Pattern:
This pattern is a simple and quick drawstring bag for making. It is fully customizable! This crocheted drawstring bag can be made to fit any size project, and its free crochet pattern makes it a great portable bag to carry unpainted miniatures or dice! Make up your own drawstring bag for the perfect gift or just to use yourself. This easy crochet pattern is beginner-friendly and does an excellent project for you on road trips; maybe you have already left the house with some yarn hooked.
Free Crochet Pocket Shopping Bag Pattern:
Sick of your grocery store plastic bags? This crochet tote bag is a perfect way to get rid of them! You can quickly turn this inside out to create an all-purpose purse that you can use repeatedly. It's made in three sizes so everyone can have one; grocery shopping, beach days & picnics, to name a few. The possibilities are endless! This free crochet purse pattern is a perfect way to reduce your use of plastic bags and help the environment. The size is adjustable, so it can fit every shopping trip you have! It's also an excellent gift for everyone on your list: Mothers, Friends, & Family.
Free Crochet Crossbody Boho Bag Pattern:
This crossbody bag is the perfect summer accessory for your summer outfits. Its simple yet chic design and neutral colours make it the perfect accessory to compliment your style. The bag features a single crochet strap that can be worn across the body or over the shoulder, an interior pocket, and a zipper closure at the top. This crochet crossbody bag pattern works up quickly with bulky yarn and only requires basic stitches to complete. Add style to your wardrobe with this black and gold crochet crossbody bag! This bag is detailed with an outside pocket, a prominent inner lining, and an adjustable shoulder strap for easy wearability.
Free Crochet A Day At The Market Bag Pattern:
For the busy buyer or gift-giver, this market bag is perfect for a trip to the farmer's market, toting groceries from the store, or giving a friend a generous gift (of fresh produce). The pattern includes clear instructions for both hand-drawn and machine-made motifs. Crochet it in your favourite colours for a unique accessory that will be used for years to come! This market bag is perfect for a quick trip to the farmers' market! It works up quickly and looks cute, stuffed full of fresh produce. With tons of room, it's great for the weekly grocery run.
Free Crochet Farmers Market Bag Pattern:
The perfect size for heading to the farmer's market or when you want to pick up a few things from the grocery store, this pattern includes a unique motif and sturdy handles. This crochet farmers market bag is perfect for heading to the farmer's market or when you want to pick up a few things from the grocery store. The unique motif and sturdy handles make it practical enough for everyday use, and the beautiful colours make it an elegant statement piece in any home. With cute crochet handles and detailed stitch patterning, it will quickly become the favourite in your closet! And the fact that it's so quick to make makes it even better!
Drawstring Mini-backpack Pattern:
Take your crochet skills to new heights with this free drawstring backpack pattern that's sure to impress! This quick-to-crochet drawstring mini backpack is excellent for kids and adults alike. Use it as a purse, make-up bag, or tote. Add a handle to make it a bookbag or school bag. This pattern comes in three sizes, so you can make one that fits your needs. The design works quickly and makes a great gift or stocking stuffer. The drawstring closure and front pocket are unique details you can use to create your own version of an essential backpack.
Crochet Bag With Heavy String Thread:
An all-purpose bag with a sturdy and durable string handle, you can use it for shopping, travelling, or even to organize your clothes and accessories. This is a handmade crochet bag with heavy string thread. It looks appealing and is also a durable and stylish piece for men and women. It can be carried along to offices, parties, and other places on hand or in hand. This crochet bag is made of sturdy cotton string, making it robust and beautiful. The bag has a drawstring closure with a simple round brooch that looks nice and allows you to sew straps made of string thread in just the right length.
Amazing Crochet Bag You Should Make:
This is a beautiful, modern and stylish handbag that you can make. The bag is made with a geometric pattern that adds texture and beauty to the entire bag. It's a great project to learn how to make your own crochet handbag. Use colourful and bouncy yarns to crochet this beautiful bag. It can be used for many things, such as cosmetics, toiletries, or even as a handbag. This bag can be used to carry a lot of things such as cosmetics, toiletries, or even as an actual handbag. Add satin lining and pockets to this crochet bag if you do not want to carry a big bag.
Elegant Crochet Handbag You Can Easy Make:
Are you looking for an easy-to-make crochet project? The Elegant Crochet Handbag You Can Easy Make is just what you need! This pattern will guide you through each step from start to finish. You will surely love this fun and practical accessory that can be made in any colour. The Elegant Crochet Handbag You Can Easy Make: Crochet Pattern is a handbag you can create in just a few hours. This bag features a crocheted handle and decorative button closure, giving it a chic finish. You'll love this bag so much that you'll want to make another for yourself and another for a friend!
The Yacht Club Crochet Beach Bag:
Take a bit of sea with you on your next journey with the Yacht Club Crochet Beach Bag. This or any other handbag is the perfect addition to any outfit while keeping all of your belongings well organized and easily accessible. Inspired by the cool sea breezes and warm sand of a day at the beach, The Yacht Club Crochet Beach Bag is the perfect summer companion. This light, summery bag will keep you organized while relaxing in the sun. This crochet beach bag is perfect for the pool and beach and lying on the grass. It has a drawstring closure and two handles for versatility.
Left Over Yarn Purse - Free Crochet Pattern:
A generous size with a roomy interior, this crochet Left Over Yarn Purse is the perfect accessory to carry all of your 'must-haves.' Just about ¼ of one ball of yarn is used to create this beautiful crochet purse. You can pick colours that match your mood or work with whatever colours you have in your stash. This simple bag is worked all in one piece; the sides are worked together, rather than separately and sewn together. With a crocheted button closure and optional pocket, your new crochet purse will be complete before you know it!
Crocheted backpack - Free Crochet Pattern:
Let's make it together! The Crocheted backpack is a great project you can use any time of the year. Especially as it gets colder, this piece will keep its shape and give you extra security. The textured design will make your bag look even better and more unique! The textured design of this crochet backpack makes it perfect for any season, especially as it gets colder. Crocheted in rounds, with some assembling, this pattern suits beginners who love beautifully textured designs. Create a stylish and elegant handbag with this free crochet pattern. The perfect gift idea, this timeless backpack is perfect in any season.
Free Crochet Pattern Celtic Bottle Bag:
This super easy crochet pattern is the perfect quick project for every crocheter! Worked in rounds, with a loop handle and a simple star pattern around the bottom of the bag. This bottle is excellent for travelling, storing water, or any other container you want to store on your person. This beautiful Celtic patterned bottle bag is so quick and easy to make you'll be having fun the whole time! It's perfect for baby showers, weddings, and more. With a selection of matching hats, blankets, and baby clothes included in the pattern book, you can make an entire outfit from scratch or stack them up with other clothing items to take your gift giving to the next level.
Free Crochet Pattern Cozy Messenger Bag:
Are you looking for a cute, cozy, warm bag to carry your small items? Then this pattern is just what you need! This messenger bag is perfect for keeping your hands warm while carrying small items. It's also a great gift idea! This cozy, roomy bag will keep your stuff secure and in place without feeling too heavy on your back. It works quickly and is easy to personalize with a fun colour combination. Perfect for carrying around a knitting project or a laptop! This crochet bag is the perfect companion for your next trip! It's lightweight and stylish, yet roomy enough to fit everything you need.
Free Crochet Boardwalk Bag:
This crocheted bag is the perfect summertime accessory. Perfect for those long, hot days on the beach or in a park. A large, roomy bag with a stunning silhouette. This crochet boardwalk bag is perfect for that destination summer trip you hope to plan. With tons of space and pockets, you can easily store your laptop, wallet, and other items in this beautiful bag. This bag's size will ensure you are prepared for any occasion. It features a roomy main compartment and an adjustable shoulder strap. This bag is also great for an overnight or gym bag.
Free Crochet Bag Pattern For Beginners: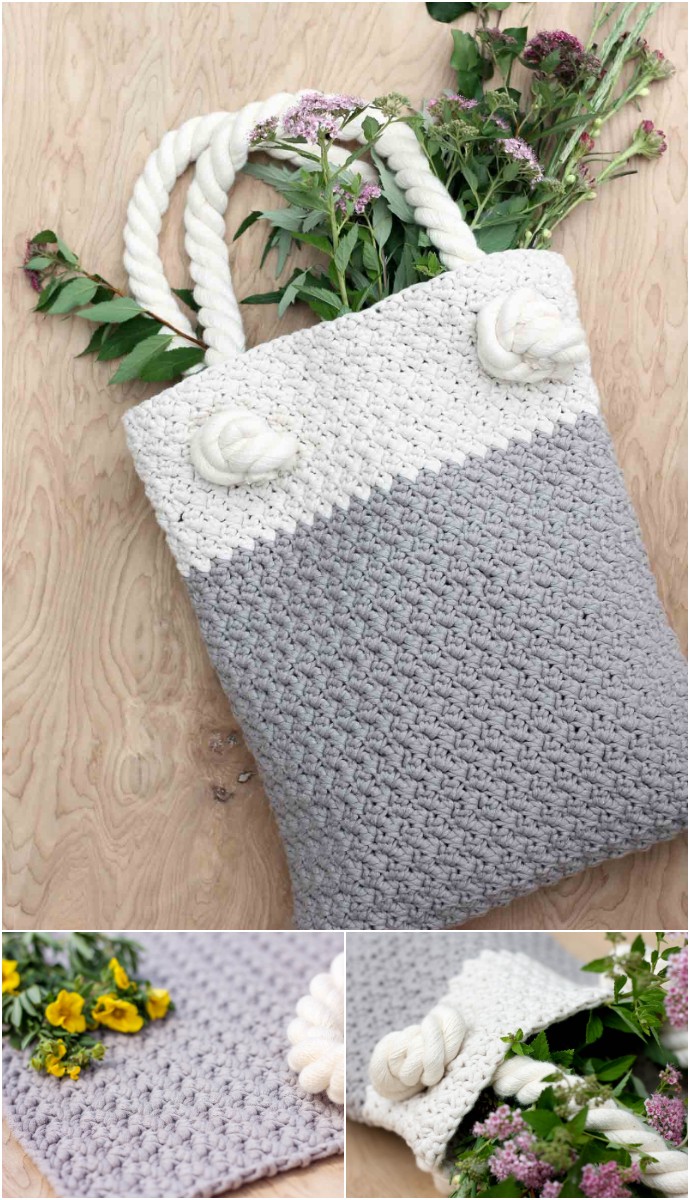 This crochet bag pattern is an excellent project for beginner crocheters. With only single and double crochet stitches, you'll have your new handbag in no time! A neutral colour palette allows you to mix and match your favourite outfits, and the simple construction makes it easy to whip up a new handbag whenever you want one. This free crochet bag pattern is perfect for beginners looking to try their hand at working on a larger project and will take you through the complete process of creating this stylish, simple tote.
Free Crochet Favorite Gift Bag:
Do you have a loved one who loves to crochet, or does their favourite hobby include creating beautiful bags? If so, this cute bag is the perfect gift! This reusable, eco-friendly bag is perfect for any occasion or just as a token of appreciation for your favourite person; it adds an artistic touch to the presentation of your gifts. This custom-made bag adds a beautiful, artistic touch to your presentation of gifts (and it's made from cotton fabric and crochet thread). It can be folded in or out to create a beautiful bag to hold small items. Perfect for any occasion, this reusable eco-friendly bag is handmade with love and can be yours today!
Plarn Tote Bag Free Crochet:
Plarn (plastic yarn) is the perfect eco-friendly material to make totes and other bags. And this project is a great way to upcycle plastic bags into ones you can use daily, so you're being good to the earth while looking fashionable too! This Crochet tote bag is perfect for any occasion. It can be used as a shopping, school, or craft project bag. The handles are made of rope and removable, so you can use the tote without handles if needed. You can make this tote any size you want based on your available plastic bags.
Summer Free Crochet Bag Pattern:
This is the perfect summer project bag, with an open mesh structure that lets you breathe easily while keeping your things organized. You'll have fun making this tote bag, and the recipient will love using it during the warm weather months. This summer tote bag is perfect for a quick weekend trip or keeping in the car. The open mesh structure of the bag means it's lightweight and portable while still being sturdy enough to hold your essentials. It's simple to crochet, and you can use any yarn scraps you have lying around—just be sure to anchor your ends with a couple of stitches when you weave them through the fabric.
Free Crochet Latticework Shoulder Bag:
This wearable art is crocheted from simple shapes and techniques, with a lattice top closure and roped shoulder strap—the perfect piece for effortless day/night style. The Crochet Latticework Shoulder Bag is a classic and stylish look that's the perfect accessory for anyone! Its wide, rounded top is made from delicate crochet lace that works as a handy canvas for embroidery or other embellishments. This chic and sophisticated crochet shoulder bag is a must-have accessory. A touch of ivory crochet with lace detailing provides the perfect accent to the black shoulder strap, with a zipper pocket and enough room for all your essentials.
Loop Stitch Shaggy Bag In Purple:
A perfect bag for carrying around books and other essentials. Handmade in cotton, the soft textured yarn creates a beautiful and cozy tote that stands out from the crowd. Perfect for everyday use, adventures across town, or even backpacking trips! This crochet bag is made with the loop stitch and trimmed with beads. This is an excellent item for yourself, a gift, or a company promotion! This bag can be made using the same style yarn and hook sizes as the sample or may be made from your own choice of yarn and hook size. This is the perfect bag to throw over your shoulder or sling on your back. It's lightweight, easy to carry, and looks good in any setting. Are you looking for a great gift idea? This is it!