When you're a kid, the world is much simpler—Legos are awesome to play with and are guaranteed fun. As an adult, you might not have as much time for building things out of Legos, but you can still enjoy the childhood joy from playing with them by making Crochet Lego Blanket Patterns for yourself or someone else!
The simple design of each Lego brick makes it easy to get started, and you can create a unique gift for any Lego lover in your life. These Crochet Lego Blanket Patterns are excellent for snuggling up on a cold evening or just wrapping yourself in as a reminder of simpler days.
Lego Block Patterns For The Ultimate Lego Lover
Gift a free crochet pattern to all the Lego-loving adults in your life. These crochet Lego blanket patterns are perfect for anyone that loves to crochet. You're sure to find a design you will love with so many options and different styles.
These lego blankets will bring a smile to any child's face. They feature a soft texture and are a versatile size, perfect for snuggling up with. The Lego Block crochet pattern is made with single crochet stitches for the main fabric, a slip stitch for the border, and a picot edging.
With these 10 Crochet Lego Blanket Patterns, kids and adults alike will be adding deep happiness to their bedrooms, and that's no small feat.
Benefits Of Crochet Lego Blanket Patterns
1. You can make the blanket in any size you want. This is great if you want to make a blanket for a baby or a small child or if you want to make something that will fit on your bed.
2. The blanket is soft and warm. It is a great gift for anyone who likes Legos or who likes to play with them outside in the cold weather.
3. It's easy to learn how to crochet, and it's not expensive! You can find all the materials you need at the craft store or online, and they won't cost much!
4. Crocheting is relaxing and fun! You can do this while watching TV or listening to music while you wait for dinner to cook, or while riding in the car with your kids on errands!
Crochet Lego Blanket Pattern: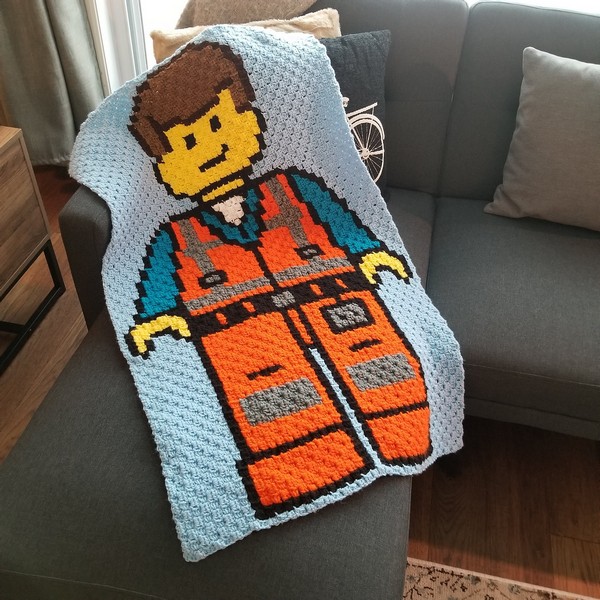 This is a crochet pattern for a blanket that looks like a Lego brick. This Lego Blanket Free Pattern is a simple and easy design for any beginner to make. Made with Bernat Softee Baby Yarn, this blanket will keep your little one warm on chilly nights. This Lego blanket will soon be your kids' favorite toy. It is also soft and cozy with a fun design that looks like a big checkerboard. Plus, it's super easy to crochet - you'll be done in no time! It's easy to make and can use any colors you want!
Afghan Lego Block Pattern:
A unique crochet design of Lego-inspired blocks makes this afghan a great gift or addition to your home decor. This lego blanket target project only takes two skeins of medium-weight yarn and is easy enough for a beginner! Forget the stress of trying to put the pieces together. This crochet afghan pattern is perfect for beginners and the more advanced crocheter alike. Create your own LEGO block cover with this easy-to-follow crochet pattern for a super fun project that you can use as a stitch practice or even give as gifts!
How To Make The Most Awesome Lego Blanket:
Crochet the most awesome Lego blanket ever! The super simple pattern is perfect for beginners who want to crochet something awesome and fun. This blanket is so awesome that it will make you want to play with Legos all day long! Crochet the most awesome Lego blanket for your toddler or child. This blanket can be customized in any favorite color or your team colors. Make this gift for any child who loves Legos. This brand-new pattern will teach you how to crochet the most awesome lego blanket. It even comes in adult size!
Free Lego Crochet Pattern:
Bring your child's imagination colors to life with a bright, fun, and colorful crochet throw! This pattern is easy to follow and use, with measurements for all the pieces. The blocks are stitched as separate entities and joined together using a blanket stitch to enclose each space. Each block is also decorated with tiny crochet dots to add interesting detail. This versatile throw can be made in any color scheme and size desired! Start crocheting with this easy-to-follow, step-by-step pattern in a fun, colorful new way!
Lego Blanket Pattern: Crochet A Lego Blocks Blanket
Crochet a Lego Blocks Blanket using this easy and free crochet pattern. To create a warm winter blanket, you can also make this blanket using bulky yarn or wool. This free lego blanket pattern is fun and simple to crochet. Perfect for beginner crocheters! Wear it as a scarf, wrap it around your shoulders or pillow, or use it as a play mat for your children. The possibilities are endless! This fun idea is a great way for kids to use their imaginations. The blanket comprises nine squares, each featuring another color and shape of a lego block. The blanket size can be changed easily by adding or subtracting blocks.
How To Lego Blanket Crochet Pattern:
Do you love Legos and need a gift for a child? Maybe you are looking for a new project to do. But the problem is you don't know how to crochet or knit. Well, then, this lego blanket pattern free is perfect for you! This super cozy Lego blanket is a must-have for any kid's room. This pattern is so easy; you can make one on the weekend! Using basic crochet stitches, you can whip this up in no time. Perfect gift idea for boys of all ages!
Free Crochet Pattern Lego Blanket: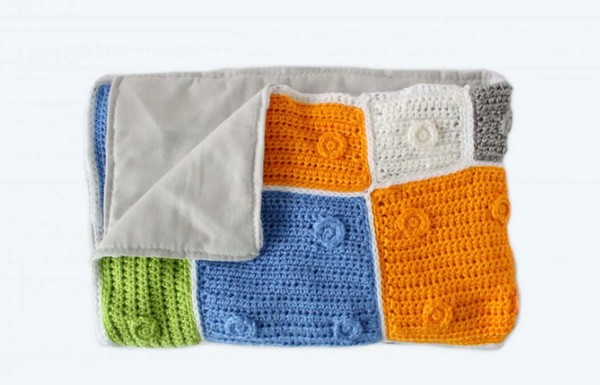 If you love making crochet blankets but find the process of making a single large blanket daunting, this crochet lego blanket pattern free is perfect for you. It's great for using yarn bits and pieces and is an easy project to take to a friend's house so you can sit, crochet and chat. This pattern uses bright colors to make a fun throw or lap blanket your child will adore. This crochet lego blanket is the perfect way to show off your love for all things blocks, especially if you're not quite ready to tackle an entire blanket made from only yarn. The best part is that this pattern is super-easy, and you can work on it whenever you want.
Crochet A Lego Blocks Blanket:
Create a fun blanket using the same technique as making a scarf. This blanket is great for snuggling, or it can be used as a throw or even taken to the park and used while watching your children play. This block crochet blanket is perfect for a kid's room, nursery, or college dorm. This is a great pattern to learn how to crochet a blanket or even practice your stitches if you are starting!  The best part? You can make it in any color scheme you like!
How To Crochet Lego Blanket:
The Lego Blanket has a modern look that feels both retro and current. This blanket is a great way to showcase your favorite things. It knits up quickly and is so easy to customize that you can make an entire collection of Lego blankets! The only thing you need is a little bit of yarn - and maybe some time. Depending on how many squares you crochet together, you can make the bedspread big or small.
Crochet Lego Blanket Free Pattern:
This is the perfect idea for making a crochet lego block blanket. It's a great, fun DIY for kids to make or as a gift for any occasion. This crochet blanket idea is fun for you to make with your kids, too! Crochet Lego blocks in different colors and sizes. The possibilities are endless when it comes to making this blanket! You can do squares or follow the pattern for rectangles and make rectangular-shaped legos. You can customize the size to fit your specific needs. This would be great for a baby shower gift or as a decoration/blanket for your man cave/boy's room.