Do you want a handmade jewellery box that's all your own? We've picked out 15 DIY jewellery box plans to try out and enjoy. These plans are simple enough for anyone to follow, and you can use various materials for them. You'll learn how to make a box from cardboard, a cigar box, or even an old book. These are cute ideas that will stand the test of time, and they're also great crafts to keep on hand in case you need a last-minute gift idea. There's no better way to show someone you care than with a handmade gift.
Discover the best jewellery box plans and tutorials with this free e-book. Filled with gorgeous jewellery box designs, you're sure to find the perfect gift for your loved one or a project for yourself! Jewellery is a reward that can be given to any woman! I have the perfect DIY project for you if you have a daughter, granddaughter, or wife who loves to dress up and accessorize. These jewellery box plans are fun for the whole family and provide years of enjoyment for your loved ones. If you love doing crafts with the kids, these jewellery box plans make it easy to share your talents with them.
These 15 DIY Jewelry Box Plans are from beginner to advanced with simple and ornate designs; you will love making them for yourself and others!
Advantages Of DIY Jewelry Box Plans
There are many advantages of DIY jewellery box plans:
Convenience - You can make whatever size or shape you want. You don't have to settle for something that's already available. You can use exotic woods if you want, or even try something new, like plywood or MDF.
Cost - You're not paying someone else to build it for you. You save on labour costs because you're doing all of the work yourself! That also means you get exactly what you want without having to pay extra because it didn't come out right on their end (or because they made a mistake).
Customization - If there's anything that's important to do-it-yourselfers, it's customization — especially when it comes to their own stuff. With DIY jewellery box plans, you can customize everything from the colour of your paint job to the hardware that holds everything together.
DIY Jewelry Box Plans - DIY Jewelry Holder Projects:
DIY Secret Compartment Jewelry Case Idea:
Are you a woman who loves to keep her jewellery safe from everyone? Do you want to make your apartment more beautiful, hidden, and stylish? If so, then this DIY Secret Compartment Jewelry Case Idea is for you! It doesn't need too much of your time and effort; only with a few materials can you create and use it whenever required. This idea will help you make a perfect place to keep your jewellery safe and away from everyone, even from thieves.
DIY Jewelry Cabinet Idea:
Do you have a lot of jewellery? Then you will like the idea of this DIY Jewelry Cabinet Idea. It is a charming and easy-to-make DIY jewelry cabinet Idea. The materials are also easy to find. It is a piece of cake to make this beautiful DIY Jewelry Cabinet with your own hands. This DIY Jewelry Cabinet Idea is the perfect solution for keeping your jewellery collection organized or creating a lovely present for someone else. It has double-hinged doors that reveal six shelves and plenty of space for necklaces, earrings, and bracelets.
Easy DIY Earring Stand Plan: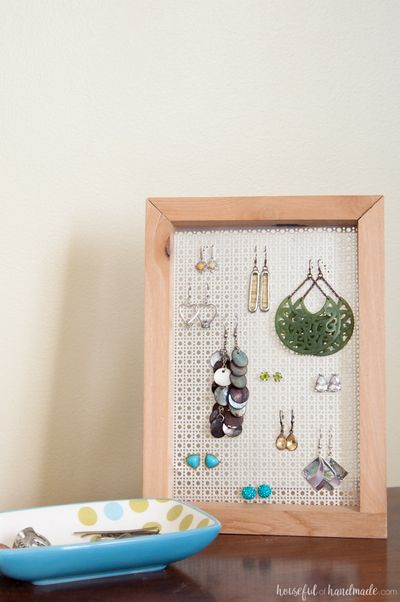 This Easy DIY Earring Stand Plan will provide a safe and secure place for your jewellery. It is simple to make and is sure to hold all kinds of jewelry because it has a lightweight construction that can be easily adjusted. The materials are inexpensive, so you might be able to have a few on hand for quick fixes when needed. This DIY Earring Stand Plan will be a perfect solution to keep your jewellery safe and organized. This earring holder is quite simple to make, uses a few items, requires less time, and any non-professional person can make it.
DIY Wood Jewelry Box Plan:
If you're a DIYer and want to keep your precious jewellery safe from spoilage, this DIY Wood Jewelry Box Plan is perfect! All you have to do is follow the step-by-step tutorial guide to make your own. Plus, it only takes 2 hours to complete. When decorating your house, you will be stunned at how beautiful and elegant this jewellery box looks. It is effortless to make and has a small budget because you can use leftover materials from other endeavours.
DIY Marbled Jewelry Box Idea:
This DIY Marbled Jewelry Box Idea is a thing of beauty. The separate compartments in this plan are perfect for keeping your jewellery organized and easy to see inside its beautiful design. The result of this DIY craft project is one you would want to keep displayed in your room on a table or at least use on your dressing table because once it's done, there is no stopping anyone from admiring its beauty and utility!
DIY Jewelry Box Idea:
This DIY Jewelry Box Idea is straightforward, and you can make it with your own hands. Add style to your jewellery storage with this decorative DIY Jewelry Box Idea. It will give you a reason to keep your pieces safe and organized, so you will always know where to find what you need. It is an essential investment for your jewellery. This guide will help you to understand how to make a DIY jewellery box on your own. You will be able to make gift boxes for your loved ones on their birthdays or during other special occasions.
Super Pretty Bracelet & Watch Storage Case:
This super pretty bracelet and watch storage case makes a great nightstand accessory. With its classic black stripe, this organizer keeps your jewellery organized and easy to find, while the faux suede lining provides all the protection your bracelets and watches need. This storage case will protect your jewellery, alerts, and other small things such as earrings, necklaces, etc. It is made with good quality material and has a soft plush interior for maximum protection of your items. This guide will help you make one.
DIY Jewelry Stand Idea:
Are you looking for an idea of how to store and display your jewellery? Then this DIY Jewelry Stand Idea can help you. Make your own sturdy and beautiful stand in just 5 minutes with this simple method using only some wooden board, a saw, and a screwdriver. This is a terrific way to organize and store your jewellery. This DIY jewellery stand is made from an old wooden box; however, you can use any decorating material you like.
DIY Jewelry Box:
This Jewelry Box is straightforward to make and may be an excellent way for your kids to get involved with your jewellery collection. This is a great project to try if you want to create something for yourself or someone else. This DIY Plan will show you how to make a beautiful jewellery box from scratch. You will have the opportunity to add your own flair and choose your own colour and materials.
DIY Jewelry Organization Board: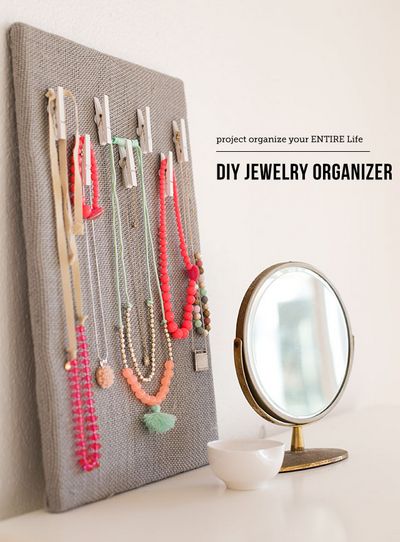 This DIY Jewelry Organization Board is a great way to display your jewellery. It is an easy and fun project that can be done in an afternoon with simple materials; this is a centrepiece decoration inside your dressing room. Your lovely jewellery collection will be safe from harm, and you will see all of them in one place. This easy-to-make project is perfect for crafting on a rainy day or when you want to improve your home décor by adding some personalized style.
DIY Jewelry Tree Idea:
Do you have a gift for a friend and want to do something special with jewellery boxes? This DIY Jewelry Tree Idea is perfect for that! This project is easy to make but looks so unique and sweet. If you want this DIY at home, you need wooden planks, wood glue, sandpaper, screws, or nails. This DIY Jewelry Tree Idea is a beautiful and tidy way to store your jewellery. It will be terrific for those with an extensive collection of bracelets, necklaces, earrings, and rings. It's a gift idea too!
DIY Jewelry Organizer With Ikea Utensil Holder:
Need some organization? This DIY Jewelry Organizer With Ikea Utensil Holder is perfect for the job. Using leftover Ikea Utensil Holder, you can make a great way to display your favourite necklaces, bracelets, and earrings. The organizer is also great if you have kids starting to get into jewellery! This unique organizer can be used to keep your jewellery and as the centrepiece of decoration. The guide shows you the complete procedure.
DIY Mini Trinket Boxes:
Make this DIY gift box yourself and fill it with jewellery or other small collectables; it is suitable for both men and women. This box is simple, neat, and elegant, which you can use daily. The perfect present for travelling, weddings, birthdays, and more. This DIY Mini Trinket Box is the ideal size for a jewellery holder or place to keep your earrings, charms, or other tiny treasures.
Upcycling A Vintage Cigar Box Into A Diy Ring Holder:
Upcycling old cigar boxes can be a great way to add character and warmth to your space. This DIY ring holder is one of many ways you can use an old cigar box to display your jewellery. This project is perfect for those days when you want to upcycle something fun but doesn't have much time. This is an effortless and fun craft project to complete; You can paint, stain, decoupage, and personalize it any way you like.
DIY Jewelry Organizer Idea:
Whether you're looking for a specific item of jewellery or want to find the perfect outfit to go with your new accessory, this jewellery organizer is sure to make your life easier when you're on the hunt. Organizing your jewellery will save you time and help you find what you need when you need it! This unique DIY Jewelry Organizer idea is an easy project that can be completed in just a few hours and certainly makes the perfect gift or keepsake for yourself.