Keep your Chapstick where you want it with one of these easy chapstick holders. If you're looking to make your Chapstick more convenient and accessible while keeping it safe from the heat, here are quick and easy DIY chapstick holder Ideas.
In this collection, you'll find fifteen of the best DIY chapstick holder, making it easy to find one that is just right for you or someone else. Chapstick holders are a great way to store your Chapstick, lip balm, or lipstick creatively. With these DIY Chapstick Holder ideas, you can be as creative as possible. This is an easy DIY craft project that anyone can do!
DIY Chapstick Holders As Small Organizers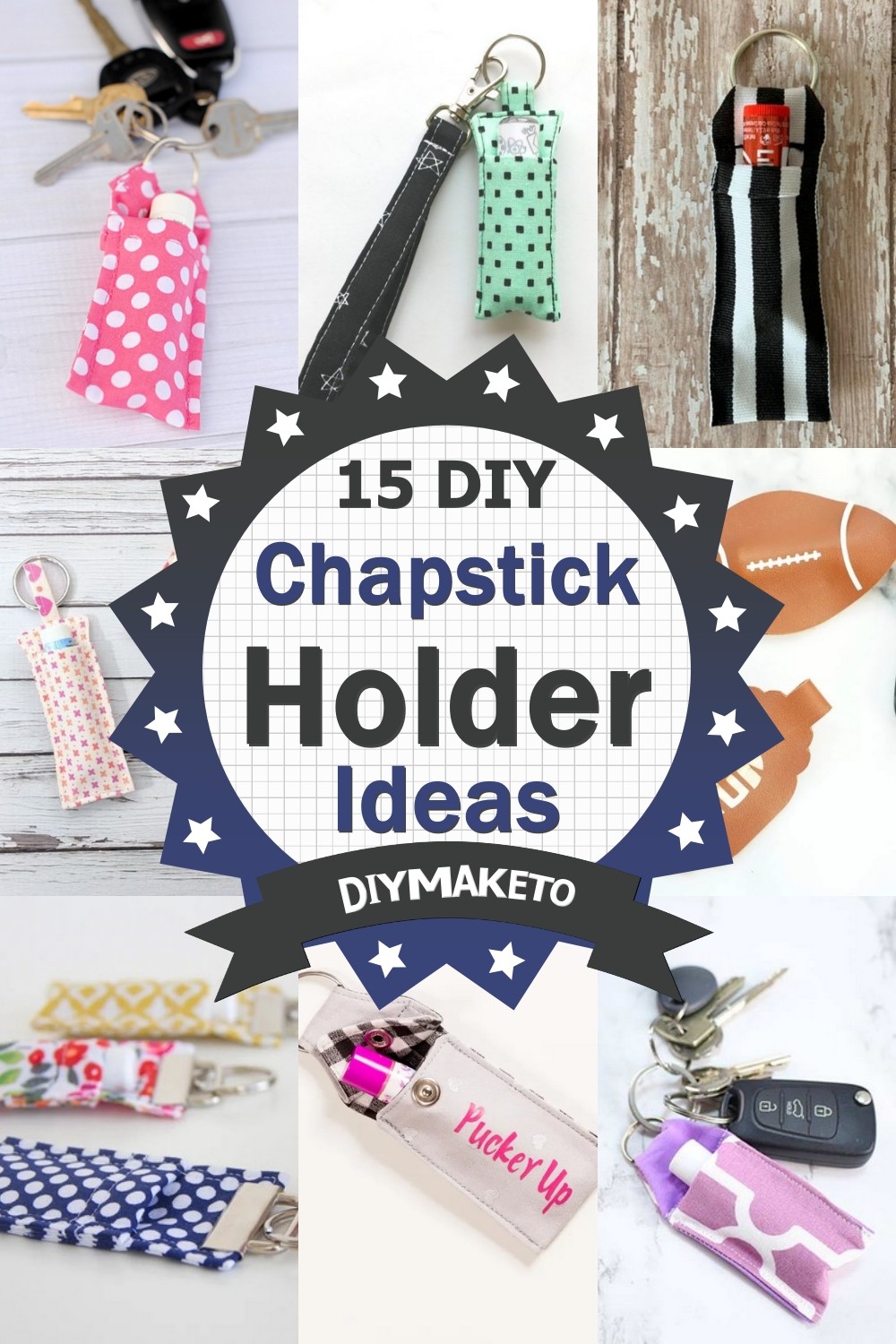 Chapstick holders are necessary for all of us, and these tutorials will show you how easy it is to make one. These can be customized in any way you like: using fabrics that match a room's decor, adding your style to it, or making a holder for a different size of chapstick tube.
These DIY chapstick holder ideas are perfect for carrying your favourite lip balms and keeping them from getting lost. Great for holding just about any small essentials you want to keep close at hand. These Lip Balm Pouches are perfect for friends, family, and hostesses. They're super fun to make and customize, and everyone loves getting them!
Easy to make, these 15 DIY Chapstick Holder ideas are just as easy to customize and make your own with a bit of creative hot glueing.
What Are The Benefits Of Chapstick Holders?
They are inexpensive and easy to find materials for making them.
You can make a personalized holder for yourself or as a gift for friends and family.
The chapstick holders look attractive and stylish when made with exciting materials like beads or buttons, which are readily available at fabric stores.
They are also available in different shapes and sizes, so you can choose one which suits your needs best.
How To Make A Chapstick Holder Out Of Fabric:
If you love Chapstick and want to show off, this chapstick holder DIY tutorial is the way to go. They're perfect on your countertop or as a desk accessory at work. This easy DIY is excellent for using scrap fabric, making it a delightful gift! With step-by-step instructions, you'll be able to create one of your favourite lip balms in no time. Your chapsticks will never get stuck in a drawer again! This simple tutorial lets you have them nice, neat, and organized.
How Do You Make A Chapstick Keychain Holder:
Never be without your Chapstick again! This is a cute and easy project and hardly takes up space. All you need is a bit of fabric, scissors, and some safety pins. You can even use this technique to make other little handbags! You will love this DIY chapstick holder keychain! With a beautiful acrylic gem and a key ring, you can carry your favourite Chapstick or lip balm with you as you go about your busy day.
Related:
The art of making DIY wristlet keychains is not only creative but also a great way to add individuality and style to your keys.
How To Make A Chapstick Holder:
Use your skills to put it together, and you will add a special touch to any room! This how to make a chapstick holder class is terrific. It teaches you how to make a holder for your Chapstick and the best way to carry it around while travelling. Making a chapstick holder is easy and cheap. You can get craft supplies from the dollar store and use these as your base for creating something unique and practical.
Keychain Chapstick Holder Target Tutorial:
This DIY keychain chapstick holder is a cute way to protect your lipstick tube; plus, it doubles as a cute keychain. This DIY Keychain is perfect for your handbag or keychain. This simple and inexpensive craft adds a bit of personality to your everyday life! This keychain chapstick holder is perfect for throwing in your purse or pocket but is also cute enough to keep on your desk at school or work. It's an easy, cute project that requires very few supplies and can be done in about 15 minutes!
How Do You Make A Faux Leather Chapstick Holder:
This DIY Chapstick Holder Faux Leather is a handy storage kit for your lip balm or chapstick. It's large enough that you can easily untwist it, get a nice hearty amount of product out, and then slide it back in. If you don't use this as a keychain, it still makes for an adorable little storage kit for your purse or car. This is the perfect solution for you! It's made from faux leather and comes in pretty colours, so now you can take it anywhere. Please keep it in your bag or even on your keychain. You can't go wrong with one of these!
DIY Black Chapstick Holder Idea:
Try this super easy DIY Black Chapstick Holder that will make a small organizer for yourself. The project takes under 30 minutes and costs less than $10 in supplies. This chapstick holder would make a great gift or stocking stuffer! It's a simple project perfect for beginners but elegant enough for anyone to give as a gift! This DIY desk accessory is a great way to create a sleek, clean desktop. It features an easy-to-make design so that anyone can make it!
DIY Crochet Chapstick Holder:
This chapstick holder is the perfect gift for anyone who loves to crochet! This Chapstick Holder is the perfect addition to your purse. It easily fits in all kinds of purses, clutches, and backpacks! Don't forget your Chapstick or lotion with this fun little crochet pattern. This Holder is a great way to keep your Chapstick handy while adding a bit of crochet to your life. The smallholder can be used as an ornament or functional item in your purse, coat pocket, or car.
Leather Chapstick Holder:
Easy to make and personalize, this leather chapstick holder will work wonders to keep your lips moisturized all day long. Craft your leather chapstick holder and feel like a chic, city-living hipster. This DIY project is the perfect way to channel your inner crafter. Make this leather chapstick holder in just a few minutes. Use your favourite tools and materials, then fill it with Chapstick, lip balm, or other small accessories -- these make great gifts!
How To Make Chapstick Holder With Cricut:
This little chapstick holder keychain will fit the bill if you want a quick and easy DIY project. Nothing too fancy or complicated, just a simple shape that makes a perfect gift to attach to a set of keys or a person's purse or backpack. This Lip Balm Holder Keychain is easy to make with your Cricut and comes with a free attached guide and pattern! Use this to hold lip balms, knick-knacks, or even small hair accessories. You will not believe how quick and easy it is to make!
Chapstick Holder Crochet Pattern:
Tired of fumbling around for your Chapstick? Try this quick-to-make chapstick holder as a quick and fun crochet project. It's an excellent beginner project that almost anyone can make. This pattern will teach you how to make your customized chapstick holder. This pattern is easy enough for beginner crocheters but has plenty of detail to keep experienced crocheters happy. This lovely chapstick holder will be used daily by yourself or as a stocking stuffer! Check out the photo on my website to see the finished product.
Easy Chapstick Holder Pattern Free:
For those times when you don't have time to sit down and sew something but still want a quick little project to get done, this DIY chapstick holder keychain pattern will help you with that. It is quick and easy to make and fits right on your keychain, so it will be there when you need it most! If you've ever encountered dried-out Chapstick or had to carry the whole tube in your purse or bag, this is for you. These make great gifts too!
Chapstick Holder Sewing Pattern:
DIY your ChapStick Holder with this fun and easy-to-follow DIY sewing pattern. Perfect for any chapstick lover! EASY to assemble, this craft pattern provides step-by-step instructions that make constructing your chapstick holder simple. Get creative and add some ruffles or lace. This simple homemade chapstick holder is a super-cute and easy sewing project. It's the perfect way to use fabric scraps, and you'll love showing it off while keeping your favourite Chapstick handy wherever you go!
DIY Fabric Chapstick Holder:
Do you have a friend or family member constantly losing their Chapstick? Well, this gift idea is perfect for them. The Fabric Chapstick Holder will ensure that your loved one never loses their Chapstick because it is attached to their keychain, so they can't leave it somewhere or drop it. With a latch attached to the keychain and a stand on the bottom, this holder ensures that both sides of the fabric stay open so that the Chapstick can easily slide in and out.
Chapstick Holder Template Free:
No sewing machine? No problem. This free chapstick holder template is easy to use with a cutting machine or scissors. Whether creating simple keychain holders, or something more elaborate, you'll love making cute chapstick holders that fit perfectly in your pocket or purse. A cute DIY chapstick holder pattern that is easy to sew will make a great gift if you're looking for ideas on how to sew keychain chapstick holders. This easy-to-print cut pattern will help you sew up a chapstick holder of your own! Using the template, you can make one or two chalet holders for yourself or a friend. Great for sewing beginners!
DIY Keychain Chapstick Holder:
Hate digging through your purse or bag when you're on the go? It's easy to keep track of your Chapstick with this DIY keychain chapstick holder tutorial! Make one for yourself and your friends, and never be without your favourite lip balm again. This easy DIY keychain chapstick holder is a fun project to add to your key holders and totes collection. Use the vinyl and tools provided to decorate your custom keychain. Save space in your purse or pocket by making this DIY keychain. This tutorial will teach you how to make one for yourself or as a gift.