Are you a fan of favorite animal patterns and want to crochet something that hit the trend? Find here very gorgeous and beautiful free crochet horse patterns that are popular these days. Crochet horse patterns are not too much different from unicorn patterns, so if you have ever tried crochet unicorn patterns, you will find this list so much easy for you. Plus, this list is also included with some unicorn patterns that will make you crazy for them.
So, this is a perfect opportunity to create soft and cuddly crochet horse patterns not only for yourself, for your kids, but also you can make them for your friends, too, as gift ideas. These beautiful horse patterns are not too much difficult to crochet. Once you learned the basic techniques, you will be able to these patterns of different styles and colors.
Crochet Horse Patterns
And I assure you your kids will love these fun horses, and they would love to cuddle and hug with them even while they are sleeping. Horse amigurumi and horse appliques, and crochet horse hat patterns are shown in the list below. All of them are incredibly amazing, stunning, and so much cute that you would not stop your hands without trying them with your crochet hooks.
You Can Also See:
Plus, all of these patterns are included with links that will provide you with a complete tutorial, stitch patterns, supplies, and other further details. So, check out this list and find your favorite pattern from here. Happy crocheting and have so much fun!
 Flip Flop Horse
If your kids love to play with stuffed toys, then this cute Free Crochet Flip Flop Horse Pattern will be an excellent choice for you. It's fo soft and looks adorable when entirely made due to Bernat Crushed Velvet and Bernat Velvet yarn. The combination of these both yarn helps to create this horse pattern fast and easily. You can crochet it for your kids or make it a great last-minute gift for your beloved little ones to cuddle all the or to hug while going to bed!
Hessy Horse Amigurumi
Summer is here, which means it's the right time to play with wild animals. This Hessy Horse Amigurumi Pattern is charming and so adorable. It's big enough to hold and hug not only for your whole day but also to sleep with it at bedtime. Before working on this crochet horse amigurumi, you have to practice on basic stitches so you might be able to crochet it perfectly within a short time.
Horse Potholder
This Crochet Horse Potholder Pattern will be the right addition to your kitchen to give it a farmhouse look. Its pattern is relatively easy, and it is without holes are delicate patterns, which makes it more functional and very useful. Moreover, animal patterns give your projects a charming touch; whether it's your kitchen or bedroom, animal crochet patterns or animal crafts make your projects favorites of yours and are much popular among the kids.
Horseshoe Applique
Are you looking for St. Patrick's Day decorations uniquely? Don't go anywhere else because these crochet Horseshoe applique will be a great embellishment and decor pattern to give your home a festive look. Plus, according to many people, horseshoes are considered a symbol of peace and good luck. But whatever the reason is to crochet this Free Crochet Horseshoe Applique Pattern, you will have quite fun and feel amazing while you will crochet these crochet appliques.
Golden Palomino Horse Crochet Pattern:
Whether you want to give your home an animal theme or to crochet horse amigurumi pattern, please your kids; this Golden Palomino Horse Crochet Pattern will be a fun choice for you. It's such a cute and exciting pattern to give your imaginations a real shape and enhance your crochet skills. You can change the combination of this horse amigurumi according to your choice and give it a personalized look!
Heidi The Horse Free Amigurumi
Make a cute crochet horse amigurumi pattern for your home using the acrylic weight yarn in different colors and (e) sized crochet hook. Its creation is much easy; the whole pattern is made by working with the fox technique; you'll surely admire making this pattern and will make more amigurumi for your home décor. For a cleaner appearance, make the ears and tails with matching colored yarn; it will enhance your pattern's beautification.
Lucky The Horse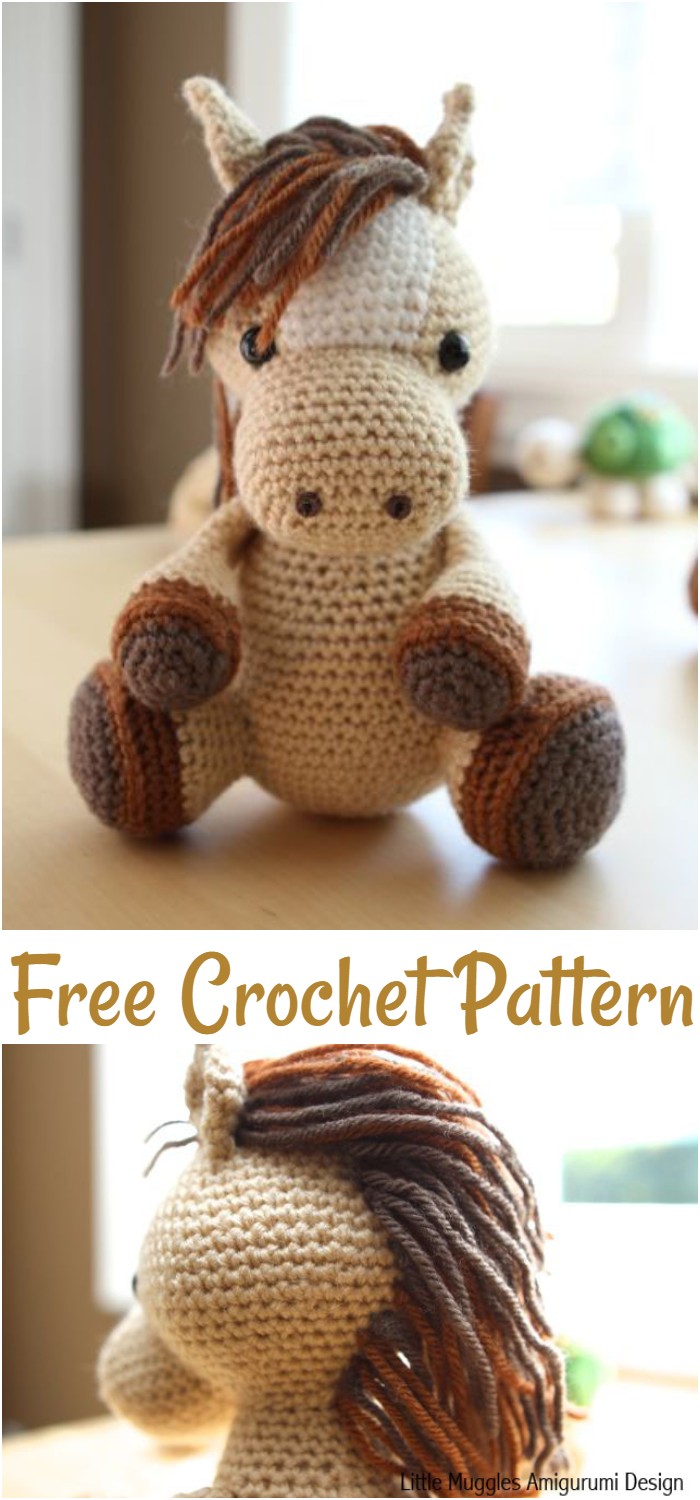 This cozy crochet lucky the horse pattern will be a fabulous handmade gift for your beloved children. To create this crochet horse pattern, you'll have to work with the latch hook technique; for the making of limbs, work with the back post single crochet in each hoof. It will be a fun creation and a perfect choice for adding beauty to your home décor; you can follow the below link for more details about this pattern.
Mini Amigurumi And Donkey
For making this cute and unique crochet mini amigurumi and donkey pattern, you'll have to work with the magic circle in invisible decreases and color changes. Use the plastic eyes in black color for this crochet horse pattern; it will enhance your pattern's beautification too much. Make a male and female pair of amigurumi; you'll surely love to and them in your home décor.
Appliques And Unicorn
Try this fun crochet horse pattern for adding an essence of beautification and coziness to your home décor. You can use it as a decorative piece and entertaining accessory for the children. Use the light worsted yarn and (3/3.5mm) crochet hook for making this unique crochet horse pattern. You can go with the desired color combination for this pattern, with no restriction for it.
The Callie Hat
Try this Callie hat pattern for making an impressive and adorable hat to welcome the arrival of the winter season. It will be a cozier and warm accessory for your children's use and be the best gift-giving choice. The cute color combination and the standing ears on the top make this pattern look more admirable and unique. Utilize the red heart super saver yarn and (h) sized crochet hook to create this crochet horse pattern.
Farm Horse Crochet Pattern:
Make this extra cuddly and unique crochet horse pattern to use as a decorative piece; its superb design makes it everyone's favorite, so this pattern will also be best for gift-giving purposes. The finishing size of this croche horse pattern is about (7) inches so that you can keep it along yourself for trips and picnics as your child's soft friend. The yarn art jeans yarn and the (2mm) crochet hook are selected for this pattern.
Horse Amigurumi
Add this fancy and crochet horse pattern amigurumi for an elegant and unique touch in your home décor. It can be easily worked up as a single piece, but creation is uncommon, so this pattern will also be the best choice to try something new and innovative. The supplies you'll need for this crochet horse pattern are acrylic yarn and (2.25m) crochet hook. For further assistance about this pattern, you can also follow the below link.
Horse And Donkey
Create a crochet horse and donkey pair to add an essence of beautification and glamour to your home décor using the worsted weight yarn and (3.5mm) sized crochet hook. Its creation will be quite fun and easy; you can work separately on the pieces and then stitch them together for this crochet horse pattern. A cute muffler can also be added to your finished crochet horse and donkey(optional) to enhance this pattern's beauty.
Crochet Horse
Follow this crochet horse amigurumi pattern to make an impressive toy for your children. Its creation is much easy, and the combination of unique stitches gives this pattern an extra adorable appearance. Your children will love to make this new pony friend, and be a superb gift-giving accessory for your beloved ones. The size of this crochet horse pattern is easily customizable; the required supplies for its creation are DK yarn and (b/g) sized crochet hook.
Lucky The Amigurumi Horse
Your toddler will love to play and hug this cute crochet horse pattern; because of its unique softy design, you'll also love the softness and coziness of it. Making this crochet horse amigurumi is relatively easy; you have to work with the lion brand Vanna's choice solids yarn using the (4mm) crochet hook. Use the same color combination of yarn shown in the below pics because it looks too beautiful.
Horse Piem
The light-fingering weight sock yarn is used for making a beautiful and unique crochet horse pattern for your use. When you're looking for an adorable and unique gift-giving accessory, this crochet horse pattern will be the best choice for you. The finished size for this crochet pattern is about 20cm, although you can also customize it according to your will by changing the number of working rows.