What do you get for the horse lover in your life? If they like horses and crochet, why not combine the two? Crocheted horses make great gifts for horse lovers, especially if you know their favorite breed. There are plenty of free patterns online for crocheted horses; many even include pictures showing exactly how your horse will turn out. The only problem is picking which horse to crochet! To help you out, we've gathered up some of your favorites. Hopefully, there is at least one here that everyone would love to have on their mantle or desk.
Whether you're a horse-lover looking for a hobby or a crafter who wants to make friends with the equine set, there's no better way to do it than with crochet. These patterns are ready to be printed and thrown over your shoulder like a saddlebag, so check them out. You'll find horses in all shapes and sizes here: some are based on existing breeds, while others are cartoon creations that take the form of characters from films or tales. It's easy to start crocheting once you get one of these patterns down, so get ready to ride!
This is a collection of 28 crochet patterns for horses, inspired by the animal that has been a companion to humanity since the beginning of civilization.
Tips For Crochet Horse Patterns
Crochet horse patterns are a fun thing to make and use. Here are some tips for getting started on your following crochet horse pattern.
Find the correct pattern for you! Many types of crochet horse patterns are available, so be sure to choose one that fits your needs and interests.
Choose a suitable yarn for your project. If you're making a stuffed animal, you'll want to find something soft and durable that won't wear out quickly after a lot of use. If you're making something that will be displayed in a home instead of used by children or animals, you can choose whatever color and texture you like the best!
Make sure all materials are safe for kids or animals before starting any project involving them! This includes selecting yarns with low toxicity ratings and using materials like buttons or beads that won't cause damage if swallowed by small animals like puppies or kittens.
Crochet Horse Patterns
Icelandic Crochet Horse:
Ravensthorpe Icelandic Horse is a beauty in itself. It is worked in rounds and rounds and can be made with any yarn. Make it in a bright color to play with it outdoors, or use the same yarn you have used for a sweater or scarf, and then you can associate happy memories with the horse. This Icelandic crocheted horse is a beautiful toy for children. It is worked in rounds and rounds, with no need to sew. Choose a bright color yarn to play with it outdoors, or use the same yarn you have used for a sweater or scarf, and then you can associate happy memories with the horse.
Rocking Crochet Horse Pattern:
Are you a horse lover? Then it would be best if you had this rocking horse crochet pattern. Ride with the wind and enjoy the weather in a new way. Make this rocker out of any color yarn to match your decor. This rocking horse crochet pattern is easy to make and suitable for beginner crocheters. The perfect gift for any horse lover. This rocking horse crochet pattern is easy to make and suitable for beginners. It makes a great baby shower gift for any toy-loving parent. This crochet pattern allows you to get the perfect toy that fits your child's personality while giving them a way to exercise their body and mind.
Horse Hat Free Pattern:
This crochet horse hat pattern is easy and fashionable to keep your little ones warm on a chilly day. It can be made in any of your favorite colors, making it perfect for any season or occasion. This pattern is quick and easy to make, with an interesting knit-like stitch that looks a lot more complicated than it is. You can use any yarn you like and make it to fit any size head--or even make one for the horse in your life! This hat is excellent for your little girl and makes the perfect gift. It is easy to make and is a great stash buster.
Sea Horse Crochet Pattern:
This Sea Horse Crochet Pattern is a great way to use scrap yarn. The sea horse is a perfect addition to your aquarium or any kid's room. This pattern includes instructions on how to make a keychain. Crochet these adorable little guys in any color combination, with the crochet pattern included in this listing. Give them as a gift or make them for yourself! The pattern is a straightforward learning and fun project for anyone. This sea horse crocheted pattern makes for a unique floor covering or wall hanging. Spread on a wall hanging could also make a room's attractive focal point.
Tiny Animal Collection Horse:
Who could resist this sweet baby horse? Adorable and great for play, this collectible horse is made of soft, cuddly fabric and is designed with a sweet face and adorable details. Collect all the Tiny Animals to complete your collection! You'll fall in love with this Crochet Tiny Animal Collection Horse. These adorable animals are perfect for your next craft project or gift-giving occasion! This little horse will be a great friend for your toddler. Your child can take it with her to lie down or play in the backyard (if allowed). It's made of cotton, so it's easily washable and won't ruin your daughter's delicate clothes. The head can be removed if you want to wash just the body.
Seahorse Coaster Pattern:
The seahorse coaster is a perfect pattern for beginners. You'll get to make a sea creature; the finished project is cute. The crochet coaster makes an adorable gift or stocking stuffer for that special sailor in your life. The project goes quickly, so it's excellent for beginners who want to take on a more complicated project. The result will surely please anyone who loves mermaids or sea life. You will have a lot of fun making this coaster and see how easy the process can be!
Best Little Horse Amigurumi:
New to the world of crocheting? This step-by-step guide is a great place to start. This Best Little Horse Amigurumi is the perfect handmade gift for any horse lover. This adorable and super-soft acrylic crochet horse stuffed animal is an easy project with basic stitches, perfect for beginners! Written with beginner crafters in mind, it covers everything from picking your first hook and yarn to stitching your first stitch. Then it guides you through making five adorable horse amigurumi toys, from a small pony to a giant Clydesdale. Practice each technique before moving on to the next one, and you'll be crocheting like a pro in no time!
Twinkle The Horse:
Crochet Twinkle The Horse for your child and watch their eyes light up! A wonderful, handmade gift to welcome them into a new chapter of their lives. Give the gift of fun and good times that your friends and family will enjoy, year after year. A perfect gift to open at Christmas or anytime when you want a little happiness in your life -- playtime with Twinkle is sure to put a smile on any face! The Crochet Twinkle, the Horse, is a pleasant and fun way to help your child and yourself relax and unwind. This adorable quick, easy crochet design is perfect for any horse lover, young or old!
Crochet S'mores The Horse Pattern:
The Crochet S'mores The Horse Pattern is the perfect project for anyone new to crochet and experienced crocheters alike. An adorable, easy-to-follow pattern is included to make your own Crochet S'Mores The Horse. With just basic crochet skills, you can have a fun toy for kids or even a little treat for yourself. Following this pattern, you can create and crochet the adorable S'mores The Horse. This is a perfect gift for your loved ones and family who love crochet and horses.
Pony Horse Beanie:
Horse lovers will love the Crochet Pony Horse Beanie. This crochet pony horse beanie hat is perfect for your little girl's next big adventure. This fun beanie hat is perfect for horse enthusiasts of all ages but especially suited for adults who may be waiting at a race track or riding lessons. The pony beanie hat is complete with a stylish braided black rope mane. You can even choose from different colors of yarn. Perfect for outdoor activities like gardening and camping as well!
Free Crochet Baby Booties Horse:
This crochet baby booties horse pattern makes a sweet gift for your favorite baby. You can make a pair of booties for a baby boy or girl, so there is no need for this one pattern to be limited to just one gender. Crochet them in the color combination of your choice and with any yarn that you like best. These adorable crochet baby booties are a great gift idea. The pattern is simple enough to follow, even if you're a beginner crocheter. These cute handmade baby shoes are perfect for the nursery or any little girl or boy's wardrobe!
Windu Horse:
If you're looking for the perfect gift for a child who loves Star Wars, Crochet Windu is the perfect crochet pattern for you! 🙂 This easy horse will be a great addition to any Star Wars-themed animal collection. Cute horse in the mood of the windu, designed and made by hand by me. This is your best choice if you are looking for a small home decor item! The Windu crochet horse is the perfect toy for any child. This crochet book features clear illustrations and step-by-step instructions, making it simple to create this adorable horse. Give your little one a memento they'll treasure forever.
Flip Flop Horse
This little crochet sandal is an excellent accessory for the beach or poolside. Please choose from our animal toppers or make your own custom design with safety eyes, buttons, and different colors of yarn. Crochet this adorable horse that comes complete with a pair of flip-flops for the perfect summertime toy. Together, you and your youngster will enjoy a long afternoon working on this project, which makes it the perfect gift for children or grandchildren. This crochet flip-flop horse is the perfect toy to toss around on a sunny day. It's soft, cuddly, durable, and long-lasting - perfect for kids and adults alike.
Hessy Horse Amigurumi
This Crochet Hessy Horse Amigurumi is the cutest crochet toy you can make for yourself, gift, or donate. He is so cute and cuddly; you will want to keep him for a long time. Great beginner project for those who are learning how to crochet. An excellent decoration for your living room, bedroom, or car. This Crochet Hessy Horse Amigurumi is a great new pattern everyone will love. It's an easy project that can be completed in just a few hours and makes for a fantastic gift idea for horse lovers...
Horse Potholder
Horse lovers will adore this crocheted potholder. This fun and the functional project will keep your hands safe while you cook or bake in the kitchen. The little Crochet Horse Potholder can help in a variety of ways! It is ideal for school lunches, picnics, and everyday dishes. The potholder's size makes it easy to handle and move around as needed. This horse is so soft and cuddly that you will keep wanting to touch him again and again! This crochet horse potholder will keep your hot dishes safe on the table. Just be sure to feed him carrot cookies.
Horseshoe Applique
This beautiful crochet Horseshoe Applique Pattern Free Crochet Pattern will give your home a festive look. This crochet applique is crocheted in rounds and joined at the end of each round. You can use any worsted-weight yarn on hand since no gauge is specified. These decorative crochet horseshoes will look great on any seat of chairs, stools, or table tops. This free crochet horseshoe applique pattern can be a great addition to your home décor. It's pretty easy to make and fun to crochet!
Golden Palomino Horse Crochet Pattern:
Create your very own palomino horse with this crochet pattern! You will be able to create the palomino horse in any color for a truly unique look. Great gift for horse people or animal lovers in general. A fun project for all skill levels! This pattern creates a cute, three-dimensional horse. This bright golden palomino will make a great addition to your collection. It features a silky slip stitch mane and tail, with two hooves attached to the bottom of the body. The body is made up of increases and decreases, giving it a realistic shape for a horse.
Heidi The Horse Free Amigurumi
Crochet Heidi, The Horse Free Amigurumi, is a free crochet pattern you can download. Crochet Heidi the Horse has a touch of elegance and simple beauty, but she's still super cute! You'll fall in love when you first look at this adorable poncho crochet amigurumi pattern. It's classic but with a modern twist on a traditional amigurumi style. There are a lot of free patterns for amigurumi crocheted horses, but none quite like Heidi the Horse. Her bulky physique, long floppy ears, and long eyelashes make her so much fun to crochet.
Lucky The Horse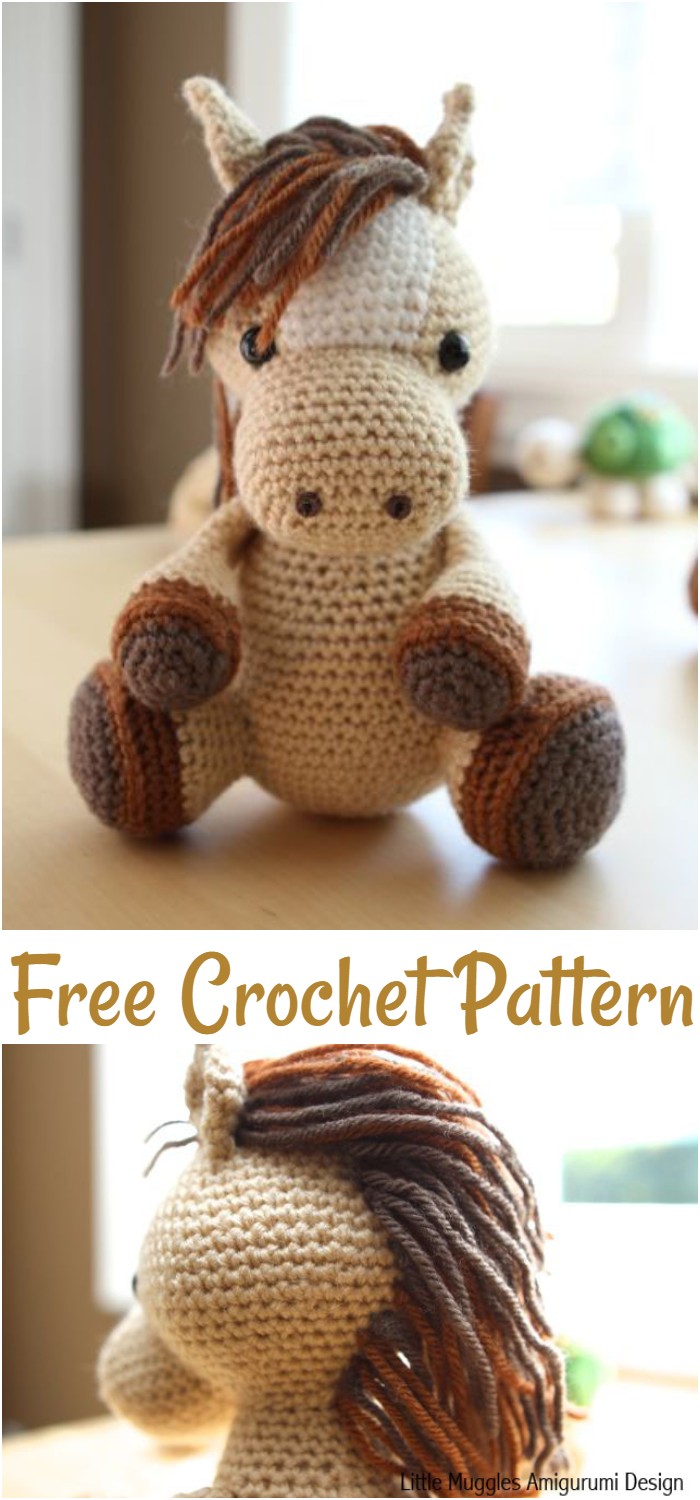 Crochet lucky the horse pattern is a cozy crochet design that will be a fabulous handmade gift for your beloved children. To create this crochet horse pattern, you'll have to work with the latch hook technique; for making limbs, work with the back post single crochet in each hoof. It will be a fun creation and a perfect choice for adding beauty to your home décor. This crochet horse pattern will be a fabulous handmade gift for your beloved children. You'll have to work with the latch hook technique to create this cozy crochet lucky horse pattern.
Mini Amigurumi And Donkey
This crochet horse pattern is fun to make, and it is an ideal gift for your kids. They'll love to have this cool mini amigurumi in their hands and play with it at all times. The crochet donkey pattern comes with different decrease techniques like invisible decreases, clusters, and lace techniques. You can also use plastic eyes in black color instead of glass eyes to increase the look of your excellent crochet horse pattern more than anything else. Show your affection and love towards animals by crocheting this mini donkey amigurumi. These little cuties are the most popular pets to have around your home, especially the energetic ones. Make these little creatures in a day and add their smiles to your life.
Appliques And Unicorn
This crochet horse pattern will add a fun, creative touch to your home décor. You'll love how this makes a great decorative piece and accessory for your kids. Loop them around curtain rods or hangings in your little ones' room! This pattern is straightforward to follow and makes it easy to personalize with any colors of your choosing. This crochet horse pattern is a unique and attractive piece of your home décor. The kids will love to play with it and use it as an accessory. You can also create excellent handmade gifts with this crochet horse pattern. It is a perfect gift for your friends or family who love horses!
The Callie Hat
If you love the color combination and design of the Callie hat, this crochet pattern is precisely what you need to create it. It's a comfortable fit for babies and kids alike, plus it works quickly in chunky weight yarn. The Callie Hat pattern is a welcome to the cold weather. The beauty of this crochet hat is its small ears on top that give it a very adorable look and make kids feel perfect about themselves. This fun crochet hat is made with two strands of yarn held together. It comes in an assortment of color combinations, but the striking colorway pictured here is sure to be a hit! Suitable for both boys and girls, this hat makes an excellent gift.
Farm Horse Crochet Pattern:
This is the Farm Horse crochet pattern, an adorable decoration for your house. Its unique design makes it appealing to everyone and adds elegance to any environment. This is the perfect crochet pattern for your little one. It features a robust and long-lasting shape that makes it easy to cuddle with, and it's sure to be everyone's favorite! This crocheted horse pattern is perfect for anyone who loves horses. It makes a great decoration and is also great as a gift item.
Horse Amigurumi
If you love horses, this handmade crochet horse amigurumi is the best gift for a child or a young teen. You can also capture their personalities by choosing colors of preference. This is a straightforward and quick project to make with only one piece. It only takes 20 minutes to finish this crochet horse pattern amigurumi. The final dimensions of the product are approximately 5 inches in length and 4 inches in height. Feel free to use this design as a unique gift, or it can be added to any home décor!
Horse And Donkey
If you are looking for a new crochet project, this crochet horse and donkey pattern are the best for you. With its easy instructions, you can create a masterpiece instantly and add it to your home décor items. This crochet horse pattern will give a unique and fun touch to your home décor by adding these adorable horses. They are easy to make, and the project can be finished quickly. You can work on them separately and stitch them together for this crochet horse pattern or add a cute muffler from the same yarn to enhance their beauty.
Crochet Horse
This crochet horse amigurumi pattern is perfect for your children. The combination of unique stitches gives this pattern an extra adorable appearance and makes the toy more enjoyable to play with. Your children will love to make this horse friend, and it will be a superb gift-giving accessory for your beloved ones. Make your children happy with a homemade horse, amigurumi. It's super easy to crochet this pony, and you can make one for every child on your list without breaking a sweat.
Lucky The Amigurumi Horse
If you are looking for a safe, fun, and cozy toy, this crochet pattern is the best choice you can make. This horse is soft enough to make your child feel like a real one. With a cute design, your toddler will love to play with and hug this amigurumi horse pattern. You'll also love how soft it looks and feels. You will enjoy making this crochet horse pattern, and your toddler will love playing with it! The unique soft design and coziness material will make this horse a favorite.
Horse Piem
Crochet Horse Piem is the perfect gift for a horse lover. This crochet amigurumi crochet pattern of the horse is easy to follow; you can make it from the beginning to end with no sewing involved and only using basic crochet stitches like slip stitch, single crochet, and half double crochet. The animal can be made in various colors, but always remember what color you will use for the mane. The eyes are optional buttons, but if you want to add this feature, it will look adorable.