Crocheting is a fun activity to do by yourself or with friends, and what better way to spend a day relaxing than following these crochet water balloons? Crocheting these Water balloons will be a great summer activity for kids. Every kid will love them, and they're super easy to make. This crochet roundup will teach you everything you need to know about crocheting water balloons so that you can start making some right away.
Best Reusable Water Balloons
Crochet Water Balloons Patterns are so much fun to play with. These are unlike traditional water balloons.  They are washable and reusable over and over.  You won't have bits of rubber all over your yard. These soak up water like a sponge; you can toss them around all day and not worry about broken rubber bits. Whether you're having a water balloon fight, pool party, or any water fun, these 15 crochet balloons are fun for everyone.
What Is The Best Yarn For Water Balloons?
Use Bernat Blanket Yarn, preferably from the Brights collection, for crocheting water balloons. It's durable, absorbent, and comes in various fun colors.
Tips For Crocheting Water Balloons Patterns
Yarn: 
Use soft, absorbent yarn to ensure the water balloons hold water well and are gentle on the skin when thrown.
Crochet hook: 
Opt for a larger crochet hook than recommended on the yarn label. This will create looser stitches, allowing the water balloon to absorb more.
Magic circle: 
Start your water balloon pattern with a magic circle, which helps create a tight center that prevents water from leaking.
Increase evenly:
To create a round shape, increase the number of stitches evenly in each round. This helps maintain the water balloon's shape when filled with water.
Decrease and close:
After reaching the desired size, decrease the number of stitches in each round until a small opening is left. Optionally, stuff the balloon with absorbent material and sew the opening closed.
Add loop (optional):
Add a loop to your water balloon by chaining a few extra stitches and attaching them to the opposite side with a slip stitch. This makes it easier to fill and throw the water balloon.
Washing: 
To clean your crocheted water balloons, simply machine wash and air dry them, ensuring they remain hygienic and ready for reuse.
Patterns: 
Explore different water balloon patterns in this amazing collection to find the one that works best for you and adds variety to your crocheting experience.
Crochet Water Balloon Pattern Free:
You might be surprised by how easy it is to crochet a water balloon that expands like one. This water balloon crocheting pattern is easy to follow and makes a perfect summertime toy for kids and adults alike. You will need some yarn and a crochet hook mentioned in the link below. Thus With these crochet water balloons, you can wave goodbye to the inconvenience of cleaning up after traditional water balloon fights.
Related
Crochet Water Balloons Pattern Free:
These reusable water balloons are a fun way to cool off for hours. Fill the balloons with water, toss them, and enjoy watching them burst on impact. No more kids chasing after wet balloons flying through the neighborhood! You can Make them small enough to fit in the palm of your hand or larger ones that can be used as water ballistics.
Crochet Balloon Pattern Free:
This crochet pattern makes a set of reusable water balloons. Dunk the balloon in water, fill it up, attach the string or ribbon, and play. These effortless and speedy-to-make water balloons are an excellent way to utilize scrap yarn, transforming it into endless fun. So create this charming crochet project and memorable summer moments with these delightful water balloons.
Homemade Crochet Water Balloons:
These Homemade Crochet Water Balloons are a fun, reusable alternative to traditional water balloons. Whether having a pool party or trying to make it rain on your neighbors, these crochet water balloons will do the trick. Make your own homemade crochet water balloons, so the fun doesn't end when the party does.
Crochet Water Balloons:
These crochet water balloons pattern answer your summertime games, parties, and just for fun. They're super easy to crochet and use and the perfect fun game for all ages. Just fill it with water, tie it, and you're ready. These water balloons add a playful touch to any occasion, whether a birthday bash or an outdoor sports gathering. They're also perfect for outdoor parties and picnics.
Crochet Reusable Water Balloon: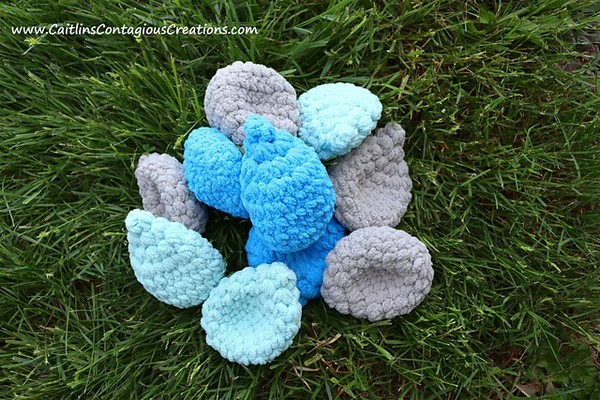 Keep cool in the heat with our crochet water balloon bags. Fill with water, tie a knot, and throw. These crochet toys are designed to be reused repeatedly and make you feel like a kid again. Moreover, they simplify the post-water fight cleanup process, allowing you to enjoy the fun without worrying about the mess. Crocheted from super bulky yarn, these water balloons are an excellent stash buster, helping you utilize leftover yarn from previous projects.
Crochet Water Balloons Free Pattern:
Want to have a little fun with your kids? Try out this Crochet Water Balloons free pattern. These balloons are great for parties and summer fun and are easy for anyone to make. These water balloons have textured stripes, a fun twist on the traditional round balloon shape! These water bombs are fast, with limited supplies, and you can create dozens of unique water toys quickly.
Reusable Crochet Water Balloons:
Snag these reusable crochet water balloons for your next summer party. They are super easy to use: inflate and tie off with string. These crochet water balloons are a fun and safe way to enjoy the summer holidays in the sun. The design is reusable and lightweight, so it won't weigh down your luggage when you go abroad. These water balloons are a great game at any party! Use this reusable design to have fun with friends and family while enjoying a zero-waste product.
Crochet Balloon Applique Pattern Free:
Beginners will love this easy pattern to create stylish, weighted containers for their water balloons. Add balloon magic to your party decor with this cute water balloon applique design. Crochet a fun and colorful pattern in a vibrant color that's sure to add a splash of summertime fun. This fun pattern is easy to follow, even if you are inspired by how quickly you get crochet applique.
How To Crochet Water Balloons: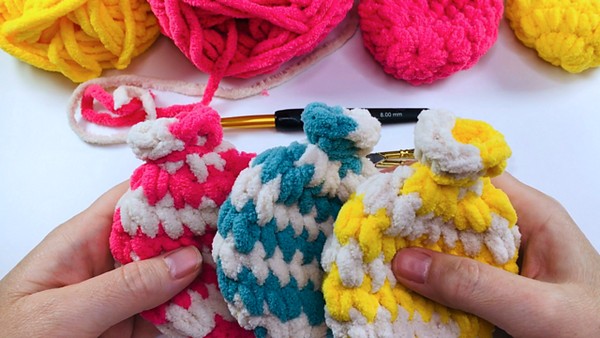 This crochet pattern will teach you how to crochet water balloons. Crochet some for your next summer BBQ or any other occasion, and have fun making memories with friends and family. The small water balloons require only 10 yards of yarn, while the large ones require 20 yards. And they wash up easily, so they can be used repeatedly.
How To Make Crochet Water Balloons:
With just a bit of yarn and a few hours, you can have hundreds of crochet water balloons ready. These water balloon toys will squirt water out of the bottom and make your Summer even more fun. They are designed with a small opening on the bottom of the balloon so that when filled with water and tied off, you can inflate them until they burst.
Pattern For Crochet Water Balloons:
Here's a simple yet fun crochet pattern for making water balloons. You can use it to decorate parties or as a great way to spend your leisure time. You can even help your kid learn how to crochet and make them play things. Whether you're planning a fun outdoor celebration or want to squirt your friends with water balloons, these crochet water balloon patterns are for you.
Crochet Water Balloons Using Cotton:
Make water balloons with this pattern to take your summer to the next level. These small crochet water balloons are perfect for summertime, pool, beach, and parties. Attach to a stick and play a fun water balloon toss game or keep them on hand for any rainy day activity. Crocheted from high-quality 100% cotton material, these water balloons are designed to be safe for children to handle and play with.
How To Make Reusable Crochet Water Balloons:
Get your party started with these bright, colorful crochet water balloons. This pattern will teach you how to make reusable crochet water balloons that can be filled and used repeatedly. The pattern uses the Bernat blanket yarn for this colorful piece, but you can use any cotton yarn. These hand-made crochet water balloon balls are reusable, washable, and durable.
Free Pattern For Crochet Water Balloons:
If you have been looking for crochet toys for kids' fun, this free pattern is the perfect solution. These are great for creating a fun party game or as unique gifts for kids. You can make these crochet water balloons in just a few hours using an easy pattern. It works quickly and can be used indoors or outside. With this free pattern, you will have all the skills to make your crochet water balloon.