Are you looking for a new crochet project to add to your growing list of blankets? These free crochet blanket patterns are just what you need. We've got all kinds of crochet blanket patterns - some have slipped stitch, some have bobble stitch, and others are just simple granny squares. If you're feeling a little adventurous, we've even included links to a couple of patterns with multiple colors! These blankets can be made in any size, so pick one that matches your couch or favorite chair and get started on a new project today! The great thing about crochet is that it's infinitely customizable. It can be as straightforward or as fancy as you want it to be, depending on what you're going for.
There are a lot of great reasons to use crochet when making blankets. The process is fast, and since you're creating a fabric out of yarn, the resulting materials can be very soft. There's also a wide variety of stitches you can use, from the simple to the complex, so there are many options for how you want your blanket to look. Another benefit is that crochet patterns can be relatively simple. This makes it easy to develop your design if you want something unique or want to try your hand at creating something new. It's a skill that anyone can learn, so don't be intimidated if you've never picked up a crochet hook before—there are plenty of patterns for beginners, too!
Craft a cozy haven with the help of 31 free crochet blanket patterns, perfect for beginners and experts alike; these blankets are lovely in any color and pattern.
The Benefits Of Crochet Blanket Patterns
Crochet blanket patterns are a great way to spend time with your loved ones and create something beautiful.
Here are some benefits of crochet blanket patterns:
Create something that you can use for years to come
Crochet blankets are beautiful and durable so they can be used for years. When making one yourself, you can choose the colors and styles that best suit your home.
Feel like a professional crocheter
Making your own crochet blanket pattern is like learning how to ride a bike — you'll never forget once you learn! You'll feel like a professional crocheter when you see how easy it is to make these beautiful blankets yourself.
Use up some of your yarn stashes.
If you have an abundance of yarn left over from other projects, making a crochet blanket pattern is an excellent way to use up those extra balls of yarn without starting a new project immediately. Crochet blankets are an excellent way to combine different colored yarns in one beautiful piece of artwork that will last for years and years!
Free Crochet Blanket Patterns:
Free Crochet Tippy Toes Blanket Pattern:
Easy and beautiful, this Tippy Toes Blanket is great for any baby at home. The pattern works quickly in worsted weight yarn and uses a lovely crossed stitch technique that has you tip-toeing through the tulips! The crossed stitches are made using single, double, and crocheted fan stitches. It can easily be modified to be larger or smaller by adding or subtracting crochet rows. This is a great beginner project if you know the basics of working in the round with a basic stitch like single crochet.
Free Crochet Color Block Panels Blanket Pattern:
Here is the perfect crocheted blanket pattern for you! This blanket is a quick and easy project that works quickly while looking beautiful simultaneously. If you are new to crocheting or need a quick beginner project that anyone will surely love, this crochet blanket is the perfect pattern for you! This crochet blanket is made up of colorful panels that give it a good, modern vibe. It's worked in the round so that you can see your progress. The border is crocheted separately and then attached to finish it off. After completing the border, weave in all ends securely and enjoy your new blanket!
Crochet Ripples In The Sun Blanket:
If you love bright colors and the warmth of the summer sun, then this Crochet Ripples in the Sun Blanket is for you! It's a super simple crochet blanket pattern that uses two strands of Bernat Maker Outdoor yarn to make a beautiful chevron stripe pattern. And because it's made with 100% acrylic yarn, it will withstand all kinds of weather. This blanket is perfect for lying on the patio or beach! Treat yourself or a loved one to this beautiful and cozy single crochet ripple blanket that's perfect for outdoor living. Whether you're on the beach or at the pool, this bright blanket will keep your family warm and comfortable with its durable acrylic yarn.
Crochet Textured Blanket Pattern:
This textured crochet blanket is perfect for snuggling up on the couch with a warm drink in the winter or bringing it to the beach when traveling. It can be crocheted in any number of colors and adds a pop of color to any space. The Crochet Textured Blanket Pattern is a spectacularly easy pattern that creates an elegant and sophisticated blanket. Worked in a simple netting, the design has a beautifully textured surface created with only one color! This blanket can also be quickly done in any high-contrast style yarn. This Crochet Textured Blanket is a perfect addition to any room. It is perfect for snuggling up on the couch or to lay over your lap for an afternoon nap!
Free Crochet Colorblock Blanket:
Your baby will love the softness and comfort of this blanket, and you'll love how easy it is to work up using the Bernat Baby Blanket yarn. Its simple color block design and crochet edges are an elegant addition to any room but cute enough that you'll want to keep it out all the time. This Colorblock Blanket is the perfect accessory for any nursery or baby's room. This easy-care Bernat Baby Blanket yarn is a quick and thoughtful crochet project with a simple pattern that looks elegant and sophisticated in any room. Slip one into your car seat, wrap it around your shoulders while nursing and snuggling, or warm your little one with it as they rest peacefully on the floor with blankets and toys surrounding them.
Free Crochet Building Blocks Blanket:
This modern DIY crochet building blocks blanket makes the perfect baby shower gift! Make it in your favorite colors, and customize it to suit the theme of your nursery. Learn how to use the create-your-own Building Blocks Blanket pattern to make this one-of-a-kind blanket for your sweet one. Crochet this beautiful, colorful building blocks blanket in any color scheme you like. This versatile pattern can be customized to fit your needs. Make it larger or smaller by adding or subtracting rows of blocks. It's a perfect blanket to keep warm on babies' strollers while they roll around town with their parents!
Quarter Circle Blanket Pattern:
Show off your crochet skills with the Quarter Circle Blanket. This vibrant blanket works up in Patons Inspired, a soft alpaca blend yarn in modern colors. A unique color palette and simple stitch pattern make this an easy project for any level of crocheter. The Quarter Circle Blanket is a modern and colorful blanket perfect for adding a pop of color to your favorite chair. Why not make another for your bedroom, too? This blanket is the perfect project for a beginner crocheter. Learn how to create this beautiful and comfortable blanket in the comfort of your own home at your own pace!
Crochet Growing Ivy Blanket: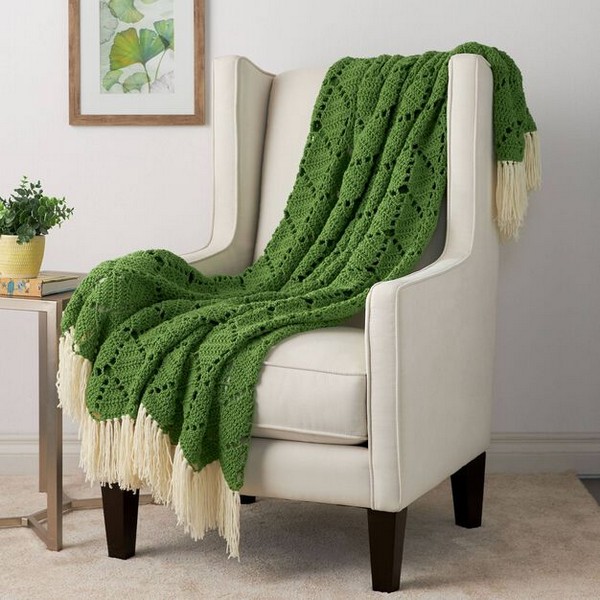 This Growing Ivy Blanket will be the perfect addition to any room. Its chunky crochet design gives it a warm and snuggly feel while still looking elegant. The random, natural color compliments any decor with its neutral background, while the ivy leaf design adds that extra pop of color. Keep your growing baby cozy in this blanket on the go, or keep it at home for that extra soft texture that kids love! This beautiful, easy-to-crochet blanket features the classic "ivy tendril" leaf design. You'll love how quickly this project goes together. Crochet in chunky yarn on large needles; it is perfect for snuggling up under on a chilly evening by the fire!
Crochet C2C Textures Blanket Pattern:
This pattern is a must-have for all crochet lovers. The textures and shapes give it a gorgeous look, and the entire blanket has a perfect proportion to fit any room in your house. This bestselling blanket crochet pattern is designed to create a visually stunning finish. C2C (Corner to Corner) crochet allows you to make large blankets quickly, with minimal effort, and without having to seam them together. This is a fun way to add texture and color to your home decoration. This crochet blanket pattern is a quick and easy project you can make in any size. It is super warm, cozy, and stylish because of the texture stitch. Crochet this blanket with a fun color combination that makes a statement.
Bobble Pop Blanket Pattern:
A bright and cheerful blanket with a pattern of bobbles. A perfect blankie for babies and kids alike! You will love how easy it is to crochet the Bobble Pop Blanket! This blanket plays on textures, making it a fun yet elegant addition to any room. The texture of the bobbles creates a sturdy and cozy feel, while the arches are smooth and soft. You can also adjust the yarn color or size of your crochet hooks to make this blanket in any colors you desire.
Moss Stitch Stripes Blanket:
This beautiful crochet blanket is not just warm and cozy, it's also stylish! The moss stitch stripe pattern provides the perfect texture for Bernat Crushed Velvet, adding a touch of luxury to this super bulky yarn. Thanks to the simple single crochet and chain stitches technique, you can make this blanket as a gift for friends and family quickly and easily. This super chunky moss stitch blanket is perfect for winter snuggling! With Bernat Crushed Velvet, you'll get the luxury look without the high price tag.
Crochet Raspberry Road Blanket Pattern:
Raspberry Road is a cozy, versatile and cuddly crochet blanket. This pattern was designed to make the perfect gift for a little one or yourself. It is worked with a soft Worsted weight yarn to give it enough drape to cover the shoulders while keeping you warm and snuggly. The gradual gradient change created by working in the round makes for a unique finished item. This adorable blanket is perfect for cuddling and playing, whether in bed, on the couch, or the floor. This simple crochet pattern uses a gradient to create an eye-catching and unique finished blanket. The Raspberry Road Blanket can be made into a baby blanket and lap afghan too!
Crochet From The Middle Blanket:
Crochet From The Middle Blanket is a free pattern, perfect for beginners or anyone who loves to crochet. You'll love finishing this blanket because it's incredibly soft and cozy! You can crochet your blanket with this free crochet pattern. Crochet From This beginner-friendly crochet blanket is simple to make while producing a gorgeous texture. It uses the shell stitch, which produces a beautiful pattern that's a lovely addition to any home. The pattern is for an extra-large throw blanket, but you can make it smaller by using a thinner-weight yarn or decreasing your hook size.
Bobble Lines Baby Blanket:
This baby blanket is your go-to for snuggling, as it's super soft, thick, and warm. The double stitches make this blanket extra cuddly and the yarn used gives it such a modern edge. This blanket is made with a combination of half-double crochet stitches and special bobbles, making it unique and fun to crochet. You can create this blanket with any colors of Bernat Softee Baby yarn you have lying around in your stash! The colors are bright and cheerful, perfect for matching a baby's room or creating a beautiful gift basket. The entire blanket uses one skein of yarn, so you can use up all the scrap colors you've had sitting around for years.
Crochet C2c Silt Blanket Pattern:
This gorgeous blanket can be made in a variety of sizes. The large size makes it great for snuggling on the couch, while the petite size makes this the perfect stroller blanket. This crochet c2c blanket pattern is perfect for beginners and will keep you cozy for many seasons. The stitch is simple enough that it works up quickly and easily, but the finished product has a gorgeous texture that makes this afghan look much more complex than it actually is. The larger size can be used as a couch or bed throw, while the petite size makes this the perfect stroller blanket -- wherever your little one goes, you'll be sure to stay snug and warm!
Seaside Stash Busting Blanket:
This Seaside Blanket is designed to use up your worsted-weight scrap yarns. It features easy-to-follow instructions and beautiful designs that reflect the textures and colors of a seaside day. This is a beautiful project for those looking to practice their skills or challenge their creativity. It is an excellent opportunity to use your worsted weight scrap yarn or hands-dyed singles. Enjoy your favorite seaside colors and textures with this stash-busting crochet blanket. This is the perfect stash buster project for adventurous crocheters. The Seaside Blanket uses up all your worsted weight scrap yarns or your favorite hand-dyed singles. It's time to let go of those favorite pieces and make something beautiful!
Free Crochet Henley Ripple Granny Blanket:
This top-down crochet blanket is perfect for a baby shower gift and works quickly. It uses Super Bulky yarn, making it incredibly squishy and soft. The blanket can be made in four sizes to ensure you get the right size for your recipient. This easy crochet ripple pattern makes the perfect blanket for your favorite baby shower gift! It works up in no time, plus it is incredibly soft and squishy thanks to Super Bulky yarn. Choose from four different sizes to ensure you get exactly what you need for your recipient!
Crochet Cloudberry Blanket Pattern:
Get ready for winter with this Crochet Cloudberry Blanket! This beautiful blanket will keep you warm on those cold winter days, and the super soft Scheepjes Eliza yarn makes it easy to work with. One skein of each color will complete the hexagon shape, making it a perfect project for a beginner to intermediate crocheters. This beautiful blanket is made with an attractive stitch pattern. The yarn is soft and cozy, so this blanket will keep you warm on those cold winter days.
Free Crochet Nordic Stripes Blanket:
Get cozy with this Nordic Stripes Blanket. This crochet blanket features alternating stripes in a variety of bright colors. Complete with a finished edge, this blanket is soft and warm! The Nordic Stripes Crochet Blanket is a cozy crochet blanket made with a mix of thick & thin yarns to create beautiful texture. With the perfect stitch for beginners and enough depth for the advanced crocheter, this easy pattern will bring out your inner designer. This cozy blanket is a fun way to update your décor, and it's easy to crochet thanks to the wide stripes.
Country Blues Baby Blanket:
Crochet this light and cheerful blanket when you're ready to bring your baby home! It's perfect for snuggling up against on chilly spring nights or wrapping around during a warm summer day. This crochet Country Blues baby blanket is perfect for bedtime, playtime, and nap time. Made from 100 percent cotton yarn, this light-to-medium weight blanket is incredibly soft but durable for all seasons. Featuring an updated look with a more modern design, this simple yet chic blanket has a neutral color palette that can be easily paired with another nursery decor to complement any existing décor or add a fresh pop of color.
Princess In Pink Baby Blanket Pattern:
This blanket is crocheted with the basic chevron stitch and accented with a simple edging that looks like a crown. Perfect for a baby shower gift, keep one on hand whenever you need it. This crochet princess in the pink baby blanket pattern is a great way to show your love for your little angel. With a simple chevron stitch and a look reminiscent of a crown, this blanket will surely be cherished by your new little prince or princess. Easy enough for beginners, yet lovely enough to make you want one for every baby shower!
Free Crochet Seaside Blanket Pattern:
This Seaside Blanket is a warm, inviting, and colorful addition to any home. It mixes soft, muted shades and vivid tones inspired by pebbles, seashells, and sea glass. This beautiful blanket can be made up of two sizes, small and large, allowing you to vary how much work you want. Add a touch of sea style to your home with this crocheted blanket. The cotton yarn and crochet stitch give it a soft feel, perfect for snuggling under on chilly evenings. Mixing shades and colors inspired by pebbles, seashells, and sea glass, this blanket can be made of two sizes or smaller if you want less work.
Crochet My Mother's Garden Afghan:
Cozy up with this lovely crochet afghan. Easy to make and incredibly cozy, this afghan is a classic that has been around for years! A great way to practice your crochet skills or learn how to hook, this pattern is written for just about any skill level, from beginner to advanced. This delicate crochet afghan pattern comes in several sizes, from baby to large lap blankets. It's a great way to welcome a new baby or add some color to your home. The pattern includes both written directions and charts to mix things up when you get bored. These are easy enough for anyone to complete in no time!
Vines Crochet Blanket:
When you look at your baby, you want to wrap them in softness and comfort. The Vines Crochet Blanket is that perfect blanket, with its warm texture and beautiful color. Its lovely texture will make this blanket a keepsake for many years. It is a beautiful keepsake she will cherish forever and use as a cozy blanket. This cheerful blanket will provide lovely warmth during cold evenings and add color to any nursery. The beautiful texture, softness, and color make this blanket a joy to use.
Christmas Characters Blanket:
Crochet this super easy Christmas Characters Blanket for your home or to give as a gift to family and friends. This blanket features Santa, the sugar plum fairy from The Nutcracker, a snowman, an angel, and a poinsettia flower. Crochet Christmas Characters Blanket is a perfect handmade gift for Christmas. This pattern includes all the necessary information to knit this beautiful blanket. It can be made in any yarn weight and size of your choice. The luxurious, extra soft yarn and cute-looking characters on this blanket will bring warmth, love, and comfort to anyone who receives it.
Big Basketweave Crochet Blanket:
This cozy blanket has a basketweave texture and is the perfect addition to any home. The warm, luxurious Bernat Velvet yarn makes it feel like butter in your hands and creates a beautiful fabric that will add layers of comfort wherever you use it. This crocheted blanket is made of the softest acrylic in a lovely basketweave pattern. It's not only snuggly and warm but versatile too: use it as a cozy throw while you watch movies or cover your feet while reading in bed. This gorgeous Big Basketweave Crochet Blanket pattern is the perfect blanket for beginners who want to learn how to crochet. The blanket goes quickly using Bernat Velvet Plus yarn and looks great in any decor.
Easy Double Crochet Blanket Free Pattern:
The Double Crochet Blanket is a great beginner and familiar stitch pattern. The stitch creates a thick fabric, and the bulky yarn creates a warm and cozy blanket that is perfect for snuggling up any time of year! Make a blanket faster than you can say "crochet." This double crochet pattern creates a warm and cozy throw that can be completed in just one weekend. This is an easy double-crochet blanket pattern you can use to make the blanket of your dreams. It includes instructions for three different-sized blankets: twin, queen, and king, so you can pick one that suits the size of your bed. This free crochet pattern allows beginners to make their own crochet blankets.
Margot Crochet Baby Blanket:
This crochet baby blanket pattern is a fantastic project for beginners. It uses Filet Crochet and Half Double Crochet stitches and has an integrated border that makes it easy to size up or down. The pattern is easy to learn from, and the result makes it a beautiful addition to your home! Margot is the perfect crochet baby blanket pattern for beginners. It uses Filet crochet and Half Double Crochet stitches worked in rows rather than rounds. This allows for more control over the fabric and free modification to get the pattern size you want.
Caprock Lap Crochet Blanket Free Pattern: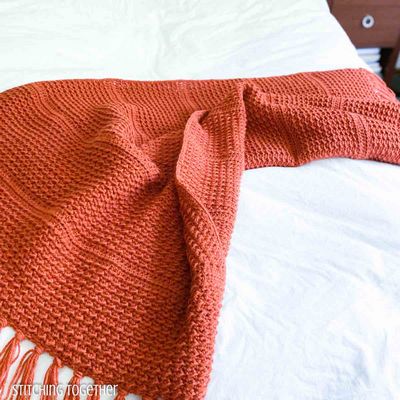 The Caprock Canyon Lap Blanket offers a quick and easy crochet project that is sure to be a hit. Made with soft acrylic yarn, this free pattern will make a warm, comfy addition to your home or nursery. It is perfect for encouraging your little ones to play with their imaginations or snuggling up with a book or video game on those chilly nights. It is a great last-minute project. It's also easy to add texture and warmth to your home! Add this blanket to your handbag for an impromptu baby shower gift or make it for your friends just because.
Fruity Stripes Crochet Baby Blanket Free Pattern:
Fruity Stripes Crochet Baby Blanket is just the right size to warm a baby and drape over the stroller or car seat. The stripes add a fun twist to this classic striped blanket design. The stitch pattern is simple enough for beginners but looks very well-defined when blocked. Make it in any color combination for the gender of your baby or for the nursery décor you plan on using! Crochet this Fruity Stripes baby blanket for your little one and stay in baby-blanket-making mode. This super easy crochet pattern uses only a single crochet stitch to create a beautiful texture that is perfect for any time of year.
Happy Hues Sampler Crochet Baby Blanket Pattern:
This beautiful baby blanket is sure to become a treasured family heirloom with a mosaic look and super soft yarn. Perfect for expectant mothers looking for a unique and timeless baby blanket! This baby blanket is an excellent project for learning new stitches and colors. The pattern includes detailed instructions and photos, helpful tips on changing colors without knots, and modifications to make it bigger! This super-soft and snuggly baby blanket make a bright and cheerful addition to any nursery. The simple shaping of this newborn-size blanket allows you to create a gorgeous, elegant piece that will take pride in place in its recipient's nursery.