Consider these Amigurumi Turkey Crochet Patterns if you're looking for crochet inspiration for Thanksgiving. There's one for every skill level, and each is adorable.
They're easy to make without requiring you to be a crochet wizard! The directions are clear and simple, so it's a great project for those who want to try it. These will make wonderful additions to your Thanksgiving decor and great gifts for family and friends! There are many options out there for the turkey-themed crafter. All you need is a hook and some yarn, and you can make one of these adorable crochet turkey amigurumi!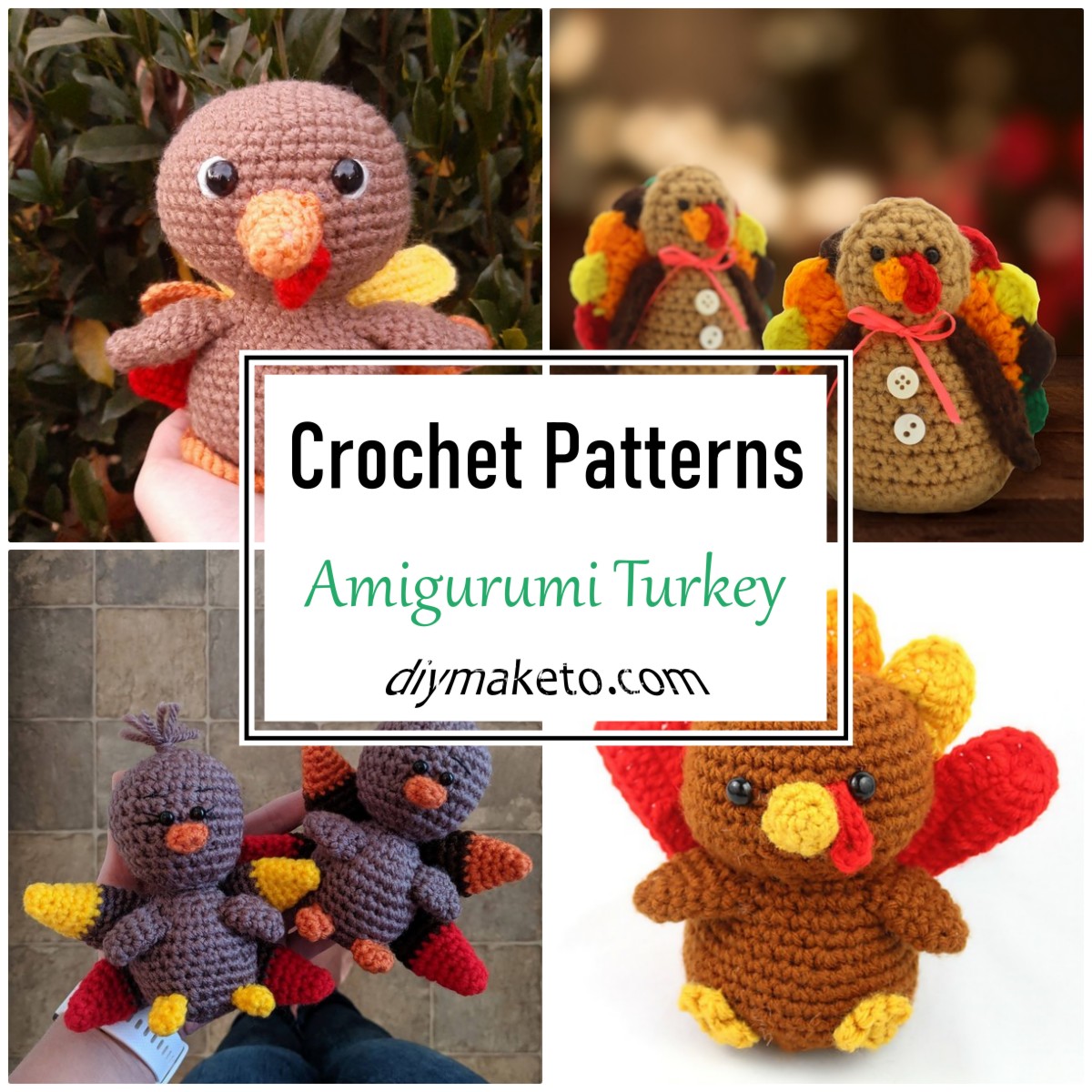 These amigurumi turkey crochet patterns are a great way to begin crocheting because you can make cute, small projects that don't take too long and don't require a lot of materials.
This is great for beginners looking to get started and experienced crocheters who want something relatively easy. In this article, we've collected ten free patterns for amigurumi turkeys from around the web. Turkey amigurumi make great Thanksgiving gifts or decorations for your own home.
These 10 Amigurumi Turkey Crochet Patterns will surely be a hit with your friends and family! Make them as gifts or keep them for yourself--either way, you'll enjoy crocheting them!
Tips for Free Crochet Turkey Patterns
Amigurumi turkey crochet patterns are a fun way to get in the holiday spirit.
1) Use an appropriate size crochet hook for the type of yarn you use. A size G hook works well with worsted-weight yarns, and a size H hook works well with bulky-weight yarns.
2) Use stitch markers when working on amigurumi projects to track where each round begins and ends. This helps ensure that your pieces will fit together properly when they are finished being worked on.
3) When stuffing an amigurumi piece, it's best to use polyester fiberfill instead of regular stuffing.
Turkey Ami Gobble Gobble:
This turkey amigurumi pattern free is a great way to celebrate Thanksgiving. You can make a quick and easy felt hat in less than an hour. The Amigurumi turkey hat is perfect for children three and older thanks to its super soft acrylic yarn, Bernat Super Value. The finished Size is 5 inches tall. You must be comfortable working in the round. This pattern is suitable for a beginner but will be a cinch if you are more experienced.
Country Turkey Thanksgiving Amigurumi:
This Country Turkey Thanksgiving Amigurumi Pattern is a perfect project to get you in the mood for Thanksgiving and will be a wonderful addition to your Thanksgiving table. This pattern is easy to adjust for sizing; if you want a bigger turkey, use a bigger hook or heavier-weight yarn. You could do so many things with an amigurumi turkey pattern if you know how to crochet! They'd also make great animal friends for a child's room or playroom!
Turkey Amigurumi Pattern Free:
If you're looking for the perfect foodie friend, then the Amigurumi Turkey pattern is just what you need! This crazy cute turkey is easy to crochet and has a stuffing pouch. With a body made entirely of pieces, this adorable turkey stuffed animal is an easy crochet project. With instructions included for making the decorative head, beak, and feet, this pattern is suitable for all skill levels. You can use any yarn you like and any size hook, so this is an economical way to create one of these unique stuffed animals.
Turkey Amigurumi:
The amigurumi Turkey Crochet Pattern is a fun holiday project for beginner crocheters. This turkey amigurumi pattern is easy to follow and comes together quickly. The items you need to make it include: a hook, stuffing, yarn, and scissors. The head is easy to work, and the body is worked in the round. Next, create the beak, wattle, arms, wings, tail, and feet! You'll have so much fun making this turkey that you may want a farm full of them for Thanksgiving!
Thanksgiving Turkey Amigurumi:
This is an adorable turkey pattern and one you can use to create your own amigurumi Thanksgiving turkey. This particular pattern is designed to be stuffed with worsted weight yarn to create a soft and cuddly plushie you can use as a decoration or give as a gift. Featuring a sweet face and bright colors, this little guy will be sure to bring cheer to friends and family!
Tutt Turkey Amigurumi:
Amigurumi is a beautiful and unique way of making crochet stuffed toys, and it is also quite a challenge. This crochet pattern helps you crochet all parts: body, head, eye-white, beak, snood, wing, and tail of a turkey by following the step-by-step photo tutorial along with useful tips and techniques. This adorable Turkey will be popular with children and adults alike. The adorable and colorful Tutt Turkey Amigurumi is a great choice for Thanksgiving and Christmas decorations or as your lovely friend for every day.
Crochet Mini Turkey Amigurumi:
This Turkey is working on his Thanksgiving Day table manners. Stay positive, happy, and free from added stress this Thanksgiving as you prepare for this great holiday with a little help from your Amigurumi Turkey. Smile and enjoy the time with family and friends. The amigurumi pattern is easy to follow and beginners friendly, with lots of pictures showing each step. You can use any type 4 ply yarn, size 3mm crochet hook, safety eyes or buttons, and stuffing material. This would make a great gift or addition to your home decorations, especially if there are children in the family.
Amigurumi Turkey:
You'll be the talk of Thanksgiving with this adorable roasting Amigurumi Turkey. It's so cute you can serve it up with the whole family and then make more to pass out as gifts! The pattern makes instructions for how to make your little turkey using worsted-weight yarn until it's time to add feathers. That part is easy enough for kids to do. Anyone who crochets should be able to make this project! Each one is about 8 inches tall, and they work up quickly, making them an ideal holiday project.
Tiny Thanksgiving Turkey Amigurumi:
This adorable and fun crochet pattern adds extra excitement to your holiday table. Amigurumi without the head? How will your turkey keep its creepy eyes open? That was an early challenge in making this Tiny Thanksgiving Turkey Amigurumi pattern. But crocheting a large piece of fabric into the shape of a turkey and stuffing it with thread works just fine. Just look at how pretty and regal you are! He's so cute; you're sure to want several for each family member or even as gifts for friends.
Amigurumi Tiny Tom Turkey:
Tiny Tom Turkey is ready for holiday parties! He's a great decorative display that can place on your table or mantel without taking up too much room. May your Thanksgiving be filled with family, friends, and lots of fun. To help bring in the holiday spirit, included a free Amigurumi Tom Turkey Pattern. This quick and easy crochet pattern is perfect for all ages but is especially great as a present for kids to make as they prepare for their first Thanksgiving holiday.