Crocheting your clutch bag is the perfect way to create a unique and fashionable accessory that matches any outfit. They're the perfect size for holding all your necessities, from your cell phone and keys to makeup and other small items, without being bulky or taking up too much room. You can also choose one of these free crochet clutch bag patterns as a fun project for yourself or to work on with friends as a great way to relax or have fun when stressed. Each pattern will surely be a hit with anyone who sees it: pick one out and start today!
Crochet Clutch Bag
Whether you're looking for a fashion-forward accessory or a practical piece to complete your outfit, these bags will make you the envy of the party. These bags are perfect for so many occasions—a night out on the town or just a night in at home—and they can be customized by adding embellishments and charms. These easy-to-follow crochet clutch bag patterns will surely be the perfect project for your next night out. Free Crochet Clutch bag Patterns are great for making unique handbags in any color you want or even changing the look by adding a new strap, bow, or flower. The best part is you don't have to break your bank or have any special skills to make one!
Inspired by the glamorous world of haute couture, these 28 Free Crochet Clutch Bag Patterns are meticulously designed to be beautiful and practical.
You Can See; Free Crochet Top Patterns For Summer
Tips For Crochet Clutch Bag Patterns
Start with a foundation chain of multiples of three plus one.
Increase every fourth row to keep the sides even.
Work in back loops only when you need to make a corner at the bottom of your bag. This will make it easier to sew on buttons later!
For a more durable bag, try using two strands of yarn together instead of just one!
This Crochet Clutch Purse Pattern is a great accessory in your closet. The pattern allows you to make a clutch purse for yourself or someone else. You can customize a clutch purse to suit your style in many different ways. It's a quick project that you can crochet in any color of yarn. This would be the perfect gift for a friend! This crochet clutch pattern is a perfect accessory for any outfit. It worked in a bulky weight yarn; it works quickly and is a great weekend project. It is great for beginners and works up super fast, making it an excellent project for warm weather crochet or sewing. Plus, you can make the bag in any size and make it to fit your needs!
This is the perfect clutch for everyday life, featuring an inside zipper pocket and a beautiful crochet pattern! Use this as a bag or a clutch; it will become your favorite accessory, and you'll never want to leave home without it. This clutch is perfect for those who love to be on the go but also like having the option of using a clutch as a purse! This crochet clutch was made with love, so you're sure to feel a sense of warmth whenever you use it. It can hold many things while still looking stylish. The black and white pattern makes it a go-with-anything bag you can use for any occasion, quickly transitioning from day to night with an outfit change.
Crochet Clutch Arlequín Pattern
This simple crochet clutch with easy-to-remember stitch counts makes it an excellent option for a beginner or someone looking for a beginner project. This clutch is so cute and fun to crochet. It is the perfect accessory for a night out or to carry your things around town. This pattern's design possibilities are endless, but it also makes a beautiful gift. This clutch is the perfect addition to any party outfit. The bright colors of this crochet clutch will make your outfit pop, and it is a quick and easy project that you can make in any size! This bag pattern uses the crochet strap method, allowing it to be long, short, or anywhere between!
Free Crochet Clutch Cat Lover Pattern
This Crochet Clutch Cat Lover Pattern is a great way to make cat lovers happy! It's a simple, quick, and easy crochet project that doesn't require you to use a lot of different stitches. This is a great pattern for those just starting with crochet or those who like to spoil their friends and family with handmade items. It is soft, comfortable to use, and can be easily personalized in any way you would like. This Clutch can be used as an evening bag, for your smartphone and other small items, or for just about any other purpose. It makes an excellent gift for yourself or someone else!
Crochet Clutch Louisiana Pattern
The Louisiana Clutch is part of our Everyday Collection of practical and stylish accessories. This easy-crochet clutch is made with just one skein of colorful yarn and takes less than an hour to make. It's the perfect pattern for beginners! This clutch is an excellent addition to your spring and summer outfits, ready for wherever the night takes you. This clutch is an easy crochet project, requiring only basic stitches and pattern knowledge. The crochet clutch Louisiana is a beautiful and feminine accessory to your outfits. Perfect for a date night or even a fun night in town with your girls. This clutch has that perfect size that will fit all your essentials yet doesn't take up too much room.
Easy-to-follow crochet pattern for the Iris clutch bag. This clutch bag can be made in all three sizes but only takes a couple of hours to make and requires a fundamental knowledge of crochet stitches. The bag uses one piece, working from the bottom up with an opening round and then increasing towards the top. The two sides are joined together by crocheting in the back loops only to form little pockets, which are perfect for storing your phone, keys, or anything else you need to keep your hands free!
Free Crochet Floral Clutch Bag Pattern
With just a little practice, you, too, can master this elegant crochet flower pattern and make this gorgeous crochet purse to carry all your essentials. This handy clutch bag pattern is easy enough for an intermediate crocheter but versatile enough to be enjoyed by more experienced crafters. Crochet this beautiful floral crochet bag to add a pop of color and an elegant feel to any outfit. You'll love the way it holds your personal belongings while keeping a hint of spring or summer throughout the year. This beautiful clutch is perfect for any social event, whether a wedding, a night out on the town, or just a day shopping. This bag has an elegant floral design and is worked in the round with a sweetheart opening.
Crochet Marlet Clutch Bag Pattern
This adorable Crochet Marlet Clutch Bag is the perfect size for all of your essentials. If you have ever wanted to try crocheting a bag, this is the perfect one for you! This Marlet Clutch Bag is crocheted with beautiful yarn and has a very comfortable handle to hold your hand. This clutch is perfect for everyday use and can be used as a small purse or makeup bag. The pattern is straightforward to follow; the only stitches you need to know are chain stitch and slip stitch. You can do this project in any size you want, depending on how many rows you repeat.
Free Crochet Flower Clutch Bag Pattern
This clutch is ideal for the summer, it's super easy to make and the perfect bag to take on holiday. This beautiful clutch bag will complement any outfit. This crochet flower pattern is made with cotton yarn and is a fun project for a beginner crocheter. This crochet pattern gives instructions to make a beautiful flower clutch bag. The flowers are crocheted from thin fabric and have a crocheted flower center, but you can change the size of the center by increasing or removing chains between petals. The pattern is easy to follow and can be made in any size to fit your needs.
This beautiful crochet wristlet clutch is perfect for a night on the town. It makes a fantastic gift and can quickly be completed in just a few hours! All you need to do is follow the easy pattern and enjoy this beautiful, fashionable accessory. You can fill it with your phone, wallet, keys, or anything else you may need for a night out at the club. This pattern is perfect for crocheters who want to learn a new type of stitch and create something beautiful. The design uses a simple combination of chains, double crochet stitches, and single crochet stitches.
Free Crochet Rosali Clutch Bag Pattern
The Rosali Clutch Bag pattern is a large crocheted clutch bag that you can use as an evening bag or a weekend purse. This stylish and elegant bag features rows of eyelet holes that allow the yarn to flow from in between them and perfectly line up with each other on the edges and corners of the bag. This makes it possible to get a crisper look than standard crochet, and every single line will be beautiful, even if your crocheting skills aren't perfect!
Crochet Best Clutch Bag Pattern
You will love this easy-to-make crochet clutch purse pattern. This clutch is a great gift idea, as it can be made with less than half a skein of yarn and two hours. This pattern is easy to follow, and you'll get the perfect size for carrying all your essentials in style. Great for celebrations or formal events, it looks even better in different colors! This super easy-to-make crochet clutch bag is so many beautiful colors that no one can resist its charm. This clutch is great for any occasion, especially a night out. It will add extra flare to any outfit, making you feel like a diva carrying it around.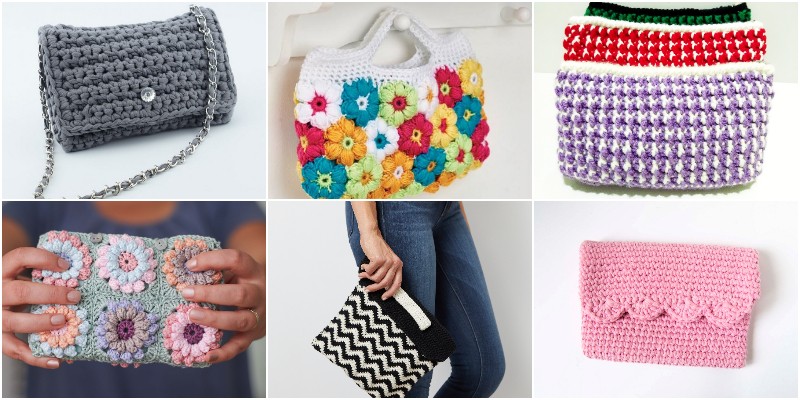 Free Crochet Mermaid Games Clutch Bag Pattern
Crochet Mermaid Games Clutch Bag Pattern is a beautiful way for you to show off your love of the hit Nintendo game and look stylish. This bag can be used to store video game controllers as a purse or overnight bag. Made with a solid color yarn, it comes with your choice of two different border colors- red or green- in addition to the crocheted mermaid image. Choose your favorite color combination with this versatile clutch bag pattern! This clutch purse pattern is easy to make and requires basic crochet skills. It is just the right size to take with you for trips out on the town or as a handy purse when shopping.
Free Crochet Circle Clutch Pattern
This crochet circle clutch pattern is a cute and stylish accessory you can use to store your phone, keys, and lipsticks. Made using simple crochet stitches, it's handmade to last for years. This crochet circle clutch pattern is a fun project you can make with just one skein of yarn; it's quick and easy to make but has a unique style. The stitches are crocheted across the circle for a stocking stitch effect, creating a basket-like appearance. The open top allows you to easily slide things in and out without messing up all your perfectly placed items.
The perfect clutch to carry around the town! Crochet this purse in any color you like. The Larksfoot Clutch is a wonderful springtime project that is not only beautiful but functional and practical. This adorable crochet pattern for Larksfoot Clutch is a fun gift for any hobby fan. The clutch has an owl appliqué and can handle all of your essentials! This beautiful clutch has a long, sturdy strap that makes it perfect for markets and shopping. The Larksfoot stitch makes the bag look complicated, but it's straightforward! This pattern is also great as a learning tool to teach yourself the Larksfoot stitch, or you can use this clutch as is.
Free Crochet A Touch Of Colour Clutch Pattern
This clutch is made with a soft and touchable cotton blend yarn that feels so smooth to the touch. It's super easy to crochet and is the perfect project if you want a break from socks and hats! This clutch bag is fantastic for a night out or even as a gift for a loved one. The pattern includes instructions on how to make this clutch in four different colors. It is made using advanced-level crochet stitches, which do not include any complicated stitches, making it suitable for those who are confident with the basics and would like to try something slightly more complex.
Crochet Rica Colorful Clutch Pattern
This is a crochet pattern for a colorful clutch with a strap. The purse is made in an allover stitch and decorated with different colored chains. It's the perfect accessory to take you from day to night! This clutch is a quick and easy project for anyone. The pattern features an amigurumi-style flower with vibrant color combos that will bring some sunshine into your day. This clutch bag is perfect for all occasions, whether a night out with friends or a wedding. You can easily customize the size by adding or subtracting rows. In addition to the two bright red squares, you can add any of your favorite colors and make this bag uniquely yours!
Free Crochet The Cloud Clutch Pattern
The Cloud Clutch is specially designed to help you keep your valuables safe in style. This trendy, slouchy bag can be made in any color you like. Crochet yourself the perfect clutch for summer days that is fit for casual and formal occasions. Its pretty crochet design makes it perfect to wear with any outfit, making this an essential accessory for every girl. You'll never be alone with this crochet cloud clutch bag. This is a beautiful and unique clutch bag you can use as a cross-body purse or a unique accessory.
Geometric Clutch Free
 

Crochet Pattern:
Whether you like the color black or bright, this geometric clutch is a perfect evening bag for any outfit. This geometric clutch bag is perfect for every occasion! Classic and chic, it features a unique design that makes all the difference. Make in any color, with your favorite accent at the front - no worries if you are out of yarn! It is perfect for when you want to keep the party going but need somewhere to put your phone, keys, and lipstick. The geometric motifs are easy to carry around in a handbag or backpack with its detachable strap. It is brilliant!
Rica Colorful Clutch  Pattern:
This beautiful crocheted clutch has a unique design that looks complex but is easy to do. With this crochet pattern, you can make your own colorful clutch! This is a great birthday gift or Christmas gift idea for all ages. Crochet a stylish clutch using the Rico Colorful Crochet Clutch Pattern. This unique and functional pattern is perfect for any occasion, whether heading out to a show or a party. Customize it with your favorite colors and designs to create a one-of-a-kind bag!
Crochet Fringe Clutch Purse Pattern:
Create your own crochet fringe clutch purse with a free pattern from Bella Sunshine Designs! This stylish clutch is the perfect way to carry your cash and credit cards on any night out. It takes less than two hours to complete and can be personalized in several ways. This clutch purse-free crochet pattern is an excellent accessory for your next evening out. Use your favorite colors to make it more fun, or even a bright color if you use it as a beach bag. This fringe purse pattern only takes a few hours to complete, so there's no excuse not to try this stylish clutch purse.
Crochet Mini Clutch Purse Pattern:
Dress up your outfit with this cute and fun crochet mini clutch purse! The simple design has a fun twist - the flap is crocheted to the purse's body so it can be opened and closed. You can use colorful yarn or keep it classic with basic black. This free crochet pattern is great for beginners as well as advanced crocheters! This mini clutch purse-free pattern is a great way to learn how to crochet. It's quick, easy, and creates a valuable accessory! This pattern uses a simple single crochet stitch, which would be great for beginners or anyone who wants an easy project.
Graphic Chevron Clutch:
Crochet your own cute and stylish clutch with this free crochet pattern. The finished product, which looks like a traditional clutch bag, is made from soft acrylic yarn, so it's comfy to carry on your shoulder or in your hand. This crochet pattern will help you create your very own clutch bag. This clutch is perfect for any occasion- you can use it as a wallet, purse, or even a makeup bag. And with only five steps required to complete, this project is the perfect way to start your crochet journey and add some new items to your wardrobe.
Crochet Clutch Purse:
This crochet clutch purse is crafted in an intricate pattern that looks like traditional Southwestern designs but has a modern style. This handmade clutch makes a fabulous statement piece and is the perfect accessory to pair with any outfit. This clutch would also be perfect for holiday gift giving! This crochet clutch features an elegant design, with a striking gold chain strap that can be wrapped around the closure. The hidden magnet strip lets you secure your bag when not in use.
josiecalvertbriggs.wordpress.com
Granny Square Clutch: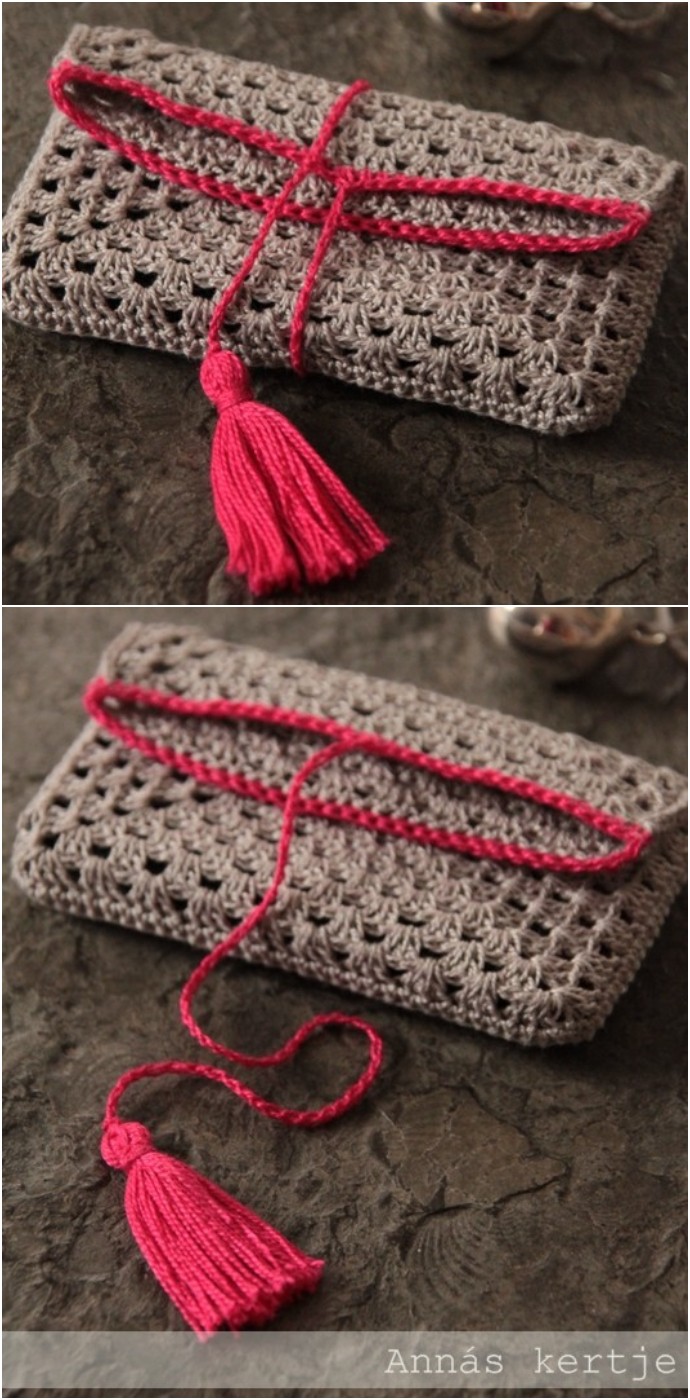 Crochet some cute and cheerful style into your day with this little clutch. A perfect accessory for any holiday or special occasion. This clutch is the perfect mix of old and new. Crochet granny squares are threaded with a modern leather strap, so you can toss them over your shoulder or carry it by hand. Make this versatile crochet granny square clutch for a stylish and durable bag. This project is easy enough for any beginner crocheter! This bag is perfect for your wallet, phone, keys, and other small items you may want to carry with you on the go.
Easy Boho Crochet Clutch:
A boho-inspired crochet clutch that's perfect for any occasion. It can be carried by hand or as a shoulder bag. Chic enough to use as a purse and durable enough to use as a carry-on suitcase - this is the perfect accessory for your next vacation! This clutch is a perfect addition to your handbag collection. It is easy to carry, and no hard decisions are needed to choose your outfit. The clutch has a simple pattern and will look great with any outfit, every day! Create a stylish bag with this free crochet pattern. In just a few hours, you can finish this bag and add it to your collection of handmade bags.
Puff Clutch:
Let go of the purse and go on a shopping spree with our puff clutch. This crochet clutch is perfect for any outing, featuring a roomy interior to fit all your essentials and a sturdy handle for easy carrying. With a long list of uses and ease of cleaning, this purse will become your new favorite accessory. This beautiful crochet puff clutch bag brings a luxe look to your everyday life. Exquisitely crafted by hand, these stunning accessories are a great way to up your eye-catching game. This crochet puff clutch is an ideal addition to your bag collection. It fits large phones, money, small wallet, and more. A great gift for mother's day, birthday, or any occasion that deserves a little something extra!
Summer Clutch:
Now you can crochet your stylish clutch using this pattern, which comes with all the exact yarn you need. This is also an excellent backpack pattern if you're looking for something more rugged to take on a hike or picnic. It's ideal for most crochet fans and would make an excellent gift! For every woman who wants to show off her feminine side by carrying a clutch. The Sc Summer Clutch is an elegant and adorable accessory that will make any outfit pop! This clutch can be pushed in and out from either side of the opening by an easy crochet pattern with an open top and long handle. The shape of this clutch prevents it from falling over, so everything stays neatly organized inside.