There are plenty of DIY squirrel feeders out there, but most of them use either some pole or wire mesh. Those can both be fine, but they can also look a little boring, and you might not be able to find all the pieces you need to build them. Fortunately, there are many creative ways to make one on your own using stuff you have around the house or things that you can easily buy at a local craft store and then put together yourself. These easy DIY Squirrel Feeder Plans are perfect for beginners and kids of all ages. Save money and make a fun toy for your backyard.
DIY Squirrel Feeder Plans
Whether you want to watch squirrels in your backyard or are trying to keep them away from bird feeders, you can use these DIY squirrel feeder plans to build several different styles of feeders. These designs range from simple containers that can be hung or mounted on a tree to more elaborate structures for the squirrel lover in your life. All of the DIY Squirrel Feeder Plans are small projects that can be completed in an afternoon or evening, and all but one of them use materials you probably have lying around the house.
See More:
Advantages of DIY Squirrel Feeder Plan
If you are looking for a fun and easy way to feed squirrels in your backyard, you may consider building your squirrel feeder.
Here are some of the advantages that come with doing so:
It saves money - Building your squirrel feeder is much cheaper than purchasing one. You can get all the supplies you need at your local hardware store or online, and many free plans are available online too!
You will know exactly what goes into it - This is very important if you have children or pets that might accidentally eat some of the food in the feeder. You can also ensure that everything is fresh and safe for your furry friends by providing that all ingredients are fresh and safe for them!
It's better for the environment - Buying a premade squirrel feeder will mean more waste going into landfills, whereas making one yourself means using less plastic packaging, which lasts longer than most premade products would anyway!
Making A Squirrel Feeder Nut Bar
DIY Squirrel Feeder
Make A Backyard Squirrel Feeder
Squirrel Feeder
Making A Fun Squirrel Feeder
How To Build A Squirrel Picnic Table
If you're looking for a straightforward project, this mini picnic table is a perfect beginner woodworking project. All you need to do is cut the warped board from your straightened pieces and assemble them. Screw or glue them together to make the tabletop, seat, and legs of your own design. Put the table on top of a tree branch or anywhere you want to see squirrels enjoying their food. Make sure that you place some food in there so they can eat. You can also add an umbrella on top of the tree so your squirrels won't get wet from the rain, but it's optional.
DIY Squirrel Feeder
Time to get your hands dirty! This DIY Squirrel Feeder is excellent for any squirrel lover who wants to watch their furry friend eat from a safe height. All you'll need is wood, a saw, a sander, nails, and screws. Have fun creating it, and then just lay it upon your fence for the squirrels to enjoy! This DIY Squirrel Feeder is a fun, easy, and interactive way to help your squirrels make the most out of their backyard. Just follow the steps in this instructable to build your own feeder!
Homemade Squirrel Feeder
Looking for a fun way to feed squirrels in your backyard? Making this homemade squirrel feeder is easy! Just gather the suitable materials, cut and assemble them, paint as desired, and make your own squirrel feeder to spoil these tiny critters! You'll love watching them dance around and enjoy their homemade meal. This feeder is great for gardens, the backyard, or wherever you want to hang it. Squirrels will be thankful to have an abundance of food in the winter and summer, and so will you!
How To Build A Squirrel Feeder
A squirrel feeder is a great way to attract wildlife. However, if you're looking to build a more advanced feeder, this video guide will show you how to make a squirrel feeder using an old pickle jar as your starting point. Build this simple squirrel feeder and hang it from your trees, then wait for the animals to come. This project is easy and fun to put together. All materials can be found at home improvement stores or hardware stores.
Easy DIY Squirrel Feeder
Looking for a fun and easy way to feed wild squirrels? This DIY squirrel feeder is an adorable way to bring nature into your yard. This easy DIY squirrel feeder is a great project for your garden. It will keep the squirrels and other wildlife fed, so you don't have to worry about their next meal. You can make it out of recycled materials or buy everything you need at the dollar store. This easy DIY Squirrel Feeder is a quick and simple project to create. Kids will love watching squirrels gather around the feeder and helping you decorate it!
Easy Squirrel Feeder Setup
This feeder is perfect for squirrels wandering around your yard and looking for food. Setting this upright will keep the critters well-fed without allowing them to overeat. The jar design will ensure that your squirrel gets enough food at a time rather than overindulging and will prevent other animals from feeding on what little corn you left in the jar. Build an easy squirrel feeder for your backyard or park. It's a great way to enjoy wildlife in your own backyard!
Easy DIY Squirrel Feeder
This simple DIY squirrel feeder is a fun weekend project for those who love the outdoors and want to add more nature to their surroundings. Your family will enjoy this unique piece of furniture as squirrels scurry up and down, around and through every day. It's truly delightful to watch! This easy DIY feeder will allow you to feed any squirrel, acorn, or seed that comes to visit. It just takes a little bit of time, and you will be ready with your own feeder.
DIY Squirrel Table Feeder
Looking for a fun weekend project idea? This DIY Squirrel Table Feeder can be built in the afternoon and is functional and stylish. You'll assemble the feeder using cedar or other lumber you have handy. This feeder will provide years of squirrel dining entertainment right in your backyard. Make a cozy little table for squirrels with just a few supplies and basic woodworking skills. The project can be completed in one day, and it's so cute you wish you'd made more than one!
Easy Squirrel Feeder DIY
This easy DIY feeder allows you to let nature provide care without the work. You'll need to cut your wood parts and attach them with wood screws, then skew an ear of corn to the screw and hang it on your tree branch. With this feeder, squirrels can enjoy fresh corn when they want it. This project can be done in less than an hour. You need to cut your board pieces and attach them using wood screws. This feeder with a little flare and personality will keep your squirrels happy and healthy. This project is simple, cheap, and easy peasy.
PVC Squirrel Feeder Windmill
If you're looking to bring a bit of the countryside into your backyard, this PVC Squirrel Feeder is perfect. The DIY windmill-style design makes it perfect for hanging from a tree or pole and is constructed out of durable PVC pipe that can be repainted and reused for years to come. This colorful windmill feeder has four ears of corn and will spin in the wind. It is made from PVC pipe and assembled to resemble a windmill that rotates freely. Perfect for squirrels, this feeder will make them come running!
DIY Squirrel Feeder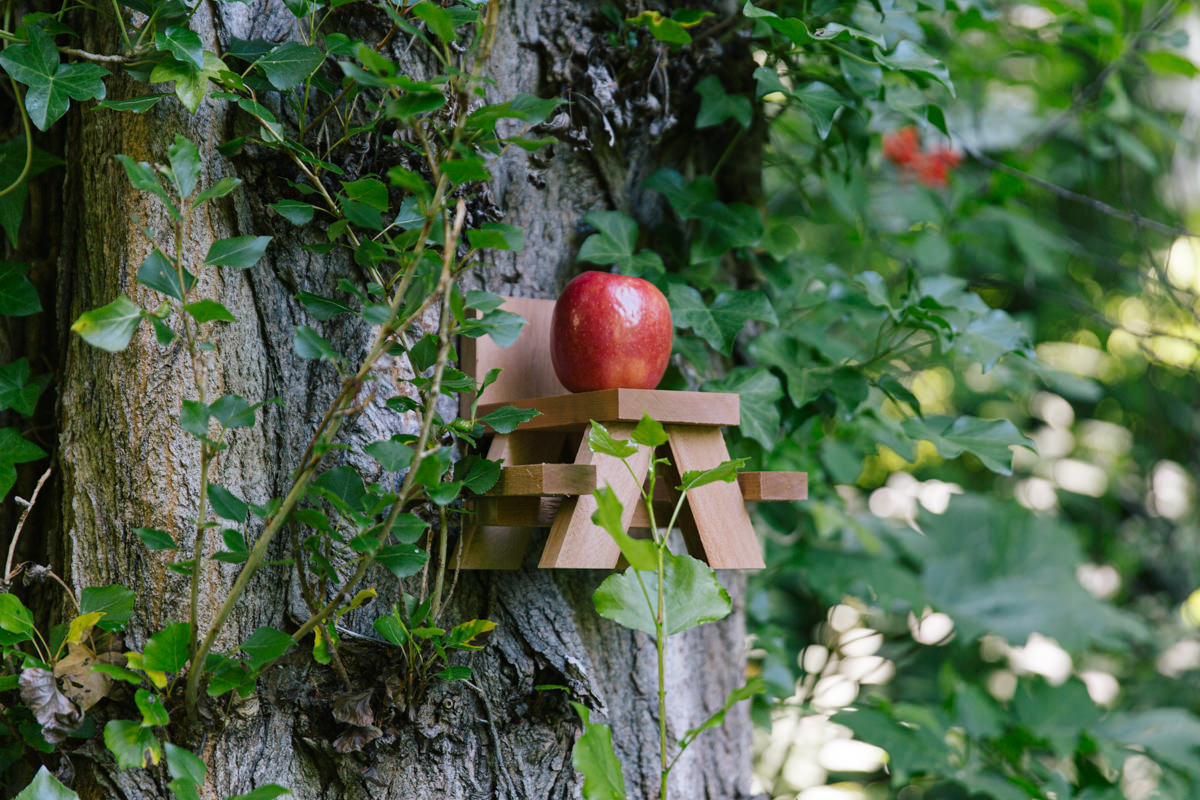 DIY Squirrel Feeder is a fun craft project for the whole family. This easy DIY Squirrel Feeder is constructed from wooden parts, and the design can be adjusted to suit your taste. The construction process is simple — Just cut the wood, add legs and spikes to create the tabletop, glue the bench and crossbars, add a spike, attach all parts with glue or screws and attach hanging hardware. Add a snack or nut…and hang it up! Build your own DIY Squirrel Feeder with this easy, step-by-step guide.
How To Make A Squirrel Feeder
Here's a fun project that you can do in the afternoon. All you need are some scraps of wood, some screws and nails, a bunch of peanuts and other treats, and a squirrel feeder ready to hang outside your home. The most remarkable thing about this project is that kids get to help! This squirrel feeding station is easy to make and fun to watch and will be a great addition to your backyard and provide entertainment for your family and friends.
DIY Picnic Table Squirrel Feeder
Make a Squirrel Feeder with a Picnic Table! With this DIY project, you can transform your new picnic table into a feeder that will provide a source of food for squirrels and birds. It takes less than an hour to assemble and can be done in your backyard or home. This Squirrel Feeder is a fun and easy weekend project that gives you the chance to get creative with your own design. Our DIY projects are simple, fun, and inexpensive ways to turn the outdoors into your own playground.
Squirrel Feeders DIY
This DIY squirrel feeder is easy to make and simple to hang. The feeder spins when the squirrel comes in, so it keeps them on the move and makes them work harder for their food. It's an excellent way to entertain your backyard rodent guests while mixing your own birdseed and cleaning out old corn cobs that might otherwise go to waste. Add some fun to your yard with a squirrel feeder like this one that's sure to get your visitors coming back. It's made from wood so it won't tip over or blow away in the wind and has plenty of room for corn.
DIY Squirrel Feeder
If you enjoy feeding squirrels and want to create a fun DIY squirrel feeder, this is the tutorial. It starts with a trip to the hardware store and ends with an adorable hanging-style bird feeder that will provide your furry friends with hours of entertainment. This fun project is a perfect way to introduce kids to the joy of making something, and it's an excellent way for your kids to learn about nature if they are interested in animals or gardening.
5 Ways To Make A Squirrel Feeder
A squirrel feeder can be an elegant addition to your backyard, but it doesn't have to be expensive. Squirrels are resourceful creatures, and they won't leave you hanging if all you have is a cardboard box and some string. Squirrel feeders are a great way to help squirrels in your area, who might otherwise struggle during winter. Here are 5 ways to make a squirrel feeder, plus tips on how to set them up and how best to manage them.
How To Make A Squirrel Feeder
Making a squirrel feeder is a great way to keep your yard clean and healthy. Squirrels also appreciate homemade foods, so this is also a good gift you can offer them. The materials needed for this project will cost less than $50, making it ideal for beginners who want to start woodworking. It's easier than you'd think and will be ready for the squirrels in no time. A few simple materials, some essential tools, and an afternoon of spare time are all you need to make your very own homemade squirrel feeder.
DIY Squirrel Feeder Plans
These easy-to-follow DIY Squirrel Feeder Plans will keep your backyard squirrels happy, healthy, and well-fed. Simple to make, even easier to maintain, and squirrel-proof. The feeder includes three different options for the placement of food. Hang from a tree limb and watch your backyard squirrels flock to it! Do it yourself and make your own squirrel feeder with this easy to follow plans. With a little effort and time, you can build a valuable project that is entertaining and functional.
DIY Squirrel Feeder
Your DIY squirrel feeder is an excellent way to attract wildlife to your yard, and it's a fun project too. This DIY Squirrel Feeder project contains everything you need to build a wooden squirrel feeder, from the laser-cut table top and chair base to all the hardware. It's a unique project that will bring hours and hours of fun outside for anyone who loves to watch squirrels and birds visiting their lunch buffet. Having a closer look at the different elements, you'll notice that this is a very detailed and easy-to-follow guide to help you out.
DIY Cedar Squirrel Feeder
Squirrels are a real treat to watch in the backyard as they make their way around the trees and plants, picking up acorns and other food. This squirrel feeder will give them a fun new place to hang out in your yard. Drill a hole into the back of each log piece to allow for drainage, then use glue or screws to attach it to your tree or post. This cedar squirrel feeder is an appealing piece of yard art that will attract various animals to your backyard. Children and adults enjoy watching squirrels dine on their nuts or peer at the hummingbirds as they sip nectar.
Homemade Squirrel Feeder
Squirrels are easy to feed once you know what they like. Most squirrels prefer nuts and corn, so why not give them some homemade squirrel feeder with a plastic bottle, wood, and corn? Set up the wood and screw it at the base of the tree or fence. Fill your bottle with the food of your choice and hang it from a branch. Be sure to set it up away from your home or garden. This is what you need to feed squirrels near your home. It is a DIY squirrel feeder which costs almost nothing. Making it yourself will save you a lot of money as you can spend on other exciting things or with your friends and family.
DIY Espresso Squirrel Feeder
DIY Squirrel Feeder; This one is a simple and easy project to build. It is perfect for your patio or garden decor. Made from an old espresso machine, scraps of wood, and a solar-powered yard light, this espresso squirrel feeder is one showpiece you can be proud of. This espresso squirrel feeder makes an excellent gift for someone who knows that quality is essential. This is one way to recycle and reuse something that may have been destined for the trash.
DIY Oil Can Squirrel Feeder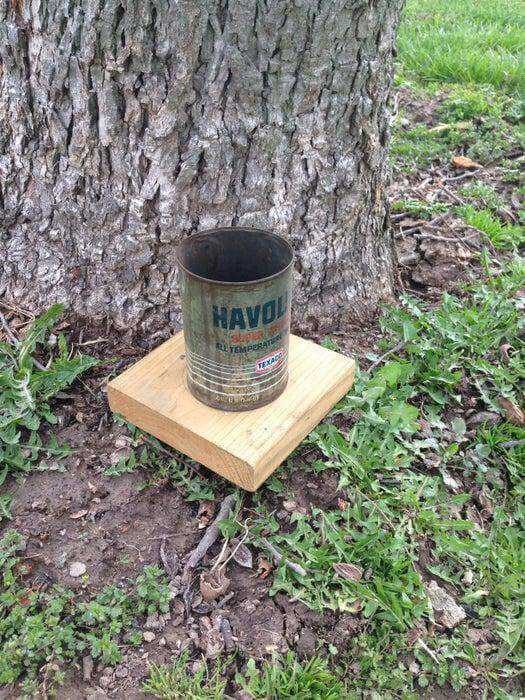 Why not make your own squirrel feeder? It is easy and inexpensive to do. All you need is an oil can, a drill, some nuts and bolts, and a piece of wood. This can squirrel feeder is a great project for anyone. It only takes about 15 minutes to make and can be personalized to your liking. The supplies needed are easy to find, resulting in a fun and functional squirrel feeder! This oil-can squirrel feeder is simple but super cute! It's the perfect gift for any squirrel lover and an excellent project for beginners or advanced woodworkers.
How To Build A Squirrel Feeder
This project is for those who want to make a squirrel feeder with their own hands. You'll need your hands-on experience in woodworking and essential tools. The design used here has worked best over time and is the most efficient, especially with squirrels, who are picky eaters. This squirrel feeder is unique in its own way and is made out of cedar or lumber. Use what's best for your region. Ensure your dimensions are correct, cut out parts, and assemble correctly. Then paint to add beauty!
DIY Bird And Squirrel Feeder
This DIY bird and squirrel feeder is perfect for attracting birds and squirrels to your garden, bringing color and activity to the area. With just a few simple supplies and some assembly, you'll have a beautiful and functional piece that benefits wildlife, including birds, squirrels, insects, and more. This DIY Squirrel and Bird Feeder are perfect for those who don't have extensive gardens or big yards. Make it with your kids and watch them feed birds, squirrels, and even raccoons! You can hang it from a tree or fence or place it on a table.