The closet is one of the most important parts of your home. It's what you use to store your most prized possessions and dictates how organized you are. It's also one of the most manageable places to mess up and make a total mess of—so if you're looking for great DIY plans to build or remodel your closet, look no further. We have compiled some great DIY Cedar Closet Plans for you to choose from, ranging from basic to elegant, so that you can find something that fits your needs and budget.
Building a cedar closet is just the right thing if you are looking for a good project in your spare time. You will save many dollars by doing it yourself and creating something you can be proud of. If you want to create your closet look great but don't have the money to hire someone to build it for you, this article has 8 DIY Cedar Closet Plans that will show you how to build one. The best part about them is that they can last for years once you have them built—many high-end closets are made from cedar. Building one is a fun weekend project that can save money and make your closet smell amazing!
Are you ready to upgrade your closet and enjoy more storage space? Do it yourself with one of these 8 DIY Cedar Closet Plans.
DIY Cedar Closet
A cedar closet is a great way to add value to your home. Cedar closets are also very easy to build and install. The best part about building a cedar closet is that it will increase the value of your home without costing you much Money.
Here are some benefits of DIY Cedar Closet Plans:
1. Save Money
Building your cedar closet is much cheaper than hiring someone else to do it for you. You can save thousands of dollars in labor costs by doing it yourself.
2. Build It Yourself
The great thing about doing it yourself is learning something new and keeping your mind active while simultaneously enjoying the fruits of your labor!
3. Personalize Your Closet
Building your own cedar closet allows you to personalize it according to your needs and wants. This will make the closet more comfortable for everyone who uses it!
You Ca See More: DIY Storage Hacks
DIY Custom Closet Organizer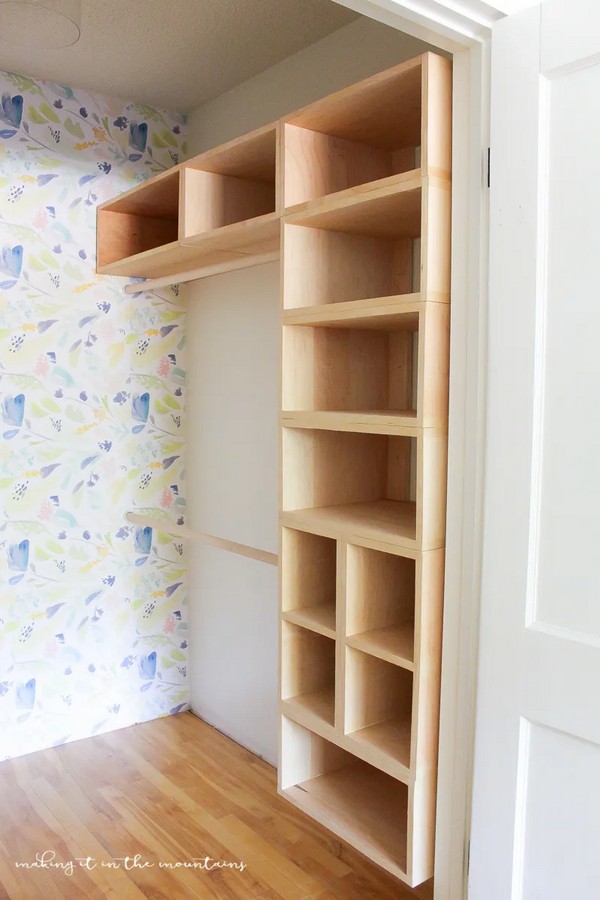 Create your wardrobe organization system with this DIY closet idea. This customized solution leverages a cedar-based closet design to protect clothes from moths. This idea suits any bedroom, promoting better organization and neatness in your wardrobe.
How To Make Cedar Closet
This DIY plan will tailor your cedar closet to your room's dimensions. It utilizes solid Eastern Red Cedar, acknowledged for its ease of installation and versatility in design. You will get enough space for organizing your wardrobe with shelves and hanging places.
Cedar Closet Build Start To Finish
Optimize your outfit organization with a custom, small-scale cedar closet. This DIY project utilizes unused bathroom space to create a multifunctional area. It houses a dedicated area for shoe storage hanging clothes, and a lower shelf versatile enough to meet any storage needs.
DIY Cedar Closet Shelving System
Break free from wardrobe mess with a perfect solution using this DIY cedar closet shelving system. In this project, you'll construct enough shelving units to arrange all your fashion items neatly. By the end, you'll have a well-organized, visually appealing closet, offering a practical yet stylish wardrobe management system.
Making A Custom Cedar Closet
This DIY tutorial offers a comprehensive guide on building a custom cedar closet tailored to your needs. The cedar lining promises durability and moth prevention, presenting a safe and secure space for your outfits. You will get instructions to build and install your closet from this tutorial.
How Add Cedar Closets To Your Home:
Your closet is one of the most important spaces in your room, especially if you have a lot of clothing. An organized and well-stocked cedar closet will make it easier to dress and look your best. Closet organizers are always a good way to go if you add cedar closets to your home.
Materials: Cedar planks
Tools: Pry bar, hammer, nails, stud finder, saw, glue
Difficulty: Beginner to intermediate
DIY Cedar Lined Closet Plan:
What is the best way to keep clothes free of bugs, moths, and dust mites? Cedar-lined closet shelves! It's easy to make your cedar closet with these DIY instructions. This project is perfect for new homeowners and apartment dwellers who need a storage solution that is both affordable and beautiful looking. You can make yours from inexpensive lumber, stain, and cedar wood shavings. The cost to make this project will be less than $300, but it could be built for much less using other types of wood like pine or pressure-treated lumber.
Materials: Cedar planks, 2×4 lumber
Tools: Nail gun, nails, saw, leveler
Difficulty: Beginner
How Much Cedar Needed In Closet:
If you've wondered how much cedar is needed in the closet, the answer is two 1x12s and a 9' board. This Cedar Closet Plan will help you build a cedar closet for your home; whether you are a beginner or an experienced woodworker, this plan will help you build the perfect closet. The plan starts with a list of needed materials and then explains the steps you'll need to follow to complete your project.
Materials: Cedar planks
Tools: Miter saw, nailer
Difficulty: Beginner
Nursery Cedar Closet Makeover Plan:
This DIY Nursery Cedar Closet Makeover Plan is perfect for any parent looking to add style and interest to their baby's closet. If you're looking for an excellent project that you can do yourself, this is a perfect choice! Create a custom closet for your nursery with this step-by-step guide. From nailing the trim to painting the doors, this DIY Nursery Cedar Closet Makeover Plan has plenty of pictures showing you every step. The result is a unique, personalized design that can be customized in any way you like!
Materials: Cedar planks
Tools: Miter saw, nailer, measuring tape, stud finder
Difficulty: Beginner
How To Line A Cedar Closet:
This project is a great way to add a unique feature to your home, much less expensive than the store-bought products but still custom and just as attractive. Before you finish the project, line the closet inside with a cedar lining. Cedar is an aromatic wood that repels insects, pests, and odors from wood shelving and cabinets. Spray paint the closet doors with an outdoor coating for waterproofing so they can wipe clean easily after each use. Add casters to the base of each side for easy mobility.
Materials: Cedar planks
Tools: Miter saw, nailer, measuring tape, stud finder, glue
Difficulty: Beginner
Man Cedar Closet Makeover Plan:
Want your Cedar Closet Makeover but not ready for the hassle and hassle of doing it yourself? Here's an easy solution. You can have your custom-made closet organizer crafted from cedar and built to last in just a few simple steps. Each organizer is perfectly sized and designed to fit any closet configuration to help you maximize your space (even if it's small). Learn how to build custom shelving, organize doors, paint or stain wood, etc.
Materials: Cedar planks, other lumber, pipes
Tools: Nail gun, drill
Difficulty: Intermediate
DIY Cedar Closet Makeover Plan In One Day:
There's no need to take on a full-scale remodel when transforming your closet. With this DIY Cedar Closet Makeover Plan In One Day, you can turn your closet into a chic, functional space that looks right at home in any room. The finishing touches, like shelves and a cedar frame for hanging clothes, add a modern style and make it easy to keep everything organized. Step-by-step instructions guide from concept to finished product using inexpensive materials you probably already have lying around the house. This DIY Cedar Closet Makeover Plan In One Day is designed to give you the big picture and get you started on your own DIY Cedar Closet Makeover Plan In One Day.
Materials: Cedar planks, pipe
Tools: Nail gun, miter saw, level, pencil, tape measure, stud finder
Difficulty: Intermediate
French Country Cottage Closet Plan:
Transform any space with these French Country Cottage Closet Plans. They are a great solution to "Where am I going to put all my clothes?" and will add a lovely touch of style to your house. These plans were made for any closet, no matter the size. You could take this design and DIY it independently if you don't want one built for you. The plans consist of the dimensions for each board, where your screws should go to secure them together, and everything you need to know about today's hottest closet styles.
Materials: Cedar planks, décor
Difficulty: Intermediate
See More DIY Projects
DIY Cedar Bench Plans: These easy-to-follow DIY cedar bench plans will create a stylish, cozy seating area for your garden or patio.
DIY Shoe Rack Ideas: Explore resourceful and fashionable DIY shoe rack ideas. Keep your footwear organized and your space clutter-free while adding a unique style.