DIY Bike Trailer Plans are great for several reasons, including their low cost and the fact that you can use them to carry many different things.
The only downside is that they can be very difficult to find, so if you're looking to purchase one, there's a good chance you won't find anything that fits your needs. It's better to make your own, though. And luckily for you, there are plenty of free DIY bike trailer plans available here. These projects range from simple but functional designs to wildly elaborate models.
Many of them are also relatively easy to build and don't require special tools or skills that aren't typically found in the average garage or workshop. Some of the more complicated projects will take some time, but it should be worth it when you have a trailer that works perfectly for your needs.
Bicycle Trailer Plans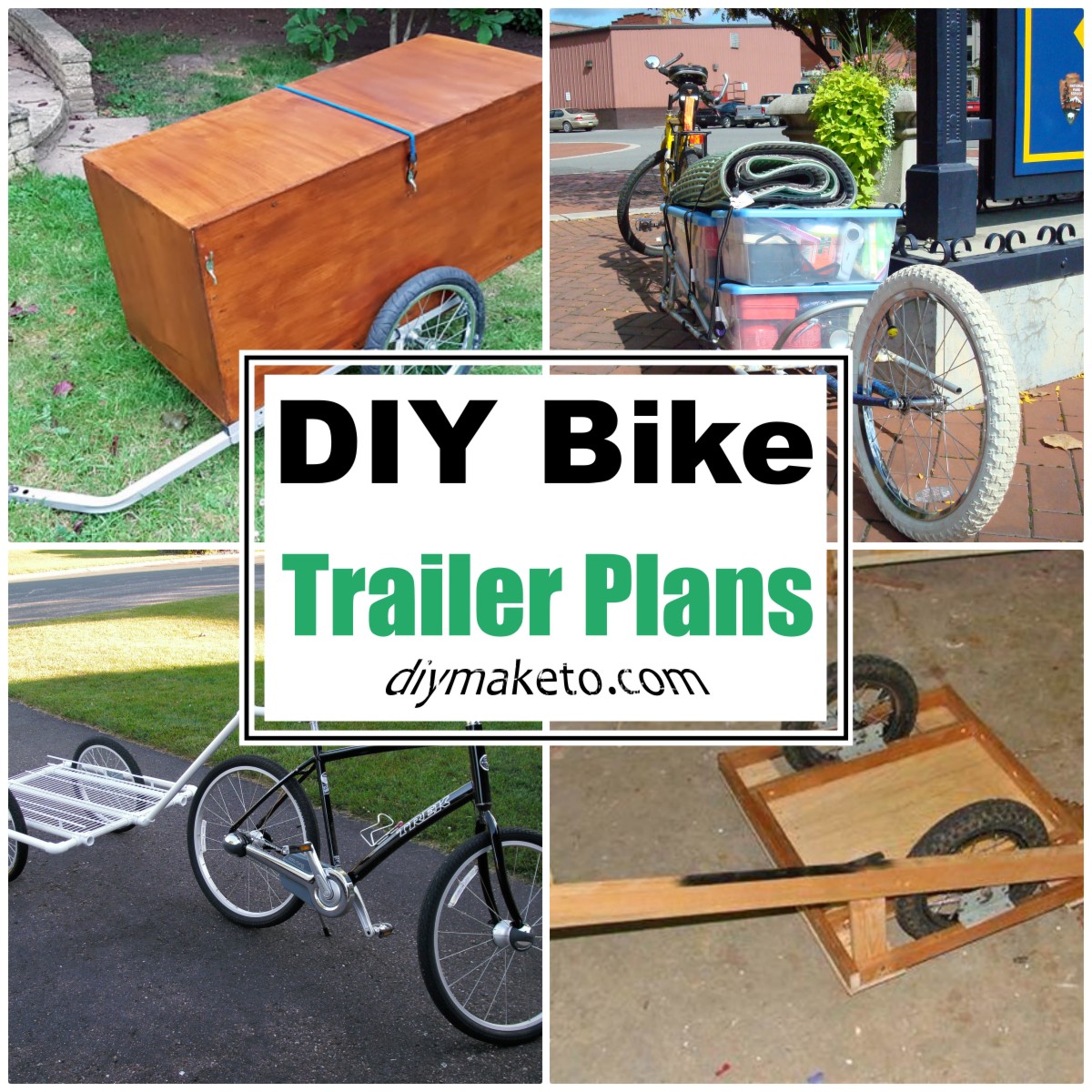 DIY Bike trailers are great for transporting kids, pets, and cargo. They let you take advantage of the benefits of biking while allowing you to carry more than you would be able to if you were biking alone. They are also a great way to turn cycling into a family activity. To help get you started on building your Trailer, here is a collection of 12 DIY Bike Trailer Plans. They're usually quite easy to put together and don't cost too much.
Can Bike Trailers Attach To Any Bike?
You will want to check compatibility to ensure your bike can attach a trailer hitch. You do not need a disc brake system on a bike to use one of these products. The one thing you need is a quick-release skewer (which most bikes have).
Trailers attach roughly to the same point on a bike as they did more than a century ago. But unlike the old-fashioned trailers of yesteryear, modern trailers have hitch mounting plates attached with a quick-release skewer. This allows you to easily remove it when you need to park your bike.
Is A Bike Trailer A Good Idea?
The benefits of DIY Bike Trailer Plans are many. The plan costs less than buying a ready-made trailer, and it can be built to suit your needs.
See Also:
DIY Bike Trailer PVC Plan:
Make a bike trailer to help you move your heavier items around without worrying about someone allowing you to carry them with their hand truck. This bike trailer is sturdy, easy to pull and manoeuvre, and can even be disassembled for more accessible storage when not in use. The plan is designed to be very easy to build. You will require 1" PVC pipe, 12" wire shelving, 20" wheels with bolt-on axel, and other materials. Everything you need to get started can be found in the local hardware store, so all you have to do is go out, grab everything you need and start building!
DIY Single Wheel Bike Trailer:
This bike trailer is great for those who want a self-contained trailer that can be towed behind any bike and still provide plenty of safety features. This plan lets you make your Trailer from various parts found around the home or yard. From conduit, washers, and connectors, you can create one just like this in just a few hours! It is straightforward to put together and will last longer than you expect! This DIY single-wheel bike trailer makes moving heavy objects around much more accessible than with a typical two-wheeled bike hack.
DIY Bike Trailer Wood Tutorial:
This plan will teach you how to build a simple, lightweight trailer that can pull behind your bicycle. Your DIY Bike Trailer is an excellent project for someone who enjoys woodworking and bike riding but has no big budget or experience building things from scratch. Figure out how to craft a bike trailer out of the parts you may already have around your home. Whether you're looking to set up a hauling system for bikes or create an off-road trailer, this video tutorial will show you how! It will walk step-by-step through the entire process, so you can make all the necessary measurements, cut out all of the openings, and bolt it all together with ease!
Related:
DIY Bike Trailer Hitch:
Building a bike trailer is not hard, but it does take time. Anyone who can drill, use a hammer and saw can make one. If you like DIY projects that don't take long to complete, this is a perfect choice. You can carry about anything you need for your next camping trip or tailgate party if you are into sports. The Homemade DIY Bike Trailer Hitch includes all the plan materials required for assembly, including parts for both axles. Follow the instructions step by step, and you can have your bike trailer hitch ready for action.
Build a Bicycle Cargo Trailer:
Save time and money with this easy-to-build cargo bike trailer kit. This model will work great on bicycles with medium-sized wheels and tires. Its simple and easy-to-follow design allows you to build it in just a few hours. Whether you're taking a trip, pedalling to the office or going on an adventure, this cargo bike trailer will open up a new world of possibilities. With extra space to stash your groceries and cargo, it's perfect for any daily needs.
Homemade DIY Bike Trailer:
The best size for your bike trailer plan is a matter of personal preference. However, when riding with a trailer, remember that a larger trailer can affect your bike's handling and stability. The DIY Bike Trailer Kit shows you how to make a simple, light, durable trailer for your bike. Whether you're taking a trip, pedalling to the office or going on an adventure, this cargo bike trailer will open up a new world of possibilities. With extra space to stash your groceries and cargo, it's perfect for any daily needs. This is a fun project you can do on a weekend if you have everything prepared beforehand.
Build a Cargo Bike Trailer:
Have you ever wanted to turn your bike into a cargo vehicle? If so, look no further – The DIY Bike Trailer Plan is perfect for anyone who wants a low-cost way to haul cargo on and off the streets. This is a simple project that anyone can do as long as they have some basic knowledge of woodworking, metalworking and similar skills. These trailers are perfect for running errands, hauling kids and pets, or getting more out of your bike trips.
DIY Bike Trailer Axle:

How cool is this flatbed bike trailer? It's the perfect accessory for your cargo bikes, allowing you to haul anything from your surfboard and kayak on the beach to long firewood logs or large boxes. This plan provides you with all the design information, instructions and parts list you need to build your own Flat Bed Bike Trailer. Build your cargo bike trailer to suit your needs and get that load moving. Straps and tie-downs make it easy to attach to any bicycle frame in one afternoon.
Related:
DIY Bike Trailer From Baby Stroller:
If you like the idea of a bike trailer but don't want to invest in an expensive or bulky model, check out this DIY Bike Trailer Attachment. You only need a welding cart and an existing kid's cart to create your own inexpensive, ultra-mobile stroller. There are many considerations when putting together your bike trailer, and combining two existing products saves time and money. It will give your kid's adorable baby cart new life while making it safer, more convenient and more fun.
DIY Bike Trailer No Welding:
This DIY Bike Trailer Design is perfect if you want extra cargo space for your bicycle. The simple frame can be made fast and efficiently and then mounted on your bike in minutes. This tutorial will show you how to make a bicycle cargo trailer that is easy, quick and affordable. The DIY Bike Trailer Craft Plan is a no-welding project that anyone with a few tools and suitable materials can put together in an afternoon.
DIY Bicycle Trailer Kit:
This DIY Bike Trailer Plan is one of a kind and has already become popular in the cycling community. If you want to build your bike trailer or cargo bike but don't have a wealth of resources, this plan can help you get started. This DIY Bicycle trailer is excellent for hauling anything from chickens or furniture to lawnmowers. The Trailer is easy to assemble, but you'll need some welding skills.
Related:
DIY Bike Cargo Trailer:
A Bike Cargo Trailer is a great way to haul big loads up and down hills and is also an excellent option for cycling with kids. Building one is not as complicated as you think and can save much money compared to buying commercially available alternatives. This plan shows you how to build your bike trailer at home, with easy-to-follow steps and illustrations. This DIY Bike Trailer For Kids is a basic example of building from a few bits of wood, wheels, bolts, and chain.