If you ride your Bicycle to work or school, chances are you've experienced some annoying skirt-flapping in the wind. The solution to this problem is simple: Throw a skirt guard on your bike! The Bicycle Skirt Guards are an essential part of a bicycle skort because it helps prevent the skirts from getting caught in the wheels or spokes, which can cause damage to the skirt and injury to the cyclist.
Bike Skirt Guard Ideas For Cyclists
Whether you're a professional cyclist or like to bike, you probably don't want your skirt caught in your wheels—it's a safety hazard, after all, and it can be embarrassing. If you're the kind of person who bikes around town in a skirt, you've probably already thought of ways to keep it out of the way:
You could tie it around your waist, fold it, and stick it in your bag. But if you're looking for more stylish solutions, here are some unique bicycle skirt guard ideas for every type of skirt. These Bicycle skirt guards may be one of the most underrated accessories for riding a bike. They're a way of keeping your skirt from getting caught in your bike chain, and they're pretty simple to make.
Here are 10 Bicycle Skirt Guard Ideas that are both practical and stylish to add a layer of security while keeping your look impeccable.
Can You Ride A Bike While Wearing A Skirt?
Why not! Because there are several benefits of bicycle skirt guard ideas.
1. Greater Safety: The major benefit of bicycle skirt guard ideas is the safety they provide. A skirt guard will protect your legs from scratch or cut by the chain and sprockets. It also prevents the chain from hitting your leg and causing an accident.
2. Comfort: Riding with a skirt guard is much more comfortable. This protects you from scrapes, cuts, and bruises on your legs while riding a bike. The skirt guards also keep your clothing away from the chain and sprockets, reducing the chances of wearing out clothes prematurely due to friction caused by bike parts.
You must choose a Bicycle skirt guard that protects all sides of the wheel, especially if you ride on busy streets. Skirt guards are easy to make, and they're a fun way to add a personal touch to your bike. Here are some unique Bicycle Skirt Guard Ideas for you to try:
DIY Skirt Guards: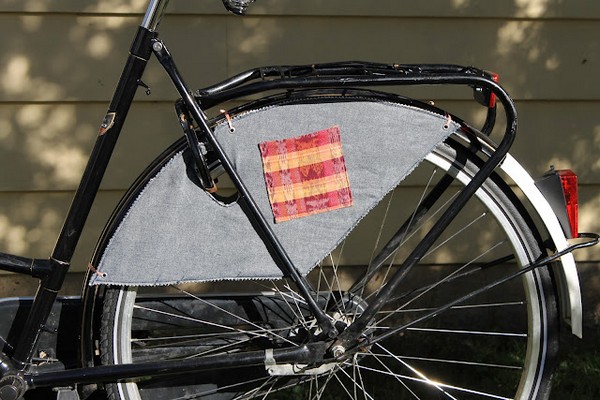 Coat/skirt/dress guards are helpful on a transportation bicycle; they protect your clothing from getting caught in the spokes and protect you from a resulting wreck. This is easy for beginners, but even experienced sewers will enjoy making these cute little skirts. You can make them with wool felt and ease the stress on your clothing when carrying a heavy load. This DIY Skirt Guards tutorial will show you how to make them out of materials you can find at any thrift store.
Related:
Take a look at these DIY Bike Basket Ideas and get inspired to personalize your bike for practical and fun everyday use.
Bicycle Skirt Guard:
This skirt guard is easy to make and will protect your clothing from getting caught in the chain. Use netting material to create a skirt guard to protect your clothing from flying rocks and dust. The Bike Chain Guard is light and easy to install, ensuring that it doesn't interfere with your pedaling. This tutorial will show you how to make a DIY Bicycle Skirt Guard. It's an easy project that takes minimal time and effort but can help keep your skirt or dress in place while biking.
Easy Bicycle Skirt Guards:
Bicycle skirts are fashionable, but they can also be dangerous. A skirt guard is a simple safety device that keeps your skirt from getting caught in the spokes of your bike and causing an accident. This tutorial will show you how to make quick and easy skirt guards that are easy to install and remove. With scraps of tulle or mesh material, cable ties, and some glue, anyone can quickly make their skirt guards in under an hour.
Crochet Bicycle Skirt Guard Pattern:
Get more protection from the elements and a better look for your bike with this crochet skirt guard. This free crochet pattern shows you how to make two netting pieces, which attach via crocheted ties and fasten easily to your bike. The skirt guard for bike design helps keep a skirt from getting caught in the spokes of your bicycle. This project is for beginner to advanced-level crocheters and will help you learn how to make a beautiful piece that can make as an accessory for your bike. Remember that all the bikes are not the same and may need adjustments to fit your bike.
Bicycle Skirt Guard Lacing:
You just started pedaling, the wind blows up your skirt, and you get caught in an awkward situation of exposing private areas you shouldn't be showing. Well, girls, fear not! This little project is perfect for anyone who finds that annoying. Gather a bit of ribbon, lace, and some cookie cutters (optional), and you'll never have to worry about your panty flashing again. With this crafty self-made guard, you'll be thanking yourself the next time you go for a ride.
Handmade Dress Guards:
If you love to dress up your bicycle or want to add color to your life, these dress skirt guards will do it! You can make them any size you like. Use various colors and patterns to make something unique, or pick one or two colors and make a fun contrast. This is an excellent project for using scrap fabric in your stash -- the pieces you cut off when making more oversized items (such as pants) are perfect for making these skirt guards.
Crochet Skirt Guard:
Do you love to ride your bike but hate the look of riding shorts? This New Crochet Pattern Bicycle Skirt Guard pattern is easy to learn and fun to make. It's a great way to try your hand at crochet or add a touch of whimsy to your ride with this easy and quick project. Perfect for going from the shop to lunch or an evening with friends. This would make a wonderful gift for any occasion for the cyclist in your life!
Crochet Bike Skirt Guard Pattern:
A dress guard is an excellent accessory to keep your clothing clean and safe when riding your bike. It covers the rear wheel as it passes over it, protecting any long-sleeved garment or skirt worn by the cyclist. The crochet work is highly durable and will withstand all types of weather. Dress guards can make from a durable and lightweight cotton crochet, so they're easy to wash, dry quickly, and look great through all seasons.
Vintage Bicycle Skirt Guard:
Are you looking for a way to make your bike more fashionable and less revealing? Look no further! This video shows how easy it is to make your skirt guards for your cruiser bikes. These vintage bike skirt guard will fit on most bikes and can make from durable and strong fabric. Selecting the right fabric is essential to ensuring that your DIY skirt guards stay in place while riding, so give this video a watch before starting!
Skirt Guard Bike Tutorial:
If you love to ride your bike in a skirt or dress, chances are that you've had an unfortunate incident or two of your cute outfit getting caught in the bike's spokes. Here's a simple solution: make a skirt guard. Making one only takes a few minutes, and it'll protect your clothes from flying debris or sideswipes by other bikes. Turn any ride into an elegant affair with this Skirt Guard. Make it out of tulle and cut it bigger than the arc of your front fender. No more marks on your garment!