Crafting is a very beneficial hobby everyone has to be crafty because we can't find everything premade according to our own desires, in this way we can make a lot of things for our own self. Scroll down to get useful information about some easy and beautiful hand made crafts free of cost. These top easy crafts are a good choice to spend your leisure time. Here you will get ideas for making crafty pens, origamis bags plants and many more. All the top easy crafts are available with a brief description but if you wanna get more information you can click n the below links.
Check out a series of top easy crafts for your self. Which you can complete in very little time, with very simple materials by using the given techniques, click here to get more information about them.
You Can See Also:
Paper Plate Christmas Tree Kids Craft
Tin Can Christmas Tree Activity
DIY Super Cute Christmas Cloche
DIY Pipe Cleaner Snowflake Coasters
DIY Phone Case With Glitter In Four Easy Steps
Paper Heart Flower Craft With Template
Valentines Day Heart Fingerprint Tree Craft
Easy Paper Butterfly Origami:
You will surely love to see this eclectic easy paper butterfly origami. This will be a fabulous introduction for kids to the handmade crafts. Took an origami paper cut it in beautiful butterfly shape make some foldings and then stiff it with thread. The children will surely like this easy paper butterfly origami. You can make this project easily but if you want more information click on the below link.
DIY Confetti Pencils:
Want to decorate your boring pencils, try this DIY confetti pencils idea. You can beautify your pencils according to your desire. You just need pencils, acrylic paint, paintbrush, and hole reinforcement paper. Wrap the pencils with the hole reinforcement paper and paint them with your favorite color then unwrap the paper. This project is quite fun to make. To get more information click the below link.
Painted Rock Cactus Plants:
This painted rock cactus plant will be an outstanding addition to your home decor. On the side table, it will express your crafting skills to your guests. You need, smooth rocks to make this beautiful craft. In different sizes, it will give a more realistic look. Paint the rocks with acrylic green paint and then did the designing with the white color. This project is quite fun to make you must try it. To get more information about this easy craft click on the below link.
DIY Easy Craft Pom Pom Tassel Circle Pool Bag: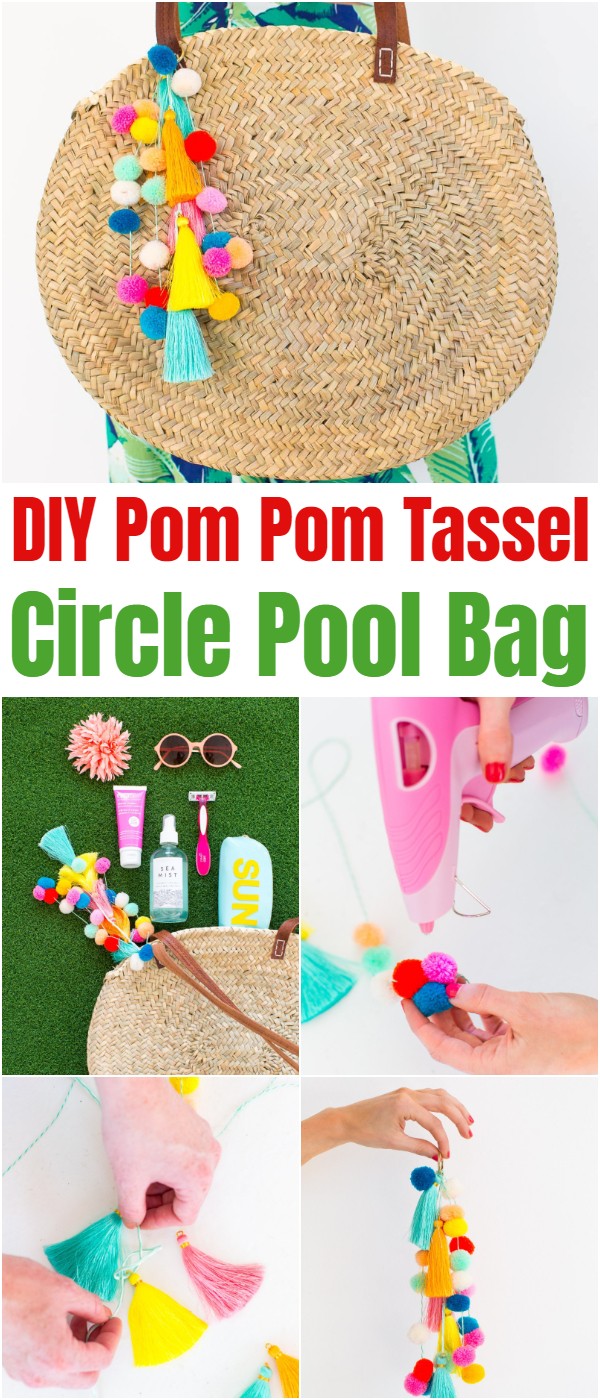 This DIY pompom tassel circle pool bag is one of the cutest bags, and teenage girls really like this DIY craft.  This craft is quite easy to make and you can also add something more to it according to your choice. You need colorful tassels, colorful mini pompom, Moroccan woven bag, embroidery needle, gold keyring, and hot glue to make this beautiful bag. This beautiful DIY bag will be a perfect gift for a girl. You can get more information about this bag idea by just a single click on the below link.
How To Make Flower Pens Easy Craft:
Are you in search of, how to make flower pens? Here is the perfect idea available for you. The flower pens are quite easy to make and are an enjoyable activity. You can make flower pens for yourself or for your children.  You just need a small drill, some pencils and beautiful flowers in the desired color. Firstly did the small holes in the upper side of the pencil with drill carefully. Then keep the flower's bottom in the pencil hole and use some hot glue. You can make this pattern easily at your home to get further information just click on the below link.