You already have smartness, so add some fluffy raccoon fur and a dose of space suit fun with these DIY Rocket Raccoon costume ideas. You will find handmade raccoon costumes, from full orange attire with realistic headgear to simpler makeup for all ages. So, whatever your skill level or budget, you'll find something that works best for you. So, have some of being one of the most popular guardians of Galaxy character's costumes to complete the group.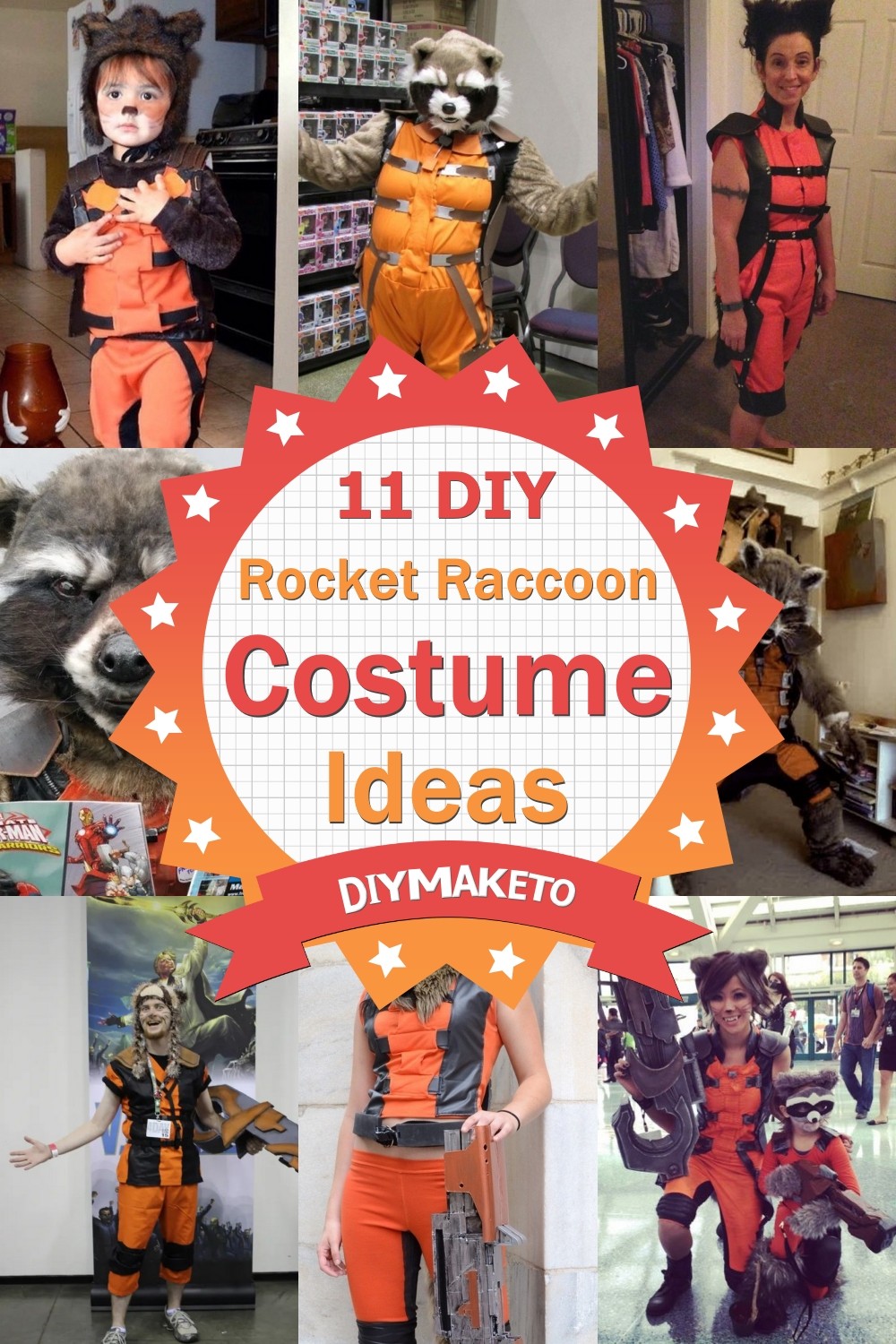 Handmade Rocket Raccoon Costume Ideas
Even though the DIY Rocket Raccoon costume may need a bit more work, including making a furry skin base, a raccoon face mask, and adding an orange jumpsuit with belts, the fun of dressing up will make it all worthwhile for cosplay! To help you along the way, we've included DIY Rocket costume tutorials, which visually guide you from gathering the materials to assembling the parts and adding the finishing touches. By the end, you'll be so immersed in the character you'll confidently say, "Oh yeah. What's a raccoon?"
How To Make A Rocket Raccoon Mask
Uses: A Rocket Raccoon mask can be a fun and engaging accessory for attending masquerades or themed events. The mask can be an essential part of a Rocket Raccoon costume for Halloween celebrations.
Supplies:
Black Paint
White Paint
Plain Crafting Mask
Card
Brown Tissue Paper
Black Fur
Grey Furry String
Paint Brush
Sticky Tape
Pencil
Making: Start by drawing Rocket's ear shape on a card; do it twice for two ears. Cut out a bendy triangle piece and put it on the craft mask. Also, cut the ears a bit so they can bend, then stick them on top of the mask. Now, make Rocket's chin and mouth with more card shapes and tape them on the mask. Draw furry patterns on the mask for added detail. Wrap the grey furry string around the mask for Rocket's fur; remember to leave some space to see. Put on the finishing touches with white and black paint around the black edges of the cheeks, ear tips, mouth, and nose. Now, your Rocket Raccoon mask is good to go.
Best Halloween Costume Rocket Raccoon
Uses: Chase is not just any clothing, but a special one inspired by Rocket Raccoon, a popular character from a hit movie, Guardians of the Galaxy.
Making: In a fun way for Halloween, a hardworking mom spent many weeks making the best Halloween gear for her son; she put together the costume with great care, ensuring every part looked like the brave raccoon character. Local kids and even a famous Hollywood director noticed and complimented her hard work. This excellent Rocket Raccoon gear came to life, making Chase the beloved space hero for that particular Halloween night.
DIY Rocket Raccoon Costume
Uses: Maybe you want to be the star at a cosplay event or look for a unique Halloween outfit to catch everyone's attention. Either way, this video guide will help you achieve your goal.
Making: If making a DIY Rocket Raccoon costume from the movie Guardians of the Galaxy sounds fun, this video is for you. It'll walk you through a simple, affordable way to create your costume. All you need to kickstart your costume-making adventure is to collect some crafting tools, grab your materials, hit the play button on the video, and let the enjoyable project of creating your costume begin!
DIY Rocket Raccoon Costume
Uses: The DIY aspect of this activity can be a fun and creative project for individuals and family activities. Making the costume can result in valuable bonding time and a great avenue to showcase DIY skills.
Making: The headpiece and tail of Rocket Raccoon were specifically made upon a request, while the shirt and pants were sewn from unique fabrics at a local thrift store. The backpack was crafted from EVA foam, providing an enjoyable challenge. As for the most thrilling part, the rifle was crafted from a 3D-printed model and successfully assembled. She was dressing up as Rocket became an absolute joy, with a personal love for the character shining through every stitch and detail of the costume.
DIY Rocket Raccoon Costume
Uses: This costume will be a hit at any superhero or movie-themed party, setting you apart from the crowd. This costume is a perfect way to show your skills and love for the character.
Making: Creating a DIY Rocket Raccoon Costume requires some craftiness and creativity. Start with the main component, the Rocket raccoon suit. For this, you can modify a grey jumpsuit or onesie by attaching patches of fur fabric, focusing on the chest area and tail. The tail can be made from faux fur fabric, stuffed with polyester fiberfill, and attached to the back of the suit. Now, you can use a well-structured foam base covered with faux fur for the headpiece or buy a Rocket raccoon mask and modify it as needed. Don't forget the ears - cut them out from the same fur fabric and attach them to the headpiece.
DIY Rocket Raccoon Costume
Uses: If you want to look really like a Raccoon, this costume is the perfect fit. Your friends will appreciate your skills and craftiness.
Supplies:
Orange jumpsuit
Black leather
Dark brown leather
spool of black 1" elastic material
3 x black 1" clip buckles
package of small rivets
Making: The charm of DIY Rocket Raccoon Costume lay in its mix of playful realism with a touch of a fantasy twist. It wasn't just the looks, though — comfort was central. The costume was delightfully cozy despite the warm weather, fitting like a second skin. It wasn't pure fluff and fur or overdone with flashiness. Instead, the creator balanced carefully to achieve our homely rendition of Rocket Raccoon. Surprisingly, the whole outfit, packed with authenticity, came together for a modest sum of about $70.
DIY Little Rocket Raccoon Costume
Uses: The Little Rocket Raccoon Costume can be a fantastic choice for dressing up on Halloween, allowing children to embody their favorite character while trick-or-treating.
Making: Changing a whole bear outfit into a Rocket Raccoon costume needed clever thinking and crafting know-how. The outfit, which covered from head to toe, was cut at the waist and fitted with a stretchy band to make using the bathroom easier. The rounded bear ears on the cap were squashed together to make them look like the sharp ears of a raccoon. The addition of an orange suit to the mix wasn't easy. It required sewing skills. Pieces from old belts at thrift shops created solid shoulder parts. They were attached tightly, but they could be used differently if preferred. The entire process was a learning experience because there weren't any guides or rules to follow.
DIY Cool Rocket Raccoon Costume From Guardians Of The Galaxy
Uses: This Rocket Raccoon Costume can be an excellent outfit for community activities like parades, children's fairs, or local superhero events, adding a playful twist to the occasion.
Making: Crafting a unique and fantastic DIY Rocket Raccoon Costume from Guardians of the Galaxy requires a mix of smart design and skilled handiwork. The core of the costume, the orange bodysuit, was fashioned from a pair of capris and a tank top. The suit and the raccoon-like tail were stitched together using a sewing machine at the project's outset. However, due to limited access to the machine, the rest of the costume had to be sewn by hand. Despite the painstaking effort, the dedication to hand-stitching every remaining detail is a testament to the creator's passion and perseverance.
DIY Rocket Raccoon Costume
Uses: The costume can also be a fun way for young fans to show their spirit at movie premieres or gatherings related to Guardians of the Galaxy or other Marvel films.
Making: The DIY Rocket Raccoon costume, a labor of love handmade for a six-year-old, looked so authentic that it wouldn't seem odd if spotted on a movie production set. What's truly remarkable is that its creator isn't even a professional props designer, managed to craft the outfit on a tight budget and achieved an astoundingly realistic result. The costume touched many hearts and sparked excitement faster than a rocket's flight; when snaps of the little one donning the suit for a Halloween celebration surfaced online, it instantly captured internet users' attention, turning viral in no time.
DIY Lifelike Rocket Raccoon Costume
Uses: The costume can be a delightful and appropriate outfit for school performances or plays that include Rocket Raccoon or space-themed characters.
Making: Using a strong imagination and a bit of skill, the DIY Lifelike Rocket Raccoon Costume shows you can create magic with your hands. The costume, carefully and precisely made piece by piece, boldly brings to life the brave space raccoon character. This handmade art, unique in realism, lets you discover your creativity. Every stitch symbolizes hard work and affection, reminding you that all dreams are possible and every tiny detail matters when you put your heart into it. Truly, this Rocket Raccoon costume is more than just clothes; it's a shining example of inspiration.
DIY Adventures Of Rocket Raccoon
Uses: This Rocket Raccoon Costume is also ideal for cosplay events, as it allows young cosplayers to enter the imaginative world of their favorite universe with an authentic look.
Making: Cosplaying as Rocket Raccoon can be just the right motivation to overcome illness and don an incredible costume. Despite health challenges, the enjoyment derived from embodying a fantastic and somewhat furry hero with a gigantic gun is immense. Particularly at a first Comikaze event, the sheer scale, lively atmosphere, and myriad activities never fail to impress. Many excellent vendors present a broad selection of products arranged in a generously spaced layout to prevent overcrowding. The event turns into a marvelous break from sickness, offering a delightful experience and a fun-filled adventure.
More Costume Collections