Do you want to blend the humor and childish memories in the new format this summer? Try these DIY Spongebob costume ideas, catching the same funny appearance of this ocean resident using Spongebob accessories, different materials, and some artistic touches very cheaply!
DIY Spongebob Costume Ideas For All Skill Levels

Whether you're dressing up yourself or a child, the SpongeBob-inspired outfit will require a red tie, a belt, brown shorts, some cardboard, a yellow sponge-like shirt, and a SpongeBob headpiece. However, you can use cardboard for the main outfit components or choose a more fabric-based approach. The result will be an appealing costume that will be a hit at any event, whether at a gathering or school.
Bright Party With Spongebob Diy Costume
Imagine becoming the life of a costume party as everyone's favorite sea-dwelling character, Spongebob! This video guide teaches how to craft a splendid, lifelike Spongebob costume using old cardboard. This dazzling DIY project brings the beloved character to life, paying attention to every detail to make it look authentic. The fun doesn't stop there, as this costume amps up the Halloween spirit by making it perfect for dancing, playing games, and ensuring everyone has a great time at the party.
Materials:
Hot glue gun
Crafting knife
Super glue
Other Crafting items
DIY SpongeBob & Patrick Costume
Create lasting memories with friends and family by crafting these delightful outfits using simple and accessible materials. Inspired by the iconic Spongebob Squarepants and his faithful sidekick, Patrick Star, this DIY project invites the child within to explore creativity and imagination. Spread joy, laughter, and fun at any event while donning these vibrant, homemade costumes that revitalize the memories of these cherished characters and showcase the power of love and teamwork.
DIY Spongebob Halloween Costume
In the featured video, viewers are guided on creating an adorable and simple DIY Spongebob Squarepants costume and matching makeup! The step-by-step instructions make the process easy and fun. But the excitement doesn't stop there. The video also takes you on a journey to set up a charming party decor, presenting a magical fortune teller table bedecked with charisma and charm. The splendid transformation will impress, perfectly balancing fun and mesmerizing.
DIY Spongebob Squarepants Mascot Halloween Costume
Create a fabulous DIY Spongebob Squarepants mascot costume for Halloween! It's pretty easy to make and requires just a little sewing. The best part is its total cost will be under $10! To start this creative project, gather all necessary materials: a yard of yellow fleece fabric, white foam and black foam sheets that are 8x10, two yellow foam sheets sized 8x12, and red and blue felt sheets that are 8x10. Lastly, don't forget the star of DIY crafting – lots of hot glue! With these simple resources, you're set to create a unique Spongebob Squarepants mascot costume that's sure to be a hit at any Halloween event.
DIY How To Make Spongebob Squarepants Costumes
Show off your creative side and make a fun Spongebob Squarepants costume with easy-to-find materials and a little sewing. These homemade outfits let fans feel like they are Spongebob themselves. Perfect for parties or Halloween, your handmade Spongebob costume will be the star of any event. This DIY project is not just about making a costume—it's also about adding a touch of childhood memories and excitement to every step. Start your project and encourage others with your cool Spongebob Squarepants DIY costume.
Here are the things you'll need:
Perforated vinyl
2 art sponges
Spray primer
long sleeve yellow shirt
yellow leggings and gloves
brown shorts
Acrylics, black & blue Sharpie
Yellow spray paint
white tee
white striped socks
black shoes
DIY How To Make A No-sew Sponge Bob Costume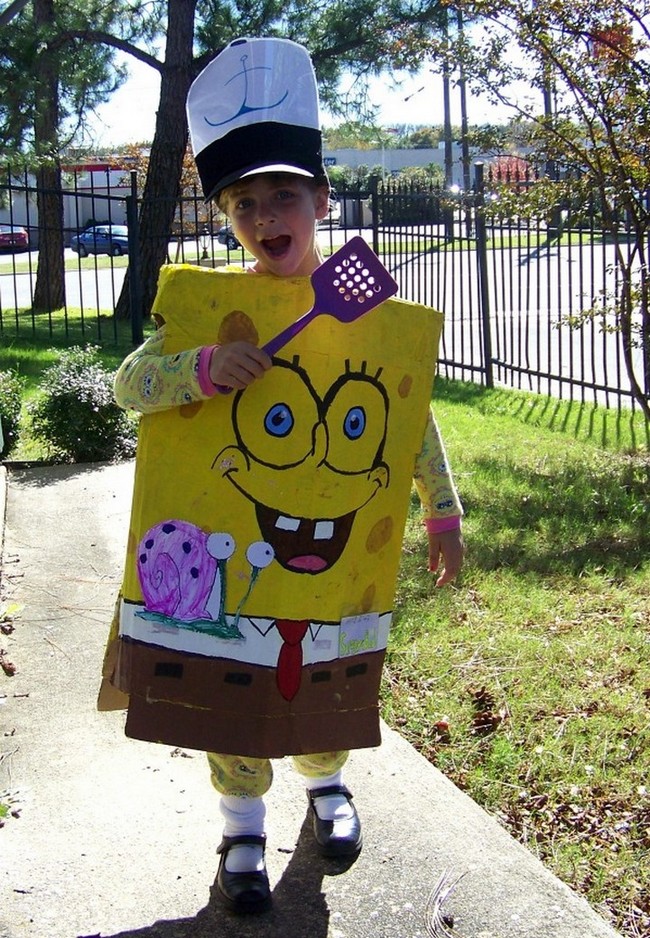 Make a fantastic no-sew Sponge Bob costume that's easy to make and brings joy to any Sponge Bob SquarePants fan. This charming outfit can be used for Halloween, a costume party, or a fun indoor dress-up. The basic materials are budget-friendly paints, a box, and a handful of accessories - simple yet transformative. Kids can pitch in during crafting, engaging in a fun, creative, and rewarding project. This exciting work ticks all the boxes for an enjoyable weekend project.
Supplies:
Paintbrush
Brown, white, yellow, and red paint
A large cardboard box
Scissors
Large black permanent marker
Coolest DIY SpongeBob Halloween Costumes
Experience the coolest DIY SpongeBob Halloween costumes warmly fashioned with accuracy, reflecting the spirit of the iconic characters. Made meticulously with lightweight fleece fabric and foam, these outfits are designed to capture SpongeBob and his friend's true nature and details. The creator was resourceful enough to find giant googly eyes for two characters while cleverly crafting the other (crab) using available materials. The outcome is a collection of endearing, homemade costumes that will stand out at any Halloween event or SpongeBob-themed party.
Coolest DIY Spongebob Halloween Costume Idea
Check out this fantastic DIY Spongebob Halloween costume idea that's fun and easy to assemble. All you need are a few different colors of acrylic paint and an exacto knife. The best part? The creator re-purposed leftover diaper boxes, making this a creative and eco-friendly project. With a touch of creativity and some elbow grease, these humble materials are transformed into a splendid Spongebob costume. This innovative idea is a great way to recycle, have fun, and create a memorable Halloween piece.
DIY Spongebob Costume
Make a fun and simple DIY Spongebob costume using easy-to-find materials. Here are simple steps: begin with a square box for the head and body. Cut it horizontally and connect both parts closely with duct tape. Cover the box using car sponges, and fill gaps with extra sponge pieces. Make eye holes and use white paper, blue marker, and black netting for the eyes. Attach brown and red felt for SpongeBob's shorts and tie and draw the belt with a black marker. Complete the costume with tube socks striped with red and blue lines, a white long-sleeve shirt, and brown shorts. Now, you have a great SpongeBob outfit for your child to wear at any event.
Cool DIY Spongebob Squarepants Costume For A Boy
This cool DIY Spongebob Squarepants costume is perfect for a boy's fun Halloween experience! The outfit starts with an Amazon box covered with bright yellow felt. Printed features from Spongebob's character are carefully selected, cut out, and glued to the box using a hot glue gun. Despite being slightly bulky for an extended period, the costume scored huge points for its creativity and originality. The proof? It won first place at a Halloween party, earning praise from people who adored the craftiness and effort put into the costume.
DIY Spongebob Squarepants Costume
The entire costume is handcrafted, with the only exception being the battery light strips. The base of the costume is made entirely from cardboard and is held together using duct tape. Then, it's time for painting and adding more duct tape for decoration to bring this character to life! A giant spatula is used as a crabby patty flipper for an extra fun touch, highlighting the theme. The costume is cleverly designed to be lightweight and easy to wear — perfect for trotting out for a few Halloweens to come!
DIY Spongebob Daddy And Bel Costume
Check out this lovely pair in their DIY Spongebob Daddy and Bel costume, adding a happy touch to the celebration. Bo, Bel's dad, looks positive and excited in his homemade Spongebob outfit. All set to turn two, Bel looks cute in her Minnie Mouse dress. Together, they are quite a sight. This unusual combo invites others to be original, too. While Bel seems a little puzzled at her daddy's Spongebob get-up, their combined outfits create a story of love, amusement, and unlimited creativity. You, too, can make a combination of these dresses by following the steps listed in this simple guide.
More Crochet Collections