Veterans Day is celebrated on November 11 in the United States and Canada. This day honors all who have served in the military, both living and dead. It's a great day to celebrate veterans and their families. Veterans Day is a time to honor the brave men and women who serve our country and protect our freedoms. Celebrate those who have fought for our country with these creative DIY Veterans Day Crafts!
Veterans Day gives you a chance to honor these brave men and women for their selfless service and show them how much you appreciate everything they've done. With Veterans Day right around the corner, this list of 10 DIY Veterans Day Crafts will inspire you to get creative in honor of our veterans.
Military Themed Crafts That Honor Our Veterans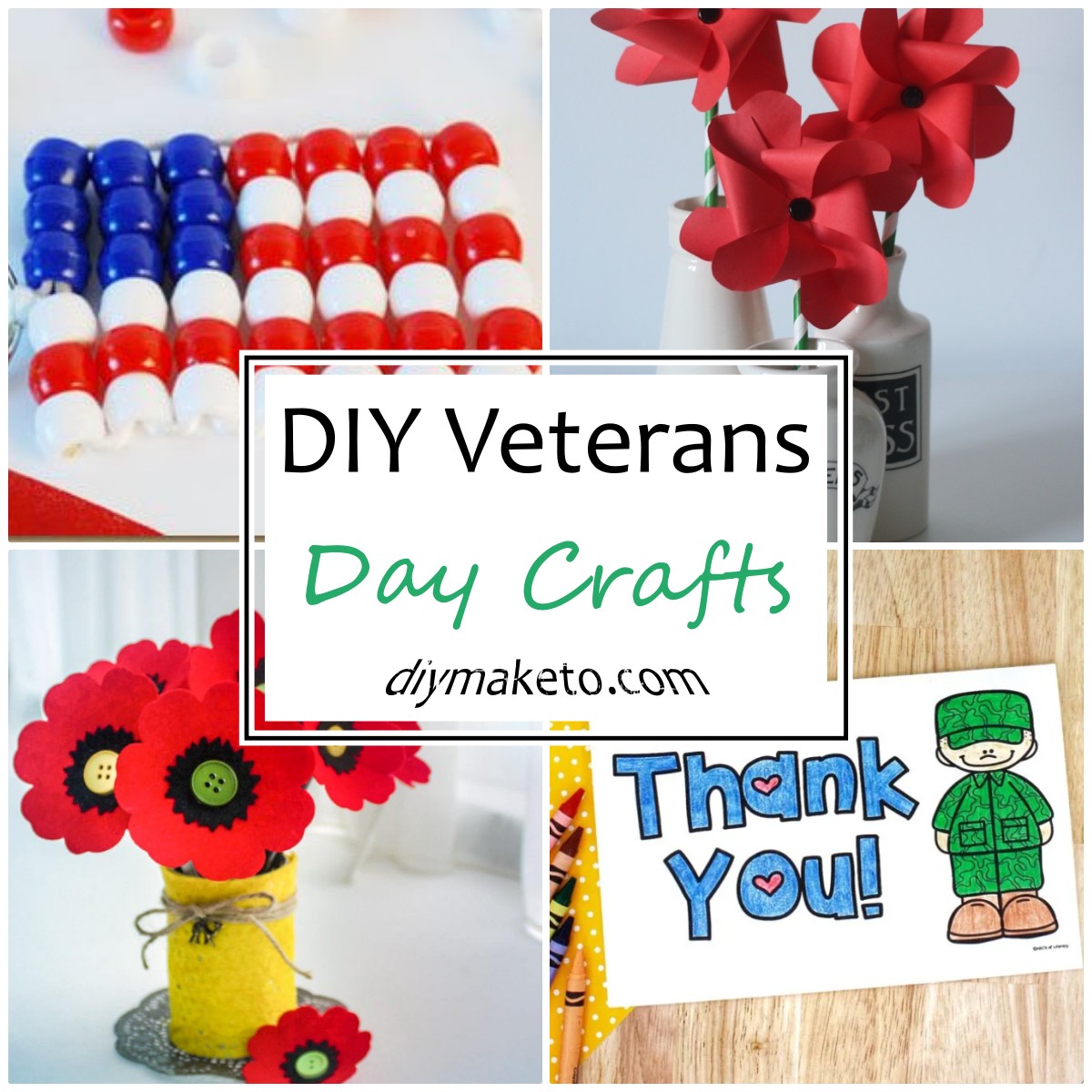 These Veterans Day Activities are great for school projects, classroom decorations, or fun family activities. Whether you make all of them or just one, it will be a memorable day for all who participate.
If you love to craft, you've probably already got a few Veterans Day-themed projects in mind. However, if you're looking for some new ideas, we've got Handmade DIY Veterans Day Gifts that will make great gifts for your military family and friends. These homemade holiday gifts are perfect for any branch of the military, whether it's the Army or the Coast Guard, and whether you're honoring veteran dads or veterans grandpas.
These DIY Veterans Day Decoration Ideas are perfect for your veteran; they can be used as gifts to decorate your home or displayed proudly at your desk at work.
See Also
Advantages Of DIY Veterans Day Decorations
There are many ways to honor veterans on this special day. You can go out and buy gifts for them or make your own Veterans Day crafts at home. The best thing about making your crafts is that they will be customized with your personal touch, which means they will be more meaningful than anything else you could purchase at the store!
You Can Make Them For All Your Family Members!
You Can Make Them In Your Own Style And Taste!
They're Easy To Make And Don't Require A Lot Of Money To Get Started With!
They're Fun To Do And Take Away The Stress From Other Things In Life That Don't Seem Important Right Now!
DIY Veterans Day Key Chain:
Show your patriotism with our DIY key ring that can be personalized to fit any look. Celebrate Veterans Day by making this key chain. This is a great way to show your support and pride while having fun with the kids. Celebrate Veterans Day with this DIY veterans day key chain. A fun way to create your own unique keychain with the country flag or any pattern of your choice! With this project, you'll be able to change the design by adding a new ribbon or fabric.
Related:
DIY Veterans Day Picnic Table Decoration:
Create an awesome picnic table decoration with a little help from your kids. These DIY veterans day picnic table decorations will be perfect for Veterans Day or even Memorial Day or Labor Day celebrations. Celebrate your veterans at your next picnic with a DIY picnic table. This is a great activity with the kids; they get to help make something special for their favorite veteran! This Veterans Day craft is super easy and will be a gorgeous addition to your picnic table. This project is perfect for anyone who wants to show their support for our veterans at the BBQs you may get invited to! You can use any theme you like – sports teams, schools, countries, etc. Get the supplies and materials together, including felt, paint, foam board, and contact paper.
Handmade DIY Veterans Day Cards:
Express your gratitude for veterans serving and protecting our country by making your own DIY Veterans Day cards. With these easy-to-make projects, you can help the people in your life feel important by creating something stylish and comforting all at once. Show your gratitude and respect for our veterans by creating a handmade card. With this do-it-yourself kit, you can make a beautiful card that expresses exactly what you're feeling. The supplies are included in the box. Once finished, display your card with pride on Veteran's Day and throughout the year as a reminder of how grateful we are to all who have served and sacrificed for our freedom!
DIY Veterans Day Cards:
Printable Veterans Day cards are a great way to show your veterans how much they mean to you. The downside of paper is that it can easily be misplaced and forgotten by those around you. The good news is that digital is here to help! This DIY Veterans Day card will allow you to send your sentiments through email or text. You can edit the message to say whatever you want (not just "thank you"). Celebrate Veterans Day with this fun and easy DIY veteran cards! Easily printable free cards—including cards for kids, men, and women- and blank templates for creating your own messages and images.
DIY Veterans Day Gift:
Even though you can't stand by our loved ones in person, you can show them your support from afar by making a DIY veterans day gift. With these simple supplies and techniques, you can help our troops feel honored on Veterans Day and all year round. Easy DIY Veterans Day gifts, recipes, and decorations. Whether you intend to honor veterans at a school function, family get-together, or holiday party, we have ideas for all ages and budgets.
Easy Veterans Day Craft Idea:
Create an amazing craft for your preschooler to celebrate Veterans Day with this easy and adorable craft. The hands-on activity will not only be fun for the kids but will teach them about the meaning of Veterans Day. This Veterans Day, celebrate the accomplishments and dedication of our veterans. For teachers and parents who want to instill a sense of gratitude in their preschoolers and inspire them to do more than say thank you.
Veterans Day Craft For Preschoolers:
This simple and easy DIY craft preschoolers can make for Veterans Day. It's perfect for preschoolers to make with their parents or teachers, using materials they have around the house. Veterans Day is around the corner, and it's a great time to find creative ways to teach young children about the sacrifices of our veterans. This Preschool Veterans Day Craft will make with items you probably already have at home, and stickers add some fun too! This easy project is perfect for kids, and it's sure to be cherished by any veteran who receives one!
Kindergarten Veterans Day Craft:
Kindergarten is a fun and exciting time for children. But for one day, during November, we recognize and honor the many sacrifices made by our veterans through a special school program. These DIY Veterans Day crafts are perfect for celebrating with your child and will last long after the holiday. From making popsicle stick flags to creating signs recognizing different branches of service, your child will learn more about your country's military while they have fun! This is a fun and simple way to reinforce kindergarten counting and sequencing skills while showing respect for veterans.
Veterans Day Craft For Elementary Students:
Let your child make their own DIY Veterans Day Craft! Any student at an elementary school can participate in making this craft and be proud to show off the finished product. Make sure you have some scissors, glue, string, and journal covers before you begin. Veterans Day is just around the corner, and it's a great time to teach your children about the brave men and women who have served in our military. This project will create a fun memory or keep-sake for your child through interacting with their friends so that they have a visual reminder of their school buddies who serve in uniform.
Veterans Day Craft For Kids:
Looking for the best and most creative way to show gratitude this Veteran's Day? Celebrate Veterans Day with this adorable craft with your kids. It's a fun way to teach them about gratitude and honor those who have served our country. This a great way to show your appreciation to our veterans and help them have a great Veterans Day. You can also make this craft home with your kids as a reminder of who they celebrate each year. This DIY is easy, cheap, and fun!