A pillow is a stylish and comfortable way to add a little extra personality to your living room or bedroom. Crochet pillows make a stylish accent to your living room, bedroom, and more. Crochet pillows are easy to customize, making them the perfect project for any skill level. This collection of 19 free Crochet Pillow Patterns features pillows in various shapes and sizes. All include up-to-date color palettes, plus instructions for embellishing the designs with ribbons or fringe. Each design will make a statement or can be used to create a set of pillows based on the same color theme. These crochet pillow patterns are quick, simple accessories that you can use as accent pieces in any room of your home.
With so many designs to choose from, our free Crochet Pillow Patterns are sure to add warmth and comfort to your home. Whether you're looking for a simple slouch or a more detailed look, this list of beautiful pillow patterns is sure to have something for everyone! The crochet pillow patterns in this book will make you want to curl up and relax, guaranteed. Crochet pillows are easy to make, and these projects range from simple to intermediate. You don't have to be a master crocheter to make one of these pillow projects! These stylish pillows are perfect for adding some color, texture, or glamour to any room in your home.
These versatile 19 free Crochet Pillow Patterns can be used as accent pieces on sofas, chairs, bedding, baby cribs, and bathroom ensembles to add color and texture.
Benefits of Crochet Pillow Patterns
Crocheting pillows offer a variety of benefits, including:
Saving money. You can make each pillow yourself, which means you'll save money by purchasing them from a store.
Personalization. Crochet pillows allow you to personalize your home decor with unique designs that no one else has seen. This allows you to express yourself and your style while providing a unique look in your home.
A variety of styles and colors are available. Crochet patterns are available in all colors and styles, meaning there is something for every taste and budget.
Crochet Pillow Patterns That Everyone Can Make
Free Crochet Farmhouse Plaid Deer Pillow Cover Pattern
You will fall in love with this adorable pillow cover. It's made in the traditional farmhouse style of plaid! It features a deer with a coordinating plaid border so that it can be used anywhere in your home. Enrich your home with the warm, welcoming style of this crochet farmhouse plaid deer pillow cover. Featuring a beautiful blend of colors, this distinctive pattern is sure to add comfort and beauty to any room. Make this adorable Farmhouse plaid deer pillow cover to give your rustic friends the gift of nature's beauty. This item makes a wonderful addition to any decor and would make a great wedding or housewarming gift!
Crochet St Patrick's Shamrock Pillow Cover Pattern
This crochet St Patrick's Shamrock Pillow Cover Pattern is a great way to spice up your home. It's a quick, easy project that makes for lots of fun. This pattern is perfect for beginner crocheters and comes with color patterns and lots of photos, so you can see exactly what your piece should look like from start to finish. This adorable crochet shamrock pillow cover is perfect for your spring decor. It features a simple hook stitching pattern. You can use a single or multiple-color yarn. St Patrick's Day table cloth, placemat, and decorations for kids' room, kitchen, and the home
Free Crochet Chevron Pillow Pair Pattern
The Crochet Chevron Pillow Pair Pattern is made with a lightweight yarn, and the design consists of creating strips of double crochet stitches arranged in chevron patterns, joined together where the colors meet. This type of project is perfect for beginners and more advanced crocheters as no shaping is involved due to the striping nature of crocheting these pillow covers! This crochet pattern for a pillow pair is easy to make if you know basic crochet stitches. Each pillow is crocheted from the top down, so there are no seams to sew! It's quicker to make two because there is no seaming involved.
Crochet Hygge Diamond Pillow Pattern
The Crochet Hygge Diamond Pillow Pattern is a modern take on traditional diamond quilt patterns. It's bright, colorful, and easy to crochet! This pillow pattern is perfect for any space in your home – kids' rooms or rooms for guests. You will learn how to make this pillow, the stitches used in the pattern and how to assemble it, so it's ready to display when you're done. This project works up quickly using basic crochet stitches, and with only one skein of yarn needed, you can easily make more than one! This pillow pattern can be made in any size, and the designer says that it's easy enough for beginners but interesting enough for crocheters with more experience.
Free Crochet Anthropologie Pillow Pattern
If you're looking for a simple crochet pattern that goes far beyond the basics, this is it! Throw in an easy slip stitch pattern with a pretty little frilled edging, and you've got yourself a pillow fit for Anthropologie. This crochet pillow pattern is the perfect way to add flair to your home décor. The floret stitch is so fun and easy to do you'll want to make more than one! This versatile pillow pattern can be used as a throw pillow, decorative accent piece, or outdoor cushion. Made with two different slip-stitch patterns, it's easy to customize with your favorite color combinations.
Crochet Twinkle Star Pillow Pattern
A perfect addition to your nursery or kid's room, this crochet pillow is a fun and educational way to help your child learn about the night sky. The pattern creates a starry sky with twinkling stars that shine through the embroidered holes of the pattern. This crochet pattern will show you how to make the perfect decoration for your bedroom, nursery, or living room. This pillow requires basic crochet skills and can be completed in less than a day. You can even use this easy pattern for a baby blanket!
Free Crochet Snowy Owl Pillow Pattern
This crochet snowy owl pillow pattern is great for anyone who likes to crochet and adds a little character to their home decor. Crochet Snowy Owl Pillow Pattern is perfect for someone who wants to try making a crocheted pillow but doesn't want to purchase expensive yarn. You can enjoy creating your unique pillow by adjusting this pattern to the size you want or adding appliqués. It is also great for beginner crocheters! You can make lots of them in different colors for coordination or layer different patterns together to create some excitement!
Crochet Cable Diamond Pillow Pattern
This crochet cable diamond pattern is the perfect addition to any room. This easy knit and crochet pillow pattern is great for beginners and advanced skill levels! This crocheted pillow pattern is so fast and easy to make that it would be perfect for a beginner looking for a fun project or an experienced crocheter looking for a quick gift. The pattern uses the same simple crochet stitches that we all know and love, with a little cable magic thrown in. This pillow is easy to make and can use any colors you want! Go bold or soft; this crochet square pillow pattern will be an instant favorite!
Free Crochet Ho Ho Ho Pillow Cover Pattern
This pillow cover can be used as a Christmas decorative pillow cover, a Birthday Pillow Cover, and just as home decor. This crochet pattern is an easy way to get a holiday pillow cover. There are only two sides, so it's perfect for beginners who want an uncomplicated project. The pattern includes directions for a standard throw pillow cover and instructions for cushions and custom sizes if desired. You can crochet this simple and fun Ho Ho Ho Pillow Cover. Start it in time for Christmas, and it will be a great handmade gift!
Crochet Hygge Neck Roll Bolster Pillow Pattern
If you love the Hygge feeling as much as I do, this cozy crochet Hygge neck roll pillow will be your new best friend. Give it a try and test the Hygge theory for yourself. Hygge is the art of making yourself feel cozy, safe, and content. This neck roll pillow will sure help you feel cozy and warm. By adding more rows, you can use this pattern to create a crochet neck roll or a bolster pillow. It is perfect for holidays or wintertime as well as any cold weather. It can be worn around your neck while you are sitting on the couch watching Netflix so you can stay warm and cozy at the same time during those freezing nights!
Free Crochet Funky Fringe Pillow Pattern
This free crochet pattern lets you create your own funky fringe pillow. This is a great beginner prAdd a bit of fun to your interior with this funky fringe pillow. This free crochet pattern by Patons is quick and easy to make. We love the bright colors together, especially as an accent pillow on a bed or sofa. Object if you're learning to crochet and want a quick way to finish your next DIY project. Crochet the afghan stitch chain and then add some fringe for a simple, stylish accent pillow that you can personalize with your favorite colors or fabrics.
Crochet Crafty Rainbow Pillow Pattern
This colorful pillow is the perfect throw pillow to add a pop of color to your room. Made with an easy crochet pattern and including 3 different sizes, this pillow is a great way to add some color to your decor! The Crochet Crafty Rainbow Pillow Pattern will teach you how to crochet, fuse, and sew a pillow. You'll also learn the tips and tricks for making this an easy project. The Crochet Crafty Rainbow Pillow Pattern includes all the materials needed to make your own pillow. Crochet a bright rainbow pillow for your home with this easy crochet pattern. The grid styling will add modern style to any room, and the cozy yarn makes it great for naps on the couch!
Crochet Angles Pillow:
Stroll around your favorite beach towns or on a city break with the Crochet Angles Pillow. No matter the journey, this handy travel companion will keep you comfortable wherever you go. A unique and modern crochet angles pillow that is perfect for any home. The colors and symbols suggest stability, balance, and harmony. A great gift idea for anyone who loves crocheting and all things chic! This angled pillow is perfect to use in any space. Use it with a throw or blanket as a decorative accent piece, or use it on its own to lounge comfortably.
Bobble Fringe Crochet Pillow:
If you want to make an adorable pillow for your home today but don't want to worry about the pattern, this Bobble Fringe Crochet Pillow will do it for you. This item includes written and photo instructions for crocheting this beautiful pillow. You don't need many crochet skills to pull this project together and make it your own. This bobble fringe crochet pillow is light and airy, making it perfect for spring and summer or indoors during fall and winter. The pattern uses Bernat Blanket yarn because its bulky texture makes it easy to work with.
Angles Crochet Pillow:
Angles Crochet Pillow is an arrow-shaped pillow made of 100% acrylic yarn. It can be used in any space to decorate your home and add warmth and beauty. The pillow is incredibly comfortable because it is filled with soft polyester fibers. It has strong resistance to moisture and stains. It is also very easy to maintain its shape. These simple and classic pillows are the perfect accent for any home. They make the perfect gift for newlyweds, moms, baby showers, and more.
Crochet Polka Time Pillow:
Decorate your home with this darling little pillow. This would make this an adorable addition to any couch or bed, made from a soft yarn, a cute polka-dot design, and a polka dot ribbon tie. Make your living room extra cozy with this colorful pillow! This cuddly and stylish accessory will add color to any room and make a great gift for any occasion. This is an excellent crochet pattern that you can use to change the look of your living room. It is easy to make and uses Bernat Blanket Brights yarn and crochet stitches. The use of black color makes this pattern more adorable.
Brighter Days Pillows: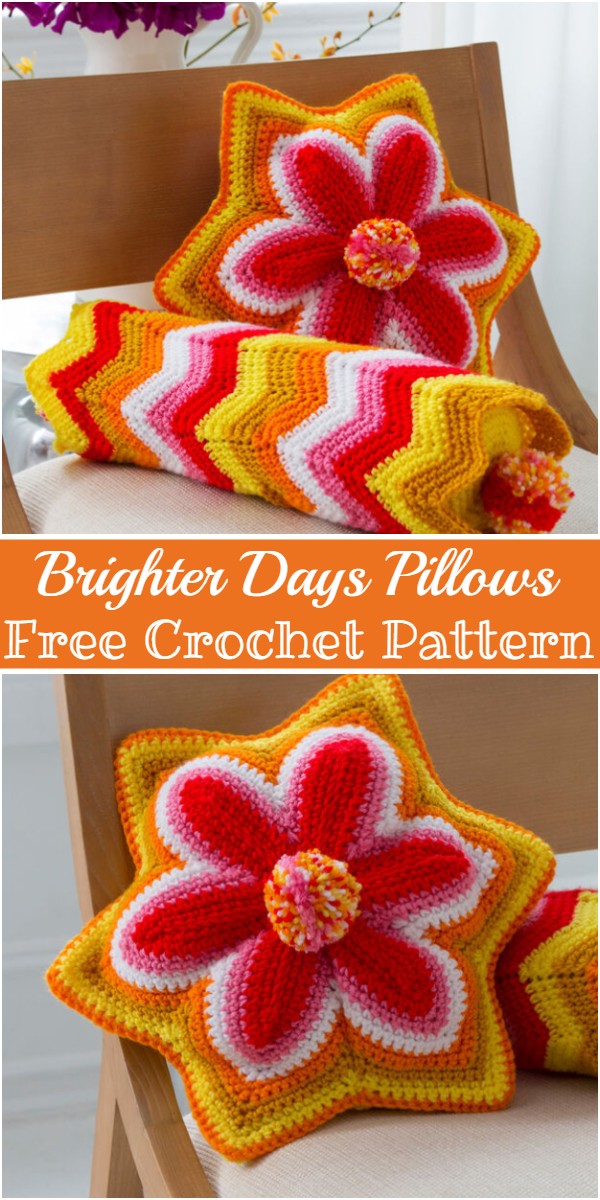 Are you looking for pillow ideas? Brighten up your home with this beautiful crochet pillow pattern. It combines bright, bold colors and uses some basic stitches with America's favorite yarn. You can embroider or embellish it any way you like to create a unique look that will look great on a chair or in your room! This bright, bold, and beautiful pillow will add a burst of color to your home. Whether on a chair or your bed, it will bring comfort and beauty to your space. The pattern uses basic crochet stitches in classic colors. It is lightweight for easy care and use by everyone.
Stripe Crochet Pillows: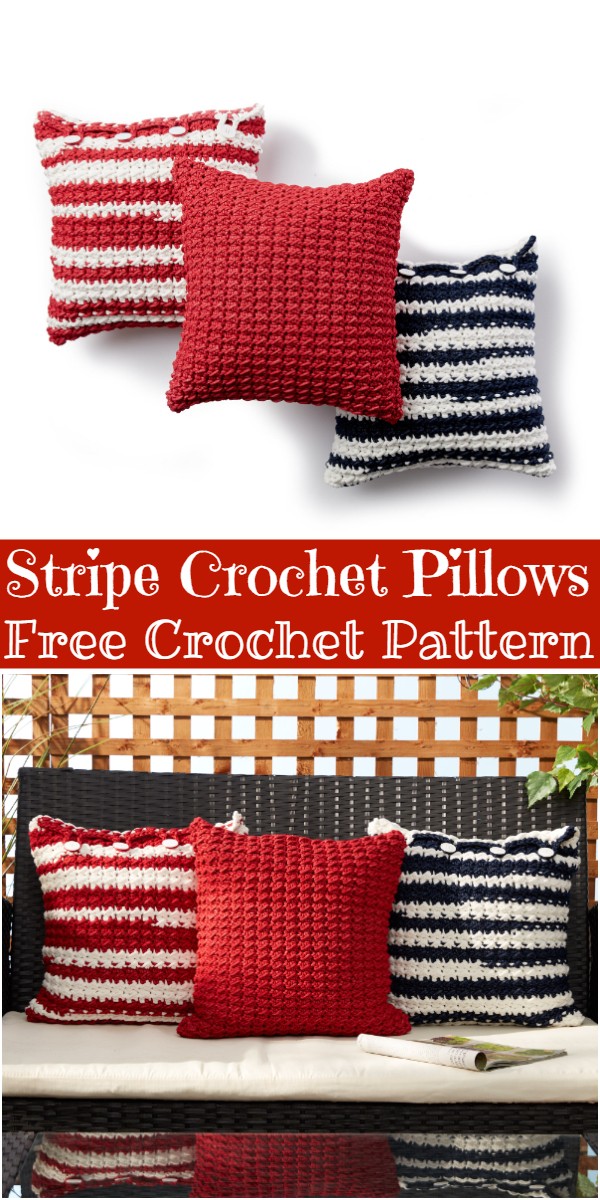 These Stripe Crochet pillows are perfect for the bedroom or any place in your home. Made of beautiful cotton yarn, it is soft, cozy, and warm for your neck. You can also choose your favorite color to make this pattern. This pattern is beginner-friendly and a great way to learn crochet basics. You can make it in single color or double color. These extreme Stripe Crochet Pillows are the perfect place to cuddle up with a good book. Bernat Maker Outdoor yarn makes them extra cozy, giving this cozy pillow exceptional durability so it can stand up to just about anything. Make one in your favorite color, or try a double-color look for a unique accent pillow.
Circle Pillow Orange:
This pattern is for you if you want a simple crochet circle pillow! This can be made with Caron Simply Soft Brites yarn in any color you want. You can make it larger or smaller, turn the pillow cover inside out and wash the cover to get it nice and clean. This is a free crochet pattern for a circular orange cushion. You can use it in your living room or couch or any other place you want to add a pop of color and texture.