Crochet pillows can certainly brighten up your interior and provide extra coziness and comfort that make your interior more luxurious and advantageous. They bring lovely color vibes to your home décor without facing any resistance or trouble. You can even add the custom décor to your interior according to your desire without hitting your pocket. So, it would not be wrong to say that free crochet pillow patterns can entirely change the look of your home and make it more graceful and charming. Here some fabulous and gorgeous free crochet throw pillow patterns are provided to make your home look as you want.
Crochet Pillow Patterns That Everyone Can Make
Free Crochet pillow pattern with fringes, crochet wheel throw pillow, lovely and exciting Riverwalk pillow, and a lot more are going to charm up your home and give it a cheerful and impressive décor. Whether you want to add lovely hues, bring elegance r to add a festive décor, all of them give crochet throw pillow patterns that will help you make your dreams come true. This list will also be a fantastic opportunity for newcomers to craft and polish their skills with some challenging to easy free crochet pillow patterns and be admired by their viewers.
You Can See Also:
Plus, this will be a fabulous idea to raise your interior's comfort and make an eye-catching and beautiful appearance to your place. You can even use your scraps or favorite leftover yarn again in your crochet projects by add details or embellishments to your pillows and can see pretty hues again in front of your eyes. So browse this collaboration and choose your favorite one according to your wish!
Free Crochet Graphic Step Pillow Pattern
Crochet Snowflake Pillow Pattern
Free Crochet Reversible Spike Stitch Pillow Cover Pattern
Free Crochet Gingham Pillows Pattern
Crochet Circling Accent Pillow Pattern
Free Crochet Mod Granny Pillow Front Pattern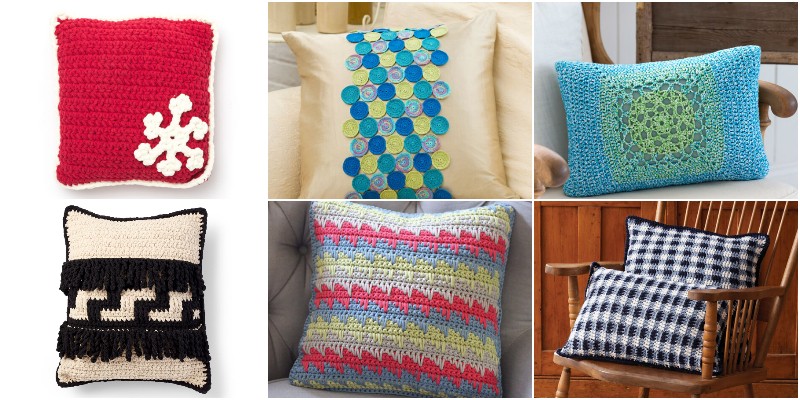 Free Crochet Fringed Pillow Pattern
Crochet Pillow Party Heart Pillow Pattern
Free Crochet Woven Waffles Pillow Pattern
Free Crochet Emoji Pillows Pattern
Crochet Loop Stitch Chevron Pillow Pattern
Free Crochet Bobble Go Round Pillow Pattern
Free Crochet Farmhouse Plaid Deer Pillow Cover Pattern
Crochet St Patrick's Shamrock Pillow Cover Pattern
Free Crochet Chevron Pillow Pair Pattern
Crochet Hygge Diamond Pillow Pattern
Free Crochet Anthropologie Pillow Pattern
Crochet Twinkle Star Pillow Pattern
Free Crochet Snowy Owl Pillow Pattern
Crochet Cable Diamond Pillow Pattern
Free Crochet Ho Ho Ho Pillow Cover Pattern
Crochet Hygge Neck Roll Bolster Pillow Pattern
Free Crochet Funky Fringe Pillow Pattern
Crochet Crafty Rainbow Pillow Pattern
Crochet Angles Pillow:
It is not important that you make pillows to add to your home decoration; you can learn about crochet stitching if you are a beginner. However, it will prove good for you definitely. Impress your guests with a versatile and stylish pillow pattern perfect for your guest room or anywhere else in your home. If you are interested in making this Crochet Angles Pillow, you can use Bernat super yarn and a series of crochet stitches; this pattern contains many bold colors, but you can replace them if you want soft colors.
Bobble Fringe Crochet Pillow:
If you feel hesitant to do a new crochet project, don't worry; you can make this Bobble Fringe Crochet Pillow using single and treble crochet stitches bulky yarn-like Bernat Blanket. So grab a crochet hook and your favorite color, and get ready to crochet an adorable pillow for your home today. The addition of fringes gives an adorable look to this pattern.
Angles Crochet Pillow:
Check out this angle crochet pillow's color selection, which makes this pillow more attractive and elegant and gives a cute look to your sofa set. You can make this pattern by using Caron One Pound yarn and crochet stitches. In addition, you can use this pattern as a gift for your friends at the time of shifting from one home to another home.
Crochet Polka Time Pillow:
Everyone thinks that changing up your throw pillows is a great way to update your living room look; if you also want to update your home with a pillow, you can make this Crochet Polka Time Pillow easy to make. This pattern uses Bernat Blanket Brights yarn and crochet stitches. The usage of black color makes this pattern more adorable. The combination of white and black is graceful, but you can customize the colors according to your choice.
Brighter Days Pillows: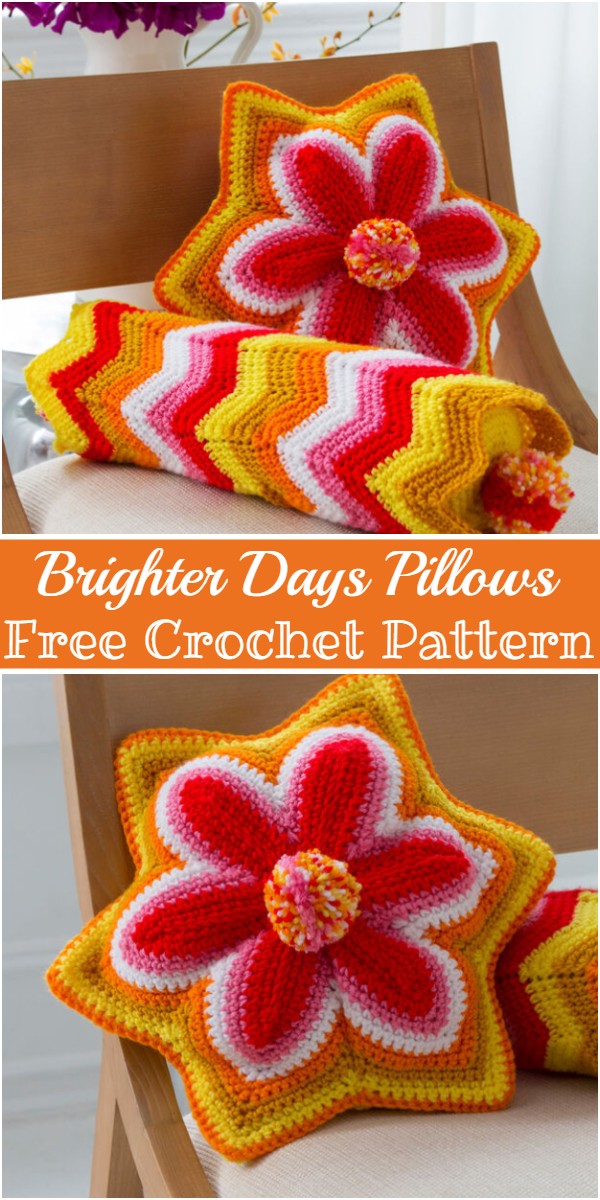 This brighter days pillow contains bright and bold colors, which make this pillow nicer and elegant. If you are interested in making this pillow, you can easily use those colors to match your home interior. This pattern uses some basic crochet stitches and America's favorite yarn. You use them on a chair, bed, sofa, or bench for a great hand-crafted style.
Stripe Crochet Pillows: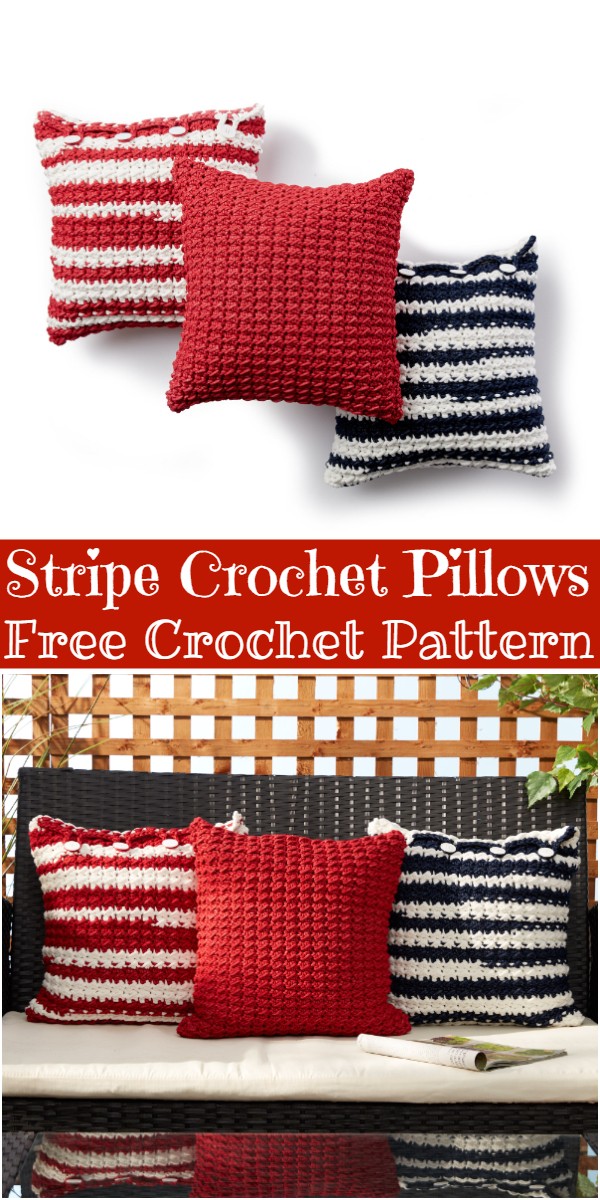 Customize these extreme Stripe Crochet Pillows in your favorite colors. It's incredibly soft and luxurious, and it has such a unique look. Non-fading Bernat Maker Outdoor yarn is great to make this project, as well as some crochet stitches. This is a beginner-friendly project, such as a beginner can learn the basics of crocheting by this pattern. You can make this pattern in a single color or double color.
Circle Pillow Orange:
This circle pillow orange is a free pattern, uses Caron Simply Soft Brites yarn, can be made in many different sizes, and looks oh-so-chic on your sofa! You can even add a zipper to take the pillow cover off and give it a good wash. The washable quality of this pattern makes this easier to use. You can make this by using a series of crochet stitches.