These free crochet pillow patterns are very helpful to bring a change to the entire decoration of your room. You can make them a  perfect decorative piece by using these free crochet pillow patterns. These free crochet patterns have a huge variety of colors, designs, and styles. So, have a look at these adorable and classic crochet pillow patterns and have fun.
You Can See Also:
Crochet Angles Pillow:
This is not important that you make pillows to add in your home decoration you can make this for learning about crochet stitching if you are a beginner. It will prove good for you definitely. Impress your guests with a versatile and stylish pillow pattern perfect for your guest room or anywhere else in your home. If you are interested to make this Crochet Angles Pillow then you can make this by using Bernat super yarn and series of crochet stitches, this pattern contains many bold colors but you can replace them if you want with soft colors. Click below!
Bobble Fringe Crochet Pillow:
If you feel hesitation to make out a new crochet project then don't worry you can make this Bobble Fringe Crochet Pillow by using single and treble crochet stitches and bulky yarn like Bernat Blanket. Grab a crochet hook and your favorite color and get ready to crochet an adorable pillow for your home today. The addition of fringes gives a cute and adorable look to this pattern. Click below for more information.
Angles Crochet Pillow:
Check out the color selection of this angles crochet pillow which makes this pillow more attractive and elegant and gives a cute look to your sofa set. You can make this pattern by using Caron One Pound yarn and crochet stitches. You can use this pattern as a gift for your friends at the time of shifting from one home to another home. Click below for more information.
Crochet Polka Time Pillow:
Everyone thinks that changing up your throw pillows is a great way to update your living room look, if you also want to do update your home with the addition of pillow then you can make this Crochet Polka Time Pillow which is really easy to make. This pattern uses Bernat Blanket Brights yarn and crochet stitches. The usage of black color makes this pattern more adorable. The combination of white and black is graceful but you can customize the colors according to your choice. Click below for more information.
Brighter Days Pillows: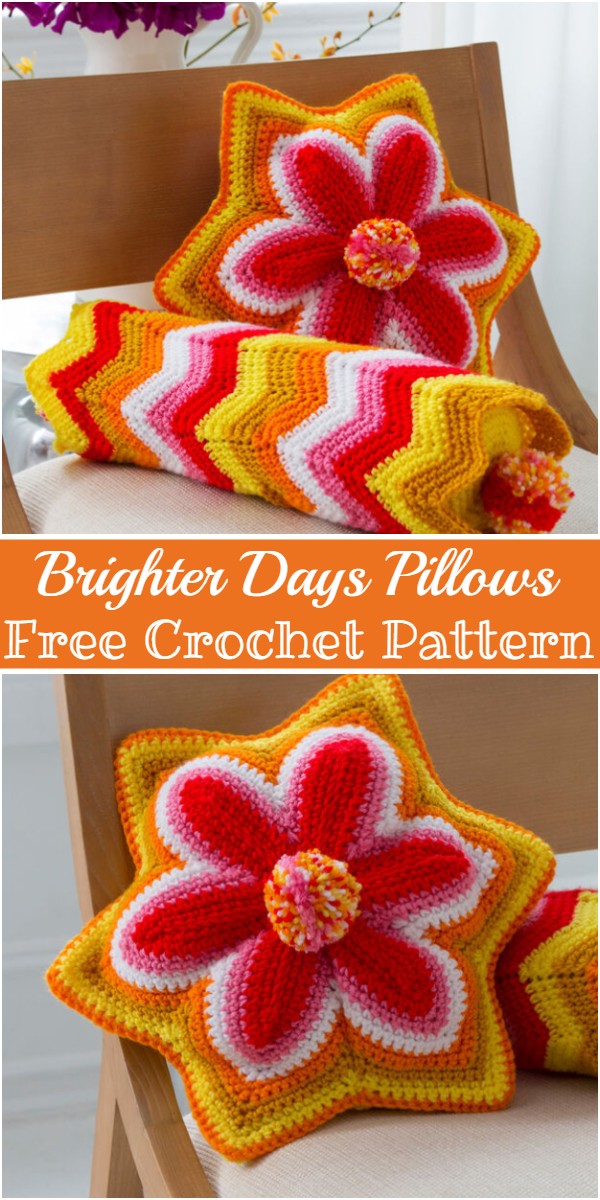 This brighter days pillow contains bright and bold colors which make this pillow nicer and elegant. If you are interested to make this pillow then you can use those colors which will easily match your home interior. This pattern uses some basic crochet stitches and America's favorite yarn. You use them on a chair, bed, sofa or bench for great hand-crafted style. Click below for more information.
Stripe Crochet Pillows: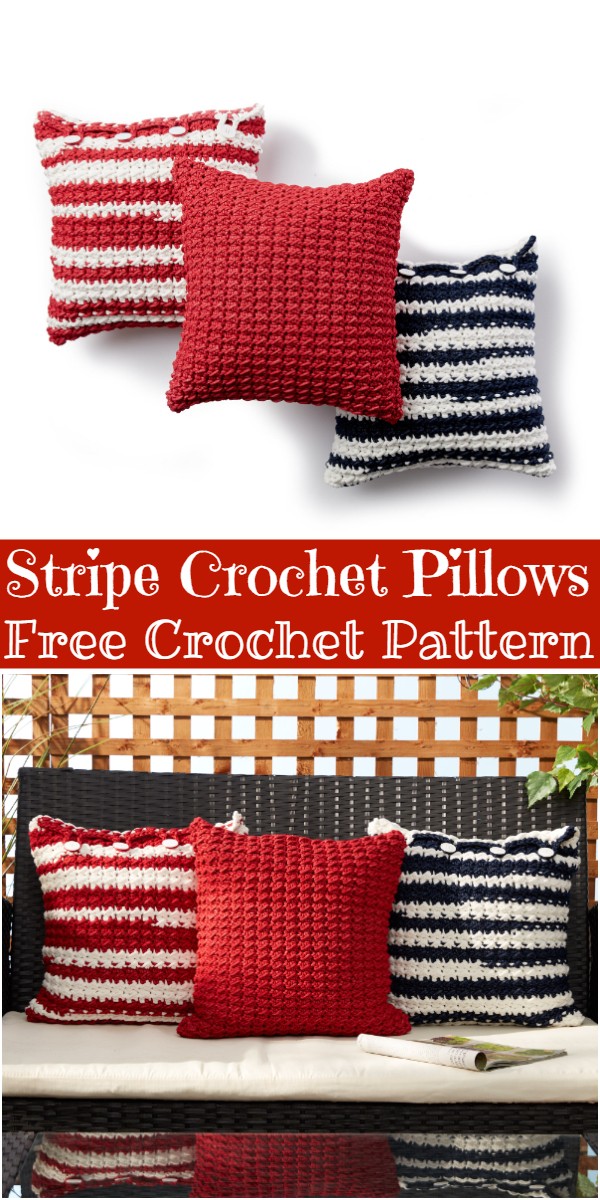 Customize these extreme Stripe Crochet Pillows in your favorite colors. It's incredibly soft and luxurious, and it has such a unique look. Non-fading Bernat Maker Outdoor yarn is great to make this project as well as some crochet stitches. This is a beginner-friendly project such as a beginner can learn the basics of crocheting by this pattern. You can make this pattern in a single color or in double color. Click below for more information.
Circle Pillow Orange:
This circle pillow orange is a free pattern, uses Caron Simply Soft Brites yarn, can be made in many different sizes, and looks oh-so-chic on your sofa! You can even add a zipper so that we can take the pillow cover off and give it a good wash. The washable quality of this pattern makes this more easy to use. You can make this by using a series of crochet stitches. Click below for more information.