Love flowers but don't have time to learn how to crochet? These easy crochet flower patterns are perfect for you! Taking only minutes to make, these free patterns will satisfy your craving for crocheted blooms. This collection of 10 Easy Crochet Flower Free Patterns will inspire you! Easy crochet flower patterns are so fun and versatile, making them wonderful for beginner crocheters. With a wide variety of options, these free flower crochet patterns can be used for everything from amigurumi to wedding bouquets. Add a touch of springtime cheer with these simple crochet flowers!
Crochet flower patterns are awesome! They make cute little accents to just about anything. Crochet flowers can be used for home décor projects, clothing accessories, baby items, and cakes. Crochet flower patterns have a million uses and are easy to learn if you know the basic stitches.  They add a pop of color to any project but are especially great for making hair accessories and headbands. These 10 easy crochet flower-free patterns can be made in minutes with either a small handful of yarn or less than an hour of your time. They're perfect for beginners, so if you've never picked up a crochet hook, these patterns will have you creating flowers in no time at all!
Here are 10 Easy Crochet Flower Free Patterns; these flower patterns are perfect for beginners who want to try crocheting.
Tips For Crochet Flower Patterns
Crocheting flowers is a great way to have fun and add a splash of color to your projects. There are many different types of flower patterns, but here are some tips that will help you with the crochet flower patterns:
Use the right yarn. You'll want to use a thicker yarn so that it doesn't get ripped apart by the hook while you're crocheting. You can also use multiple strands of thinner yarn to make a larger flower.
Choose the right hook size for the thickness of your yarn. If you don't have a large enough hook, your flowers will be crooked and won't turn out how they should.
Choose an appropriate base for your flower pattern. If you want an open-faced flower, choose an oval shape or rectangle shape as your base pattern; if you want a more closed-in look, choose a circle or square shape for your base pattern.
Easy Crochet Flower Patterns:
Free Crochet Flower Pattern:
Here is a free crochet flower pattern that makes a beautiful addition to flower crowns, wreaths, and button flowers! You will be able to make this simple yet beautiful crochet flower in two colors. This is a great beginner project because it doesn't require fancy stitches. All you need is one stitch: single crochet. This flower crochet pattern is the perfect way to learn how to Crochet. This unique, inspired crochet flower pattern will make a great addition to your spring and summer wardrobe. You'll have fun learning how to crochet with this easy step-by-step guide for beginners.
Irish Free Crochet Flower:
Want a little extra Irish luck in your home? You're going to love this gorgeous crochet flower. It's a faster project than you might think and can be used as a table centerpiece, hanging on your wall, or even as a wall hook. This is an instant favorite among both crafters and their friends. Simple Irish Free Crochet Flower is a very attractive and useful accessory to your home. It will add a touch of style and personalize any space you place it in! It is a beautiful crochet flower that can be used as an embellishment or all on its own. This Irish crochet project works quickly and is a charming addition to any home decor.
Quick And Easy Autumn Berry Crochet Flower:
Crochet these flowers on your favorite fall coat, hat, or pillow! This would be great if you want to make some easy DIY decorations for Christmas or Halloween. A perfect addition to your home decor, these flowers also make great gifts. These flowers would be wonderful in-season or with just the right color combo. They are so quick to make, so whip up a batch of these colorful flowers and use them to decorate your next project. These easy crochet flowers can be made using worsted-weight yarn.
Free Crochet Sunflower:
The crochet sunflower is a great way to add color and style to your home. The crochet stitches are easy to follow, and the finished product will brighten up any room with its bright colors and cheery disposition. This sunflower is the perfect accessory to brighten up your summer. Crochet it in soothing shades of yellow, or flaunt your true colors with a rainbow of pastel shades. Create a dozen or so, and fill a vase with them to make your home look cozy and inviting for the warmer months ahead.
Free Crochet Flowers Pattern:
Here you can find free crochet flower patterns to make a lovely bouquet. Flowers are very popular in fashion, wedding decorations, and interior design. Wide flower varieties have been made by crocheting them with different materials such as cotton and wool. Crochet flowers are incredibly popular and great for bringing a little spring to your home. If you've never tried making crochet flowers, this is the time to start! You can use these crocheted flowers for something; like decorating your home or clothes, wreaths and table decorations, or room decoration.
Rosy Free Crochet Pattern: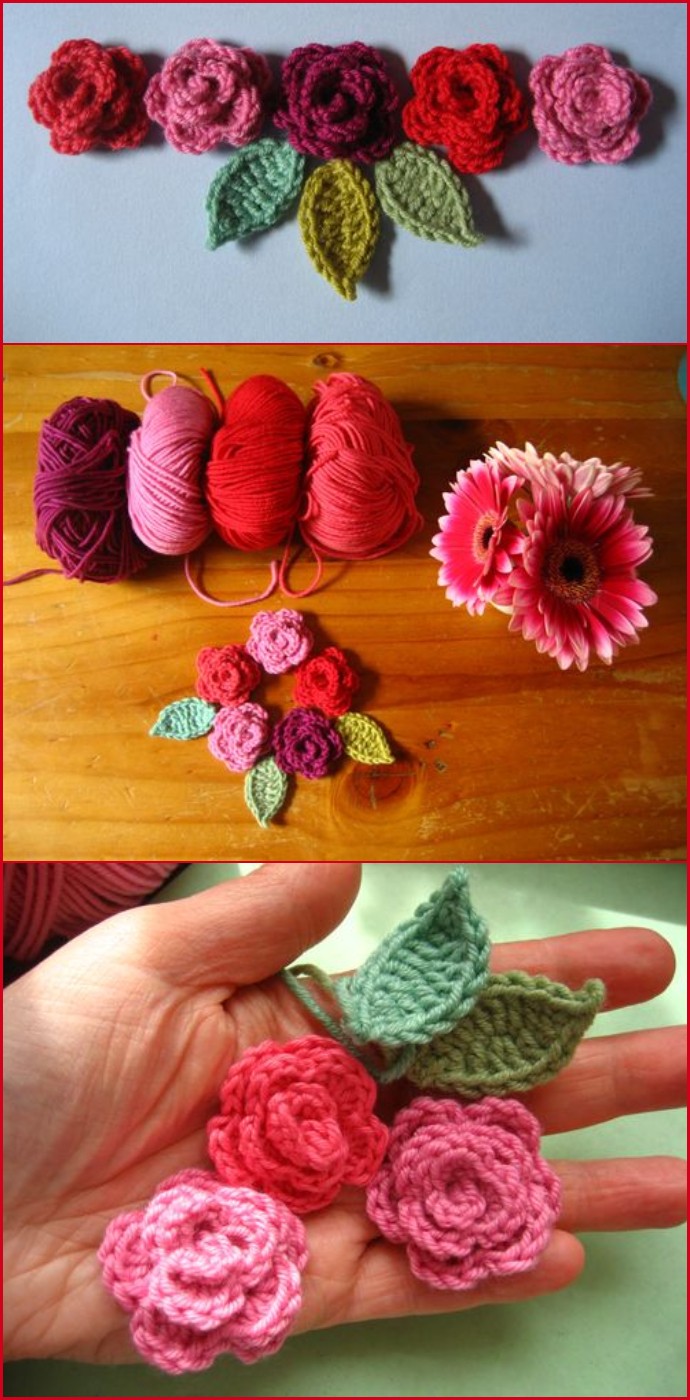 This Free Rose Flower Crochet Pattern is easy to follow and makes a beautiful accent piece for your room. It can be used as a table centerpiece or hung from a stand as a centerpiece in your room. This free crochet pattern is designed with a delicate appearance and crocheted in pink, green, and white thread. The flowers are made from a combination of puff, puff, and puff stitches, making this pattern intricate. The flower has a small hole at the center, which makes it easy to put a pin or a brooch through it.
Simple Daisy Free Crochet Pattern:
This simple daisy is just the thing when you need a little spring burst. With its pretty pinwheel edges, this crochet pattern is an incredibly fast project and ends up looking fancy. Make a blanket full of them, and never get tired of seeing these happy flowers! The simple daisy crochet pattern is an easy and versatile accessory. It's a great way to dress up your favorite outfit, whether casual clothes or business attire. It's a very easy and great beginner project for anyone learning to crochet.
Easy Crochet Flower Pattern:
Crocheted flowers are a perfect addition to any crochet project. These easy crochet flower patterns are quick, inexpensive, and fun to make. With just a little yarn, you can create an array of beautiful crocheted flowers that can adorn hats, purses, hair clips, and more! Crochet flowers are the perfect way to add a little extra something to any crochet project! This idea is simple, beautiful, and quick - perfect for all skill levels. With a few rows of single crochet, you'll end up with a cute little flower that can be used as an embellishment or appliqué!
Blooming Crochet Flowers And Leaves Free Crochet Pattern:
The Blooming Crochet Flowers and Leaves pattern is a free crochet pattern to make lovely decorative flowers and leaves for your home decorations. These are very easy to make, and you can use them for any craft project you like or even gift them to someone as a present. This free crochet pattern is perfect for adding a pop of color to any outfit while also being a great gift. It's easy enough that even beginners can make it!
Simple Free Crochet Flower:
Learn how to create a beautiful crochet flower with this easy step-by-step tutorial. Use this pattern to decorate your home or make pretty presents for family, friends, and more! This super easy and fun project comes together fast. You'll fall in love with all the colors you can create with this pattern, making this a great stash-busting pattern. This pretty flower can be used in your hair, as a hair clip, necklace, or even in your purse. The possibilities are endless!