Crochet baby blankets are an excellent way to add handmade warmth to your home. Baby blankets make great shower gifts, or they can be a beautiful way to commemorate a new arrival. From simple crochet squares for beginners to more complex lacy blankets for more advanced crocheters, there's something for everyone here. Here's a list of 25 great free crochet baby blanket patterns that'll be loved by any child lucky enough to receive one. Whatever your skill level, these free crochet baby blanket patterns are a great way to start with more advanced sewing techniques by using crochet stitches that resemble quilting.
Free Crochet Baby Blanket Patterns - these free crochet baby blanket patterns are perfect for a boy or a girl. A crocheted baby blanket is an item that any new parent will cherish. Crochet baby blanket patterns can be a fantastic way to keep your little one warm, cozy, and beautiful addition to your home decor. Whether you're looking for a baby blanket pattern for a special occasion or want to make one for a baby shower, these 25 free crochet baby blanket patterns are sure to please.
This collection of 25 free crochet baby blanket patterns will help you find the perfect pattern and introduce you to some of the latest techniques.
You Can See: 15 Free Crochet Baby Accessories
Tips For Crochet Baby Blanket Patterns
The baby shower is coming up, and you are in charge of the crochet baby blanket. You don't want to show up empty-handed, but you also don't want to buy something cheap and flimsy. The good news is that crochet baby blankets are easy to make so you can make one yourself.
Here are some tips for crochet baby blanket patterns:
Use suitable yarn. You will need a soft yarn such as cotton or acrylic. If you are making a blanket for a boy, consider using wool. Avoid super thin yarns as they may not hold up well with washing and wear.
Choose your pattern carefully. There are many crochet baby blankets, so choose one that fits your style and meets your needs. For example, if you want something easy to wash and dry on the go, choose an afghan pattern rather than a square one.
Make sure it fits into your budget. Babies grow quickly, so it is best not to spend too much money on their first Blanket unless it's handmade by someone special or has sentimental value (like an heirloom).
Modern Crochet Granny Stitch Blanket – Free Pattern!
The Modern Crochet Granny Stitch Blanket is a beautiful crochet project for beginners or anyone looking for something simple. This Blanket is worked in the round and made with basic stitches that are easy to crochet. This Modern Crochet Granny Stitch Blanket features an eye-catching granny stitch pattern that will be the perfect Blanket for your home. It is designed to bring a sophisticated touch to any room and is also ideal for crochet aficionados who love granny stitches.
Tributary Free Beginner Crochet Baby Blanket Pattern:
Tributary is a simple, beginner-friendly pattern that comes together quickly with only half double crochet stitches! It's perfect for the stash buster to use up scraps of leftover yarn. Plus, it's a great scrap buster for yarn beginners. After completing this pattern, you will learn how to work a single crochet stitch and have a lovely boho-looking Blanket. The pattern is written so that you can be able to start crocheting immediately.
Gender Neutral Crochet Baby Blanket:
A beautiful and stylish gender-neutral crochet baby blanket. This Blanket is made to fit a baby's crib, bassinet, or stroller. The Blanket features a textured chevron pattern – in shades of pale pink, mint green, white, and aqua. This Blanket would make a wonderful gift for any new mom! This gender-neutral crochet baby blanket is so soft and cuddly that it will be a favorite for any newborn. This project works up fairly quickly and would make the perfect gift for a new baby or shower gift!
Crochet Modern Boho Granny Blanket:
Need a warm blanket? Make one in your own style with this modern granny crochet design. This crochet blanket is perfect for beginners and interesting enough for experienced crocheters with a granny stitch and chain method. Crochet a beautiful granny square blanket in your favorite colors. Easy-to-follow instructions and videos make this pattern perfect for beginners. The free written pattern includes three colorways, but it can easily customized by adding or replacing blocks in your design. This Blanket is perfect for taking you to the beach or camping, someplace where you can stay occupied all day!
Crochet Block Diamond Blanket:
An excellent piece, the Crochet Block Diamond Blanket is handmade with the finest quality yarn. This luxurious Blanket is the perfect addition to any home and makes for a picturesque nursery for your baby or child. This crochet block diamond blanket is beautifully crafted and super soft. The neutral colors are easy to coordinate with various bedding/wallpaper combinations. A classic crochet blanket designed to add warmth, comfort, and style to your home. The best part is that you can effortlessly make it over the weekend with this simple pattern!
Diamonds and Purls Baby Blanket Knitting Pattern:
This lovely and soft Blanket is easy to knit. It's like making a simple blanket and adding special touches with the diamonds, purls, garter ridges, and picots at the corners. The baby will love it! Knit, this lovely Blanket for your favorite baby! This knitting pattern is for a cuddly best friend for a newborn. The diamond and purl stitches add texture and interest to the Blanket and make it soft. The Blanket is knit from side to side in a rectangular shape so that you can use an easy garter stitch as your base. Add some fun stripes or create a multidirectional design; there are no rules here!
Simply Sweet Crochet Baby Blanket Pattern:
A simple granny square baby blanket that's great for beginners! Worked with chunky yarn and sweet, soft colors, this Blanket is sure to be a favorite with mom-to-be or newborns. If you're looking for a quick project to crochet and make last beyond the birth of your baby, then this is it! This Blanket is made with the Softest Cotton! The Simply Sweet Crochet Baby Blanket Pattern is the perfect addition to your little one's nursery. It looks great as a baby gift or keepsake for newborns and makes a gorgeous decoration for your home! This soft, fluffy Blanket will be loved by anyone who holds it!
Crochet Teal Stripes Baby Blanket: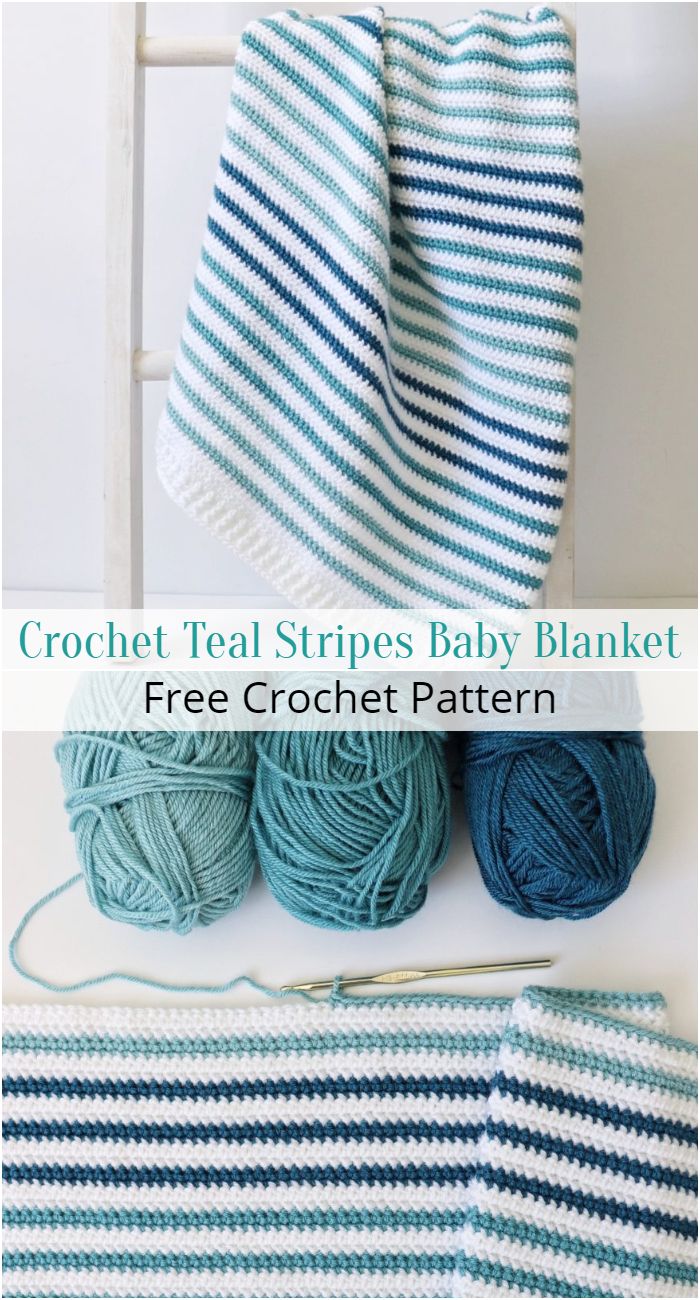 This is an excellent blanket for those that love to crochet. The pattern is written so that even beginners can follow it quickly, and the results are stunning. The pattern includes links to simple tutorials for each stitch used, so you can ensure you are using the correct technique. This Teal Stripes Baby Blanket is made of yarn, which is so soft, you'll want to wrap yourself in it all the time. Perfect for creating a new baby gift or keeping your little one cozy while they sleep. Crocheted in a soothing teal color, this baby blanket is adorable!
Crochet Pink Dots Baby Blanket:
This crochet blanket pattern is a beautiful combination of soft pink, white and black yarn that is pretty enough for a little girl's room but timeless enough to be an heirloom blanket. This unique crochet pattern features clusters between each set of colorful pink dots on the front and back and additional construction details that make this Blanket an absolute work of art. This would be the ideal baby shower gift or Birthday present for a little girl who loves pastels and soft colors.
Calm Dreams Baby Blanket by Malloo:
The Calm Dreams Baby Blanket is perfect for tucking your little one in at night, stroller rides, and trips in the car seat. This Blanket's soft feel and gentle stretch will reduce stress and help the baby sleep easily. The Calm Dreams Baby Blanket is a soft, lightweight muslin blanket that's great for use as an afghan, shawl, or covering in strollers, car seats, and high chairs. The neutral colors make it a versatile addition to your baby's wardrobe. It's ideal for layering over your favorite outfits when the weather turns cooler and can also use it at bedtime as it keeps your little ones cozy while they fall asleep.
Sweet Stratus Tunisian Baby Blanket:
The Sweet Stratus Tunisian Baby Blanket is a beautiful, elegant, warm baby blanket. The triangle-shaped Tunisian pattern is easy to follow and creates an airy feel. This project is perfect for a beginner and fits with the new crop of popular colorwork patterns. You choose your own colors or color combinations to create a unique look that makes this gift special. The color transitions are subtle so that you can choose bright or muted shades without many contrasting shades.
Crochet Chevron Baby Blanket:
This soft and inviting crochet chevron baby blanket will be your favorite gift! Add a little texture and color to your nursery, and wrap it around the stroller or car seat. This Blanket is sure to be loved and used for years by all babies who get to know it. This handmade baby blanket is the perfect size for swaddling, as an accessory to car seats, or as a layette. Crochet in our soft cotton, this Blanket is luxuriously lightweight and breathable that won't overheat your little one.
Bernat Log Cabin Free Crochet Baby Blanket:
This Bernat Baby Blanket is the best baby blanket, perfect for a photo prop or just for snuggling up in your favorite chair. Bernat Baby Yarn was created as a soft and cuddly alternative that can be machine washed and dried on low heat. It enjoys the same popularity as its American counterpart Caron Simply Soft but at a fraction of the price!!! This Blanket makes a great blanket when creating cradle or crochet bedding like pillows and crib skirts!
Bernat Ripple Effect Crochet Baby Blanket:
A serene palette of cool blues and coral hues makes this baby blankie a beautiful addition to any nursery. The Blanket's thick texture is created by working double crochet stitches in different colors across the row, creating a ripple effect. With its delicate, rippled pattern, this soft Blanket is sure to bring a smile to the face of your little one. Perfect for any décor, this Blanket works up quickly and makes a thoughtful baby shower gift. This Bernat Blanket is a great gift for any new mom, making it a perfect baby blanket! It's made with high-quality 100% acrylic and has the perfect weight for spring and summer.
Bernat Starlight Free Crochet Baby Blanket:
This Bernat Baby Blanket is perfect for creating your own whimsical dreams. Its giant, free crochet baby blanket is ideal for gifting a newborn baby or making yourself! Great to make for both boy and girl babies. The Bernat Starlight Baby Blanket is a lightweight and cozy blanket, perfect for your little angel. This large Blanket will make any nursery come to life with its bright, colorful stripes and bold star detail. The soft acrylic keeps your baby warm and comfortable all winter long. The three-sided button closure makes it easy to adjust the size so it can grow with the baby.
Free Crochet V Stitch Rainbow  Baby Blanket:
The V Stitch blanket is one of the most helpful crochet projects that you can make. It has an effortless design using double crochet stitches and a variety of colors to make it look fabulous. You can use it as a baby blanket, a throw on your sofa at home, or even a tablecloth for special occasions such as birthdays and anniversaries. This free crochet pattern is effortless to follow and works quickly, so you can finish it in plenty of time for the baby shower or even make one as a gift!
Free Crochet Leaping Stripes Baby Blanket:
Whether a new mom is looking for the perfect newborn shower gift or a family is preparing for their baby's arrival, this bright, rainbow-colored Blanket will be treasured for many years. This crochet pattern uses tight stitches and can customize as desired. The Leaping Stripes Baby Blanket comes in worsted weight yarn and is sized to fit perfectly across an adult armchair so that it can use while holding your little one. This is a perfect beginner pattern and easy enough for anyone to complete in just a few hours. We used two colors to create a color-blocked effect, but you can use as many colors as you'd like!
Free Pattern Rippled Security Baby Blanket:
This rippled crochet pattern will keep your baby warm and safe. It's perfect for comfort and coziness, as well as for the safety of your little one. This Rippled Security Baby Blanket is made from soft and ultra-plush cotton, perfect for any baby to snuggle up. The crochet design features a variety of textures that encourage babies to feel connected to their surroundings. This crochet blanket pattern uses rippled double crochet stitches to create a soft, comfortable, yet secure blankie for your infant. The pattern includes photos so you can see exactly how to make the ripple stitches, making this project great for beginners! The pleasant drape makes this blanket ideal for swaddling and stroller rides.
Crochet Baby Bean Baby Blanket Free Pattern:
It is simple, beautiful, and cozy. This Blanket can be a wonderful gift for your friends and family's new babies or to keep your little one warm on those cold evenings. Best of all, it was designed with an array of colors so you can match the color scheme of any nursery! Crafty Corner has come up with a lovely crochet baby bean bag baby blanket-free pattern that is easy to follow, making it perfect for beginners. This Blanket makes the perfect baby gift and can use as a play mat, car seat cover, or even something to keep babies cozy in their crib.
Free Crochet Pattern Essentials Baby Blanket:
The Crochet Pattern Essentials Baby Blanket crochet pattern is the perfect way to introduce yourself to yarn and hook. Using single crochet stitches for a simple project, you will learn how to work in rounds and finish your work neatly. You can make this beginner-friendly pattern as large or small as you like. Whether you're having a baby shower or welcoming a new bundle of joy into your home, this Crochet Pattern Essentials Baby Blanket is a sweet and needed gift. It has everything you need to make your own crochet baby blanket, including the pattern, yarn, and bare crochet hooks. This Blanket also makes a beautiful housewarming or wedding gift for any new parents in your life.
Free Crochet Unicorn Stripes Baby Blanket:
This Crochet Unicorn Stripes Baby Blanket is handmade using super soft baby yarns in the colors of your choice, with the sweetest unicorn designs and stripes. This Blanket makes a perfect gift for baby showers or new moms & dads! This fun and colorful Blanket makes your little one's dreams come true! The Unicorn Stripes Baby Blanket is soft, cuddly, and sure to be a favorite. It's a beautiful way to snuggle up after bath time, nap time, or before bedtime.
Free Crochet Pattern Blue Hawaiian Baby Blanket:
This blue Hawaiian baby blanket is perfect for a beach baby shower or baby nursery. It is super soft and cuddly and makes a beautiful gift from the heart. You can easily crochet this pattern in all different colors to match your decor or your child's room décor. Crochet this beautiful baby blanket with rich blues and silvery-white. The Chain motif at the top of the Blanket is a perfect place to incorporate a flower or other design. A good skill level is recommended for this pattern, which uses the following stitches: chain, triple crochet, half double crochet, slip stitch, and sometimes single crochet.
Blocks Knit Blanket Free Crochet Pattern:
This Blanket is a great way to use your worsted weight yarn scraps. It's also the perfect project for beginners because it uses only one stitch: single crochet. You can make this Blanket in any color combination you like, so get creative and have fun with it! This free crochet pattern is for this beautiful afghan-like Blanket. It is worked top-down and side-to-side and features a lovely, easy-to-crochet garter stitch pattern. Also, this wonderful Blanket works wonderfully as a baby gift or for yourself!
Herringbone Knit Crochet Throw:
Snuggle up in this soft, breathable throw that looks like a classic herringbone sweater. The neutral color palette goes with any decor. The Herringbone Knit Crochet Throw is an excellent addition to any room. It's the perfect length to use as a wrap while sitting at the foot of your bed or throw over your shoulders while relaxing on your couch. This cozy herringbone knit throw is the perfect addition to any living room or bedroom. Its intricate pattern will add a luxurious feel to any room.
Crochet Bunny Blanket – Free Pattern:
This crochet bunny blanket is the perfect gift for a baby shower or newborn. It's also great for playtime or any time you want to snuggle with your little one. You could make it extra cozy by adding some stuffed animals to its tummy. This crochet bunny blanket is perfect for snuggling up with your little one. Featuring a variety of cute bunnies and hearts, it's the perfect gift to show you care. Crochet Bunny Blanket is an adorable and colorful handmade wool blanket with a crochet bunny patch. It is perfect for spring and fall!