A toy box is a great way to keep your kids' toys organized and out of sight—and it's also an investment in their future. After all, if you're storing toys, you might as well put them in something safe and pretty, like one of these DIY toy boxes. These plans are functional and easy to follow—they're perfect for parents who want to build something for their kids but don't want to spend too much time or money. And by using inexpensive materials like wood pallets, old crates, and plastic storage containers, you can make the project even more affordable.
If your kids have more toys than they can fit in a regular toy box, here are 18 DIY toy box plans that you can build to add extra storage space. These designs include folding, rolling, ottoman, ladder styles, and materials like plywood, laminate, and even paper mache. Pick one or two of these plans and get started on some new toy or game storage. Build a toy box your kids are sure to love! These DIY Toy Box Plans are so easy and fun to make. They're perfect for storing all those stuffed animals, dolls, cars, and trucks. Kids will learn a lot about carpentry skills while making their toy chest, which makes it all the more exciting!
These 18 DIY Toy Box Plans are easy and fun to make; they're perfect for storing all those stuffed animals, dolls, cars, and trucks.
Advantages Of DIY Toy Box Plans
DIY toy box plans can be a great way to save money. You may end up spending more than you would have for a pre-made toy box, but it will be worth it when you see how much enjoyment your child gets from their new toy box.
Here are some of the reasons why DIY toy box plans are better than buying a pre-made one:
1. You have total control over the design and color scheme. You don't have to settle for what's available at the store. If you want to make something that looks like an old-fashioned treasure chest, then you can do that!
2. It's made by your hands, not by some factory worker who may or may not care about quality. Your child will know that it came from someone who loves them very much and wants them to be happy with their gift!
3. You can use the box for storage after all the toys are gone – at least until they become teenagers again!
Toy Chest 1 Hour
Easy DIY Toy Box With Wheels
Outdoor Bench With Toy Storage
Building A Toy Box Storage Chest
Wooden Storage Toy Chest DIY
DIY Modern Blanket Chest Or Toy Box
Wooden Toy Box Dimensions:
Are you ready to be the most relaxed parent on the block? Are you tired of your kids disturbing you while trying to relax or get some work done? Well, this DIY wooden toy box plan is here to help! It is super-easy to build and looks beautiful with its beautiful slats and casters so as not to take up too much space. This toy box plan will keep all the toys and books your kid(s) love out of their hands and neatly store them away so they can play without making a mess.
Related:
Modern Toy Box With Lid:
Tackle the clutter in your home and keep a tidy space for play. This DIY modern toy box with a lid can be customized to fit your needs and style by choosing any size of wood on the market today, then painting or staining it to match the rest of your decor. This will be the perfect gift for any kid! This modern toy box lid is easy to make and is designed to be customized in many colors. The template makes it simple to create a one-of-a-kind piece at home. The top has built-in to pick up and move if needed, along with a compartment for storing toys, art supplies, or anything else you want out of sight!
Related:
Toy Box Plan That Anyone Can Make:
What kid doesn't love a new box to play with? This easy DIY toy box plan can make a personalized storage unit for your kids' toys. The catch? It's all wood, so it will be sturdy and long-lasting. Since it's simple enough for anyone to build, you can have it done in no time! You can make this functional toy box from standard pine boards. You can design the size you want, and it works great for all ages! See how to build this beautiful storage piece for kids and adults!
How To Build A Toy Box:
This free DIY how-to guide builds the perfect toy chest for your child. Whether you need a small space to create in or are trying to build a full-size toy box, come along and learn how you can make it yourself! This step-by-step tutorial will show you how to build a great toy box for storing toys, blankets, dog beds, and more! It has a sliding lid so the kids can easily open it and reach in. This is an easy diy project and lots of fun for the kids!
Make A Train Toybox Plan:
Make a unique toy box that is fun and functional with this fun, train-themed design. Use an essential building set of wood cutouts to customize your train toy box, add your favorite color and embellishments, and then finish it with a coat of polyurethane varnish for durability. Most materials are readily available and easy to purchase, or users can use recycled wood or items they have at home. The only tool needed is a jigsaw.
Toy Box Plans With Chalkboard:
Are you looking for a great toy box? This DIY toy box with a chalkboard is the perfect addition to any home. It's made from pine wood and uses spray paint, so it's easy and inexpensive to make. Your kids will love this Toy Box Plans With Chalkboard — it's personalized and perfect for little ones! The chalkboard area allows you to create fun messages and drawings or teach your child how to write their name. This project is a great starter piece for any beginning woodworker who wants to make an heirloom toy box
Build a Toy Chest in DIY Plan:
A toy chest is a must-have for keeping your child's toys organized and off the floor. This DIY plan will help you build a sturdy, attractive wardrobe that can customize with paint or stain. There are many ways to make a toy chest, but this one is gorgeous in its simplicity. You can use any wood for this project, as long as it has a straight grain that is not warped. The size and shape of this chest are really up to you, so modify it as needed according to your needs and tastes.
Build A Little Car As A Toy Box: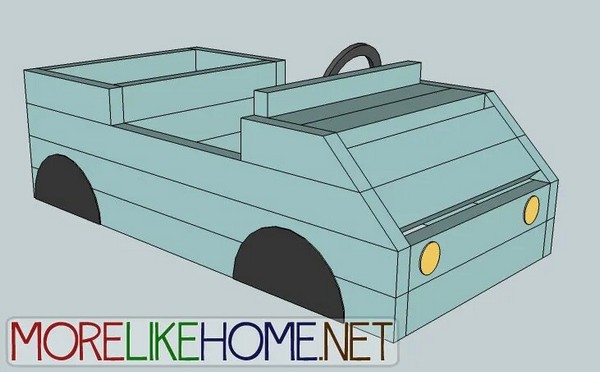 This DIY plan is perfect for imaginative kids who like to play with cars, trucks, and trains. It's also great for parents who want to save money when buying wooden toys by making their own customized toy boxes. You can use this plan to make a fully functioning toy car or truck. This toy box can hold your child's favorite stuffed animals, LEGO mini figures, building blocks, and more! This plan will walk you through a step-by-step DIY process to build a toy box using wood boards, and it also looks fantastic!
Simple Storage Box Plan:
A simple storage box is designed to store small items during the move or when things need to be hidden away for personal use. This is an excellent project for beginner woodworkers looking for a chance to get their hands dirty and practice their skills. The Simple Storage Box is a clever way to store and organize your belongings. With its simplistic shape and design, this box plan is a seamless way to keep things neat, tidy, or just out of sight. This storage idea will help keep toys organized and allow your child to be involved in the process.
DIY Wooden Toy Box Plan:
Here's a simple DIY wooden toy box plan you can make with a few tools and wood from your local home center. The instructions are good, but the photos are fantastic! This handmade wooden toy box plan will help you create a sturdy and functional toy box for your kids. It is not difficult to make but requires someone with average woodworking skills who can accurately cut the pieces of wood without any problems. Make this DIY wooden toy box with your child, and they'll have more fun playing with their new toy storage than they ever did when they were little—that's saying a lot!
Farmhouse Toy Box To Make:
This Farmhouse Toy Box is a great way to keep your toddler's toys organized and off the floor! This toy box is easy to build and super affordable. Plus, it's a simple project for you to do with your child - perfect for playtime! This Toy Box is a quick and easy project you can make in just one afternoon! This is a great gift idea, perfect for storing toys, games, and more.
Build A Chest Bench:
A Chest bench is an excellent addition to any room because it can add a touch of style, function, and extra storage space. The process of building this chest bench is simple, quick, and sure to become a focal point in your home. Give your home that traditional look with this classic chest bench. It is also a perfect complement to your child's bedroom play space; it'll hold their favorite toys and books in sturdy, accessible storage that can be tucked away when not needed.
DIY Children Toy Box Plan:
This DIY Children Toy Box Plan is a great way to make toy storage that won't break the bank. This storage will help your kids stay organized and keep their toys out of sight when not in use. Whether you want a large piece of furniture or something small that can fit in any corner, this plan can help you build the perfect piece for your home or as a beautiful gift. The DIY Children Toy Box Plan is a fun and easy do-it-yourself project for all your children's toys! This plan includes in-depth instructions and photos so that you can make a beautiful toy box to organize your child's room.
DIY Toy Box Storage Idea:
Do you face problems keeping track of your child's toys? This DIY Toy Box Storage Idea is a cute and practical way to keep things organized. It is inexpensive and easy to make but versatile enough to work in any child's room or playroom. With this DIY Toy Box Storage, your child will have plenty of room for toys and games. This is a project to help you get organized and reduce clutter in your home!
Toy Storage Console With Rolling Bins:
Did you know that your kids' toys don't need to be stored in the same place all the time? This DIY Toy Storage Console with Rolling Bins is easy to create and offers gentle storage for multiple bins. All you need are some wooden bins, hinges, paint, and hardware. This DIY toy storage console with rolling bins is the perfect solution for storing extra toys and games in your playroom or any room in your home. The bins make it easy to find items, and they are also easy to clean by just rolling them out of the way. You can customize it with colorful decor or have it match an existing look.
Pirate's Chest Toy Box Plan:
Are you looking for a project to keep the kids busy this summer? This DIY pirate's chest toy box plan is a perfect project that requires just a few simple tools and supplies and can be completed in just a weekend. Make your own Pirate's Chest Toy Box Plan and have a great time with family and friends! This is an effortless yet fun project for anyone who loves building. It has detailed instructions and all the materials you need to make this beautiful toy box. Make it for yourself or make it as a gift for a special someone in your life!
DIY Toy Storage With Bookcase:
Have you noticed that your kids' rooms are becoming cluttered with toys? Keep their stuff in check by creating a fun and decorative toy storage solution that can double as a bookshelf. This is an excellent idea - using your furniture to create something new. This toy storage idea is unique and looks great in any room. Use it as a play area or just for storing toys, books, and crafts! Here's how!
DIY Wooden Toy Bins:
Here's a beautiful way to save money on toys and make the most of your child's space without harming the environment. This DIY wooden toy bin can be easily constructed with just a few tools, and they look beautiful in any room! Keep toys and clutter organized with these simple DIY wooden toy bins! Paint them any color, fill them up and make playtime more fun! Find out how to build your wooden toy chest with these easy step-by-step instructions.