Headboards are an essential part of house decor. A bed without a headboard gives might an incomplete outlook. Some people really love to have headboards over the head of their bed. They change their headboards constantly after a short time interval; here are easy and very lesser time-consuming DIY Headboard Projects available for you, which will surely give your bedroom a very impressive outlook.
The following DIY headboard projects are very less expensive and easy to make if you work with dedication. You can make these DIY Headboard Projects by following the easiest techniques and ideas given in our descriptions. Click the below links for more information about these DIY Headboard Projects.
Colorful And Rustic Plank Headboard Wall
How To Make A Headboard With Storage
DIY Woven Headboard From Upcycled Vertical Blinds
DIY Upholstered Wingback Headboard
Very Simple Diy Wood Plank Headboard
DIY Wood & Upholstered Headboard
Mid Century Modern Diy Wood Headboard
Easy And Beautiful Wood Diy Headboard
DIY Faux Brass Headboard: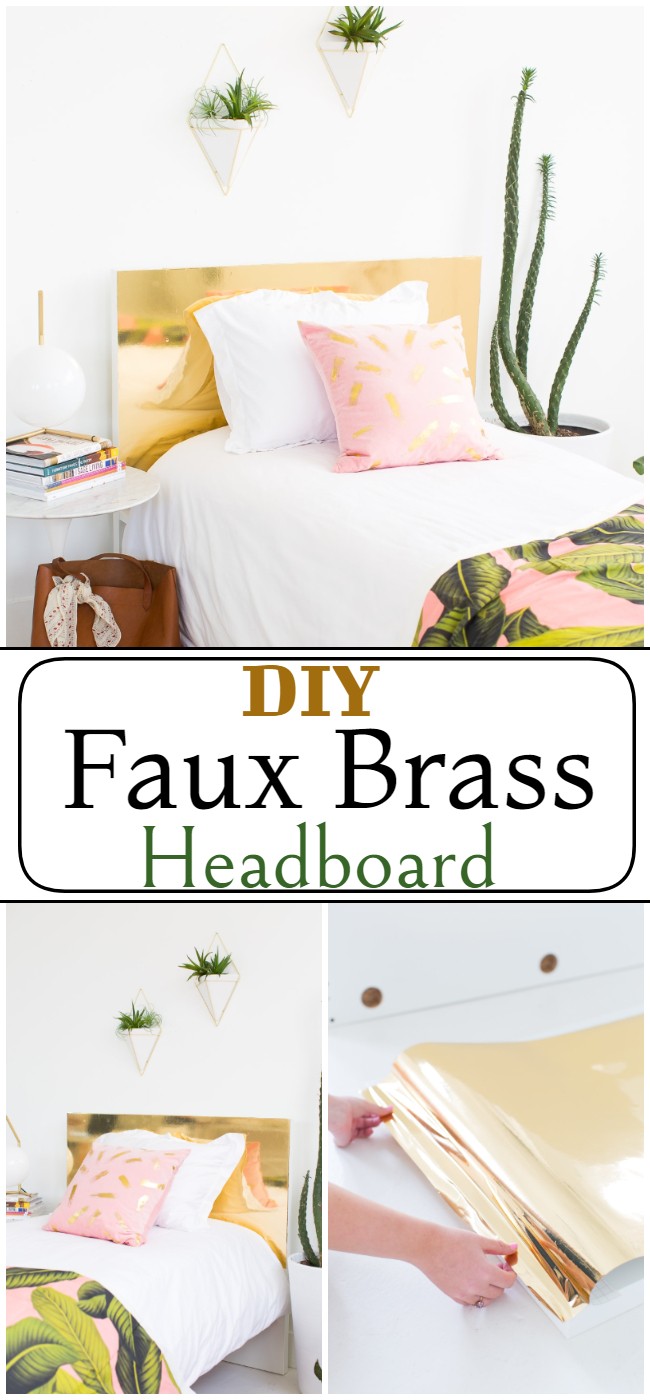 Everyone likes the headboard; almost every person wants his dream bed to look beautiful this DIY faux brass headboard is the perfect choice in this regard. You can easily make this headboard using elementary materials like a plane board and a metallic gold indoor/outdoor adhesive vinyl, scissor, craft squeegee, and a knife. Cut the adhesive tape with a knife according to the board's size and then stick it over the board. For getting more information about this easy DIY faux brass headboard, click on the below link.
DIY Geometric Wood Headboard:
This DIY geometric wood headboard is quite easy to make and requires very lesser time. If you can use the saw you can make it on your own, but if not, you will have to visit the carpenter's shop to cut the plywood in suitable pieces according to your needed size. Paste the proper amount of adhesive glue on your bed's headboard and the cut pieces of plywood symmetrically according to the required design. After a little wait, your DIY geometric headboard project is complete; it will be a fabulous addition to your bedroom's decor. Click the below link for more information.
DIY Jute Woven Headboard:
This DIY jute woven headboard is awesome because it is straightforward to make; all you need is just the table sheets, cut them in your appropriate design size took a hammer in hand and nailed it in the wall give you a perfect outlook like your bedroom. You can add a lot to this DIY project according to your choice but the brown table sheet with white background color's combination is beautiful, more information about this DIY headboard is provided in the below link.
Diy Brady's Channel Tufted Headboard:
This DIY Brady's channel-tufted headboard really gives your bedroom a slight natural outlook which will be very pleasant for the human mind. You can make a DIY headboard using some simple materials fabric, staple gun, scissors and a little bit of hard work with dedication.  Decorating your own house is quite fun for everyone and this DIY project will really add a lot to your home's decor and a delightful one. For getting more useful information click the below link.
DIY Clever Headboard Idea:
If you are looking for a beautiful but less expensive headboard idea, this is especially for you. Some persons like to change their headboards after a very short interval of time this headboard idea will also be beneficial for them. You don't need to go to market all the things we need usually available at home. Firstly, measure your bed's size with meter tape, lined it on the wall and post a sticky adhesive tape to align some border secondly, paint it with your favorite color and hang some hats above it if you want. Your easy simple and attractive DIY headboard is complete. To get more information click below.
DIY Custom Macrame Headboard:
This DIY custom macrame headboard idea is awesome because you don't need any special technique to do this, just a repetitive knot pattern and your beautiful dashboard are complete. You need a firm and long piece of wood we used the driftwood you can use according to availability and pure cotton rope then make the sketch in your mind and start knitting it surely it would be an enjoyable DIY project really like it. You can get more information by a single click in the below link.
DIY Live Edge Headboard Project:
This DIY live edge headboard is awesome because of the wavy design, this pattern is beautiful and will really enhance your bedroom lounge's beauty. All you need is just the hardwood board and some experience of using a jigsaw with the wood cutting blade. Draw your desired pattern's line on the woody board and cut it with the blade. After cutting wood board nailed it with steel nails on the wall, now did some paint according to your choice and your dashboard is ready to give your bedroom an impressive outlook. Follow the given below link for more information.
DIY Global Styler Tiled Headboard:
The DIY global styler tiled headboard will give your bedroom an unmatchable beautiful overlook; it is straightforward to make using simple tiles, crafts, and some paint. This attractive headboard is constructed by using very little space around your bedroom; so if your bedroom is small, you need to worry about it. Firstly choose the tiles we used the blue colored, paste them on the wall, and then is the main thing to do the wooden board cut t concerning your bed's size and paint it with awesome woody brown color. Then nailed it with a screwdriver in the wall and your DIY global styler tiled headboard is complete. You can get more information by a single click on the below link.
DIY Headboard Project: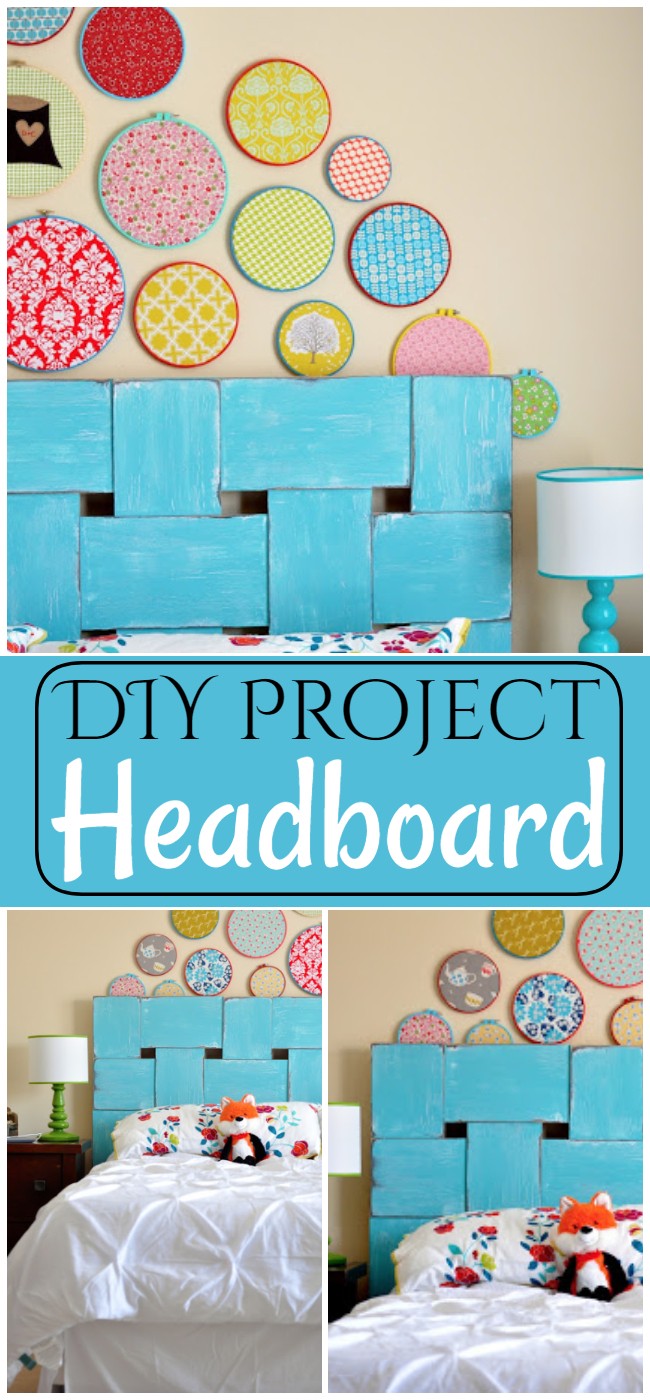 This DIY  project headboard looks fabulous in sky blue color and give a slight touch of ancient things; all you need is to cut the thin wooden sheet in moderate-sized pieces; color them and paste them with adhesive material on the back wall of your bed the different crafty hangings above of it are an impressive addition to it. But this is up to your choice for more information click on the below link.
DIY Barn Door Headboard:
Want to make your headboard in wood and search of a beautiful idea? Here is the DIY barn door headboard available for you. All you need to make this DIY project is miter saw, drill, hammer, pipe, clamps, wood glue, screws and a little bit of experience about drilling; just cut the wood sheet in long pieces screw them and nailed them symmetrically on the wall; then paint them with the desired favorite color or hung a lamp if you need. Get more information by a single click on the below link.
Fabric Headboard with Crystals
Credit: designbyd9.com
Headboard Slipcover
Source: www.theadoredabode.com
Studded Headboard
Picture: www.thekurtzcorner.com
Angled Headboard
Credit: www.instructables.com
Tapestry Headboard
Picture: mrkate.com
Floating Headboard with Nightstands
Picture: www.familyhandyman.com
Picture Frame Headboard
Painted Wood Headboard
Picture: atcharlotteshouse.com
Fish Tank Headboard
Website: www.reef2reef.com
Wrought Iron Headboard
Via: lifeatcloverhill.com
Mission Style Headboard
Website: woodworkingtalk.com
Hockey Stick Headboard
Website: stickthis.blogspot.com
Baseball Bat Headboard
Via: imgur.com
Room Divider Headboard
Website: www.prettyhandygirl.com
Princess Headboard
Source: www.designdazzle.com
Seagrass Headboard
Source: victorialmurphy.blogspot.com
Cork Board Headboard