If you're looking for a simple and stylish way to bring a bit of greenery into your home, you can use an old brick to create a planter. These DIY brick planter plans are quick and easy to make, even if you don't consider yourself a DIY expert. Plus, there's no muss or fuss; the plants grow right out of the brick! They are also very easy to build with a few basic tools. The best part about brick planters is the flexibility. You can use them for various plants depending on your taste and space. Just about anyone can build an awesome brick planter in a weekend.
DIY Brick Planter Plans For An Expansive Outdoor Display
Brick planters have been around for a long time but aren't seen as often as other planters. This may be due in part to their relative unavailability, but it also may be that the extra work involved in making these types of planters is enough to scare people away from them. However, the truth is that these are simpler than you might think; all that's required is a few cuts and some soil. You'll need just one brick per planter, making them perfect for using up spare bricks around your garage or garden shed. They're easy to make and don't require much skill. You can even use bricks around your yard or garage, so you don't need to go out and buy new ones.
The following 9 DIY brick planter plans are easy enough so that anyone can follow along and create their own unique outdoor display.
Benefits of DIY Brick Planter
DIY Brick Planter Plans are a great way to use creativity and make something beautiful. DIY Brick Planter Plans have many benefits over buying a planter from the store.
1. The cost is usually much lower than buying a planter in the store, especially if you use recycled bricks or materials that you already have.
2. You can make it as big or small as you want, which means it will fit perfectly in any space that you need it to go into.
3. You can choose your own color scheme and design so that it will match your home perfectly!
DIY Garden Edging That Will Last Forever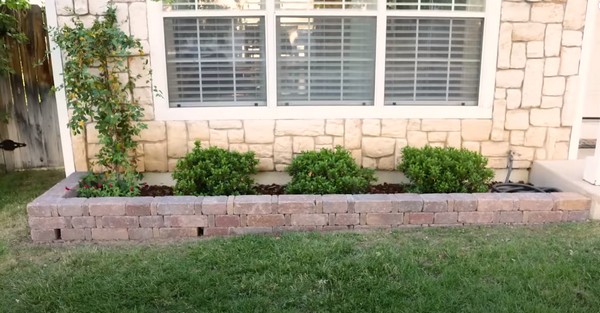 Create long-lasting garden edging using old bricks for a stylish brick planter look. Follow simple steps to build a functional block wall that doubles as garden bed edging, using basic tools and readily available materials. You will Experience ease and durability in creating a stunning garden layout.
How To Build A Stone Planter
Improve the look of your yard and the health of your plants by spending your weekend creating a stone planter. Not only will it look great, but you'll also take pride in making it yourself. The sturdy and attractive stone planter shows both usefulness and achievement.
How To Build A Brick Raised Garden Bed Without Using Cement
This DIY project makes constructing a brick-raised garden bed easy and requires no cement. Starting at the right level, you'll be taught how many bricks are needed to establish a solid, raised garden bed. Following these instructions, you can create a durable, brick-based bed perfect for your garden.
Making A Brick Raised Garden Bed
Utilizing bricks for creating a raised garden bed can significantly enhance the beauty and creativity of your garden. This acts as a long-term investment and offers various benefits to gardeners. Such a setup is aesthetically pleasing, robust, and a lasting addition to your garden.
How To Make A Brick Raised Garden Planter:
Building a raised garden planter is an excellent way to enhance a garden or patio area. Even if you have limited gardening experience and access to bricks, you can easily follow the instructions in this video to create your own raised garden. The steps for the tutorial below show you how to make a raised brick planter with a built-in soakaway to enjoy your garden all year round.
DIY brick planter box Plan:
If you want to plant your garden but do not have the time or the space for a bigger planter box, this DIY planter box is perfect. It's small and easy to use and will help you grow various plants. You will have great fun creating your planter box and saving money. It is simple to apply and follow; you don't need any special tool. Building this planter will help you beautify your garden and add creativity to your home décor.
Materials: Bricks, brickies sand, spray paint marker, 500 mm x 150 mm x 30 mm concrete risers, cement, exterior paint, hydrated lime, sponge, star pickets, string line.
Tools: Brickies trowel bucket, cement mixer, cold chisel, ear protection, dust mask, hammer, jointing tool, pointing trowel, paintbrush, rubber mallet
Difficulty: Beginner
DIY Brick Raised Bed:
This DIY Brick Raised Bed is a simple and beautiful way to upgrade your garden and be a focal point in your home. In addition to providing much-needed drainage, this brick planter will give your soil the perfect sun. You may be wondering why you should use bricks instead of other materials, such as wood or plastic. The answer is that bricks offer the highest durability and aesthetic appeal. With this plan, you can build a raised garden bed from discarded bricks collected from your local area.
Materials: Mortar mix, bricks.
Tools: mortarboard: wheelbarrow, mortar hoe, mason's line, brick set chisel, pointing trowel, join tracking tool, joint pointer
Difficulty: Beginner
Other DIY Planters:
DIY Upcycled Brick Planter Box Plan:
Brick planters are a great way to add a sophisticated and naturally beautiful look to your backyard or front patio. These brick planters make it easy to bring some organic elements into your yard with materials you might have lying around the house. They're also effortless to make, so you won't have to spend hours in the garage looking for heavy-duty equipment. Everything about the article is geared towards helping you DIY your brick planter box, from what supplies you need to how to create the frame, add drainage holes, and prepare your soil before planting.
Materials: Upcycled bricks, soil, stakes, trellis.
Tools: Mallet, hedge clippers.
Difficulty: Beginner
How to Build Raised Beds from Reclaimed Bricks:
Create a new kind of garden with the help of these DIY raised beds. Ideal for vegetables, herbs, edibles, and more, this is an amazing project to add beauty and functionality to any landscape or yard. A great way to make use of unwanted materials, this DIY project will help you create the perfect growing environment for your plants.
Materials: Reclaimed bricks, MOT and sharp sand mix, mortar mix.
Tools: Gloves, protective eyewear, laser spirit level, string, decking board, mallet, bucket, power drill.
Difficulty Level: Intermediate
Cinder Block Entryway Planter Plan:
Get ready to give your entryway some flair! This cinder block planter is a great way to add character to any home, and it's simple enough that even beginning DIYers can tackle it. If you want to add color and charm to your home without breaking the bank, this cinder block entryway planter will help you accomplish that.
Materials: Pea gravel, cinder blocks, "x "lumber.
Tools: Mason chisel, landscape adhesive, concrete sealant, paint, rail planters.
Difficulty Level: Beginner
DIY Stone Planter Boxes Plan:
Planting plants in your garden is a great way of furnishing them. However, installing separate planters for each plant is impractical and takes up a lot of space. So, instead of buying or renting planters, you could build one yourself. This stone planter box is made from bricks that are easy to get hold of and simple to work with. They provide extra privacy and shade to lounge in and can also be designed to match any inspired style and theme of your home.
Materials: Stone, drainage rocks.
Tools: Shovel, paver base, sand, Styrofoam pads, razor blade, masonry glue, landscape fabric.
Difficult Level: Beginner
DIY Brick Raised Beds Idea:
Plants are important to everyone, whether you're a gardener or not! Planting them into this DIY raised bed will make having plants in your backyard simple because everything is hidden away from the prying eyes of your neighbors. Give your outdoor space an upgrade with this DIY brick-raised bed idea. This planter is easy to build, with a built-in seat cushion to rest your head while enjoying the fruits of your labor in the garden!
Materials: Reclaimed brick, mortar, timer, drip line, potting mix, organic additions.
Tools: Mallet, shovel, level, scissors, etc.
Difficult Level: Expert.
How To Build Fence Brick Garden Boxes:
Build your garden box with an easy-to-follow step-by-step that you can do yourself with materials from Home Depot. This video tutorial will guide you through building your sturdy, attractive garden box using bricks. These easy-to-construct garden boxes are great for growing perennials, annuals, or edible plants. This large DIY how-to-build garden box is perfect for your yard or apartment. They are sturdy and inexpensive so you can make a lot of these in a short amount of time.
See More
11 DIY Brick-Step Plans: Create stylish, robust brick steps with easy-to-follow steps from these DIY brick-step plans that require no experience.
DIY Cedar Planter Box Plans: Express your inner gardener with DIY Cedar Planter Box Plans. Create elegant, long-lasting cedar planter boxes with our simple-to-follow guide.
DIY Brick Patio Ideas: Effortlessly transform your outdoor space into a stunning and cozy hangout spot by building these DIY brick patio ideas.