Hedgehogs are now no more dangerous to hold. With these crochet hedgehog patterns, you can learn to recreate this animal in extra soft, simply adorable stuffed yarn creations. So, whether for a little one or a bit older animal lover, choose one crochet hedgehog pattern and follow the instructions to end up with a hedgehog amigurumi in many styles!
Crochet Hedgehog Amigurumi Patterns For All Skill Levels

Crochet hedgehogs are full of cuteness and deserve to be part of a newborn nursery or simply as a crochet decor to relieve the stress after playing with hooks. Following these crochet hedgehog crochet patterns, you can make one in many styles, whether the whole family, accessorized, colorful spikes, and many more, to give you a great variation. So start making one today, choosing from these hedgehog crochet patterns!
Woodland Hedgehog Amigurumi Crochet Pattern
Uses: A cute woodland hedgehog amigurumi crochet pattern! This tiny creature is the perfect addition to your winter decorations. Made with a Worsted Weight yarn, this little creature will add color and charm to any room. This tiny creature will surely be noticed with its adorable smile and fiery eyes.
Materials:
Worsted Weight Yarn
Size F Crochet Hook
Safety eyes (6mm)
A small amount of black felt
Tapestry needle
Black thread or embroidery thread
Making:
The hedgehog body comprises six pieces: head, body, arms, nose, and feet, with the body being worked in one piece from the top down. This technique gives you a clean finish that makes your work look professional.
Crochet Flower Hedgehog Toy Pattern
Uses: Create a crochet flower hedgehog toy that will delight your little one. Crochet this adorable hedgehog as an instant gift or give it a special treat at Easter or Christmas. With only simple stitches and a limited number of colors in the yarn, this pattern is ideal for those new to crocheting or who want a fun project that doesn't take too long to finish.
Materials:
Cotton Yarn
2.25 mm crochet hook
Stuffing material
Making: This pattern works in the round to make an adorable flower pattern you can use each time you want to make a new one. The finished product measures 10 cm, but you can modify the size to make it bigger or smaller depending on your gauge and yarn requirements.
Crochet Hedgehog Amigurumi Pattern
Uses: The cute, soft, cuddly hedgehog is perfect for decorating your home or making a baby toy. Create a beautiful hedgehog with this detailed crochet pattern; your little one will love this soft creature with an adorably large head, a sweet face, and adorable black eye markings. Perfect for baby showers or birthdays, it makes a great gift for anyone who loves cuddly animals.
Materials:
Materials:
Acrylic yarn
Fuzzy yarn in dark brown
White and yellow felt
3mm crochet hook
Making: This adorable crochet hedgehog pattern is a great introduction to basic crochet stitches. Chain, single crochet, double crochet, and invisible decrease stitches are used in this pattern to create a soft and squishy little fellow.
Crochet Harper Hedgehog Pattern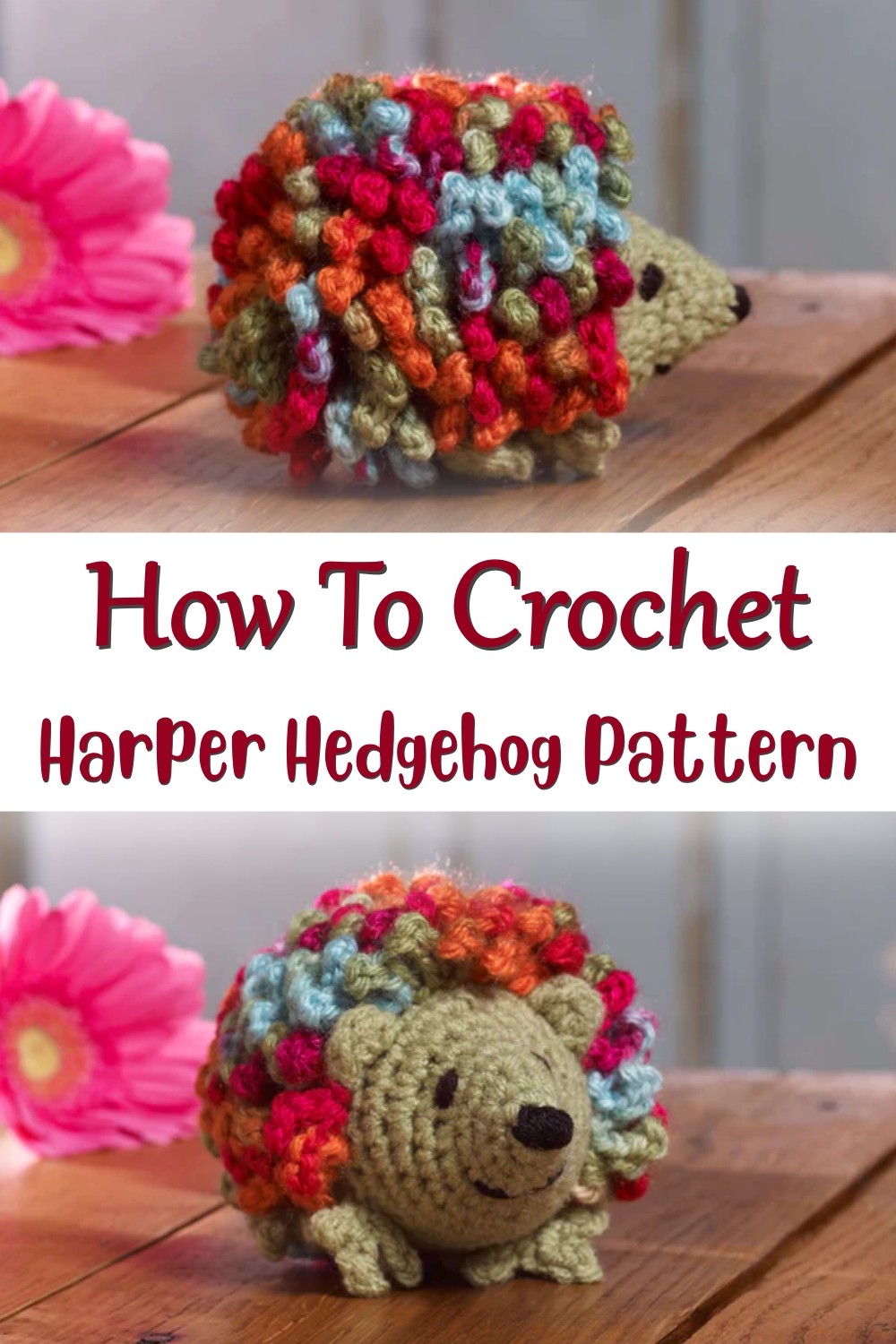 Uses: Made with love and care, this crochet pattern is a great way to add a touch of fun to your home. With its easy, quick, and fun design, this hedgehog will make a wonderful addition to any child's playroom or bedroom. The Amigurumi Crochet Pattern is made with Red Herat super saver yarn, therefore, it won't take long to complete. The finished product is so cute that you'll want to keep it on display in your home.
Materials:
Red Heart Super Saver Yarn
A small amount of black yarn
A small amount of fiberfill
Making: The Crochet Harper Hedgehog pattern is a beginner-friendly pattern that can be completed in about an hour. The adorable Crochet Harper Hedgehog features a head, body, and whiskers all stitched in continuous rounds to give it the ultimate fluffy look. The head and body are stitched in continuous rounds, while the back of the body has a fluffy spine, so it's soft to cuddle up with.
Crochet Hedgehog Amigurumi Pattern
Uses: This happy little hedgehog is ready to explore the world with you. The pattern will help you create your cute little hedgehogs, who will surely be happy companions on all adventures. These cute accessories are perfect for an Easter basket or party favors. The finished measurements are approximately 11.5cm/4.5″ tall.
Materials:
Sport and fine-weight yarn
2.75mm crochet hook
Making: This hedgehog amigurumi is finished by working two panels in rows and twitching around them to join them; the piece is then stuffed. The scarf comprises two pieces, and the snout is worked continuously, with just one row of stitches between each leg opening and stitched onto the front panel before assembly.
Crochet Hedgehogs Pattern
Uses: These sweet and charming Hedgies are cuddly companions you'll want to keep to yourself. The classic pattern adds a whimsical touch to your home; these fun characters are perfect for outdoor fun, parties, and play.
Materials:
Red Heart amigurumi texture
Making: This simple crochet design is great for beginner to intermediate crocheters. The pattern is made with one yarn wheel and uses single crochet, double crochet, and slip stitches.
Crochet Archie The Hedgehog Pattern
Uses: This adorable character will be the perfect addition to any home and make you smile whenever you look at it. The Hedgehog is sure to be a hit with little ones! This sweet little face and soft body give him the right playfulness and cuteness. Perfect for little ones and perfect as a gift for any kid, this adorable amigurumi will surely be the first friend they meet when they're ready to play with their new friend, who's just as sweet as possible.
Materials:
Cotton yarn
2.75 mm crochet hook
Making: If you are a Beginner Crocheter or want a fun project, this is for you! The pattern is easy to follow and works in rounds. The finished size of this crochet pattern is approximately 4.5" x 4.5" , but it can be made bigger or smaller by adjusting the number of chains and rows used in each round.
Crochet Hedgehog Family Pattern
Uses: This adorable hedgehog is incredibly soft and cuddly, with a fluffy head. It's a great little family friend to have around on cold winter evenings. The pattern includes instructions for making a cute pair of hedgehogs, but you can use it to create any number of other crochet characters! Perfect for kids' bedrooms and nurseries, they make excellent gifts too!
Materials:
Medium weight yarn
4mm crochet hook
Making: This crochet hedgehog family pattern is simple to make and adorable. Start by making the head and work into the body in a series of rounds, adding stuffing after each round. You can use any yarn or thread to make your unique version of this adorable housewarming gift!
More Crochet Collections