Crocheting a poncho is much like crocheting anything else: you can make it as straightforward or complex as you like. While some are based on more traditional ponchos, others are made in a more casual style and feature a slightly different construction. All these crochet poncho patterns are great for beginners because they're designed to be easy to follow and work up quickly. The best part about crochet ponchos is that they're so versatile—wear them when it's cold out, wear them when it's cool out, wear them with jeans and sneakers or a dress and heels. They'll keep you looking cute no matter where you go!
Crochet Poncho Patterns
With the season of frigid temperatures approaching, it's essential to have a few stylish ways to keep warm that are practical for everyday wear. Crochet ponchos are attractive and easy to put on, so they're perfect for anyone with trouble finding a way to get their arms into sleeves, such as people with physical disabilities. They're also great for anyone who wants something different from the typical cardigan. The patterns featured here have elements ranging from long sleeves to short, asymmetrical hemlines, and all of them look great with jeans or leggings or in place of an ensemble.
Try crocheting one of these 31 crochet poncho patterns, and these simple designs are sure to keep you cozy while still looking stylish.
You Can See: Easy Crochet Flower Free Patterns
Supplies Needed For Crochet Poncho Patterns
Crochet poncho patterns are a great way to create an easy, fashionable, warm garment. Ponchos can be worn over a dress or top or even under it as an undershirt. You can wear them with leggings or jeans for a casual look or with fancy pants for a night out on the town.
Ponchos are also very versatile in terms of size. They can be made to fit everyone from teens to seniors and everyone in between. The only limit is your imagination!
For this project, you will need:
Yarn (You can use cotton yarn or wool yarn.)
Hook (The size of the hook depends on how thick you want your Poncho.)
Romance Garden Poncho + Video Tutorial:
A poncho is a warm and lightweight addition to your wardrobe, perfect for Spring and Summer. Romance Garden Poncho is a top-down, seamless Poncho made with or without flowers. The shape of the Poncho is designed to flow over curves and grow to any size with ease. This top-down pattern with flowers is designed to flow over curves and add a romantic touch to any outfit. Make it shorter or longer, with or without flowers, in any color you dream of!
Poncho Summer Top With Tutorial:
Crochet this beautiful poncho summer top to enjoy in the spring, summer, and even fall. The crochet stitches in this pattern are straightforward to learn and perfect for beginners. You'll be able to make dozens of them in just one afternoon, and they are so versatile! We love that you can wear it over a tank top or camisole or use it as a skirt over leggings or crochet shorts if you're wearing shorts and not into long sleeves. These crochet tops are perfect for those scorching days. They're stretchy and easy to move around but durable enough for multiple wears. And with so many ways you can style them, it appeals to your next spring or summer vacation.
Related:
Dubonnet Poncho Pattern For Women:
This Poncho is the ideal choice for always being ready to be wrapped up in a good book, drinking hot cocoa, and watching the snow fall outside. Quick and easy is the game's name when making this pretty winter wardrobe staple! This Poncho is a fun way to practice new crochet stitches, or if you're an experienced crocheter, you can make this more quickly than the other patterns. It's a quick, fun pattern that can be made with smaller yarn and a hook to use up some of your stashes!
Crochet Granny Women's Poncho:
A poncho is a very versatile garment. It can be worn as an outer layer over your everyday outfits and on top of something more sophisticated when the weather gets cold. It is an excellent choice for those who want to keep warm without bulkiness. Its trendy look and understated elegance will complement just about any outfit you have in your closet. Keep cozy in this crochet granny women's Poncho. Its boxy silhouette is a great way to stay warm on chilly days. The garment is crocheted from scratch, then sewn together.
Crochet Plaid Blanket Poncho:
This blanket poncho is the perfect addition to any outfit. Wear it as a cozy layer on cool days, or pair it with your favorite jeans and tee to get through winter. Change it up depending on the season by changing colors or switching buttons! Wrap yourself in a lightweight, cozy blanket that is perfect for chilly days indoors. The crochet pattern is easy to remember and will keep your interest high, even in the heaviest knitting project. This blanket can be worn as a blanket or Poncho, allowing you to take it wherever you go.
Crochet Perfect Patterned Poncho Free Pattern:
It's time to update your cold-weather wardrobe with this gorgeous free crochet pattern for our Perfect Poncho. Crafted from Bernat Super Value Solids, Ombres, and Heather yarns, this stylish Poncho is easy to make and looks fantastic when you wear it. It works beautifully in medium-weight yarn. This easy crochet poncho is elegant, beautiful, and trendy to wear. You can create a unique look using your favorite colors from the Bernat Super Value Solids, Ombres, and Heather yarns. It's fun to mix things up and change up your accessories as often as you change your clothes, so make this adorable Poncho for yourself or someone special on your gift list!
Cosy Adult Turtleneck Crochet Poncho:
Crochet this cozy Crochet Poncho in fall and winter, or wear it all year long! A sweet way to keep your little fashionista warm enough to brave the elements, this free crochet pattern uses basic stitches that are great for beginners. Perfect for keeping warm at school or strolling around town. This adorable crochet poncho will keep your little fashionista warm enough to brave the elements. You can pair it with bright-colored tights and a simple top or layer it over long-sleeved shirts or light jackets for an extra layer of warmth. This free crochet pattern uses basic stitches for anyone with experience working with double crochets and half double crochets!
Little Fashion Poncho Pattern:
Little Fashion Poncho Pattern makes a great gift or even a beautiful baby shower gift. It is so easy to make and extra memorable because you can pick the colors that you like best. This pattern is versatile and can be made with any yarn or soft, medium-weight yarns such as Bernat Baby Blanket Yarn or Caron Simply Soft Yarn. You can even use acrylic or cotton yarns to make this poncho pattern! A poncho is a great thing to have in your closet and easier to make than you might think. This Poncho has the perfect drape and coverage, plus it's super warm. Pattern includes options for adult and children sizes.
Fatima Poncho Pattern:
Fatima Poncho is a hugely popular free pattern for an open weave poncho that can be worn over almost anything. The pattern features a herringbone-like stitch which creates a light and airy look. The garment is easy to make and makes an excellent gift for anyone who appreciates unique fashion accessories. With its elegant herringbone pattern and loose fit, the Fatima Poncho makes a perfect coverup. Wear it over your favorite outfit to spruce up your outfit, or throw it over your favorite camisole for an instant conversation piece.
Clement Canyon Crochet Poncho:
The Clement Canyon Poncho is an easy, quick project that lets you change the color and texture to suit your preferred style. The Poncho is made with two rectangular pieces and sewn together following diagrams to create the Poncho. Choose from a variety of colors and textures to create your own unique design. This easy-to-wear Poncho is worked in the round from the top down, then divided into sides and seamed together at the end. It has a simple button band and can be customized by changing color schemes.
Lucky Penny Poncho:
Lucky Penny's textured patterns are gorgeous, and this Poncho is no exception. Need an easy project? Try it in a cotton blend. Looking for something extra cozy? Try it in wool. It'll look great either way! The Lucky Penny Poncho is a perfect beginner project or weekend sewing project. Its all-over textured pattern looks great in three different yarn weights and can be worked up to be as quick or complicated as you like! All the crocheted edges make it easy to match your Poncho to any outfit.
Poncho Woolly Whirl Free Pattern:
This poncho-style shawl is a fun project to crochet in any yarn, with a simple ripple stitch pattern that creates beautifully textured fabric. You can create your own look by choosing a contrasting color for the edging or keep things simple with a solid color. Worked with a simple ripple stitch pattern that is more than just background flash, this piece makes an excellent summer evening wrap or fall transitional piece. This cozy poncho-style wrap is sized for all seasons and can be made in any yarn. It's worked in an easy ripple stitch pattern, which works quickly, too!
Ragged Falls Poncho:
The Ragged Falls Poncho is perfect for you to make this fall and winter. This crochet pattern will take you through each process step, including how to customize it to your liking. The Poncho comes in various sizes to make one for yourself or a friend. The stitch pattern makes it easy and fast to create a fitted look or a more flowing style fit. You can choose your yarn color, making this pattern perfect for any skill-level crocheter!
Mountain Trail Tweed Crochet Poncho:
The Mountain Trail Tweed Poncho is a great way to keep cozy and stylish during cooler weather. With an optional fringe along the bottom edge, this Poncho can be worn multiple ways: with the cowl up for a more traditional look or folded down for a more casual look. This Poncho is quick and easy to make, perfect for those who don't have tons of free time. This pattern will teach you the basics of sewing and cabling in a fun way by creating a fashionable crocheted piece that you'll cherish for years.
Kismet Torso Crochet Poncho:
Stay warm and cozy all day long with this crochet poncho. The Torso can be worn in several ways and is great for layering. It features a crocheted length that drapes over your shoulders for an effortless, comfortable look. Perfect for cool Fall days or chilly Winter nights, pair yours with our Kismet Pants, and you'll be ready for whatever comes next. This lightweight Poncho is a must-have for every season. It's perfect for layering in colder weather or wearing on its own this spring.
Sea Breeze Poncho Pattern:
Crochet this stylish Sea Breeze Poncho in a beautiful draping fabric. The Poncho is perfect for the beach or just lounging around at home and is shown here in an easy-to-wear shade of blue and decorated with a pretty shell button. The simple chunky stitches and easy-to-follow pattern mean you can crochet one up in no time! The large, uniquely shaped eyelet openings make this an extraordinary project. Perfect for wearing over your favorite colorful Hawaiian shirt or bathing suit coverup.
Crochet Poncho For Vero:
This simple Poncho is a quick project that can be customized to fit your style. By changing the gauge, using different yarn weights, and adding or subtracting stitches, you can customize this pattern to suit your needs! It is worked in the round and tops down, so it can be easily adjusted for fit as you go. This crochet pattern is a straightforward design that is fun to create. The Poncho can be customized by making it longer or shorter, larger or smaller, and adding a hood to wear it for many different occasions. It's worked from one piece to the other and has minimal shaping, so it is elementary to build upon to create a custom fit.
The Barcode Poncho Crochet Pattern:
Beautifully crafted, the Barcode Poncho is a fashionable, modern poncho that you'll wear all year round. The pattern is quick, easy, and best of all, making it an excellent gift. This is the ultimate do-it-yourself crochet project, perfect for beginner or experienced crocheters! The Barcode poncho is a great piece to add to your closet, as it's versatile. Wear it alone as a jacket, or layer it over another top. Perfect for any season! The Poncho is a fast and fun DIY project that is great for beginners too! Make it in any color combo you want, and even make it two-tone.
Free Frost Petals Crochet Poncho:
Chill out with this cozy crochet poncho. Made from a soft alpaca and wool blend yarn, it has a beautiful feel that exudes comfort and warmth. The lacier strand of yarn adds dimension to the piece, making the draped silhouette effortlessly elegant. Keep your little one warm and fashionable this winter. The Frost Petals Crochet Poncho is a soft, cozy poncho perfect for layering or sleeping in. This Poncho features an oversized, cropped fit and is available in classic colors to match any wardrobe. This beautiful statement piece features crochet panels in various colors and textures. It is light and versatile, making it an ideal coverup for your next winter getaway.
The Herringbone Crochet Poncho:
This Poncho is great for layering over other tops or very casual in its design. This piece is made of cotton and is soft and light, making it easy to wear. The fringed sides and herringbone crochet stitch make this Poncho feel amazing. The Herringbone Crochet Poncho is a stylish piece that can be worn over a plain top or mixed with other clothes. The unique boho-chic look of this Poncho makes it something special and easy to wear. This piece is a great gift idea because it is unique and has that special boho feel.
Amelia Poncho Sweater Pattern:
Looking for an easy crochet project? Look no further. The Amelia Poncho Sweater is a fun, cozy, and fashionable sweater that will keep you warm on cool days while looking cute! It has a wide neck design, giving you lots of room to throw your hair up in a ponytail or messy bun. Show off your turtleneck collection and add this cozy, super simple crochet Sweater to your wardrobe. This Poncho is perfect for those days when you don't want to pull on a jacket but still want to be warm. The design features a crocheted back side that is seamed together at the end, so it's ready to wear once it's complete!
Crochet Bear Cub Poncho Pattern For beginners:
Accessible to crochet poncho pattern for beginners. This is a perfect project to learn how to work in rounds and make increases. This pattern is an intermediate-level crochet project, but it will show you how to crochet a bear cub poncho! Have some leftover brown yarn? This bear cub poncho is perfect for using up those scraps of yarn from a previous project. This adorable crochet bear cub poncho is super-quick to make and doesn't require much yarn. Make it for your little one or as a gift for a friend! This pattern has written instructions and many diagrams, so if you are new to crocheting, you will find it easy.
Free Crochet Girl's Poncho:
Crochet this simple Poncho in a few hours and make your little girl smile with the perfect companion piece to compliment any outfit. Whether going for an adventure or doing everyday activities, this free crochet pattern will leave her feeling comfortable and stylish. Make your little girl happy with this free crochet pattern for her own exclusive Poncho! This five-color piece moves as she does and transitions from one shade to the next. Crafted with Bernat Pop! this piece is fashioned with comfort in mind, making it a perfect addition to her closet!
Love Is In The Air Poncho: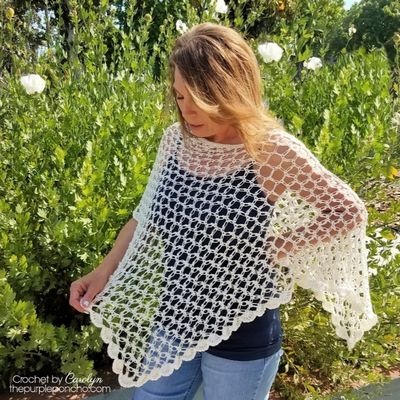 A unique, handmade poncho that will turn heads wherever you go. Made from soft and lightweight fabric, it's the ideal piece for fall and winter weather. This lacy and delicate crochet poncho is the perfect way to stay warm and add a unique touch to any outfit. Soft, lightweight, and stretchy fabric allows you to wear this on a chilly evening or while walking around town. The delicate love knot stitches, elegant trim of double crochet stitches, and beautiful crochet shell edging make this a lovely piece that will turn heads wherever you go. The elegant crochet shell edging adds sophistication to this lovely piece that everyone will love.
Summer Crochet Poncho:
Create this Poncho to sport around during the summer! Simple to make and with no sewing required, this pattern is perfect for beginners. The open lace stitch creates an airy and beautiful look, so versatile you'll want it in every color! With this easy summer crochet poncho pattern, that perfect coverup can be made in a flash. With just two rectangles seamed together at the top, you'll have a beautiful and classy garment in no time! This is an excellent pattern for a beginner crocheter looking for something simple to try in their first lace stitch. This crochet poncho looks beautiful when worn on its own or layered under another jacket for warmth.
Such Simple Poncho:
The Such Simple Poncho is an excellent project for beginners. It calls for any weight of yarn, but I have provided a range of hook sizes to accommodate different gauges and preferences. Such Simple Poncho is ideal for beginners and advanced crocheters alike. The small straight stitch of such a simple Poncho is an excellent project for people who want to learn to crochet. It's quick and easy but looks complicated! This project is crocheted from the top down in the round and requires no seaming. The straps are worked back and forth separately while the body is crocheted until it reaches your desired length.
Crochet Poncho Pattern:
This free crochet poncho pattern is an excellent item to wear on a fabulous spring day or a chilly fall evening. It's also great for layering during winter and can be made in just about any color combination you choose. The texture of this crochet poncho pattern is beautiful, so feel free to make more than one so you can give them as gifts to all of your loved ones! This is the perfect crochet project for beginners and advanced crocheters alike.
Misty Morning Crochet Poncho
Are you looking for a crochet poncho pattern that looks awesome? This Misty Morning Poncho crochet pattern is an ideal project for beginners, but it's also pretty enough to be made by experienced crocheters. The textured cloudy stitch makes this Poncho special and gives a folk look. This misty morning crochet poncho pattern will make you look fashionable and beautiful. It is very easy to make, and it is suitable for beginners. If you are looking for a unique garment that allows you to be stylish and, at the same time, adds a lot of color to your wearable handiwork, this misty morning crochet poncho pattern is the right choice.
Misty Grey Tunisian
Get obsessed with this yummy misty grey Tunisian crochet poncho pattern. It is a free and easy Tunisian crochet pattern to make. You can create this gorgeous oversized Poncho by working with several Tunisian stitches. This free, easy Tunisian crochet poncho pattern is made with several Tunisian stitches. It's a great travel project because it works quickly and is lightweight - perfect for warm weather. This basic pattern can be made into an infinity poncho or even a shrug with a few more increases at the top!
Kalisha Poncho
Looking for a crochet poncho pattern that has a touch of layers? Then you'll love our Kalisha Poncho design. This pretty crochet poncho pattern will add style and comfort to your warm-weather outfits. Make this stunning crochet poncho pattern for yourself and gift your beloved ones. This is a fabulous kasha crochet poncho pattern. It is easy to follow, and all the instructions are very clearly given. This crochet poncho pattern is best suited for beginners, but even experienced crocheters will find it easy to make. Make this stunning crochet poncho pattern for yourself and gift your beloved ones.
Faux Cable
This frothy, faux braided cable crochet poncho is a satisfying beginner project that looks quite impressive. It has a textured look and soft feel because the yarn is acrylic. Choose your favorite color and enjoy the beautiful scarf in your wardrobe. This faux cable crochet poncho pattern is a great beginner project for learning how to crochet cables. The result is impressive, and with the addition of buttons, this cozy Poncho will be a favorite accessory in your wardrobe.