Crochet poncho patterns are a great gift and an excellent addition to any wardrobe. The garments created are fashionable, practical and can be worn by anyone. A crochet poncho protects you from the elements and keeps you dry when you're active in nature. It keeps you comfortable and warm in the cold winter months while still looking good in town. The versatility of this piece makes it the perfect accessory for just about any occasion or setting if you're looking for the perfect way to layer with another piece while staying totally stylish.
Crochet Poncho Patterns
Create a free crochet poncho pattern and help someone in need this holiday season with a donation to Charity Change. A simple, yet rewarding project that takes little time and is extremely rewarding to complete, you will produce a beautiful item that will be useful and stylish for many years to come. The patterns are offered in three sizes: mini, medium, and large. All you need to do is follow the simple pattern instructions and add colors.
Make some beautiful and adorable free crochet poncho patterns for yourself by getting inspiration from here. All of these crochet poncho patterns are incredible in look and easier to make.
Dubonnet Poncho
A unique crochet pattern that results in an easy-to-wear, beautiful layer for any season. An open design makes it airy and versatile to wear with just about any outfit. This quick-to-work piece can be made with Red Heart Boutique Unforgettable yarn that does all the colorwork for you! The pattern also features a special border section that allows you to try out and learn new crochet stitches if you're feeling adventurous.
Granny Poncho
Capture the bright colors of summer in this shawl-like crochet granny poncho that is crocheted from the top down. The horizontally striped body is crocheted in increasingly larger crochet circles to minimize holes between adjacent motifs. The result is a poncho with a smooth, solid appearance.
Crochet Plaid Blanket Poncho Pattern:
This easy crochet blanket poncho fits over any outfit and adapts to the season. Wear it all year, in any season, like a roomy sweater or cozy blanket. When you're finished with it, cut the yarn ties and use them to tie a bow around your wrist. Patons Shetland Chunky yarn creates a thick, classic fabric that is sure to keep you warm all winter long. Whatever your preferred shade, it will make you feel like a true hero.
Crochet Perfect Patterned Poncho
Your fashion accessories should always be as beautiful as the clothes you wear. Make this poncho because it's gorgeous, warm, and easy to make. This free crochet pattern is designed for Bernat Super Value Solids, Ombres, and Heather yarns so you can create a unique look with your favorite colors. The rich texture of this textured stitch pattern is sure to turn heads when you walk out the door.
Cozy Adult Turtleneck Poncho
This adult turtleneck crochet poncho is made in one piece, with no seaming required! Worked from the top-down, once you have finished crocheting the body of this cozy poncho, you'll crochet around the neckline to create the turtleneck. The body features a wonderfully textured griddle stitch that adds warmth and texture to this item. Once your turtleneck is completed, use the extra yarn to add some contrasting decorative crochet around the edges of your poncho.
Little Fashion Poncho
This adorable crochet poncho will keep your little fashionista warm enough to brave the elements. Looks great paired with bright-colored tights and a simple top. Perfect for autumn, it's easily layered over long-sleeved shirts or light jackets. Worked in Red Heart Cutie Pie yarn in any shade she loves; this crochet poncho will be a hit every time. This free crochet pattern uses basic stitches, making it perfect for anyone with experience working with double crochets and half double crochets!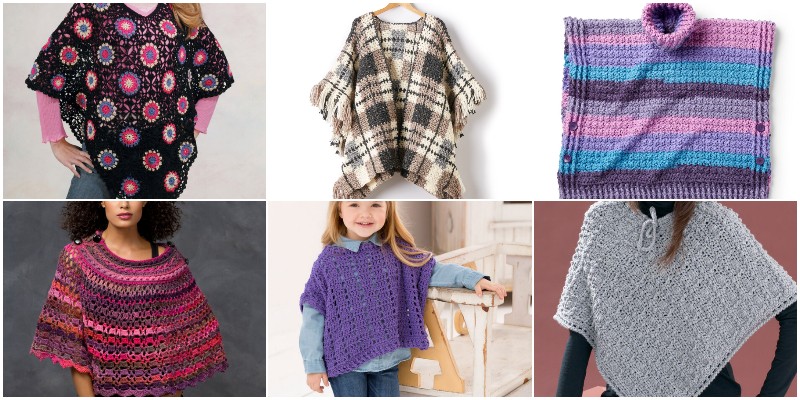 Mountain Trail Tweed Poncho Pattern
The Herringbone Poncho Pattern
Amelia Poncho
Autumn Bliss Poncho
Poncho Simple
Bear Cub Poncho
Girl's Poncho
Love Is In The Air Poncho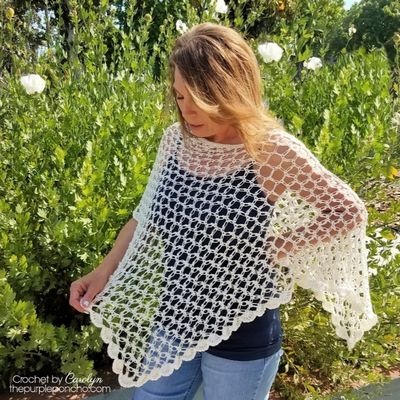 Summer Crochet Poncho
Poncho Summer Top
Starburst Toddler Poncho
Such Simple Poncho
Crochet Poncho Pattern:
This beautiful free crochet poncho pattern looks fabulous in striped color combinations. The little tassels hanging below and the superb texture of this crochet poncho pattern make it look more admirable. You can use this adorable crochet poncho pattern with any wearing, and it looks incredible all around. To make this crochet poncho pattern, you will need the fair isle port yarn and (6.0)mm crochet hook. For more information about this crochet top pattern, click on the below link.
Frost Petals Lace Poncho
Make a beautiful frost petals lace crochet poncho pattern by getting inspiration from here. This crochet poncho pattern can be made in any size range(s/m/l). It's up to your choice. This incredible crochet poncho pattern will be a perfect choice to stylize your look. To make this crochet poncho pattern, take the baby yarn and (h/i) sized crochet hook.
Misty Morning Crochet Poncho
If you are looking for a superb crochet poncho pattern, for wearing over your simple clothes, try this crochet misty morning poncho pattern. It looks fabulous; it will also beautify your outlook. It's a beginner crocheting project because the simplest granny stitch is used in making it. The supply you will need to make this beautiful crochet pattern is lion brand jeans yarn and (i) sized crochet hook.
Misty Grey Tunisian
Are you in search of a free and easy Tunisian crochet poncho pattern? If yes, here is the misty grey Tunisian crochet poncho pattern available for you. This simple crochet poncho pattern is made by working in several Tunisian stitches. You'll need the Aran weight paintbox yarns wool mix yarn and (m-l) sized crochet hook to make this adorable crochet poncho pattern.
Kalisha Poncho
Try this kasha crochet poncho pattern to make some gorgeous wearings for warm weather. The layered texture of this crochet poncho pattern makes it perfect to stylize every type of wearings. Make this stunning crochet poncho pattern for yourself and also to gift your beloved ones. To make this crochet poncho pattern, you will need the lion brand cupcake yarn and (g) sized crochet hook. Moreover, it will surely be your favorite crochet poncho pattern.
Sea Breeze For Kids
This beautiful sea breeze crochet poncho pattern is specially designed for kids, but you can also adjust the size of your pattern according to your needs. The unique texture of this crochet poncho pattern differs from all other patterns. This crochet poncho pattern is also perfect for gift-giving purposes. Just get the Aran weight caron cakes yarn and (i) sized crochet hook to make this adorable crochet poncho pattern.
Faux Cable
This faux cable crochet poncho pattern looks impressive because of its texture and softness. This is a beginner crochet project you can work separately in rectangles for front and back end of your pattern and then sew them together by using a tapestry needle. You can also add buttons to beautify your crochet poncho pattern. The Aran weight lion brand Vanna's choice yarn and (i/j) sized crochet hook to make this beautiful crochet poncho pattern.
Elise Pattern
Are you looking for a beautiful and easy crochet poncho pattern? Try this stunning crochet Elise poncho pattern; it seems incredible when you wear over bright-colored wearings. It enhances the outlook of your wearings. You can also gift this gorgeous crochet poncho pattern to your beloved ones. You will need the sprightly yarns acrylic wool worsted yarn and (i) sized crochet hook to make this beautiful crochet poncho pattern.
Perfectly Panache Chic
Crocheting a poncho might seem like a big project but actually not you can make this perfect panache chic poncho, but if you pay a bit of attention to making this pattern you can make this in a very short time. You can make this poncho by using purple color and Red Heart Chic Sheep by Marly Bird featuring 100% Merino Wool and some crochet stitches. You can change the color according to your choice if you want. It will keep you warm and cozy in the winter and give you a stylish look too.
Snug As A Hug Poncho
This Snug As A Hug Crochet Poncho has a very decorative scalloped edge to it in a contrasting colored fabric which makes this poncho more adorable and easy to tackle like you can wear this poncho when you are going outside from your home as well as you can gain a stylish look too. You can make this by using bulky yarn, single and double crochet stitches the selection of colors depends on your choice.
Plaid Blanket Crochet Poncho
Want to crochet your own poncho with your hand then you can make this Plaid Blanket Crochet Poncho that is really easy to crochet. This intermediate crochet pattern uses a series of stitches to achieve the unique poncho look. This will definitely keep you warm and cozy on the colder days or in the chiller night. You can make this by using any basic yarn and the color selection depends on your choice. The addition of fringes makes this poncho more elegant.
Aran Waves Crochet Poncho
This crochet aran waves poncho is elegant and you can make this in all sizes like you can make this for your children if you want. It's as easy as the adult version, but scaled down in stitch count to fit the wee folk! Use up the leftover yarn from your stash for this fun, cozy poncho, this pattern uses green color but you can make this by using your favorite color also. This pattern uses any basic yarn and some crochet stitches. It will definitely keep you warm and cozy on the colder days.
Crochet Poetry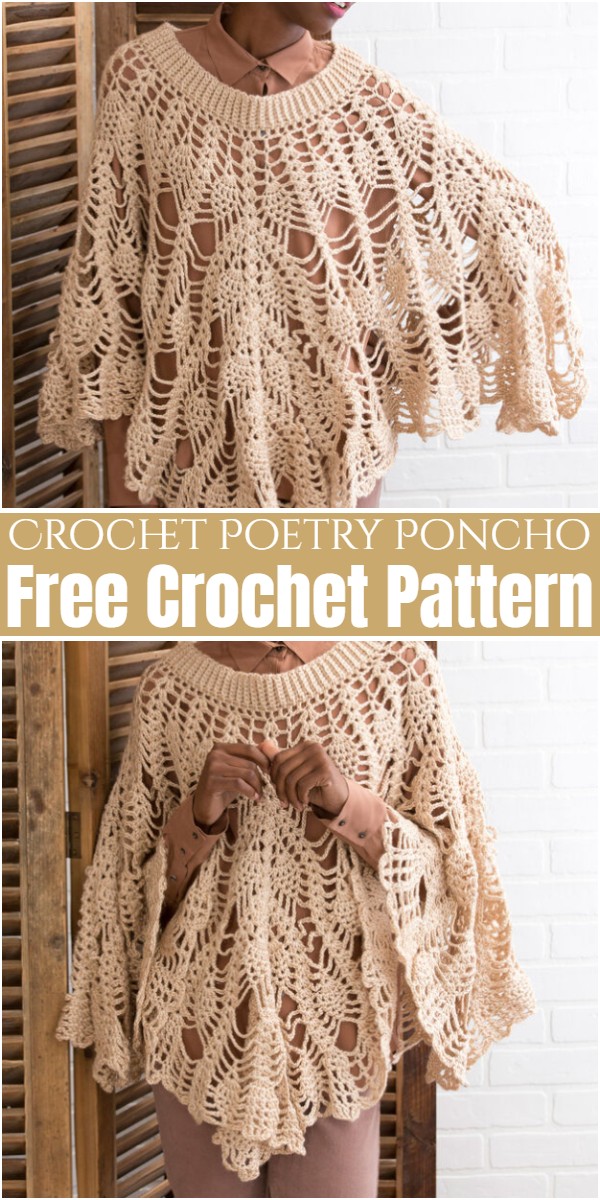 You can make this Crochet Poetry Poncho pattern by using any basic yarn and some advanced stitches of crocheting. The bright skin color is perfect to wear in the summer. If you have been wanting to try a poncho pattern but feel overwhelmed, why not start with a baby poncho for a smaller scale project?  you can make this for yourself it will definitely prove best for you as well as give a splendid look to you.
Set The Trend Poncho
The versatile uses of colors allow you to wear this Set The Trend Poncho with just any outfit and the thick bulky yarn will make sure you stay warm at all times. You can use this cute poncho as a gift for your friends and can make for your beloved ones without spending a lot of time and money.
Canyon Ridge Fringed
This canyon ridge fringed poncho makes this one of the most trendy crochet poncho patterns ever and will definitely keep you cozy without sacrificing a bit of style this season. This pattern works up fast by using the half-double crochet stitches. The addition of fringes at the edges of this poncho makes it more adorable.
Tunisian Lace Crochet Poncho
Want to make a gorgeous poncho by using Tunisian crochet simple stitch then this Tunisian lace poncho pattern is perfect to make. This bulky crochet poncho pattern is the perfect transitional piece, great for a chilly and breezy spring, this pattern uses purple color but you can change the color according to your choice.
Easy Crochet Poncho
Ponchos perpetually play a really necessary and practical role not just for summer fashion however additionally for summer visits to the beach, to a have night date or for a politician dress up. Once the winter turned cold because of rains or within the evening it additionally keeps your shoulder and neck hotter and comfy and you're feeling yourself safe thereunder.
Uptown Poncho:
If you would like to travel simply outside to a close-by park, these Free Crochet poncho pattern is continuously able to become your initial and instant pickup alternative. So, move ahead and refresh your wardrobe with this superb fashion trend and become the style opera star. Grab the pattern of this Free Crochet Poncho Pattern Uptown Poncho from the link below.
Crochet Poncho
This stunning poncho feels like difficult hybrid knitting and crochet however truly, it is not. So, you'll do this cute poncho for the winters to stay yourself hotter. You'll build this crochet poncho handle by following the step-by-step tutorial of Free Crochet Poncho Pattern from the link given below.
Driftwood Oversized Hooded Poncho
Have you some leftover yarn and don't understand what to try and do with them? If affirmative then this idea is going to be good for you as a result of this project would herald use all of that leftover yarn that is lying in your drawers a few times. This is often an awfully stylish and bright color crochet summer poncho pattern that I likable loads and that I hope you'll adore creating your boring tiptop colorful and bright. 
The Beginner Poncho
There are several forms of crochet poncho and here we have a tendency to bestowed crochet poncho with a lace pattern. You'll wear it not solely in winter however conjointly in summer too with lightweight knitting patterns. Another pattern has been here that is named the herb cloak pattern which is most attention-grabbing and fun to kitting. So, refresh your wardrobe with the various forms of The Beginner Poncho Free Crochet Pattern from the link below.
The Greyscale Poncho
If you're attending to create a Crochet poncho for your youngsters and don't have any concept of which sort of poncho they'd wish to wear then consider these cheerful crochet kids poncho ideas. So, choose some daring hues owing to youngsters like them loads they give the impression of being cuter in those colors. Glam the pattern of this Greyscale Free Crochet Poncho Pattern from the link below.
Light Alpaca
What would you wish to mention regarding this lovely and charming crochet gem lace adult/ poncho? If you're thinking that it's come back from a store at an important price then you are thinking wrong. As a result of it's been merely created reception by hand. And in fact, you'll be able to additionally build it too by your own hands. simply by selecting some colorful yarns, knitting hook knitting skills you may be able to cotton on reception. Grab the data of Light Alpaca Poncho Crochet Pattern from the link below.
Simple Sleeves
If you would like to own a heat result or want to decorate up within the winter for a trendy look then this stunning crochet heat embrace poncho could be an excellent alternative. It'll keep your neck, shoulder, and chest hotter and feel you the cozy result. It is often simply created reception at an inexpensive value. Get the pattern of Simple Crochet Poncho With Sleeves from the link below.
Ava Fringed Poncho
This poncho is special for those that prefer to wear boho vogue garments. Here I even have shown you an elegant crochet unchanged boho poncho pattern that may be created simply by yourself together with your own hands. This can be an unchanged style and color that ne'er depart of fashion and might be worn all the year-spherical. For more information about this Crochet Ava Fringed Poncho from the link below.
Amelia Adult Sweater
Create a lightweight and ethereal crochet poncho for summer and build yourself a fashion opera star this summer. This surprisingly attractive breezy pattern of the poncho and is created terribly simply if you've got knitting skills in your hands. The color combination of this cloak is super cool and gorgeous that each girl would really like to wear it. Grab the pattern of this Amelia Poncho Adult Sweater Free Crochet Pattern from the link below.
Teal Poncho
Classic plaids are the most focused of this poncho. This superb and super lovely cloth blanket crochet poncho maybe got from simply cotton yarn, crochet hooks, and after all your crochet skills. It's a super hotter cloak and you'd not got to wear even the other layer of fabric within the winter to travel outside.
Desert Life Poncho
It is laborious to appear stunning and wear trendy garments for parties in winters because of the cold outside and significant layers of clothes. however, this trendy crochet party cloak can look nice for that sort of scenario. it'll not keep you hotter however additionally provide you with a trendy and trendy look. Snatch the detail of the Desert Life Crochet Poncho Pattern from the link below.
Boho Chic Houndstooth
This is a brilliant stunning cloth blanket crochet poncho that appears outstanding even along with your uninteresting or routine cloths. This may go utterly whenever you've got to travel outside in an emergency and don't have a touch time to make preparations for it. In those sorts of things, it'll be the primary pickup and selection to seem prepared likewise as fashionable at a similar time. For a lot of data about the Boho Chic Houndstooth Poncho Free Crochet Pattern click the link below.
The Nicole Knit Look
What concerns this fashionable and distinctive designed crochet Pancho top? it's terribly spectacular and trendy cloak that will work on any quiet night parties in summer or select a date. You'll be able to wear them with jeans, skirts, and broad bottom paints. Grab the pattern of The Nicole Knit Look Crochet Poncho from the link below.
 Circular Poncho
This is another crochet poncho with a lace pattern that's wanting superb in white color. Nearly every girl likes to wear this beautiful color, particularly in summer. It might look nice together with your jeans over any quite prime.