Why not add some new changes and revamping your home with some new ideas and projects? These DIY pendant light projects will bring new decorating changes to your home. These projects are perfect for brightening up your home decor because they are easy to make and install or use. You will get many unique and different ways to revamp your home through these DIY pendant light projects. Moreover, lots of different things can be turned into light fixtures. These pendant light projects will give a hot welcome to your visitors. So, scroll down and have a look at these DIY pendant light projects for your home. These projects will really brighten up your special day.
You Can See Also:
DIY Tripod Lamp:
Turn a simple tripod stand into something decorative and useful for your bedroom following this easy tripod lamp pendant idea. It will be a decent option to make admirable changes to your bedroom, décor. It will be a super inexpensive masterpiece; get an old tripod stand, fix the bulb on its top, and put the lamp cover on it. It will provide a super beautifying touch to your bedroom's décor, and you'll heartedly love to make other masterpieces like this for other rooms.
West Elm Inspired Tripod Floor Lamp:
Hey, DIYers, get a few minutes out of your busy routine to make something useful and decorative for your home without spending any special fortune. This amazing west elm-inspired tripod floor lamp will be an impressive option for you in this regard. It provides a super elegant look at your bedside; the admirable easier making and stylized design will make this lamp your heartedly favorite. It cost nearly 250 bucks and almost the easiest tripod lamp you have ever tried.
Giant Decorative Bow Paper Pendant Lamp:
This beautiful bow paper pendant lamp will be a super unique decorative piece for your bed top. Its creation will be too easy and fun, plus the admirable design will make this pendant lamp your heartedly favorite; you can create one within a few minutes. You can call it a mini craft because it uses very simple material; make a simple hard chart, stripe, fold it in bow shapes, and glue several bows together to give shape like a round flower and pendant. Then add the light supply holder and bulb into it, this amazing decorative piece will surely be your heartedly favorite, and you'll admire making it.
DIY Dodecahedron Pendant Light:
This dodecahedron pendant light will be a super stylish addition to your bedroom décor; it will surely be your favorite DIY project because of its beautiful design. Start by making a hexagonal prism using wooden stripes about 6 inches; Dowell will be the best choice for it; fix them all end to end using glue to give a hexagonal shape. Repeat the process several times and then paste the hexagons side-by-side to get this amazing appearance masterpiece. Finally, give the finishing touch to your DIY pendant by adding a light bulb to it; this will e a super fun project, and you'll surely love it.
DIY Rectangle Chandelier:
Here we come with super fun and admirable rectangle chandelier lighting project for your bedroom. It will be a unique masterpiece; the stunningly beautiful design and easier making will surely add this pendant to your favorite list. Hang it above your dining table; it will surely be a heart-pleaser light pendant idea. You can get started by making a 3d wooden square, then cover all of its sides, excluding one with the plywood sheet using screws the; add four bulbs in this box to give the appearance of a pendant. Hang it safely, and your project has been done.
DIY An Industrial Cage Light Wall Hanger:
Use an industrial cage to turn into a super sophisticated light pendant for your home decor. Its creation will be too easy; you have to use a wooden piece about 1×0.4 to fix on the wall, then get two wooden dowels that are larger than the piece, which makes them screwed on it to give outcome like a right angle triangle with the wall. Then hang the industrial cage along with the upper end of that triangle and add the bulb inside it to give the appearance like a stylized light pendant; it will be your favorite and functional addition to home décor.
Mason Jar Crafts Vintage Pendant Lighting
DIY Pendant Lights Of Tin Cans
Terrarium To Geometric Pendant Light
DIY Geometric Copper Pipe Pendant Light
DIY Bathroom Light Fixture Makeover
DIY Rope Chandelier Lighting Update
Openwork Wooden Cube DIY Pendant Light Project:
Want to update your room's decoration classically and cheaply and looking for ideas and projects to make your home awesome, then don't you worry, you can make this Openwork Wooden Cube Pendant Light that is easy to make. We all feel comfortable in our own bedrooms and definitely always want to embellish our room. This cubic light pendant is easy to make like you can make this by using only wood and glittery golden paint; first of all, cut the wood in different lengths and then joined them together after that paint them. Click below for the latest news about this project.
DIY Pendant Lamp With Hollow Metal Tube Lampshade:
Some of the materials are readily available in your house' storeroom or near your house to make the cute and fun pendant lights out of, like the metal pipes, is one of those. This one is another Pendant Lamp With Hollow Metal Tube Lampshade, and you can make this gorgeous light pendant by using the hollow metal pipes. It will definitely give a splendid look to your home's roof. You can use this light pendant in your drawing room as well. Click below for more directions and details about this gorgeous plan.
Other Project:
Recycled Cardboard DIY Pendant Light Project:
Recycling, Reusing and repurposing all are different terminologies but actually, not these all are the same in the real sense. If you want to prove this statement you can do it by making this DIY Recycled Cardboard Pendant Light project. This DIY light pendant is an open example of recycling. The usage of cardboard makes this pendant cheap and easy. You can use this light pendant as a gift for your friend. It will definitely give a cute look at your home without spending a lot of money and time. Click below for more information about the material of this plan.
Enameled Colander DIY Pendant Lamp Project: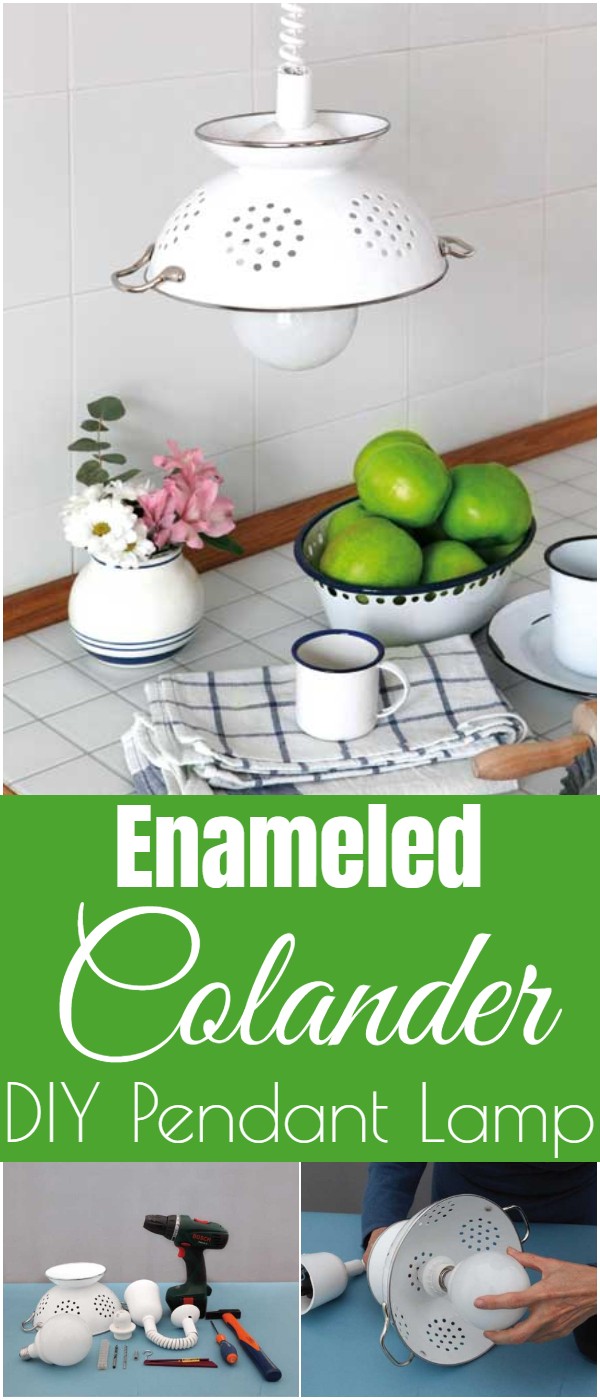 Want an effortless and hassle-free project to bring some fun lights in the house? This Enameled Colander DIY Pendant Lamp with a coating of matching paint the simplest version of the gorgeous pendant lights, which is perfect for the kit, Chen basically, but you can use it for the other part of the home. This plan uses Tin cane, a drill machine, an energy saver, and many other tools, which are used, which have given in the link below. Click below!
West Elm Inspired 2 Plastic Bowl Globe DIY Pendant:
Want to make a cute light globe for your dining table without spending a lot like? Using cheap things, you can make this West Elm Inspired 2 Plastic Bowl Globe Pendant that is really easy and cheap to make. You have to need two plastic balls, a drill machine, and some other tools given in the link below. It will definitely prove good for your dining table as well as for your home's any room. You can purchase the plastic balls used in this DIY pendant light plan from the market at a meager cost.