When it comes to lighting, there are many ways to add some pizazz to your space. But if you're looking for something that'll instantly give you a feeling of elegance and sophistication, a pendant light may be the way to go. Pendant lights are often overlooked as a lighting option, but they can be used in many ways–to enhance a room's aesthetic, to add ambient mood lighting, or even to give some much-needed task lighting to your kitchen countertop or desk. We've gathered 23 of our favorite DIY pendant light projects with varying styles and aesthetics, promising an upgrade from your average light fixture. We know you'll find one that speaks to you!
These DIY lights are great for many reasons, from their ability to completely transform a space and turn an ordinary room into something unique to their low cost and ease of construction. You can do some seriously cool stuff with these lights, from hanging them in the middle of a room and letting the light pour down on your furniture to hanging them at the bottom of a staircase and making it look like you're walking up into the sky. There's no limit to how you can put together these lighting projects. If you're trying to decide what kind of pendant light is right for your living room or bedroom, or kitchen, here are a few different styles you might want to consider:
With these 23 DIY pendant light projects, you can easily create stunning and colorful lighting for your home that will add style, character, and personality.
Benefits of DIY Pendant Light Projects
The DIY option can be a great choice when you want to create a unique and personal lighting fixture. You can choose any style or design that suits you and add your touches to make it truly special.
Here are some of the benefits of DIY pendant light projects:
They are budget-friendly. Pendant lights are generally inexpensive, so if you're on a budget, this is a great way to get what you want without spending too much money.
You can customize them to fit your space. If you have an idea for a particular look or style, you can create it with DIY pendant light projects. Or if you prefer simple designs and colors, plenty of those are available too.
They add personality to any room in your home! Whether it's an entryway, dining room, kitchen, or bedroom, your home will feel more like "yours" when there are personal touches throughout.
DIY Tripod Lamp:
This DIY Tripod Lamp is a great upgrade for your bedroom and better than most lighting options. This lamp will bring a new look to your room and be super beneficial, as it offers more space and enough lighting to suit every room. You can create a beautiful, contemporary pendant light with a single tripod stand. Using some rope, wire, and a couple of buckets, this DIY project is easy enough for any beginner to master.
West Elm Inspired Tripod Floor Lamp:
Affordable, beautiful, and simple, this tripod floor lamp is the perfect addition to your living space. Position it beside your favorite chair or sofa to provide the right amount of ambient light. It's perfect for anyone looking for a stylish lamp that requires minimal skills and tools to make. You must follow all the instructions carefully, and you can make it at home. Use this guide to learn more!
Giant Decorative Bow Paper Pendant Lamp:
You can easily give a new look to your home or office by placing this bow paper pendant lamp. You need to cut out the pieces, glue them in order and use a string or wire to hang them wherever you like. The materials are simple and easily available at your nearby store, so you don't need to go on a shopping spree! This unique paper bow pendant lamp is an excellent gift for any occasion, especially weddings and special holidays.
DIY Dodecahedron Pendant Light: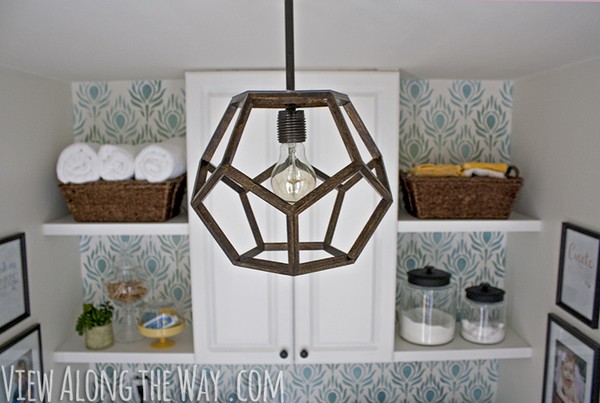 Are you tired of the same old bedroom décor? Now you can create a unique and stylish pendant light for your bedroom. Whether you are looking for a gift for your loved one or want to add something warm and cozy to your room, this Dodecahedron Pendant Light DIY is the perfect project! With its easy step-by-step instructions and simple materials, you can create this stylish dodecahedron pendant light in no time.
DIY Rectangle Chandelier:
Are you looking for a unique and beautiful way to bring light to your bedroom? This DIY Rectangle Chandelier is a super fun weekend project that will add glamour to your bedroom! It is a unique masterpiece that is a reimagining of the traditional chandelier and can be made with little more than basic materials from the hardware store. You will love this DIY project; It's just so easy to build, and the result is stunningly beautiful! Just follow the guide below.
DIY An Industrial Cage Light Wall Hanger:
If you love industrial décor, this DIY light wall hanger is perfect for your home. It's an easy project involving using an old metal cage and hanging it on the wall for a cool effect. This wall cage is the perfect light pendant for your home. Hang it alone, or use it as an overhead light in a dining area, bathroom, or hallway. The cage design gives this light fixture a modern look perfect for switched-off light bulb illumination.
DIY Fabric Pendant Light:
Looking for an easy, affordable way to add ambiance to your home? This fabric pendant light is perfect for the job. This project is simple and has everything you need to get that soft glow in your home. This DIY Fabric Pendant Light adds a little ambiance to your home or office. It's easy to make, affordable, and can fit any room, adding atmosphere. You will only need a few supplies and about 30 to 60 minutes to create the perfect ambient light for your space.
Giant Macramé Rope Lights:
Add fun to your December decorating with this giant macramé rope lights garland. You can easily add color, texture, and character to any space with this easy-to-make light garland. Carefully crafted with no necessary glue, these lights light up and are instantly ready to illuminate any space—no tools required! These giant rope lights are a fun way to light up any room! DIY-ers have used them to make their own chandelier light installations, too. It's perfect for beginners and a great gift for anyone who loves DIY projects!
DIY Metallic Pendant Sconce:
DIY metallic pendant sconces are the perfect way to add some shine to any corner of your home. They're so easy to make and make a great gift for everyone on your list. You can add a touch of glam to your space with these DIY metallic pendant sconces. Create this easy DIY in two hours or less and be on your way to being the life of fiestas. You'll love how much this little bit of bling brightens up any space!
DIY Trash Can Lights:
Everyone wants to save money, especially on their electricity bills. With these DIY trash can lights, you can create your own beautiful light sconces that add a touch of class and elegance to any room in your home. There are several ways you can light up your home without spending much money. From lighting sconces to pendant lights, many different methods can be used to create new light fixtures in your home. Use this guide to learn more!
DIY Bentwood Pendant Tutorial:
Create a chic, modern chandelier like West Elm's Bentwood piece. This DIY Pendant Tutorial will show you how to customize your version of the Bentwood Pendant by creating a custom wood shade and adding a chain or cord, so it's ready to hang up in any room. It's easy to customize so that you can add your personal touch. All materials are available at any hardware store, and instructions will be provided here.
Mason Jar Crafts Vintage Pendant Lighting:
This easy DIY tutorial transforms your regular mason jars into beautiful vintage lights! This project is so simple and only takes about an hour to make. You'll love how easy it is to create your own unique light fixture that's perfect for hanging above your dining table, island, or bar cart. So if you're looking for something unique for your home, this may be just the DIY project you need!
DIY Pendant Lights Of Tin Cans:
You can make your own stylish pendant light out of an old tin can with the help of this easy DIY tutorial. The sleek and modern design makes it perfect for any decor, from traditional to contemporary. You can create a beautiful light without any power tools to help you. A great way to get dinner party guests talking is to hang a tin can pendant lamp above your table. It's a conversation starter, for sure. You can also use this as a gift idea or as part of your bedroom decor.
DIY Affordable Branch Pendant:
Create a rustic pendant lighting fixture with a twist of natural beauty. These DIY Affordable Branch Pendant lights are the perfect addition to any home and can be made with basic craft supplies. This effortless and affordable project is easy to create with wood, wire, and basic craft supplies. The finished product can be hung in the kitchen, over a dining table, on the porch, or in other home rooms.
Terrarium To Geometric Pendant Light:
A terrarium is a perfect vessel for a stylish, designer-inspired pendant light. Create this ultimate in urban nature with this terrarium-inspired pendant light guide. Featuring an intricate geometric canopy, this fixture adds a touch of organic beauty to any living space. Display on its own as an accent piece or pair with a larger collection to create a cohesive look. Crafted from metal and rope, this light fixture will let your living space shine as bright as your style.
DIY Geometric Copper Pipe Pendant Light:
This DIY geometric copper pipe pendant light adds some industrial style to your home. Get inspired to make one-of-a-kind light fixtures by learning how to build your own geometric copper pipe pendant light. This light incorporates simple materials and tools into an impressive light fixture for any room. Follow this step-by-step tutorial, and you'll make your own geometric icosahedron light fixture using essential tools and materials.
DIY Bathroom Light Fixture Makeover:
Tired of your plain bathroom light? Let's fix it together with this DIY Bathroom Light Fixture Makeover! This project is so easy and cheap you won't believe how much personality it adds to your bathroom. This DIY Bathroom Light Fixture Makeover will add personality and style to your home easily and inexpensively. This is a great way to add personality to your bathroom. It's simple, affordable, and so easy! You can do this in the afternoon or weekend.
DIY Rope Chandelier Lighting Update:
Modernizing your lighting is one of the easiest and quickest ways to add a new look to your home. And this easy rope chandelier is the perfect project for beginners. Using inexpensive rope and plastic bags, you can quickly create a beautiful new lighting fixture that looks professional and updates a space instantly. You can easily create a beautiful new lighting fixture with creativity and imagination for around $20!
Openwork Wooden Cube DIY Pendant Light Project:
Do you have a room that needs a little something more? A pendant is a simple way to add some character to any space. This open-work wooden cube pendant is easy to make and looks great. This could be a creative way to add a little interest to your home. Use wooden cubes in different sizes and colors, bought at the local hardware store or craft supply, for a cool look. Hang three or four of these stacked on different cord lengths, depending on how much light you want from them.
DIY Pendant Lamp With Hollow Metal Tube Lampshade:
This DIY Pendant Lamp With Hollow Metal Tube Lampshade project is a quick, easy, and fun do-it-yourself project you can make with your family. Creating a pendant lamp with a hollow metal tube lampshade is simple and fun. It'll add a unique touch to your interior with its contemporary design, whereas you can craft it yourself in minutes! You can make a cute, fun, functional pendant lamp out of metal tubes. It is very easy to assemble and set up. You will need a few basic tools and your creativity.
Recycled Cardboard DIY Pendant Light Project:
This is the perfect project to recycle those old cardboard boxes, especially if you have no other use for them. In this project, you will learn how to make this pendant light. You will need a single sheet of cardboard, tin snips, and a hot glue gun. The rest is just some patience and determination. Sounds interesting? Let's get started! The best thing about this project is that it does not require complex tools or lengthy procedures.
Enameled Colander DIY Pendant Lamp Project: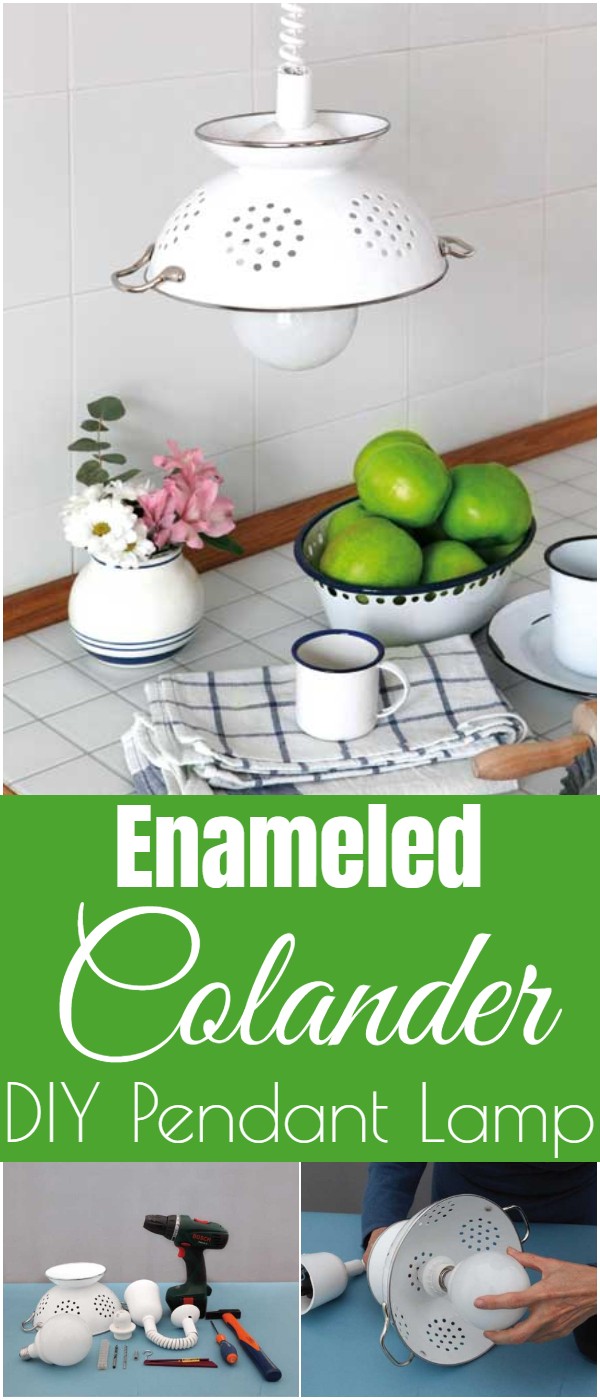 Want an effortless and hassle-free project to bring some fun lights into the house? This Enameled Colander DIY Pendant Lamp with a coating of matching paint is the simplest version of the gorgeous pendant lights, without going all out on making your own hardware for installation. It's effortless and hassle-free and brings an instant burst of pizzazz to any room in your home. You only need one colander and a coat of paint, and you've got an eye-catching accessory.
West Elm Inspired 2 Plastic Bowl Globe DIY Pendant:
This West Elm Inspired Plastic Bowl DIY Pendant is a fun and unique project that you can use to make your room more beautiful. It's cheap, easy, and affordable to create using the cheap things you have at home. This would make an excellent gift for someone who loves eating at their dining table with friends or family. Your dining table will shine with this charming globe pendant light. You can make it in just a few minutes using plastic bowls, paint, and simple steps.