Macrame can be a hit-or-miss craft. It's easy to get frustrated and requires a lot of time; for some people, it's just not worth it. But if you're committed to making beautiful macrame, here are 15 DIY Macrame Keychains that will help you get there, from superficial knots to more complex designs.
From beginners to experts, these macrame keychain patterns are perfect for anyone who wants to try their hand at this ancient art. These DIY macrame keychains use the plaiting technique, where you weave the macrame cord around itself to create patterns and designs. We found the best beginner-friendly DIY macrame keychains to help you grow your skills before tackling more complicated projects. Each project uses a different macrame technique and is perfect for taking on as a weekend project or while relaxing at home—and they're all cute enough to give as gifts when finished.
Macrame Keychain Tutorials For Beginners
If you're a fan of macrame, you already know that there are tons of projects to do with the technique. Macrame is a decorative craft that uses knotting to create patterns, and it's said to have originated from sailors in the Philippines as a way to pass the time on long voyages.
Macrame patterns can be found everywhere, from clothing to home decor, so there's no reason why you can't incorporate your love for the craft into your everyday accessories, too! Just take a look at this list of 15 DIY Macrame keychain patterns.
If you're looking for more gorgeous colorful keychain ideas, check out these DIY Wristlet Keychain Ideas.
With these 15 DIY Macrame Keychain Patterns, you'll be able to make a stylish accessory that can easily double as a purse charm or cell phone strap.
Macrame Keychain Materials
Macrame Cotton Cord.
Lobster Clasp Keychain.
Coloring
Scissors.
Clipboard to hold the strings
Macrame Keychain Uses
1. They can be used as gifts for friends or family members who are challenging to shop for
2. You can make them as baby shower gifts for expectant mothers
3. They can be used to decorate your home or office desk area
4. They can be used as accessories for your purse or backpack
Step By Step Macrame Keychain Free Pattern:
Macrame is one of the most accessible and comfortable craft types to learn. It's easy to master, and once you do, you can make all kinds of cute items, from wall hangings to jewelry pieces. If you struggle to find something meaningful and colourful to give your loved ones this holiday season, here is the perfect DIY Macrame Keychain Project! This easy-to-follow video tutorial will teach you how to hand-weave this colourful keychain.
DIY Macrame Keychain Wristlet:
This step-by-step video tutorial demonstrates how to make a macrame wristlet keychain. It is a great way to learn macrame weaving and can be used as a purse or bag handle, tote bag strap, or attached directly to the narrow strap of any bag. Use jute, hemp or poly rope in multiple colours for the base, then weave with cotton twine or cord. So, Learn to make an easy macrame wristlet keychain to hold all your valuables. It's perfect for the beach or everyday use and makes a beautiful gift!
Macrame Keychain With Beads Tutorial:
This Macrame Keychain is a simple and quick project you can make in just a few minutes. It will be perfect for holding your keys! This pattern makes a beautiful decoration for your home or a lovely handmade gift for a particular person. You can also make various colours or fill it with different materials, like beads or buttons! It can be done over the weekend! This macrame pattern is excellent for beginners, too.
Simple DIY Macrame Keychain:
Here's a fun and easy way to make a macrame keychain. It's an excellent project for beginners and a fun way to get creative with your time. If you love macrame, this DIY Macrame Keychain Pattern is for you! This crafty little project is easy to make and can turn your keys into a work of art. Use it as a gift for your friends or yourself! Watch this video tutorial that will teach you the whole making process.
Mermaid Tail Macrame Keychain DIY:
Mermaid Tail Macrame Keychain is a beautiful and trendy accessory that adds colour and style to your look. It adds a touch of elegance and uniqueness to every outfit. The mermaid tail pattern gives it an even more special look with its unique design. You can use different colours for the keychain and make it look even more exciting. This easy-to-sew keychain will help you always have your keys at hand. It also works excellently as a zipper pull or bag charm.
DIY Macrame Keychain With Beads:
Do a little DIY for someone special! This macrame keychain is a quick and easy way to make something that looks like you spent time on it. It's a simple DIY macrame keychain with beads that only requires a few supplies and a little time. You can make it plain or add charms and beads to suit your style. It's a great activity to do while watching TV during your leisure time. The Macrame Keychain with Beads is perfect for you and makes a thoughtful gift too!
DIY Macrame Keychain For Beginners:
This DIY Macrame Keychain is a fun project for beginners looking to add style to their lives. You'll love showing off your new keychain while also knowing that it's a craft you made yourself! No special tools are required to create these macrame keychains. They are the perfect size to hang on your keys or in a locker, or you can use them as zipper pulls! So, Create your macrame keychain with this DIY Macrame Keychain pattern. It's easy to make and perfect for the beginner!
DIY Macrame Keychain Tutorial:
This DIY macrame keychain is a fun project, making it an excellent gift for anyone who loves macrame and leather crafting! It's super easy to make and a great project for beginners. Go ahead and try this out - you'll love having your macrame keychain handmade by you that no one else has! This unique design features bright colours, classic Macrame knots and an adjustable length to ensure your keys are always within reach.
DIY Macrame Key Chain:
Add a touch of your personality to any keychain with this DIY macrame pattern. All materials and supplies needed to create your very own macrame keychains are included in this guide below, so you can give them as a gift or keep them all for yourself! Perfect for giving as a gift or for treating yourself. It is the perfect project to use up your yarn scraps or make with a new skein of yarn. The materials are super simple: yarn, scissors and a key ring.
Easy DIY Macrame Keychain:
This easy DIY macrame keychain is great for beginners as well as experts. If you can make a granny square, you can make this! A fun, easy, and inexpensive project using the ancient art of macrame. This DIY macrame keychain is an excellent gift for friends, family, or yourself! This pattern features clear instructions and full-color photos to help guide your way through the entire project. It will look great on your keychain, purse or bag. It decorates and brings color to anything and everything!
A Step-By-Step DIY Macrame Keychain: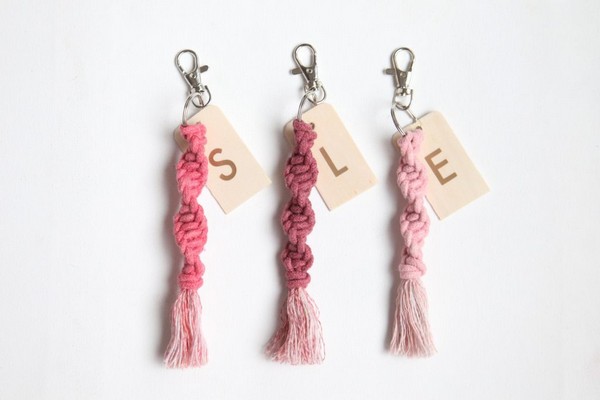 Making a macrame keychain is one of the easiest beginner crafts. Learn to create this project in your style. You will find all the materials needed for this DIY Macrame Keychain in this guide below, plus step-by-step instructions on how to weave it all together! A Do It Your Self Macrame Keychain Pattern is an excellent project for beginners. Buy the supplies to create a beautiful keychain in no time!
Chunky Macrame Keychain Pattern: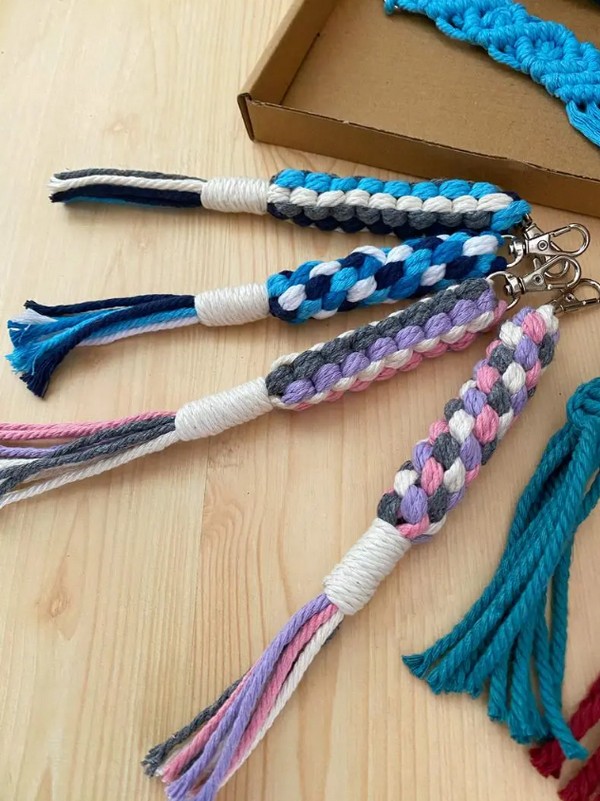 This chunky macrame keychain is easy to make and a great DIY gift! It works fast in less than one hour, so have fun playing with different colour combinations. This pattern is written for beginners but is also perfect for someone who wants to practice their macrame skills! Easy to learn and quick to make, this chunky macrame keychain pattern will become your favourite accessory. Make this DIY Macrame Keychain with various coloured cords to coordinate your keys and accessories. This is a fun and easy pattern to make!
Macrame Keychain To DIY:
This DIY macrame keychain is a must-have accessory for yourself or any of your friends. The keychain pattern is simple and relatively quick to make, and the result will impress everyone! It can also use as an embellishment for bags, clothes or wallets. With this DIY Macrame Keychain Pattern, you can learn how to make this stylish keychain. It is easy, quick and requires no sewing at all!
How To Make A Feather Keychain:
Macrame Feather Keychains are an excellent DIY accessory project to learn macrame. They are very easy to make and will make in various colors and styles to suit your style. The macramé keychain is personalized with beads, charms or stones for a unique look. This project is suitable for all skill levels, from beginner to expert. You can use this macrame key chain to add color to your handbag or as a door accessory. These colorful macramé keychains make great gifts; they are inexpensive and fun!
DIY Macrame Keychain:
Looking for a fun and easy way to create your very own keychain? This DIY Macrame Keychain lets you create a handmade piece that you can use daily. This project is perfect for beginners but will provide a challenge even to experienced crafters. This is easy to make and a great beginner project if you have never attempted macrame. It's so much fun to work on; it only takes an hour or so to complete. This is a straightforward pattern, so even if you are new at making macrame, this is a project you can do!