Crochet Chunky Basket patterns are a delightful way to create functional and stylish storage solutions. Whether to keep your yarn skeins or hang your favorite indoor plant, you'll find these baskets very useful.
Crochet Chunky Basket Patterns

Our amazing crochet chunky basket patterns are like making a big, cozy nest with yarn. Sometimes, they go straight up, like a bucket, or curve out, like a bowl. Use your favorite quality of yarn, go with the simplest patterns available below, and turn your imagination into reality with minimal effort.
You can make circular baskets or a squared version up to your needs, plus adding handles at the top border will enhance the useability of your basket pattern too much. So, why wait? Get the supplies in hand and start crocheting something super beautiful with minimal effort.
Beginner Chunky Crochet Basket Pattern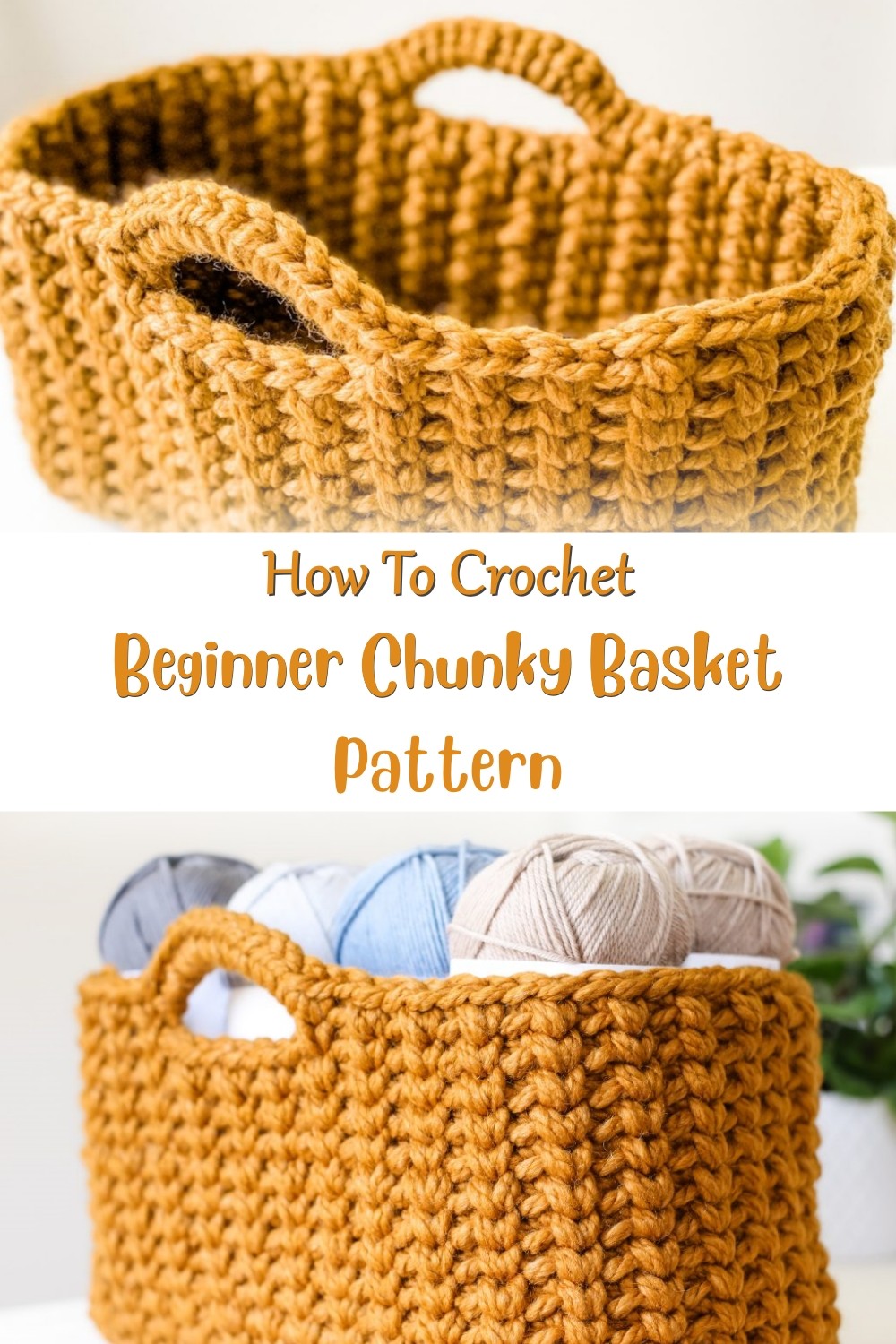 Uses: Simple yet stylish, our Beginner Chunky Crochet Basket is a great way to organize your house. The Bulky crochet basket is a beautiful and fun project for beginners. Inspired by the classic laundry basket, the Bulky Crochet Basket can hold household items or anything you need to keep in your home or office. With enough space to accommodate everything you need, it makes a great place to store children's toys, collectibles, and knickknacks. It's easy enough for anyone to make themselves.
Materials:
Lion Brand Yarn
9mm crochet hook
Making: The Waistcoat Stitch is a special technique used in Chunky Crochet Baskets. This stitch works in back loops, which means you insert the hook into the middle of the post between the "v", pushing down on it to get a new loop and pulling up another one.
Chunky Crocheted Basket Pattern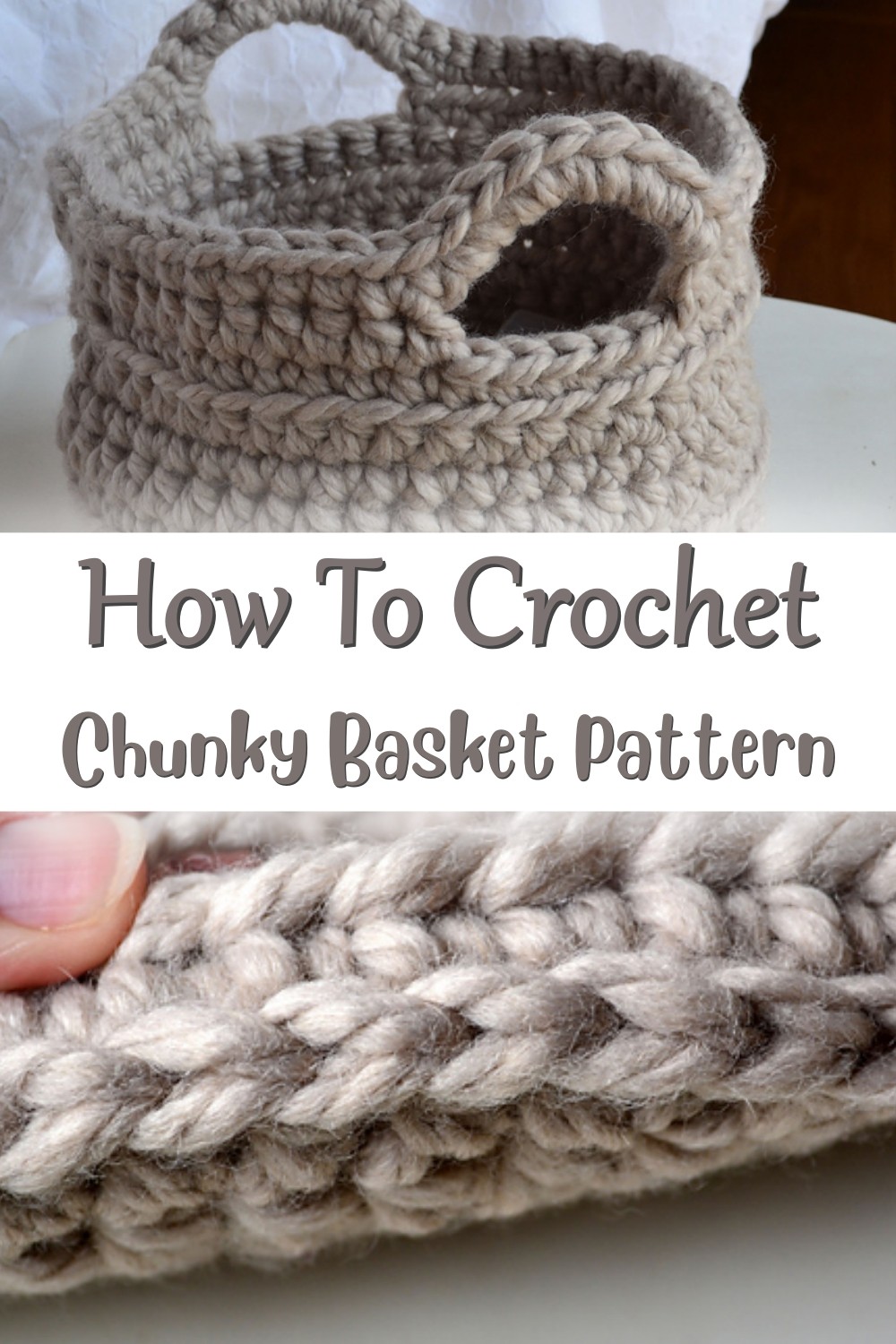 Uses: This basket will hold everything from small toys to socks, so you'll always be prepared for a quiet moment at home or the office! The stable handle makes it easy to hold while you're out and about, so you can also enjoy your day. This chunky crochet basket will also make the perfect way to store your yarn and accessories or hold plants for your houseplants. The pattern comes in two sizes, smaller and larger. The large basket measures approximately 10 inches in diameter and 10 inches in height, while the small one is 8.5 inches in diameter and 5.5 inches tall.
Materials:
Super bulky yarn
8mm crochet hook
Making: Place the two strands of yarn together, and do not turn when you finish each round. You can work in a continuous spiral to remove the seam. When you reach the end of the round, throw in both strands of yarn to create a tightly twisted mess around your fingers. Pull them apart while twisting them into one circular piece of yarn ready for sewing!
Crochet Chunky Chevron Basket Pattern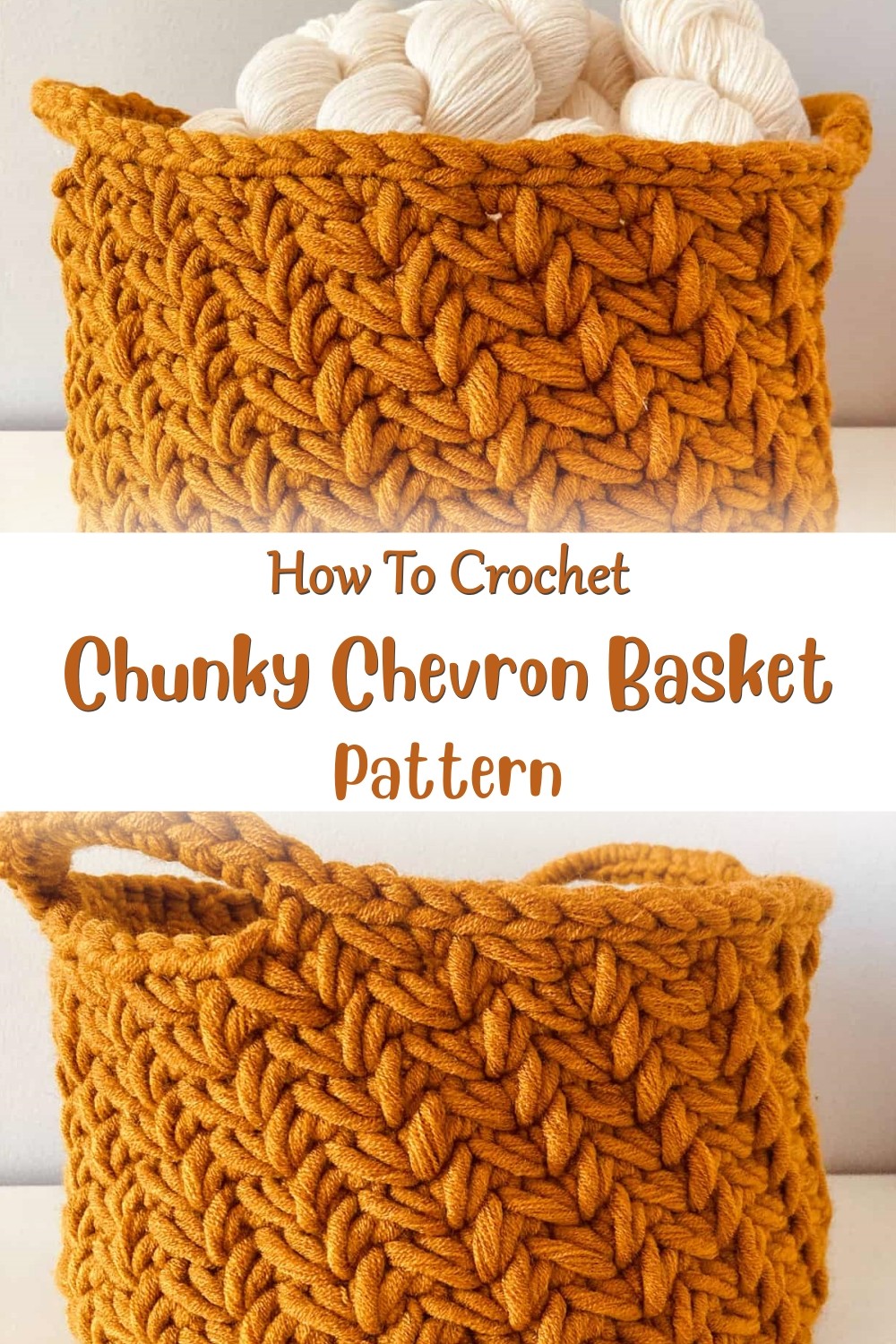 Uses: It's simple and sturdy enough to throw in your car and take somewhere! This basket is perfect for the beach, the park, or to bring your lunch to work. The chunky chevron design makes it easy to match the colors at home, so you don't miss anything while enjoying your day. It features a simple base and lots of unique stitches to create a fun, stylish basket for you and your spring decorating needs!
Materials:
Super bulky yarn
7mm crochet hook
Making: This crochet basket pattern is worked in two parts: first, a simple circle, worked flat in continuous rounds using the waistcoat stitch. Next, you'll work the sides of the basket, which are worked from the inside loop only (blo) of their final base round. Once completed, this crochet chunky chevron pattern will create a reversible basket that adds playful charm to any room!
Crochet Chunky Mini Basket Pattern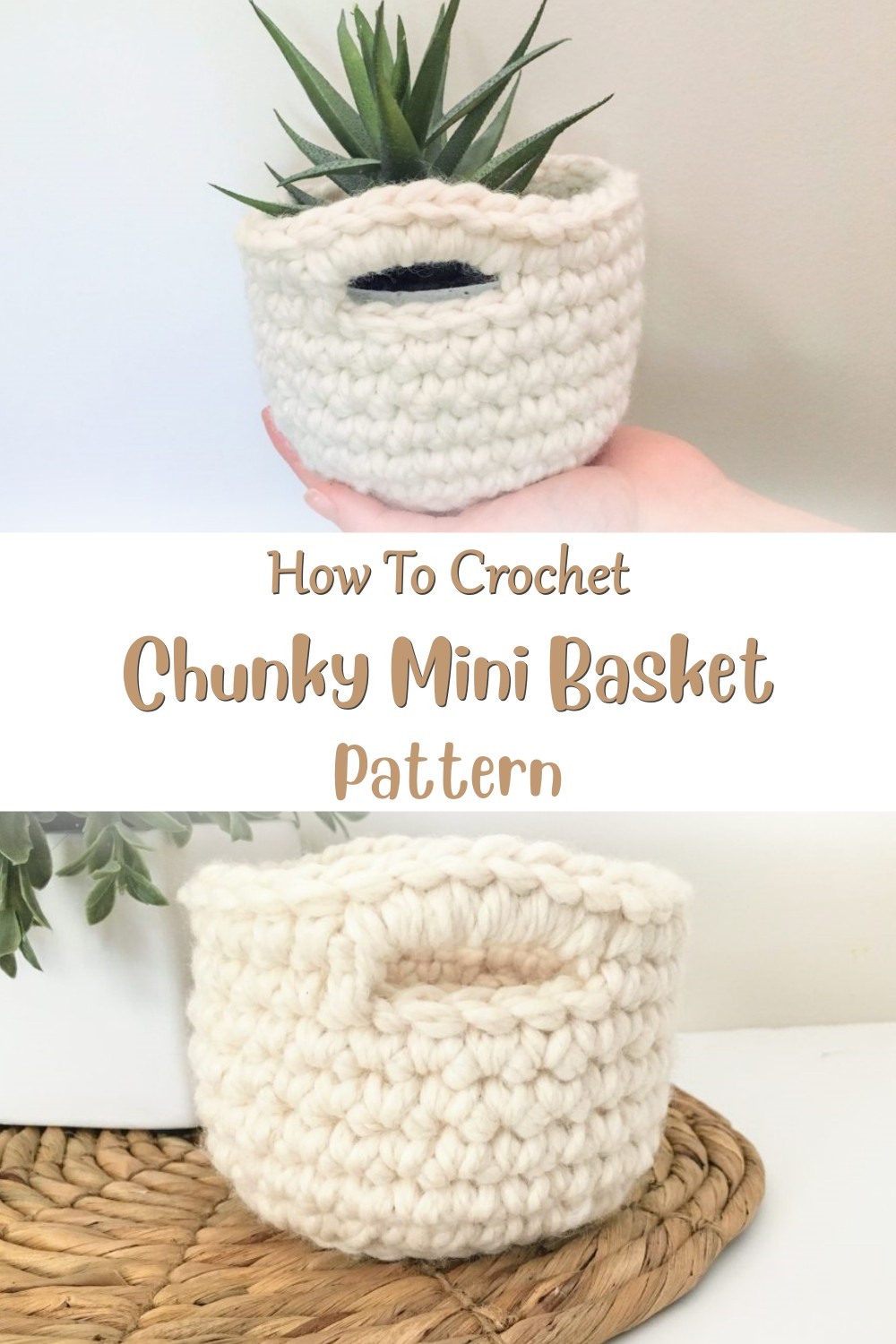 Uses: Are you looking for a basket to secure your plants? Make this Crochet Chunky Mini Basket Pattern to organize your plants and flowers. It's made from super soft yarn, making it supportive and cushy for your plants, with a little bit of fluffiness added for interest! The lovely pattern only takes an afternoon to crochet, so you can have one ready when it's time to plant some flowers or veggies.
Materials:
Super bulky yarn
8mm crochet hook
Making: This crochet chunky Mini Basket Pattern construction is round and works in any size. The basket is easily adjustable by continuing the increased rounds for the base, and to make it taller, you can add additional rounds on each side of the base.
Crochet Chunky Tidy Up Basket Pattern
Uses: Are you always on the go? The Chunky Crochet Basket is perfect for any occasion, from shopping to picnics. Its stable handle makes it easy to hold while you're out and about. The crochet Chunky Tidy Up Basket Pattern is perfect for hanging potted plants, drying laundry, or storing any other items you need to keep neat around your home. This easy-to-crochet project features a large, chunky basket that can be made in any color.
Materials:
Recycled T-shirt yarn
12mm crochet hook
Making: This Chunky Tidy Up Basket Pattern is a great way to practice your crochet skills. The main feature of this design is the dense stitch worked through the back loop only, which adds to the basket's texture and overall look. You can find a video tutorial on how to make this adorable basket here.
Crochet Chunky Floor Basket Pattern
Uses: This crochet chunky floor basket pattern brings warmth and texture to your home! The crochet stitches in this design are large, making it perfect for both beginners and more advanced crocheters alike. This crochet basket is perfect for storing and displaying your lace or crochet samples, using up all those small balls of yarn in your stash, and ensuring they don't get lost!
Materials:
Recycled t-shirt yarn
Large hook
Making: This design is crocheted in the round without joining, making it seamless. You don't see any stitches joining, so you need to know where your first round starts. Stitch markers are extremely helpful in keeping track of where you are in your pattern and whether you've already completed a round.
Crochet Chunky Hanging Basket Pattern
Uses: This beautiful Chunky Hanging Basket Pattern adds some style to your garden. This easy crochet pattern is a great way to create a unique and beautiful feature in your yard or garden. You can create a unique, one-of-a-kind addition to any space with various colors and sizes. Whether you hang it in a sunny window or use it as an outdoor planter, you'll look fabulous doing it!
Materials:
Any Super Bulky Yarn
9mm crochet hook
Making: This crochet chunky pattern is worked by holding x2 strands of yarn together; chain 1 at the beginning of each row does not count as a stitch. Read through the entire pattern before starting your project to ensure you know what skills are required before starting!
Crochet Chunky Floor Basket Pattern
Uses: Do you have a lot of books, magazines, toys and more? Then you need a basket! This crochet chunky floor basket pattern is just what you need. The beautiful basket can be used to store anything that you choose. The crochet basket can be used in the living room, kitchen, or any room of your house because it works with many different decor styles!
Materials:
Chunky yarn
15mm crochet hook
Making: This basket is crocheted in the round. The stitches will complete at the end of each round, and a stitch marker and be best to track where you are. This prevents confusion when you have to keep track of your rounds and prevents gaps between your work when working on different pieces. The final basket measures about 12″ tall and 14″ across, with handles approximately 6″ long each.