The jazzy zebra print is a fun and eye-catching addition to any wardrobe. It's also suitable for any season and age, crossing gender lines. Crocheting one's personalized zebra blanket is an excellent idea because the recipient can enjoy the design far longer than if they had purchased the same item in a store. The best part? You can make your own cozy zebra blanket from items around your house—no specialty yarns required! You need a simple black and white yarn (or fabric) to start. Some of these patterns are for blankets, others for sweaters and scarves. In case you're wondering, free crochet zebra patterns are also out there!
Zebra print has a unique look that can't be mistaken for anything else. It's bold, it's exciting, and it's just about everywhere. If you want to put your own touch on some of the things in your life that come from this pattern, here are 25 free crochet patterns to help you do just that. These are all made with yarn, so if any of these interests you and you want to try them out, be sure to check out the detailed instructions for each one of the projects. Themes of wild animals, including zebras, are famous by crocheters because of their simple shapes and bold color combinations.
From baby stuffies to full-sized blankets, these 25 Free Crochet Zebra Patterns work up quickly and are sure to make you smile.
Tips For Crochet Zebra Patterns
Crochet Zebra Patterns are a great way to spice up your wardrobe and make something you can use for years. Crocheting is a fun way to create clothing and accessories, but finding patterns that have the right look and feel cannot be easy.
Here are some tips for crochet zebra patterns that will help you create the perfect garment:
Use Smaller Hooks When You Start Your Project: If you are beginning, it's important to use a smaller hook than what is recommended by the pattern. This will make it easier for you to work through the stitches without becoming frustrated or tired.
Don't Use Too Much Yarn: It's easy to get carried away when working with yarn, especially if you're making something larger than a scarf or shawl. However, if you have too much yarn left over from each skein, it can be difficult to track how much material you need to finish your project on time without running out of yarn.
Find Out What Gauge You Need To Use: Gauge refers to the number of stitches per inch on your fabric; if you want your finished product to be exactly as specified in the pattern, you'll need to know how many stitches per inch.
Crochet Zebra Amigurumi:
How To Top Stitch Stripes On A Zebra:
If you've been searching for a fun and fast sewing project, look no further than the Chubby Zebra pattern. This adorable Zebra is stuffed with fiberfill and can easily be made in less than thirty minutes! With this easy how-to guide, you'll never struggle again to topstitch stripes on a zebra. Sewing stripes can be tricky, but this chubby zebra pattern is easy to follow and sew! You will find complete step-by-step instructions that are easy to understand. This would be the perfect place to start if you are looking for a fun animal project and want to try topstitching!
See Also:
Crochet Zebra Pouch Pattern:
This crochet zebra pouch pattern is excellent for storing your credit cards and cash. It makes a beautiful gift for women and men alike; it's perfect for your favorite teacher or to make someone's birthday special. The pattern is made using black and white squares that create a zebra's stripes, so they'll never forget who gave them this beautiful pouch! This crochet zebra pouch is the best way to stow your money and wallet when you're on the go. This pouch is made with black and white strips that create a lifelike zebra print; so cute!
Crochet Zebra Coin Purse:
Are you looking for a fun and stylish coin purse to make? This Crochet Zebra Coin Purse is easy to crochet, only requiring one evening of your time. This Crochet Zebra Coin Purse pattern is a quick project that makes an excellent gift for friends, family members, and more. It features alternating stripes in black and white or other color choices that you can easily personalize to create your own zebra print! Easiest and cutest coin purse you'll ever make! With just a little yarn, hook, and time, you can save yourself the hassle of digging for change by creating this handy accessory. Featuring a zipper pocket that's perfect for keeping cash safely tucked away, it's finished off with a crocheted bow for an added accent.
Pink Crochet Zebra Baby Beanie:
Are you looking for an adorable, unique, and stylish crochet baby hat pattern? This 3-sided Pink Zebra Beanie crocheted with a pink yarn is just what you need for your baby. Just follow our detailed instructions and diagrams for making this cozy zebra hat for your little one. This is a super cute crochet zebra baby beanie pattern. It would be an excellent gift for any baby. The design is unique and fun to see on your baby's head all day. This is perfect for you if you're seeking a baby gift idea or want to surprise your loved ones!
Crochet Mimi Zebra Pattern:
Gift your child this adorable Mimi Zebra crochet pattern that they will never stop loving. This soft, cozy, and cute Zebra will quickly be a new favorite toy for your child. It only takes a few hours to make and can be used as a decoration or to play with it. The combination of yarn colors and the simple stitches in this pattern make it perfect for beginner crocheters who want to start working on more elaborate designs but do not want to create something intricate from scratch. The cute design of this Mimi Zebra will make it a hit at any age, and it's sure to be something your child wants to cuddle each night.
Crochet Zeezee Zebra Amigurumi:
This crochet zebra pattern makes a fantastic gift for animal lovers. Make the crochet amigurumi and give it a special present that will bring joy to all! Zee is a stylish baby zebra that loves to sparkle. He is made from cotton yarn and stuffed with poly-fil. The pattern is easy to follow, and all pieces use only basic crochet stitches. The entire pattern, including an optional bow tutorial, comes with full-color photos, detailed instructions, and tips. Crochet this adorable little Zebra with dazzling stripes using the magic of crochet!
Crochet Christmas Zebra:
Crochet Christmas Zebra Pattern is an excellent gift for your loved ones. You can make this free crochet pattern by using less than one skein of worsted weight yarn and the colors of your choice. Create this adorable Christmas Zebra to give as a gift or home decor! This Crochet Christmas Zebra Pattern is perfect for adding a touch of elegance to your holiday events. This adorable crochet Christmas zebra pattern is a perfect decoration for any Christmas event! It is also an excellent gift for your loved ones. You can make this free crochet pattern by using less than one skein of worsted weight yarn and the colors of your choice.
Zebra Crochet Beanie:
Crochet a crochet zebra beanie to let your kid look adorable, cute, and stylish. This wonderful pattern is one of the unique animal hat patterns in the world because it features a classic beanie shape. However, this zebra hat is also available in white color and includes a simple yet fun design that makes your kid look cute, stylish, and adorable when worn. You can use any yarn to suit your taste and style. This crochet zebra beanie pattern is one of the cutest animal hat patterns in the world. It is fun to make and looks beautiful when finished.
Free Crochet Amigurumi Zebra:
Crochet your own Zebra Cuddle Toy - with this free crochet pattern! Perfectly child-friendly, it makes a great companion for a child's playroom and makes you smile every time you look at it. This amigurumi zebra pattern takes some advanced skills to complete, so check out the step-by-step instructions and pictures below before you begin. You'll be creating an adorable little stuffed animal friend in no time! Make a fluffy, cuddly zebra using this free crochet amigurumi pattern. This easy-level crochet pattern is fun and simple to create. Make it as a gift, or keep it for yourself.
Zippy Zebra Free Pattern:
You will love this free crochet zebra pattern if you love to crochet. This is an excellent pattern for a beginner and more experienced crocheters who like to have fun with their projects. The zippy zebra pattern is a beautiful decorative crochet pattern that looks outstanding in any homeroom. The combination of black and green shades makes it an ideal decoration for your shelf or entryway and gives it a playful appearance. Using this pattern, you can easily create a fashionable and sophisticated accessory for your home. This crochet zebra is made with craft wool that gives it extra durability and makes your item last long.
Crochet Zebra Unicorn Pattern:
The unicorn amigurumi that I offer is my own pattern, but it was inspired by a beautiful design by Branca Knitting. If you know how to crochet, this adorable unicorn is easy to make and a joy to behold! Crochet yourself one, and you'll have an instant conversation starter for anyone who sees what you've done. The Zebra Unicorn has a series of blended colors that make the animal seem almost magical. But it's pretty easy to crochet, even for beginners. You can mix and match colors so that your unicorn reflects your personality. This is the perfect pattern when you see you want to fill your home with fantastic animal characters.
Crochet Amigurumi Zara The Zebra:
New to crocheting? This zebra amigurumi pattern is excellent for beginners and those looking to develop their skills. Choose to make this into a stuffed animal or use the pattern for the Zebra's body when you're ready to make your own. This beginner-level crochet pattern requires basic stitches, increasing and decreasing, making adjustable rings/magic circles, and joining pieces with slip stitches. If you've ever wanted to learn how to crochet an amigurumi, then this is the perfect pattern for you! Choose to make this adorable Zebra stuffed animal or use the pattern for the Zebra's body.
Crochet The Friendly Zebra Free Pattern:
This sweet Striped Zebra is just right for your child to play with or add a pop of color and fun to their bedroom. Make a zebra for your child to play with, or add color and fun to their bedroom by adorning their wall with these cute little striped friends. Crochet the body separately and stitch it onto the legs and tail, which are worked in the round. The stripes are created using single crochet stitches. All you need is one skein of each color of yarn!
Crochet Zebra C2c Square:
The Zebra C2C graph is a sweet addition to any home decor. The soft colors and textures are a great way to add a little something extra to your room. They look great as parts of blankets, duvets, pillow covers, or even just as standalone decorations. This crochet zebra graph is an excellent addition to any room, and it's advantageous if you're looking for other C2C animals. Make it as much as you want (and need), and with the beautiful colors and texture, it can become the highlight of your home decor. Make a blanket, duvet, or pillow with this pattern to add warmth and comfort to any space!
Small Zebra Crochet Pattern:
This simple zebra crochet pattern is an impressively beautiful and easy-to-follow crocheted piece. You can use white and black yarn to create the contrasting features of the Zebra, as well as red yarn for the hanging tassels. The neutral color choices would make this a great crochet project for a baby's room or nursery, which can be hung on the wall nearby with a few other toys. The neutral colors make it ideal for girls' bedrooms or nurseries. Perfect for crocheting toys, this pattern comes with simple instructions and hanging tassels that give it an even more beautiful look.
Zebra Amigurumi Doll Crochet Pattern:
In today's world, plenty of people still love crafts that do double duty. This is why crochet dolls can make great gifts for boys and girls of all ages. Whether you're looking for an activity to do with your kids or want a way to relax and create something beautiful, these free crochet patterns are perfect. They're quick and easy enough for beginners but also do great projects for advanced crocheters. This sweet and adorable crochet pattern can be crocheted in plush or thin yarn and is great for beginners. It's made with only single, double, and chain stitches.
Easy Crochet Baby Z The Zebra Pattern: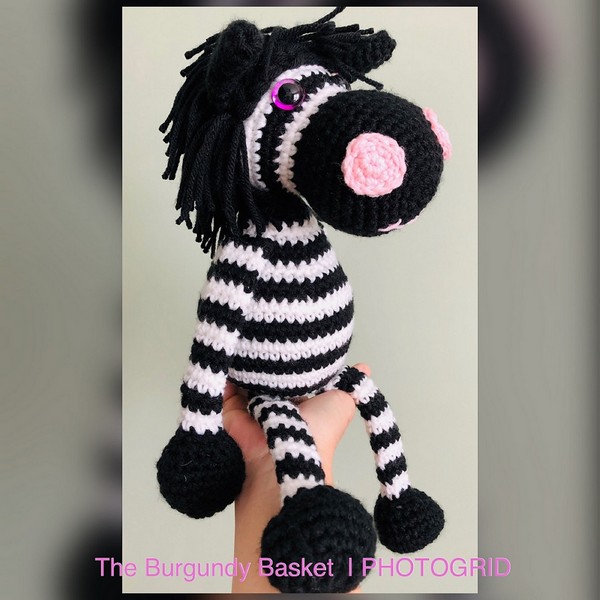 This is an easy crochet baby pattern. It works up quickly - less than 4 hours for me. It uses less than two small black and white yarn skeins, so it's a very inexpensive gift. This Zebra is the perfect size for kids, not too big but not so small that your baby might swallow it! Perfect size for snuggling or just playing with. It's very soft and floppy, making it a great snuggle buddy! This is the perfect size for a baby or small child - not too big or small. Very soft and floppy, making a great snuggle buddy!
Crochet Fantasy Zebra Hat Pattern:
Have fun making this Fantasy Zebra Hat for a special little one in your life. You can make your fantasy animal, dog, or elephant. If you have never crocheted before or have struggled but given up in frustration with tangled yarn, this is the pattern for you! This is a great crochet hat pattern for those who love fantasy animals, especially zebras! As well as being cute, the tail and ears add some interest to the hat. This would make a lovely gift for a baby or toddler.
Mosaic Zebra Beanie Pattern:
The Zebra Beanie is a striped hat with lots of cozy warmth. This pattern works quickly, making it perfect for gifting or treating yourself! The stripes are worked in Single Crochet, making it a great introduction to this versatile stitch. Stripes in vibrant zebra colors make this beanie fun to wear and are sure to get you noticed! The Zebra Beanie is worked from the bottom up, features a higher crown, and rolls that taper down towards the top. This pattern was designed to use any three colors of your choice to create your unique look!
Zebra Crochet Scarf Free Pattern:
Crochet this Zebra Pattern Scarf to add a stylish touch to your wardrobe. Bright colors and an elegant design will complement any outfit. This Zebra Crochet Scarf Free Pattern is perfect for any occasion and easy to make. It's an elegant accessory to add to your wardrobe, with a stylish zebra design guaranteed to impress anyone. The colors are black, brown, and white, with just a bit of grey thrown in for good measure. Made using Moda Vera Arcobaleno yarn, it features the most fantastic zebra design you can keep yourself warm with all year round.
Crochet Zebra Hat Pattern Free:
With this crochet zebra hat pattern, you can make a stylish hat for your little one that will have everyone laughing. Or keep it to yourself as a cute addition to your winter wardrobe. This hat works up fast and is simple enough, even for beginners. Made in any color of yarn to match your child's favorite animal, this crochet zebra hat pattern is an old-fashioned-looking cap with many personalities. It can be made in any size and embellished using supplies such as felt. This project is also perfect for beginners as well as more experienced crocheters.
Free Crochet Zebra Pattern:
This beautiful and easy-to-follow pattern is perfect for beginners. You will need a solid color yarn, some black yarn for the face, and some cotton stuffing. This crochet zebra is a simple crochet pattern that makes a beautiful and cozy pillow or toddler toy. This crochet pattern is easy to follow and is suitable for all crochet lovers. The finished product has a personality, as it will be one-of-a-kind. This Zebra is an excellent gift for anyone who loves playing with plush toys.
Zane The Zebra Free Amigurumi Pattern:
Who doesn't love to hug a stuffed animal? They're so cute and adorable. Zane the Zebra is a perfect addition to any zoo collection! This free amigurumi pattern works quickly, making it an ideal small project when you don't want to invest too much time. And don't forget the bonus of practicing your color changes without cutting the yarn. This little zebra amigurumi will add a new member to your zoo collection. The bonus of practicing my color changes without cutting the yarn makes this a fun project for adults and kids!
Crochet Zebra Newborn Blanket:
You'll envy everyone with this sweet Crochet Zebra Newborn Blanket! Its neutral color combination and adorable zebra design will fit nicely with any nursery theme. Made with soft yarn, the Crochet Zebra Newborn Blanket will keep babies warm and cozy while making them look fashionable too! This blanket is a perfect present for your baby shower or to go along with their new crib or car seat. Use it to rock them to sleep, wrap them up when they are born, and keep them warm as they start to grow. They will love the zebra pattern, and you'll love that you can whip this up in no time!
Zoe The Free Crochet Zebra:
Zoe, The Free Crochet Zebra, is a simple and quick-to-make crochet project that is also very cute. It will make an excellent addition to your child's playroom or a great gift for any occasion. It is a super cute crochet toy. This little guy is sure to be your baby's new best friend with big ears and gorgeous stripes. Zoe, the Crochet Zebra, is an excellent pattern you can use to crochet a beautiful, striped, spotted toy. She's soft, cuddly, and makes excellent all-ages toys.