Free crochet doll patterns can be so much fun and exciting. Because by doing this procedure, you could make a doll according to your own choice about its size, hair color, skin color, and even the color combination of a doll's outfits or clothing.  You can create a bundle of crochet dolls in beautiful and impressive designs and patterns that will also be really admirable by your loved ones and watchers. Moreover, you will be able to go again in your childhood and get lost in the dreaming world of fairies and miniatures.
So, if you are interested in crochet your own doll amigurumi pattern or a very personalized and gorgeous outfit for your lovely doll, then browse this list down and grab a bundle of ideas and suggestions to crochet doll patterns to hook up right now.
All the given patterns and creations are tested and approved by the crocheters, which means all of these are great and fantastic to try with your own crochet hooks. Plus, these dolls' features and models are beautiful and impressive to make you crazy for them to make for your own kids and gift or donate your dear ones and charity centers.
It does not matter how old you are; crochet these lovely dolls and live your childhood again with your very own handmade creations. And I have included a variety of links that will provide you complete guidance of stitches, patterns, and measurements, including yarn type.
They are soft and comfortable to cuddle with. And the most important thing is that free crochet doll patterns have been trendy in the world of crocheting and amigurumi. You cannot crochet them for yourself and your kids and make an excellent gift for any occasion.
You Can Also See:
I hope this will prove beneficial for you to crochet doll patterns of your own choice with your own hands. So, scroll this page down and choose your favorite one doll from this stunning list, which is mind-blowing. So, crafters, don't waste your time; grab some yarn of your favorite color, crochet hooks, and check out this list. Happy crocheting and have so much fun!
Free Crochet Walking The Dog For Dolls Pattern
Free Crochet Just Like Me Doll Shrug Pattern
Free Crochet Baking Chef Doll Pattern
Free Crochet Doll Witch Costume Pattern
Free Crochet Topsy Turvy Doll Pattern
Free Crochet Cream Lily The Christmas Elf Doll Pattern
Free Crochet Doll Cardigan Pattern
Free Crochet American Girl Doll Hawaiian Night Summer Dress Pattern
Free Crochet Hailey Doll Pattern
Free Crochet Skirt For A 12 Inch Fashion Doll Pattern
Free Crochet Small Doll Diaper Pattern
Free Crochet Harry Potter Mini Doll Set Pattern
Free Crochet Curlie Amigurumi Doll Pattern
Free Crochet Gracie Doll Ragdoll Pattern
Free Crochet Sleeping Doll Isabelle Pattern
Free Crochet Moroccan Vibes Doll House Pattern
Free Crochet Lylah Doll Rosie Pattern
Free Crochet One Piece Doll Pattern
Free Crochet Baby Doll Angel Top And Pants Pattern
Free Crochet Baby Bean Doll Human Body Base Pattern
Free Crochet Piper The Pixie Amigurumi Fairy Doll Pattern
Free Crochet Doll Simple Wrap Skirt Pattern
Free Crochet Doll Belle Pattern
Free Crochet Athena Doll Pattern
Free Crochet Snow White Amigurumi Doll Pattern:
This lovely doll will be the best friend of your own pretty little doll. If you have a little princess in your home, then you should try this cute and adorable crochet doll pattern that will be in her hands all the time and keep a smile on her face. This Crochet Snow White Amigurumi Doll Pattern can also be a fantastic gift for your dear one's daughter that really likes to play with stuffed toys. Moreover, it's easy to crochet and will not demand a long time to crochet if you are familiar with basic crochet stitches. Use Hobbii Rainbow Cotton 8/4 Solid and Hobbii Tivoli yarn in the given colors or change the color combination to give it a personalized touch.
Free Crochet Violet The Schoolgirl Doll Pattern:
You can crochet this adorable Violet The Schoolgirl Doll Pattern with super bulky yarn that will give a soft texture. She carries a cute little bag that adds a lot of beauty and stunning touch to this crochet doll pattern. You can crochet it for your kids or give it to your friend's kids.
Free Crochet Back To School Lily Doll Pattern:
If you are fond of adding details and clothing items to your dolls, then this Crochet Back To School Lily Doll Pattern will be your first choice. Use Lily Sugar's Cream yarn and give it a lovely and colorful texture. Your daughter will be very pleased when she will meet her on her big back to school day!
Free Crochet Baker Lily Doll Pattern:
Thinking about making a lovely and adorable handmade gift for your little princess's birthday? This gorgeous Crochet Baker Lily Doll Pattern will be the perfect birthday gift for your little girl, and she will feel thrilled receiving it. It will be a very personalized gift for her!
Free Crochet Amigurumi Sally Doll Pattern:
Crochet this cute little person with pants and a t-shirt that looks fabulous. Its smiling face becomes the reason to bring smiles on everyone's face, and its open arms force the people to hug him happily. You can also crochet a dress instead of pants and a t-shirt if you want to create a Sam look instead of Sally – Both will be amazing crochet stuffed toys!
Maddie Doll Crochet Pattern: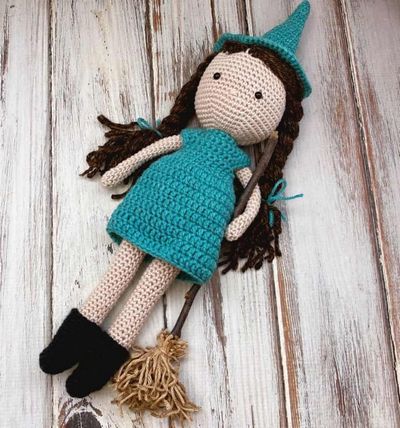 Do you want to make a Halloween craft to gift someone near to your heart? This lovely witch dressed Maddie Doll will be suitable for you in this regard. She has a lovely hat and beautiful frock made from DK yarn and Mandala yarns that will really enhance the look of your doll amigurumi. The doll has been made with Coboo Yarn from Lion Brand that is really suitable for crocheting doll amigurumi patterns. You can gift your beloved ones or embellish your own home by displaying it on your mental shelf or the side table this Halloween.
Almanzo The Farmer Boy Crochet Pattern: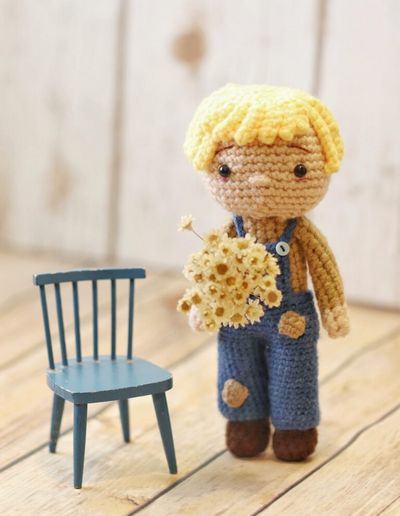 Brin a fall theme into your home with your crochet hooks' help – create this lovely and adorable Almanzo The Farmer Boy Crochet Pattern that has beautiful features and details. He is wearing pants and a shirt underneath that is giving him a gentleman's look. And the bunch of flowers in his hands representing the fall theme that will be in your home now!
Melly Teddy Ragdoll Crochet Pattern:
This Melly Teddy Ragdoll Crochet Pattern has a light head, beautiful clothing, an amazing witch hat, and some other cute details that make it fun and interesting to crochet. The stitch texture can be lightly easy to a little bit complicated – but not to worry, the finishing results will surely satisfy you with its beautiful features and stunning look.
Green Gables Crochet Doll Free Pattern:
Do you love Sweet Softies' Baby Bean Doll? If yes, you will surely love to make this Green Gables Crochet Doll Free Pattern that resembles that amigurumi pattern. It's wonderful and perfect for giving purposes. She is wearing her pretty hat, green dress, white apron, and recognizable red hair in braids, and all of these details give it a unique but awe-inspiring look to gain everyone's attention!
Aurora The Princess Crochet Doll Free Pattern:
Do you love to have this cute and pretty Aurora the Princess Doll in your home? Just follow the instructions from the link and get started to make tin with your own hands to meet her at your own home. Its pretty dress and golden hair add a lot of sophistication and interest to its look and make it more fascinating.
Feel Better Friends Doll With Wig: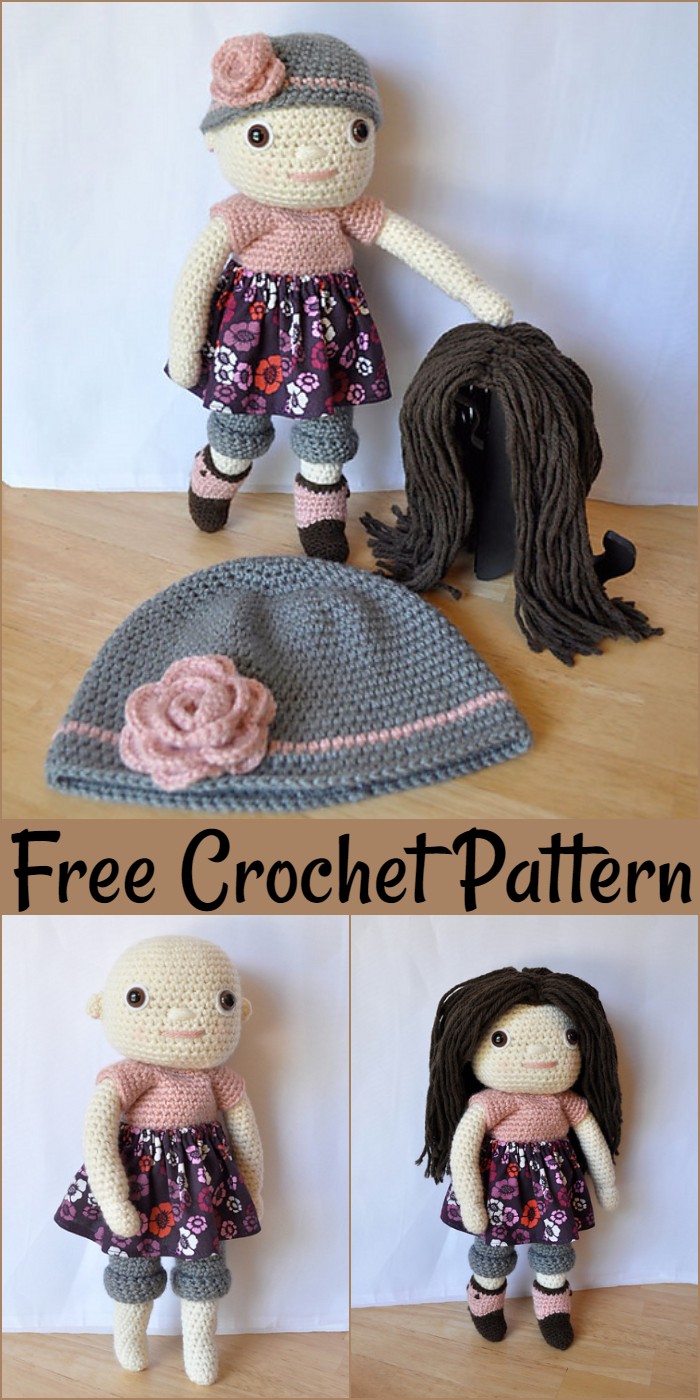 Learn how to crochet a beautiful and gorgeous FBF ( Feel Better Friends) incredibly awesome crochet pattern. It is especially dedicated to the people who are suffering from any illness, especially cancer. Because it is the disease with the patient losing her/him hair, you can crochet it for ill or want a doll for comfort and love. But there is another opportunity to make it without a hair wig wearing a hat that really enhances its beauty and cuteness! Please give it to your kids or friends to cuddle all the time!
Doll In Bear Hoodie:
What a lovely and cute doll is this? You can crochet this Doll In Bear Hoodie in any color contrast that suits your mood or of whom you are going to gift it, according to their taste. Its smily face and colorful long braids in from of its face make it more charming and good-looking. You can crochet more than one to make best friends for one another. worsted weight yarn in different colors is suitable for this pattern
Lily Sugar N Cream Pilgrim Billy Doll:
Meet this cute couple named Pilgrim Billy doll that will remind you of the Thanksgiving day celebration. It is made up of Lily Sugar's Cream yarn in traditional black and white colors. They are worn removable shirts, belts, and hats, which add more interest and fun to this pattern. It will also be a great fun project for your kids to play and see you while crocheting their outfits or different outfit staples!
Lily Sugar N Cream Back To School Lily Doll:
Say welcome back to your schools by holding this cute Lily Sugar N Cream Back To School Lily Doll in your kids' hands. You can impress your daughter to get her ready for that big day of school. It will be a fun project for you and your little princess as she will receive a best friend for her that will be with her any time she will want. This cute little doll is wearing a gorgeous bright outfit with a matching hoodie, sneakers, and backpack that make it more stunning and adorable.
Winter Princess Lily Doll:
Let your little princess go on an adventurous journey of snow falling with her friend Winter Princess Lily Doll. She will travel your daughter to an imaginary world of fairies and princesses. It will e a great gift for your daughter to change the weather and say welcome to interest in a happy mood. You can add details to this princess by crocheting a sleeveless evening gown, winter princess crown, opera gloves, snowflake applique, and flattered cape! So, let your princess play with it without fearing to harm her just as plastic toys do.
Free Molly Doll Crochet Pattern:
This lovely and cute Molly Doll Crochet Pattern will be an amazing and beautiful gift for your own daughter or your friend's girl. Its stunning cardigan, backpack, and other details make it extra-ordinary pretty, and elegant. It's soft and so snuggly, so your daughter will feel pleasure and have a smile on her face all the time while playing with it.
Zoey – Free Crochet Doll Pattern:
If you are looking for a quick crochet doll amigurumi pattern, you will not find any better idea. This Zoey, the free crochet doll pattern, is quick to make amigurumi simple but looks pretty after it's all done. The pom-poms on her head instead of hair, add fun but you can make a pigtail method or any other hairstyle you want to put on her head. But the bold color with the grey dress is going perfect and making a great combo for this little doll!
Tonton Doll English Pattern:
Say welcome to this pretty Tonton Doll in your home and let her live with you as your best family member or as your best friend. Its blushy cheeks add more cuteness to its look, and its bold sneakers and matching scarf look really adorable on her. Yello braids and brown brim hat give it a unique but really modern look that will make your daughter keep smiling.
Doll Free Crochet Pattern:
Blondine is a cute doll that never teases anyone. She is 10 inches tall, made of Caron Simply Soft yarn, and can be crocheted by intermediate crocheters. But it's easy and quick to do a project that will be fun for you because you will be going to crochet it for your lovely daughter with a lot of love and care for her!
Amigurumi Doll Free Crochet Pattern:
This gorgeous doll, amigurumi, is wearing a dress with a flowered headband that is a lot of beauty to its look. Red, pink, yellow- there are many crochet flowers that she is holding on her head. Make this lovely doll for your own girl on her birthday, Christmas, or on Ester, or gift it to your beloved ones' daughter as a great handmade gift on the same occasions or festivals that will express your love and deep feelings for her!
Amigurumi Mina Doll Free Crochet Pattern:
Make this cute little doll wearing see a green dress and golden hair. She is timid and feels very shy while meeting her beloved ones. You can crochet it for your own shy girl and feel free to meet her and be a friend of her. Get complete instructions and details about this pattern by visiting the following link!
Free Crochet Pattern 14.5″ Doll Cheerleader Outfit:
Fil the wardrobe of your doll and make something really attractive and elegant for your doll. This Cheerleader Outfit will make your doll look prettier and more gorgeous. Especially the gold and royal combination of one-shoulder royal blue with gold trim around the neckline and on the bottom of the cheer top really enhance the charm of your lovely doll. Matching hair tie also adds a lot to the beauty of your doll. You can make more than one outfit for your doll by following this pattern or personalizing with different color contrasts or stitch textures!
Free Crochet Doll Pattern The Friendly Grace:
We have brought another cute and lovely doll pattern for your inspiration. You can crochet dress attached or separate to add more fun and interest to this doll pattern. It's really cuddly and can be given as a fantastic soft gift that will really impress the recipients of this doll. Having gold hair, a light blue dress, and matching sneakers, she meets everyone with a happy face to bring a smile to everyone's face!
My Heart Valentine's Cupid Angel Doll:
Noone would deny receiving this amazing and fabulous My Heart Valentine's Cupid Angel Doll holding a heart in her hands. However, it's small in size but has a lot of beauty and cuteness in its structure and outlook. Use cotton yarn Anne in peach, white and golden colors or as you want. Its creamy curly hair makes it more lovely and different from other crochet doll patterns.