Crochet is an excellent hobby, whether you're new to it or have been doing it for years. It's versatile, fun, and customizable—you can crochet toys, clothes, household items, and accessories. It's not just for the crafter who wants a handmade item; crocheted items are also perfect for kids' toys and decorations. In fact, a lot of people out there enjoy crocheting dolls because of how cute they can be in the hands of a child. In this Free Crochet Doll Patterns, your children will learn about texture and color, counting, and even how to sew buttons!
Crocheting is an excellent hobby that anyone can do. It's relaxing and rewarding and gives you the satisfaction of a handmade piece. Here are 24 free crochet doll patterns we've gathered for you. Most of them are easy for beginners to make and use as projects when learning the ropes of crochet. You'll find that the techniques used in these projects are the same ones you'll use later to create more complex designs in other garments, accessories, or home goods.
If you want to learn how to make Free Crochet Doll Patterns, here are 24 patterns from all categories to help you get started.
Supplies Needed For Crochet Doll Patterns
You will need the right supplies if you want to learn how to crochet dolls. The supplies you need depend on the type of crochet doll pattern you want to make.
When shopping for supplies, it is essential that you read reviews and product descriptions so that you can find the best quality products for your money.
Here is a list of supplies for crochet doll patterns:
Crochet hooks: These are used to create stitches when crocheting. They come in many sizes and shapes, but most people use metal or plastic hooks. You should buy a few different sizes because these can help when making different types of patterns.
Hairbrush: This is used to brush out knots from yarn before using it with a crochet hook or needle. It also helps keep tangles away while working on your project.
Yarn needles: These come in different sizes too, but they are used primarily for sewing together parts of the pattern that have been crocheted together, such as arms, legs, etc. Yarn needles are also helpful for sewing buttons or other decorations onto your doll.
Crochet Snow White Amigurumi Doll Pattern:
Crochet Snow White Amigurumi Doll Pattern is a super fast crochet pattern, and only a few hours or days, depending on your experience, can be completed. You can also make this cute doll a gift for your friends. If you have never made an amigurumi before, don't worry; this pattern has well-written explanations of every step so that everyone can follow effortlessly. The finished doll would make a lovely addition to any little girl's collection of dolls and toys. If you've been looking for a new pattern to try, this one might be just the right one for you!
Related:
Free Crochet Violet The Schoolgirl Doll Pattern:
The Violet, the schoolgirl doll pattern, will have your kids swooning over their new best friend. She is a super soft doll who comes with a little bag that adds beauty and stunning touch to this crochet doll pattern. You can crochet it for your kids or give it to your friend's kids. This is a straightforward crochet doll pattern, so it's great for beginners and kids of all ages! This crochet doll pattern is sure to give you a happy time. It is easy to make with super bulky yarn, and the result is stunning.
Free Crochet Back To School Lily Doll Pattern:
The Lily doll pattern is fun and easy to make and would be a lovely gift for your little girl. The doll's dress comes in yellow and green colors so she can go to school in both combinations. She also has matching shoes and socks! This crochet doll pattern is a fabulous guide that will help you to create this lovely doll that will help your little girl all year round! Pair it with our hair bow and a pencil case (both available), and make her feel special on the back-to-school day.
Free Crochet Baker Lily Doll Pattern:
Make your little girl happy with a stunning gift that matches her interests. With this crochet baker lily doll pattern, you will make a handmade doll for your sweet daughter, niece, or friend, and it will be the perfect birthday gift. The pattern is easy enough to follow, and you can personalize it by adding more details and making changes as you wish. The doll comes with beautiful flowers in her hair, and she wears a white chef's hat and an apron wrapped around her body. With this pattern, you will make an adorable miniature version of a baker and give your little girl a gift she will never forget!
Free Crochet Amigurumi Sally Doll Pattern:
If you love Amigurumi, then this pattern is a must-have. It's a classic design and is easy to make, which makes it extra cute! If you are crocheting for children, this can be dressed as a teddy bear or amigurumi doll with pants, a shirt, and shoes. This crochet pattern is designed for beginner to intermediate crocheters. Detailed step-by-step instructions will help you complete your Amigurumi doll. Make Sally or Sam depending on your choice, but don't forget to use the right yarn colors so you can make them look adorable.
Maddie Doll Crochet Pattern: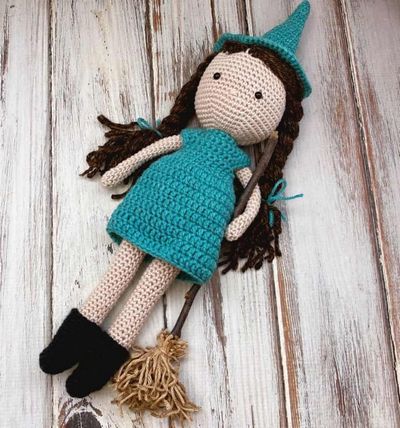 Do you have a child who is obsessed with Disney? If so, then this pattern is exactly what you need! In the form of a Maddie doll, this toy can be made as scary or sweet as you want it to be. You can make this lovely crafted witch doll and gift it to your friends and family. They will love this particular craft made with love by you. Make this witch doll to gift to your friends and family this Halloween. You can also display it in your home along with the side table or mantel.
Almanzo The Farmer Boy Crochet Pattern: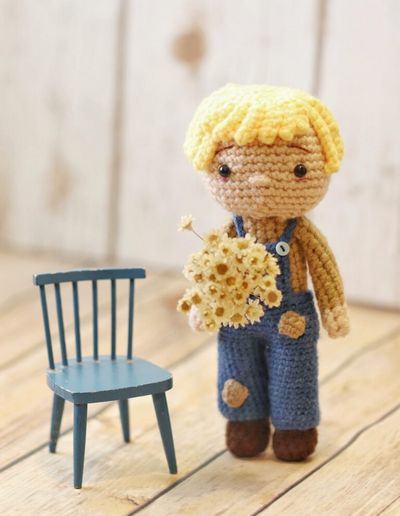 A free crochet pattern for crocheters of all skill levels. The perfect gift for yourself or the kids. Almanzo, The Farmer Boy Crochet Pattern, is an excellent project for the beginner crocheter looking to do a quick project. The pattern includes instructions for making the boy and the truck he drives around in. You can give Almanzo as a gift or use him as a display piece! Make your own Amadlozi, the farmer boy, with this crochet pattern. This can be used to make a wall hanging, table runner, or afghan. You can use acrylic or cotton yarn for your project.
Melly Teddy Ragdoll Crochet Pattern:
Don't miss the chance to own this Melly Teddy Ragdoll Crochet Pattern! This colorful teddy bear with a beautiful witch hat has a unique style. The stitch texture is similar to that of a ragdoll, making it an exciting project for crocheters everywhere. The Melly Teddy Ragdoll is a unique pattern that is fun and interesting to crochet. The stitch texture can be light to complicated, but the finishing results will surely satisfy you with its beautiful features and stunning look.
Green Gables Crochet Doll Free Pattern:
If you love Sweet Softies' Baby Bean Doll, you'll fall in love with this gorgeous and unique green gables crochet doll-free pattern. This charming doll will look great on your shelf, as a gift for a special baby girl, or in decorating your home. She wears her pretty hat, green dress, and white apron and features red hair in braids. Make this beautiful crochet doll to adorn your home decor! It's authentic and fascinating, just like the Baby Bean Doll from Sweet Softies!
Aurora The Princess Crochet Doll Free Pattern:
A beautiful, modern take on the timeless classic. This crochet pattern will guide you through creating your own little princess! The result is a fun interactive toy that will delight kids (and parents) of all ages. This Aurora doll is handmade so that it will have your own signature due to the craftsmanship of your hand. This beauty is made from cotton yarn and thread in a beautiful crochet technique with an embroidered face and golden hair to give it an airy look.
Feel Better Friends Doll With Wig: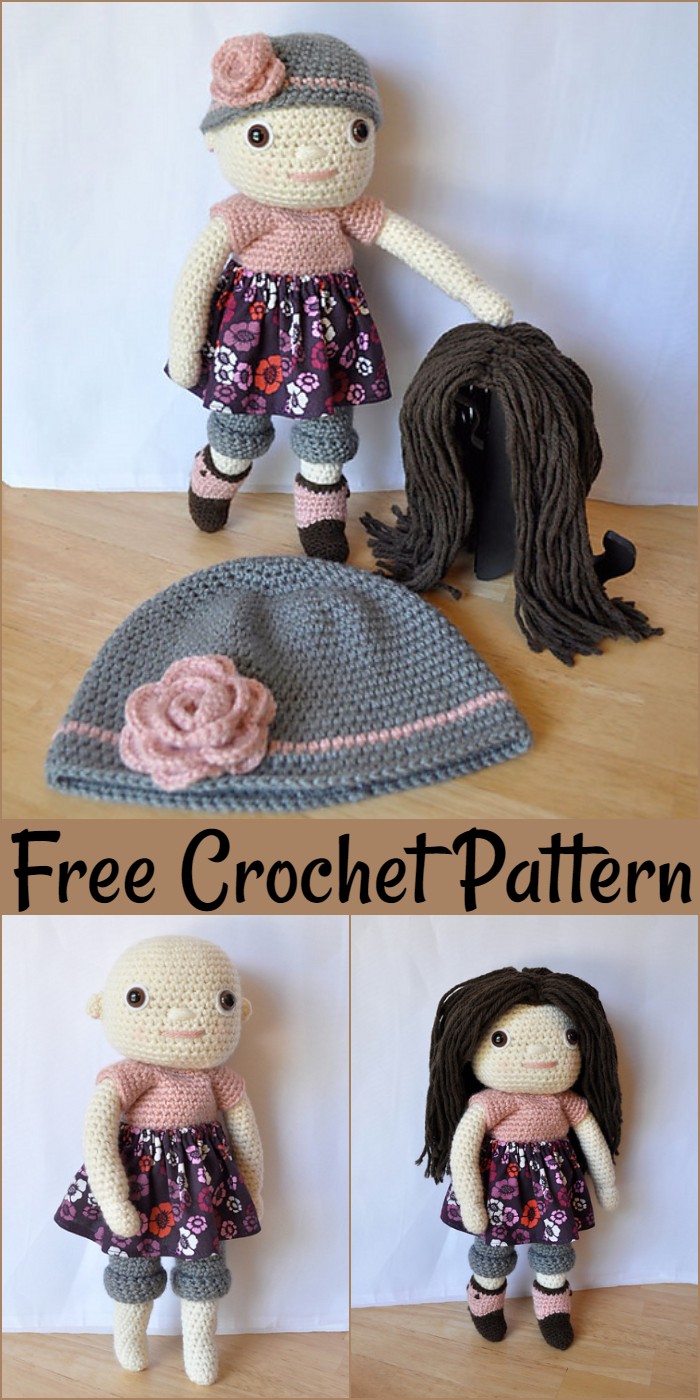 There are several ways to crochet this doll. You can wear a wig and hat or leave it without them. Either way is excellent! The doll makes a perfect comfort item for someone who is ill and losing hair or anyone who wants a cuddly friend to hug and hold. This needle felt pattern comes complete with instructions and a materials list so you can make this beautiful doll yourself in the afternoon. It will be an excellent gift for someone who is sick, especially the one who has been diagnosed with cancer. The hair wig can be replaced with a hat that looks just as cute and pretty!
Doll In Bear Hoodie:
A beautiful, charming and cute doll is this. You can crochet in any color contrast that suits your mood or to whom you will gift it. This doll has a smiley face with colorful long braids on its front, which makes it more charming and good-looking. This doll is very easy to create and requires only minimal sewing. You can crochet this in any color contrast that suits your mood or to whom you will gift it, according to their taste. Its smily face and colorful long braids in from of its face make it more charming and good-looking. Enjoy crocheting this doll to make best friends with each other.
Lily Sugar N Cream Pilgrim Billy Doll:
Introducing Pilgrim Billy doll! This doll has many outfits that you can crochet. One of them is the traditional Pilgrim costume, which consists of a black shirt and a white hat, with denim pants for this cute couple. It will add more fun to your Thanksgiving celebration. It will be a great fun project for your kids to play with and see you while crocheting their outfits or different outfit staples! This Pilgrim Billy doll is an adorable addition to your holiday table. The little couple has removable shirts and hats, making it easy for you to play with the look and style of this piece. Pick up your hook and get started on this cute project today!
Lily Sugar N Cream Back To School Lily Doll:
Back to school is a particular time of year and not just for kids! Bring new life to your wardrobe by updating your favorite tops, trousers, and dresses with the handkerchief hem. The subtle details make this sexy style stand out from all the rest. The delicate fabric creates a beautiful drape that falls softly around your curves. Your little one will never be bored when she has this sweet dolly to keep her company. It's so cute and will make you want to hug it! This lovely doll comes in a brightly colored outfit, complete with matching shoes and a backpack. It'll be the perfect gift for any child who needs a friend.
Winter Princess Lily Doll:
Princess Lily will be your daughter's new friend! Lily is a cute, cuddly doll that stars in the book Winter Princess and the Real Snow White, released in October of this year. Princess Lily wears her crown and carries her wand with pride, perfect for playing pretend and creating magical adventures. Her pink dress is decorated with white fur trim and lace. She comes with a beautiful gown, cape, and other accessories to help her become the most glamorous fairy princess of all! This lovely doll is an excellent gift for aspiring little ballerinas and young dreamers.
Molly Doll Crochet Pattern:
The Free Molly Doll Crochet Pattern is a sweet doll for a little girl. She has soft crochet hair and a darling backpack. The pattern includes instructions for making the adorable parka, gloves, and cap beanie hat. Molly doll is a beautiful and cute doll that is perfect for your daughter or your friend's little girl. Its blue cardigan, little backpack and other details make it extra-ordinary beautiful. It's soft and snuggly, and your daughter will feel pleasure while playing with it.
Zoey - Doll Pattern:
If you are looking for a quick crochet doll amigurumi, this is it! This Zoey doll is unique and straightforward to make. She uses a crochet cream color with a grey dress, but it will look great in any color. Her pom-poms for hair add to her charm, but if you are feeling adventurous, you can always do pigtails or something else! This cute amigurumi doll is quick to make for any age. You will love this pattern that makes an excellent gift for all occasions. This pattern is perfect for beginners who want to create something special and unique!
Tonton Doll English Pattern:
Say welcome to this pretty Tonton Doll in your home and live with you as your best family member or best friend. Its blushy cheeks add more cuteness to its look, and its bold sneakers, matching scarf, and yellow braids make it look adorable on her. Tonton Doll is a very soft doll that will make your child feel comfortable, and its high-quality fabric allows for long-term use. Its wide eyes, blushy cheeks, and perfect size will give your child lots of joy and happiness.
Doll Pattern:
Don't be shy! Crochet your doll. This cute blondie can be crocheted in one evening and is a fun, simple project for beginners. No need to tell you that making your own doll is the best thing to happen to you. It will be a great surprise for your little girl, and I'm sure she will love it! This lovely pattern is written in an obvious way, with many pictures. Every single step has its own picture, so there is never anything unclear or misunderstanding in this pattern.
Amigurumi Doll :
Your little girl is going to love this lovely doll! Made from 100% acrylic yarn, this gorgeous crochet doll will be the perfect gift for your child. You can dress it up however you like, and the possibilities are endless. It's the perfect decoration for your mini-me's playroom or bedroom. The headband is removable so that you can switch out accessories, too!
Amigurumi Mina Doll:
Amigurumi doll is perfect for children who like to play with dolls. She has a pretty face with beautiful green eyes and golden hair that she keeps tied up in a bun. Her dress is made of light green fabric, and she loves her pastel blue sandals so much. She also loves keeping a white rabbit in her arms when she feels lonely and afraid. This lovely and shy doll is waiting for your fingers to make her come alive. She will be alone at home as you are busy making her a friend. Try to make her feel comfortable by sitting with her and becoming a good friend to introduce yourself.
14.5″ Doll Cheerleader Outfit:
If you are a lover of dolls, then you must have many collections of dolls in your house. One thing that makes them look different is the outfits that you put on them. You can get many such outfits for your doll from the market, but it will cost you a pretty much money and also take a lot of time to get those outfits. So if you want to save yourself from these hassles and make your doll look beautiful at a much lesser cost, then this free pattern is for you. This crochet outfit is easy to make and requires no resources other than yarn and stitching tools.
Crochet Doll Pattern The Friendly Grace:
This doll has been designed so that you can crochet the head, body, and legs, leaving only the arms and hands to be sewn on in a later step. Add many accessories like hats, glasses, and mittens for extra fun! You are going to love this adorable doll pattern! Whether you make her with the dress or not, she is the perfect size for snuggling. The pattern is free and easy to follow, so add it to your crochet list now if you need an instant boost of cuteness in your life. It will be a fantastic gift for little girls or to give as a party favor!
My Heart Valentine's Cupid Angel Doll:
This crochet doll will make your Valentine's Day more special, and you can send it to your loved ones as a gift. This My Heart Valentine's Cupid Angel Doll holding a heart in her hands is the perfect thing for an alternative gift. This cute little Cupid angel doll is always there to lend you a helping hand. Her beautiful body and sweet face will make you fall in love with her. She's got light blonde hair, and you can choose what color clothes she wears. One thing is for sure; she's an excellent gift for Valentine's Day!