Crochet bears are great fun and make wonderful gifts. These free crochet bear patterns will delight children of all ages, plus they're quite easy to make! Crochet bears can be personalized with many embellishments so that you can make one, each with different colors, hats, and clothing. Here are 46 Free Crochet Bear Patterns you can use to create your stuffed animals. You can personalize them with a variety of colors and embellishments. These patterns were selected from those on the Craftsy website. This list includes ideas for creating many different types of bears, including classic teddy bears, more realistic brown bears, and pandas, as well as other styles, such as seal cubs and an adorable polar bear family.
With the holidays fast approaching, you might be looking for a new way to show your love and appreciation this year. Instead of buying another mug that says "World's Greatest Grandchild," why not make something with your own two hands? Plenty of free patterns on the internet allow you to make all sorts of adorable bears—from a little baby cub to a full-size teddy bear. Whether you're looking for something to make a loved one smile or would like to donate a handmade gift to charity, here are some free bear patterns for you. These projects are fun and easy, so grab your hooks and get started!
This crochet bear pattern pack has 47 different templates to create your very own warm teddy bear, and it's great for both beginners and veteran crocheters!
Supplies Needed For Crochet Bear Patterns
Crochet is a great way to make inexpensive toys, and bears are a popular choice. If you'd like to make your crochet bear pattern, here are some supplies you'll need.
Crochet Hooks
The size of the hook you use will depend on the yarn or thread you're using. The larger the hook, the fewer stitches it takes to make an inch of fabric. For instance, if you want to make a 15-inch bear, choose a hook at least ½ inch in diameter that can accommodate your yarn or thread.
Yarn or Thread
You can use almost any type of yarn for crochet bear patterns—from wool to cotton—but it's best to choose one that will stand up well to abuse by children and pets. Some people also prefer natural fibers because they're more environmentally friendly than synthetic ones.
Scissors
You'll need these for cutting your yarn when it's time to change colors or finish off a seam. You may also want them around if you have small children who like playing with your yarn and turning their toys into unruly messes!
Amigurumi Polar Bear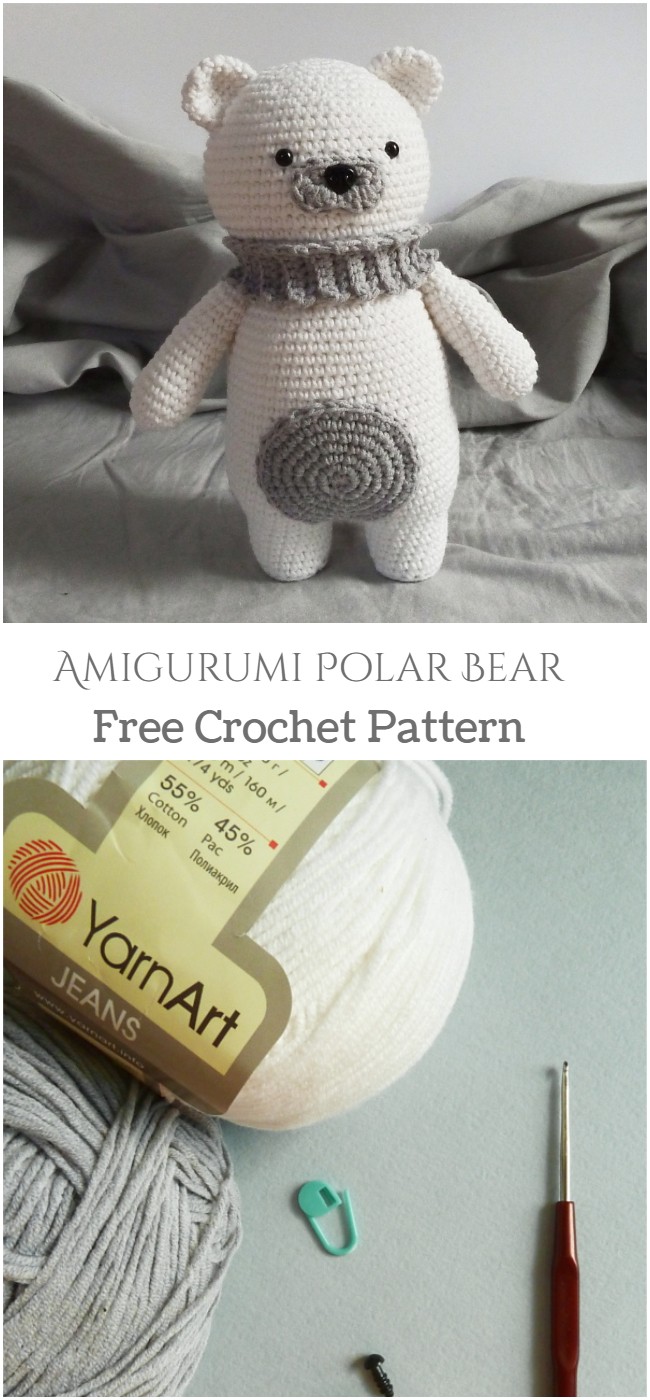 Are you in need of a little bear love? Check out this free crochet bear pattern! You'll find adorable bears that are perfect for every occasion. These little crochet teddies make great gifts any time of the year; look at all the different options! Discover how to make a cute bear. A good crochet pattern can make a huge difference in your ability to create great-looking objects for you and others. You can create your adorable animal friends with these free bear crochet patterns.
Valentine Teddy Bear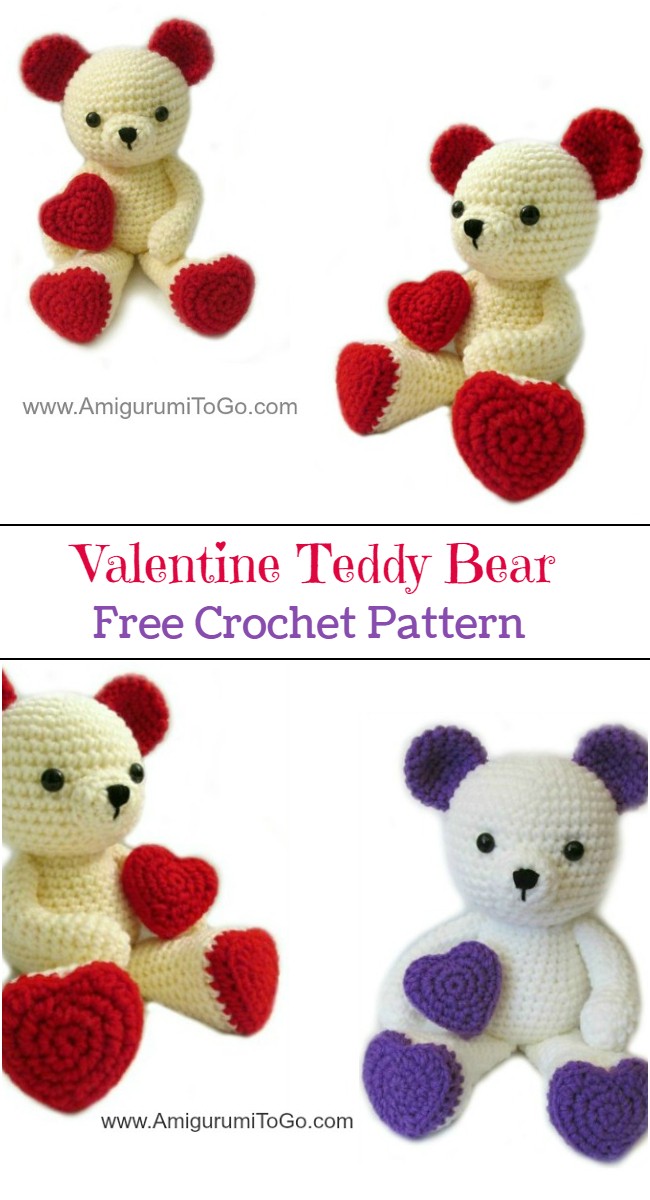 Crochet bear patterns are a great way to make a gift for a friend or as a centerpiece at your next wedding. With some soft yarn, bamboo hooks, and free crochet bear patterns, you can create cute stuffed animals to give as gifts or decorate for any occasion. This crochet bear pattern is just what you need. These Valentine bears are sure to melt even the coldest heart, a perfect combination of cuteness and cuddliness. With a floral design, this lovely crochet bear is quick and easy to make; you can personalize your bear with different colors.
Baby Bear Hoodie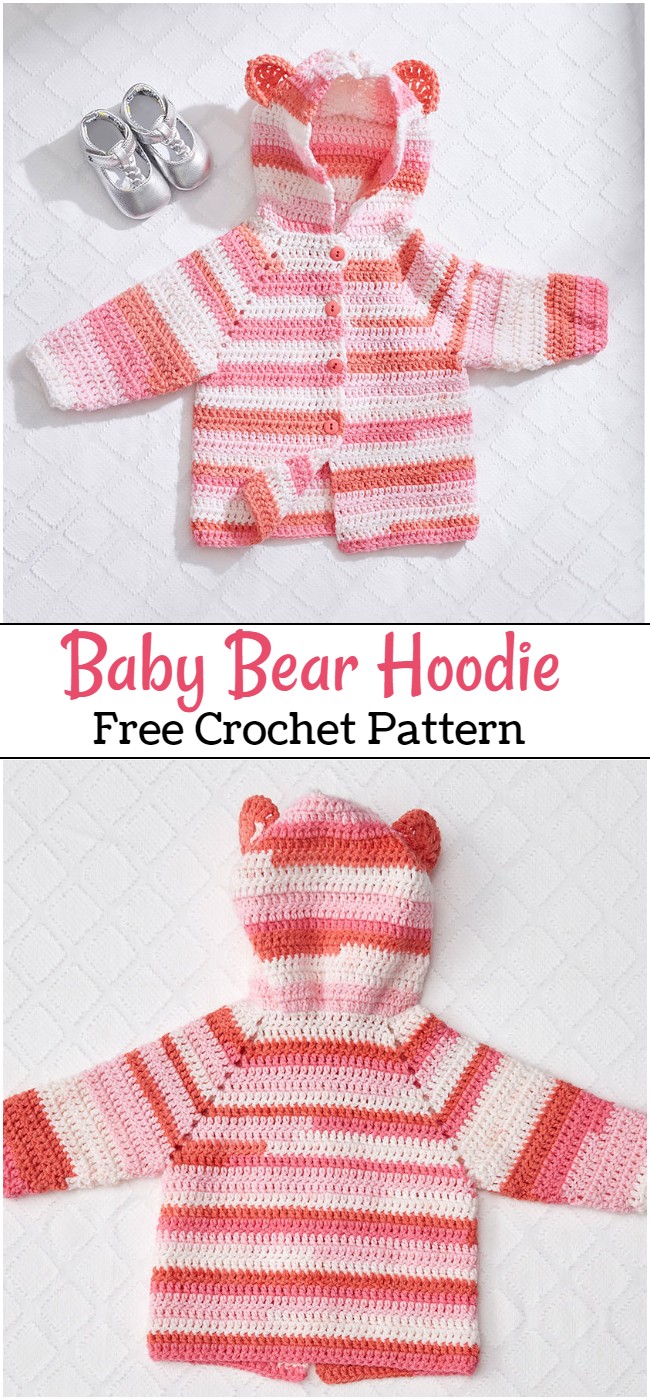 This hoodie pattern is ideal for all seasons. This bear hoodie is easy to crochet and designed to be worn indoors or out. Made with soft yarn, flannel, or faux fur, your baby will be warm and cozy throughout the colder months. This pattern gives you plenty of room to make a bear in any size you need. Make adorable little bear hoodies for your little ones! This crochet design is perfect for beginners or advanced crocheters looking for another project to work on. No matter their skill level, they will love this cute, cuddly bear hoodie.
Bear In A Jif
Here is a super fun crochet bear pattern, Bear in A Jif. This straightforward pattern provided by Lion Brand Yarn is easy to follow and includes many pictures for visual help. Thanks to the hassle-free instructions, you can make this adorable crochet Brownie Bear in a Jif without stress. This adorable little bear is just as cute as the Jif peanut butter packaging. The pattern can also create a bear in any other shape, such as an apple or jelly. You can get it for free with the link below.
Basic Teddy Bear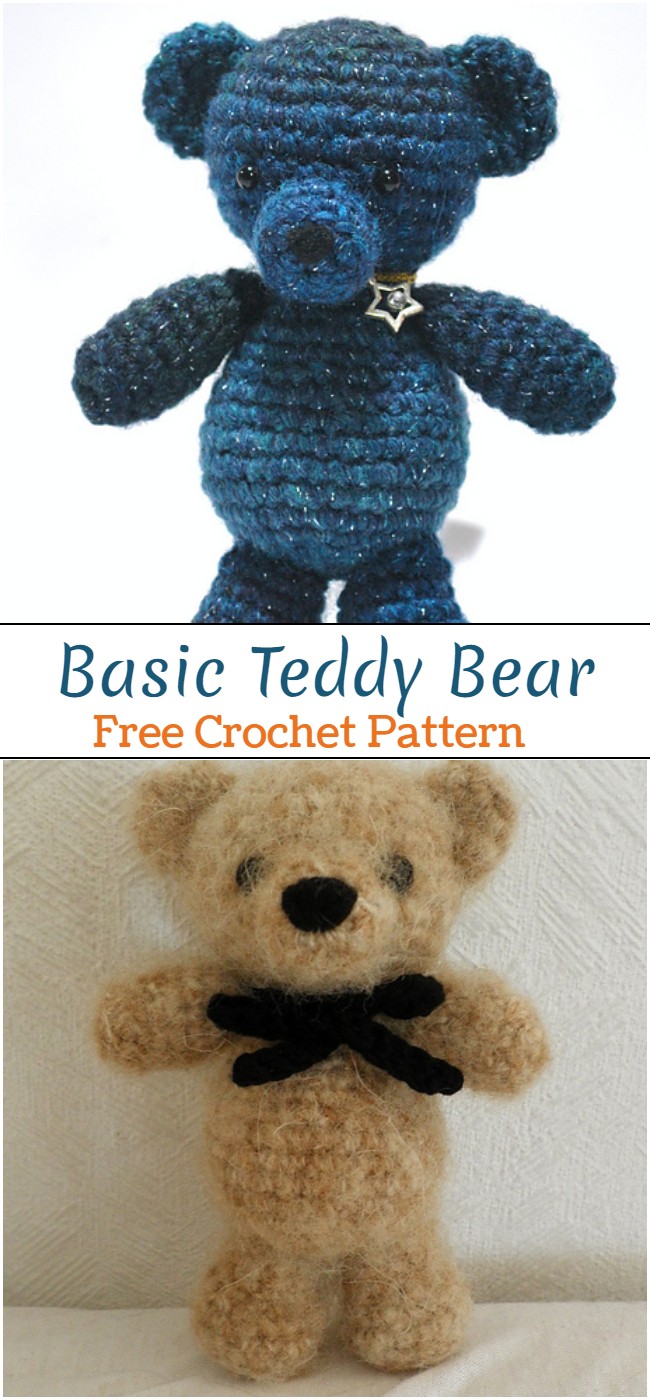 Basic Teddy Bear is a small, quick, and easy crochet bear that can make in an afternoon. This pattern uses simple granny square shapes and is perfect for beginners. Once you've mastered it, you can create your designs and make your bear unique! Learn how to crochet your adorable teddy bear with this free bear pattern. This design will walk you through every step of how to make a bear, from start to finish.
Bear Amigurumi
Crochet Bear Patterns are just right to make a warm cuddle buddy. These adorable crochet bears look great as teddy bears or as stuffed animals for any occasion. There are also adorable tiny bears that you can use as decorations in your home. Giving a handmade bear is much more meaningful than a store-bought gift! Perfect for beginners, these patterns are easy enough for all skill levels. Each pattern has a full guide, from the materials list to how to start a round, so you can learn everything you need to know about this craft without needing extra help.
Teddy Bear Blanket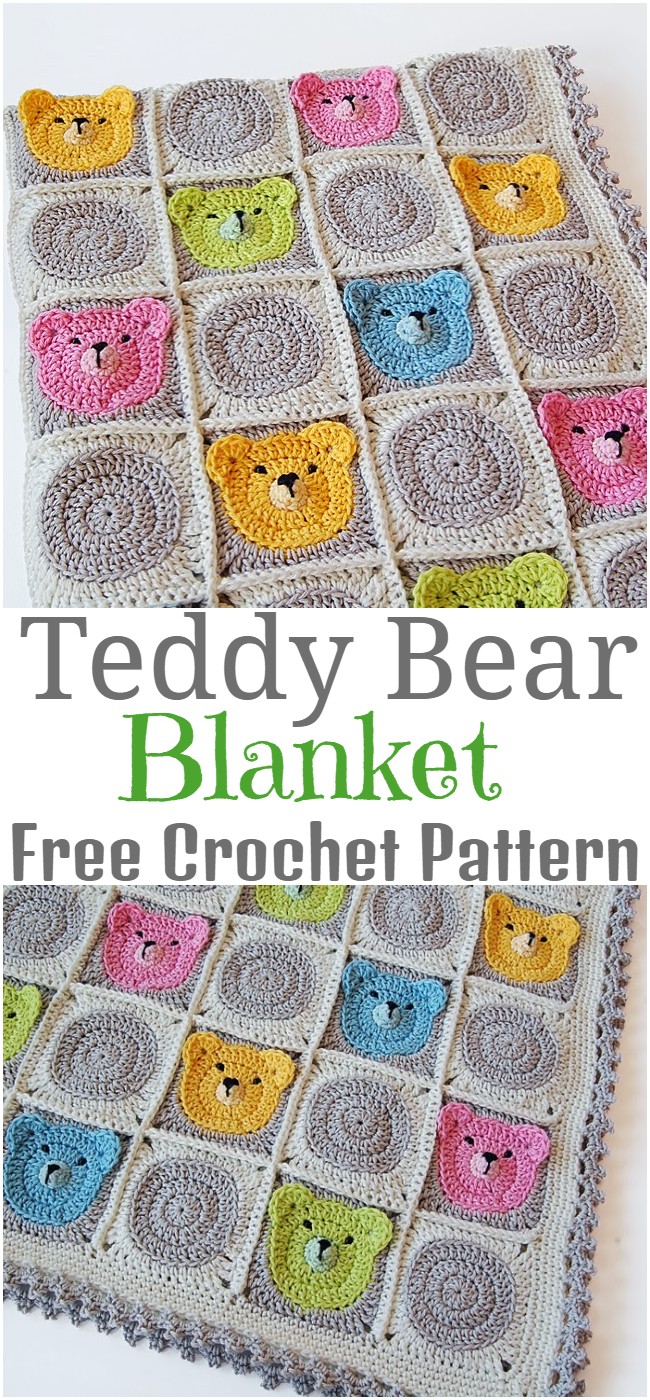 Free crochet bear patterns are perfect for an easy baby blanket or to complete a nursery theme. These teddy bears can be made as small or large as you need and look great in any style and color. Make several in various sizes, so you have various options when filling a basket or creating a bunch of them to use as accents on your bed or window seat. Get a free crochet pattern for a Teddy Bear blankie. Follow the instructions and pictures to learn how to make a special blanket for giving as a gift or even for your friend or loved one. This bear is so adorable!
Teddy Bear Folding Blanket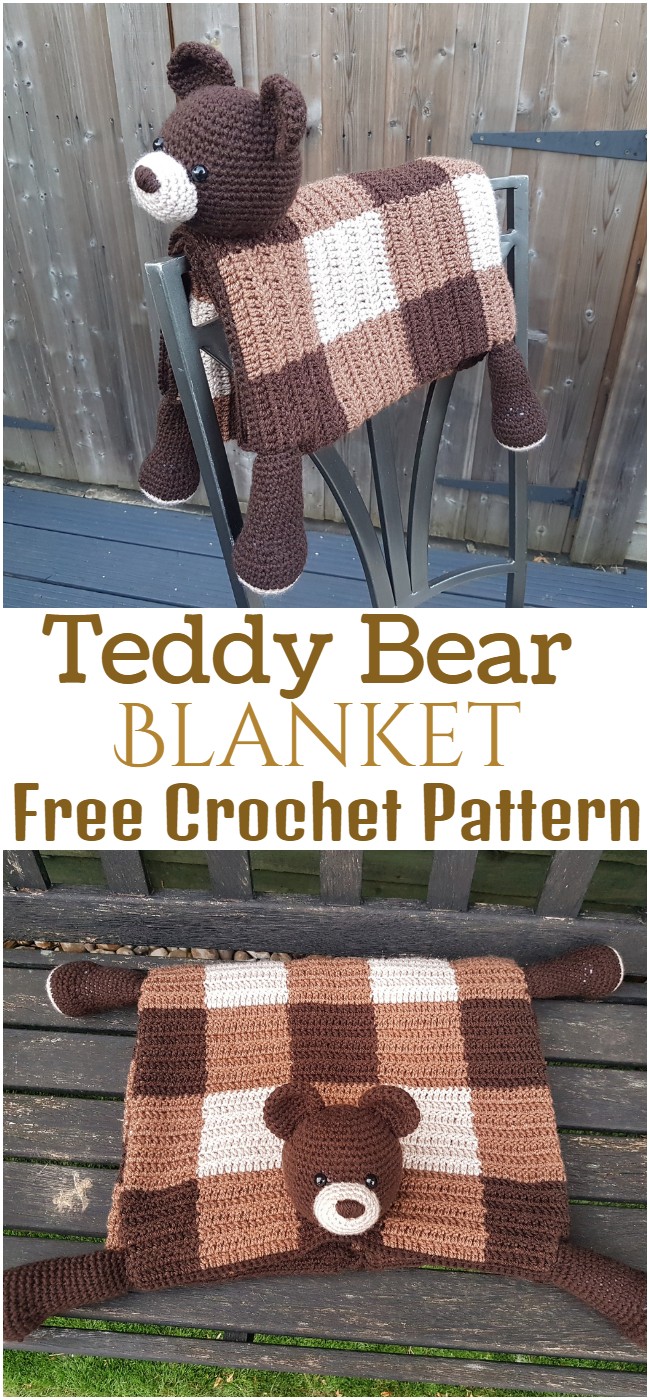 Today you will learn to make a teddy bear folding blanket. This great pattern works up quickly and results in an adorable bear blanket. The stitch pattern used to create this blanket is unique but simple enough for most beginners. Roll up the blanket and tuck it away in your tote bag or suitcase, making it easy to accessorize an outfit quickly. This easy crochet teddy bear blanket pattern has many details and possibilities, with the design folding in half so it can be worn as a bag.
Colorful Teddy Bear Blanket
These free crochet bear patterns are a great way to break from making blankets and bags. The crochet animals look fabulous when displayed alone in your home, but they also make excellent gifts for kids. Since children of all ages love bears, you can use these to make something special for that special child in your life! It has an exceptional talent for creating patterns and unusual crochet objects. You can choose from the free bear crochet patterns below to learn something new and make an adorable toy for your children.
Teddy Bear With Christmas Gift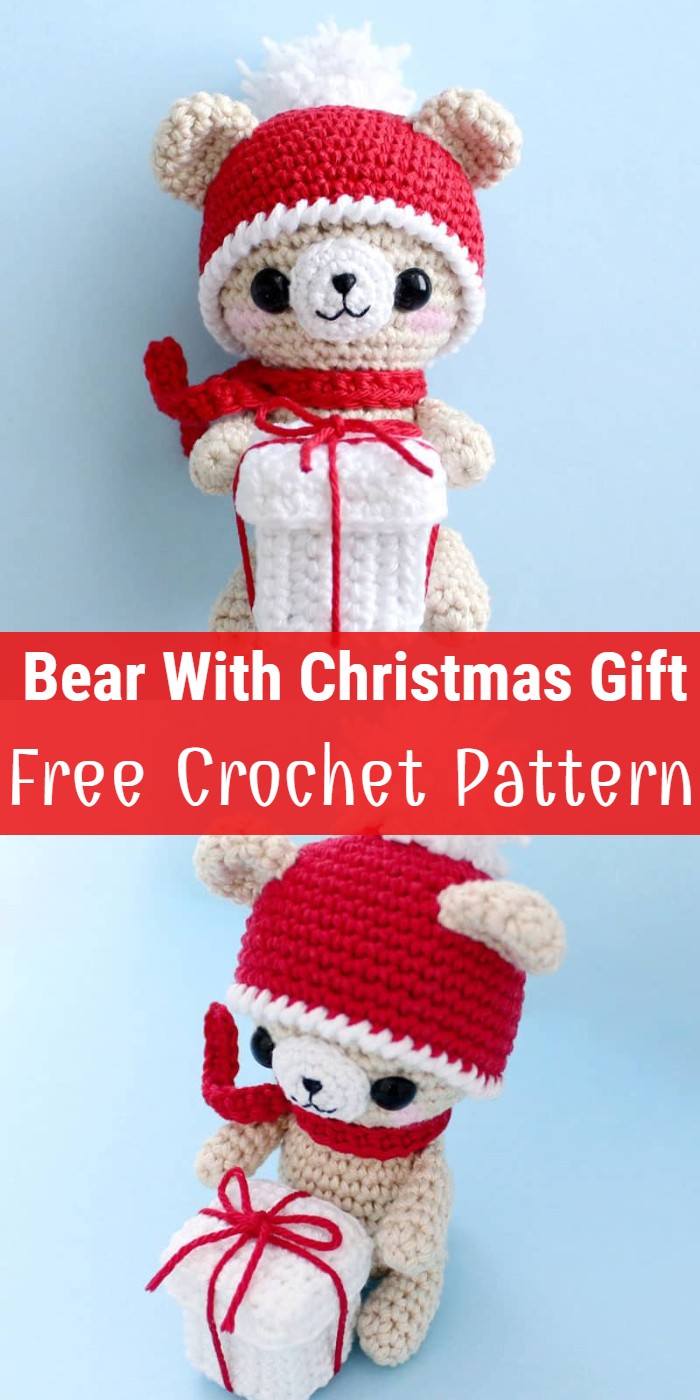 Make your own Christmas bear with this free crochet bear pattern. This easy-to-follow pattern will show you how to make an adorable teddy bear with a Christmas gift. These bear patterns can be made in any size by changing the yarn and hook size! Make cute bears for all of your friends and family this season. It is easy to make; make a teddy bear for your kids or yourself. It will be the best buddy ever, as it can be made with any of the lovely colors available in your stash.
Teddy Bear Holding A Heart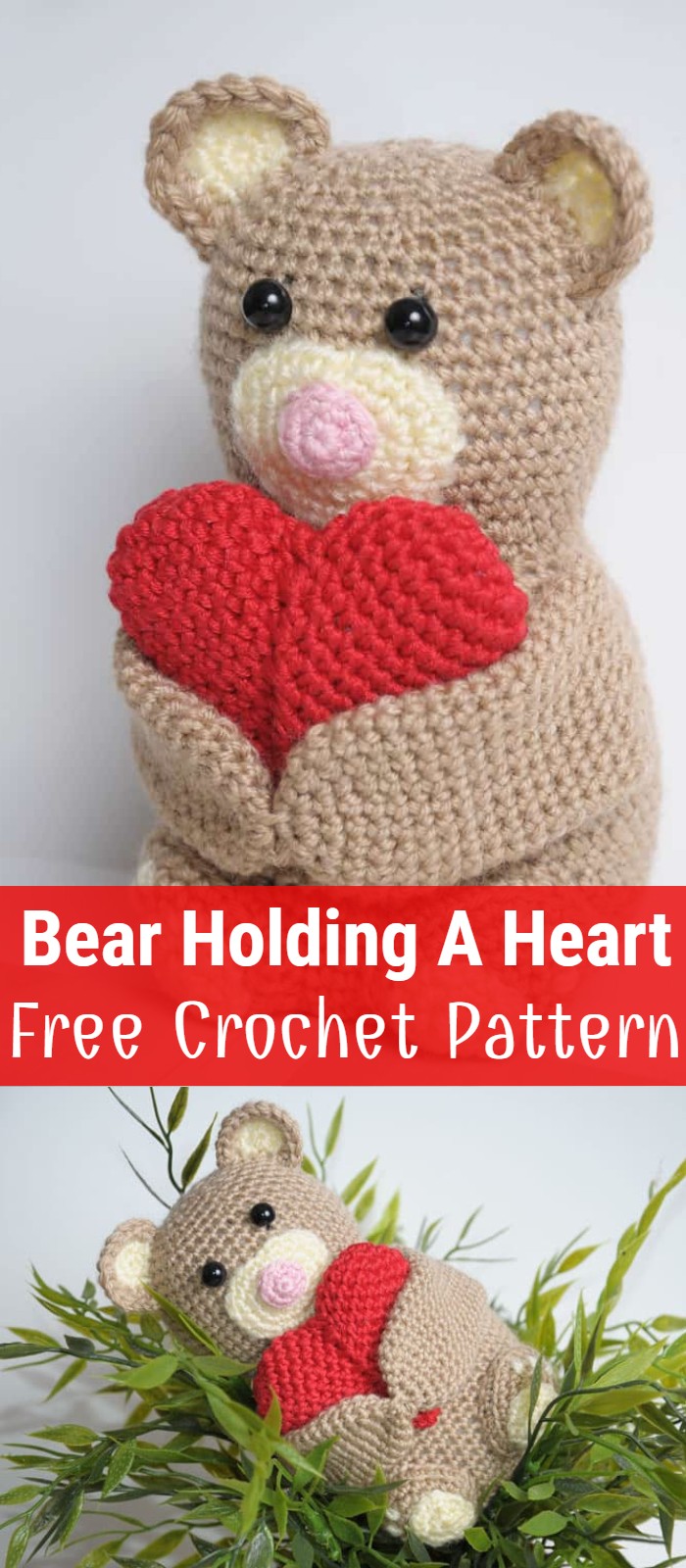 Your heart is full of love, and you want to share it with everyone. Well, this pattern is just for you, then! Just grab your favorite colors of yarn and see how adorable this little bear will turn out. It's sure to be a hit with everyone in the family. This teddy bear crochet pattern is easy to follow and can be made in different colors. This sweet little bear holds a heart to give as a gift or for someone special.
Bear Amigurumi With A Heart
These Free Crochet Bear Patterns are ideal for learning and practicing crochet. They are easy to make, thanks to the clear step-by-step photo tutorials. You don't need any special skills to crochet these adorable toys. This adorable crochet bear pattern is perfect for your little one or even as a unique gift for an adult. It can be made for boys and girls, making these amigurumi bears practical! These would also be lovely decorations on a shelf or mantle piece.
Teddy Bear Sleeper
Make your own little teddy bear friends with these free crochet bear patterns. Each pattern can become a cute and cuddly baby pillow or teddy bear sleeper. There are many different sizes to make so that you can whip up one for everyone on your shopping list! All you need is some light to medium worsted weight yarn in a few colors of your choice. This is a great pattern to make for your baby or for anyone in your life who enjoys having a teddy bear close at hand. The beautiful combination of colors creates an art piece that can be displayed in any room or given as gifts.
Amigurumi Bear
This crochet bear pattern is great if you want to make something special for your little one. Make it as a gift, or keep it for yourself! It's quite easy and fast to crochet, so you could also make it in various colors to match your interior or create a unique look like this one. This little crochet bear would be a perfect gift for anyone learning to crochet. The pattern is easy to follow and includes written instructions and a step-by-step photo tutorial.
Blanket the Teddy Bear
Blanket the bear! This crochet teddy bear pattern is a great beginner project and works quickly in the worsted weight yarn. The teddy bear can be made life-sized or as-is to make a small cuddle toy. You can add arms or legs to personalize your new friend as you see fit! This pattern makes a large square or rectangle-shaped blanket that you can use as a cuddle blanky, and the CROCHET ROUND creates an adorable teddy bear face, making it perfect for kids!
The Little Teddy Bear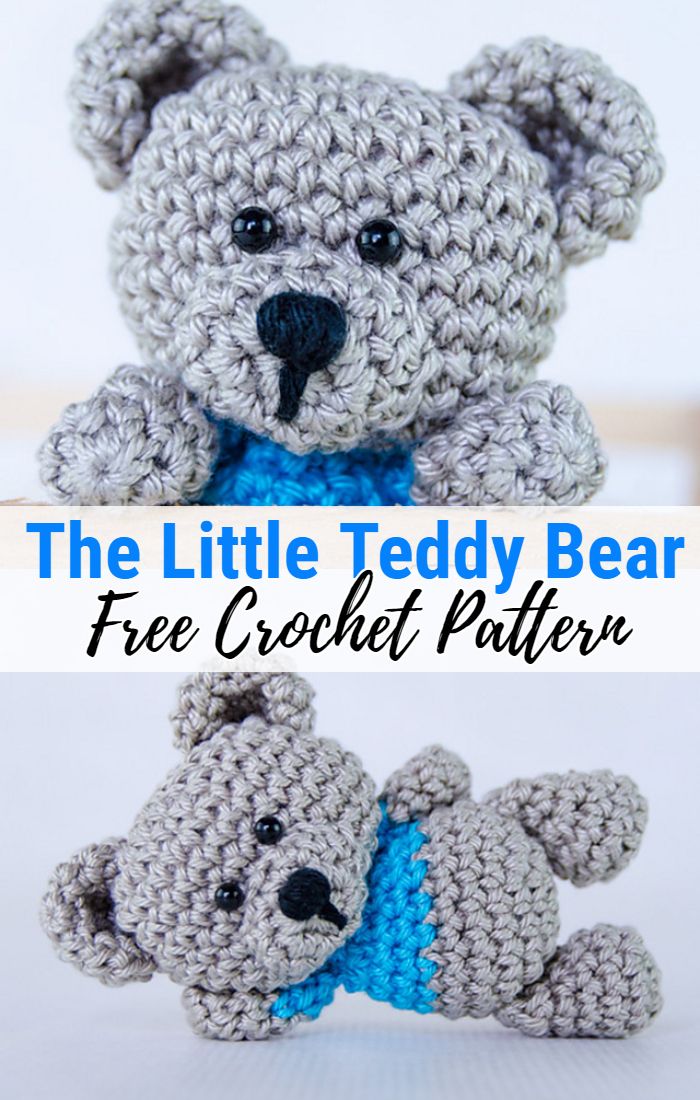 This bear pattern will inspire you to crochet lots of little bears. The teddy bear design is perfect for many creative projects, giving one as a baby shower gift or keeping them for yourself! Customizing this pattern with your favorite colors is easy, and making your little bears makes the world happier. Make this adorable little teddy bear with this crochet pattern. You can make a whole family of them or just one for a handmade gift.
Amigurumi Pink Bear - Free Crochet Pattern: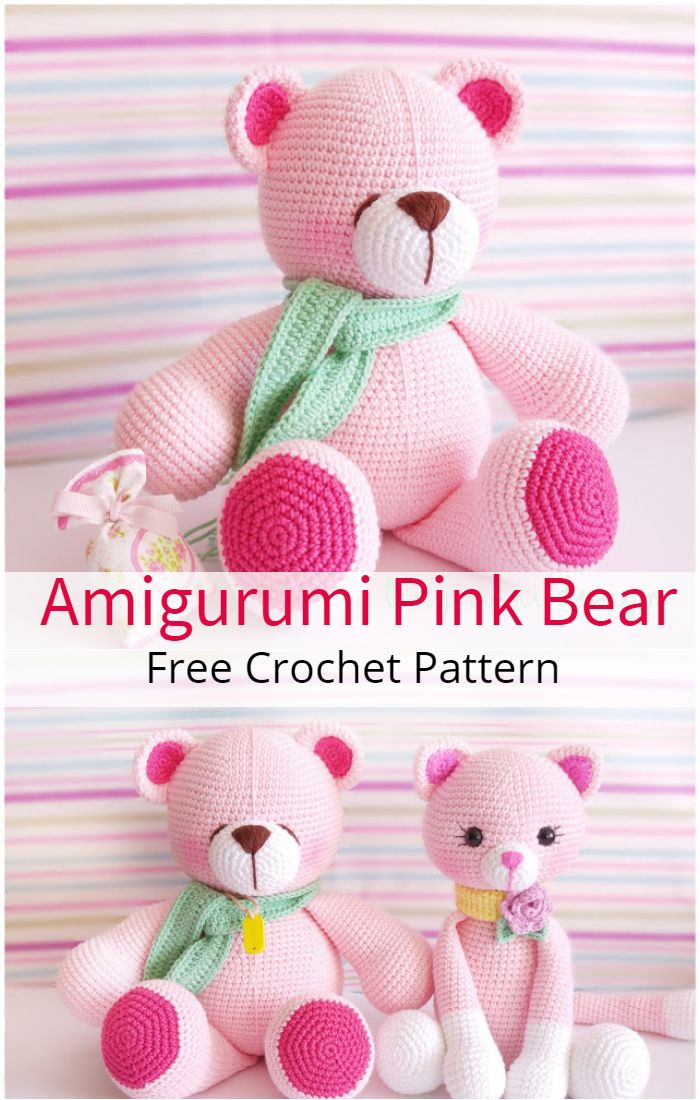 Crochet a cute and cuddly pink bear amigurumi crochet toy. This free crochet pattern allows you to learn to create your very own pink bear. Make this adorable bear as a gift or just because! All you have to do is crochet this adorable pink bear. Do not be afraid to start. You will enjoy the methodology of making this cute amigurumi doll! This Amigurumi Pink Bear is a great pattern for beginners who want to learn the basics of amigurumi and make a homemade gift.
Amigurumi Crochet Teddy Bear: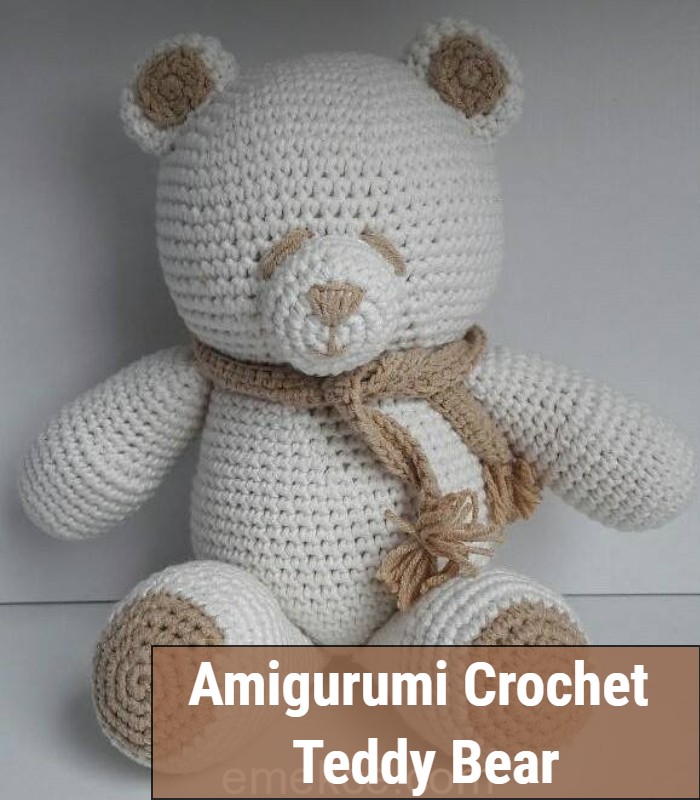 This amigurumi pattern will help you crochet a beautiful bear that is easy and quick to make. With this free crochet bear pattern, you can crochet an adorable teddy bear keepsake or add some cuteness to your living room! Whether you're looking for a quick gift or just a cuddly friend for yourself, this amigurumi bear is a perfect choice. This free crochet bear pattern is an intermediate-level pattern. If you are a professional crocheter, you will enjoy this unique crochet amigurumi! The step-by-step tutorial is easy to follow.
Sweet Bear Crochet Plush Pattern: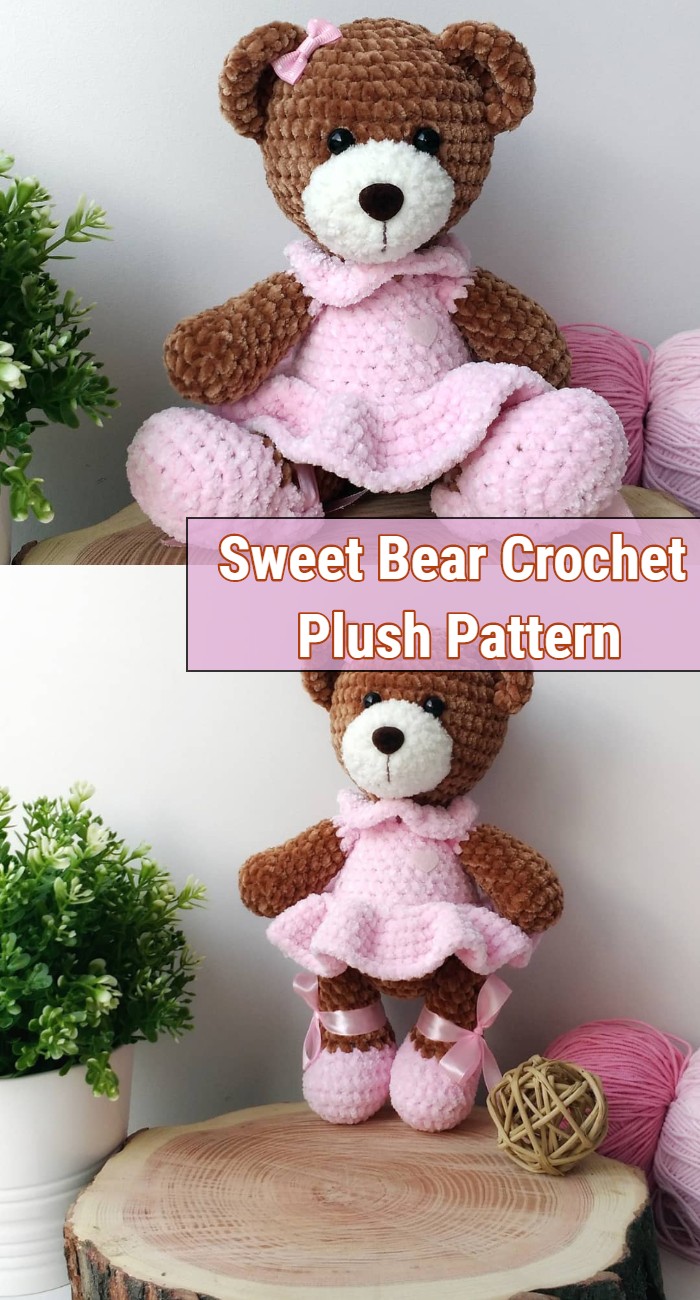 This super sweet crochet bear pattern is so easy to make. What makes this bear special is the fun way of dressing it up. If you have children, they will also adore creating these bears for their friends! This sweet little bear is sure to put a smile on your face. With an adorable smile and puffy little nose, this crochet bear makes an ideal gift for children or yourself! Add a hook and some yarn, and you'll have a loveable Sweet Bear in no time!
Crochet Plush Bear Free Pattern: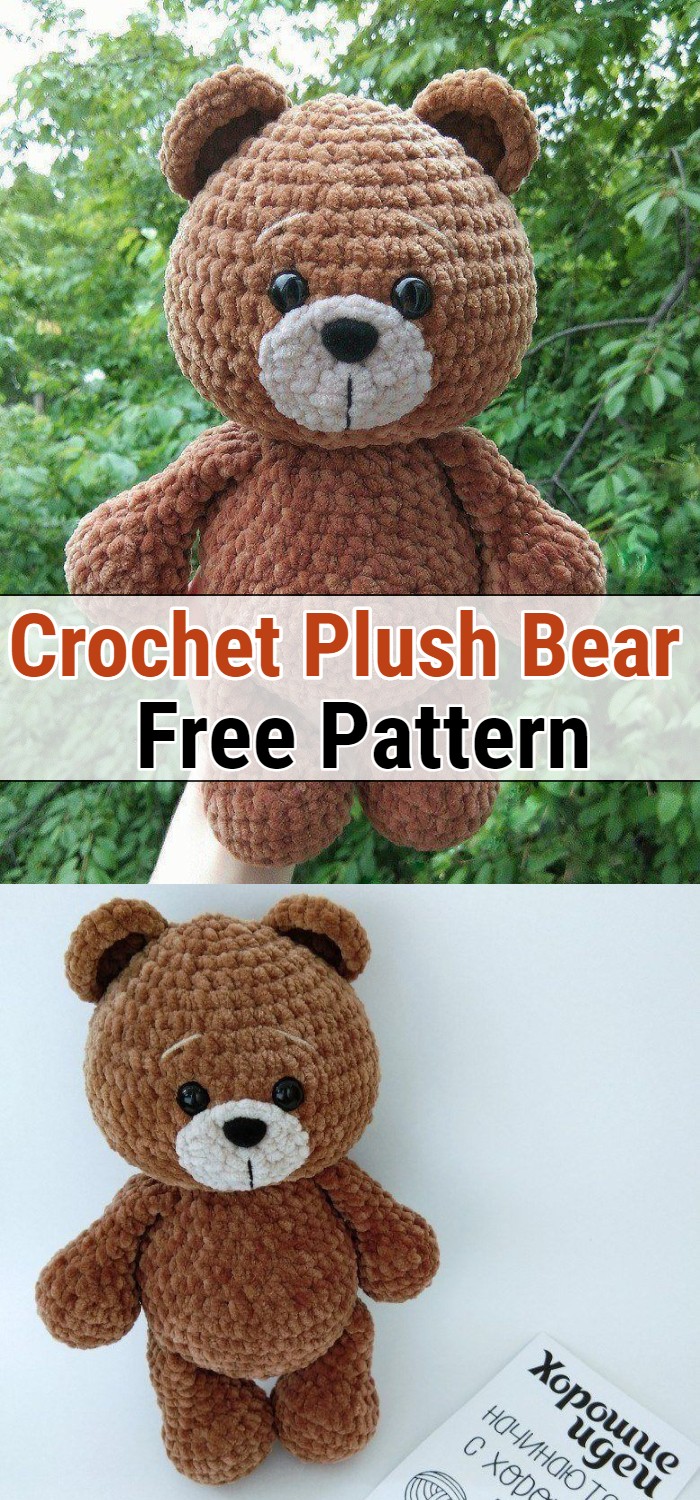 If you love bears or need something cute to learn how to make a stuffed animal for your kids or grandkids, this is the pattern for you. This bear pattern is easy to follow and makes a cute soft toy. This Crochet Bear Pattern is the perfect craft to make for Christmas, any holiday, or just because you want to. This pattern is easy to follow and will guide you through each step as it shows you how to make an amazing crochet plush bear!
Amigurumi Teddy Bear In Pajamas:
An Amigurumi is a cute stuffed toy made by crocheting with yarn. This is ideal for people who love to knit or crochet or want something fun to do with their free time. Although there are many different types of amigurumi, a popular variation is the teddy bear amigurumi, which they are designed after a small bear sitting upright on its haunches. This new crochet pattern provides instant gratification as the finished product stands up, and you can use this bear as a pillow or cuddly toy. The finishing touches that make your bear unique are the buttons and pajamas. Tempting color combinations are included to help make the right decisions for you.
Crochet Teddy Bear Free Pattern:
This free crochet bear pattern is simple, easy, and makes a great gift. The pattern includes instructions for making a small stuffed crocheted teddy bear called Teddy, or a medium stuffed crocheted teddy bear called Tiny. You can also use this free crochet bear pattern to make bigger bears. Crochet Teddy Bear free pattern: The crochet pattern of a teddy bear with flowers. The Bear has a head, arms and legs, body, and flower decoration. You can choose the color combination you like to make it beautiful.
Free Crochet Bear - Free Pattern:
Get your free crochet pattern in this post and create an adorable bear like the one above. The pattern is simple and quick to knit, and the result is so cute! Make these bears as gifts, send them as a thank you when visiting friends and family, or decorate your home with these adorable crocheted creations. The design is suitable for beginners and intermediate crocheters looking for a quick project. No more boring everyday outfits. This bear's wardrobe is full of different colors, textures, and styles that are perfect for every occasion.
Free Cute Amigurumi Pattern:
This Free Crochet Pattern provides the information you need to crochet a Cute Amigurumi Pattern, including details on materials and outlining the techniques used to create each part of this amigurumi. Included in this project, you will find details for working on both using spirals and making increases. Finally, the pattern provides instructions for assembling your project and adding embellishments. This pattern will make a great gift or addition to your collection. You can also use it as decoration at home.
Crochet Teddy Bear In Dress:
This teddy bear pattern is designed to be crocheted in cotton or a similar natural fiber. This easy-to-follow pattern will help you transform the outfits of your teddies. Doesn't matter if they are older or new; they can all be upgraded by using the completed dress from this pattern. They are fun to make and ideal for budding knitters who want to try their hand at crochet. This free pattern is easy, and everyone can master it! Just take your Crochet hook and start working on the pieces of this cute crochet bear.
Free Amigurumi Bear Pattern:
It's time to create a new friend! This pattern is for a cute, chubby bear. The pattern has easy-to-follow instructions and lots of photos to help you along the way. The Amigurumi Bear pattern is a simple crochet project that requires no advanced skills. The body, head, feet, and arms are all one piece, making this a fast project to crochet. After these basic steps are done, you will use two colors of yarn to create the face details, such as the face, nose, and ears.
Crochet Bear Free Pattern: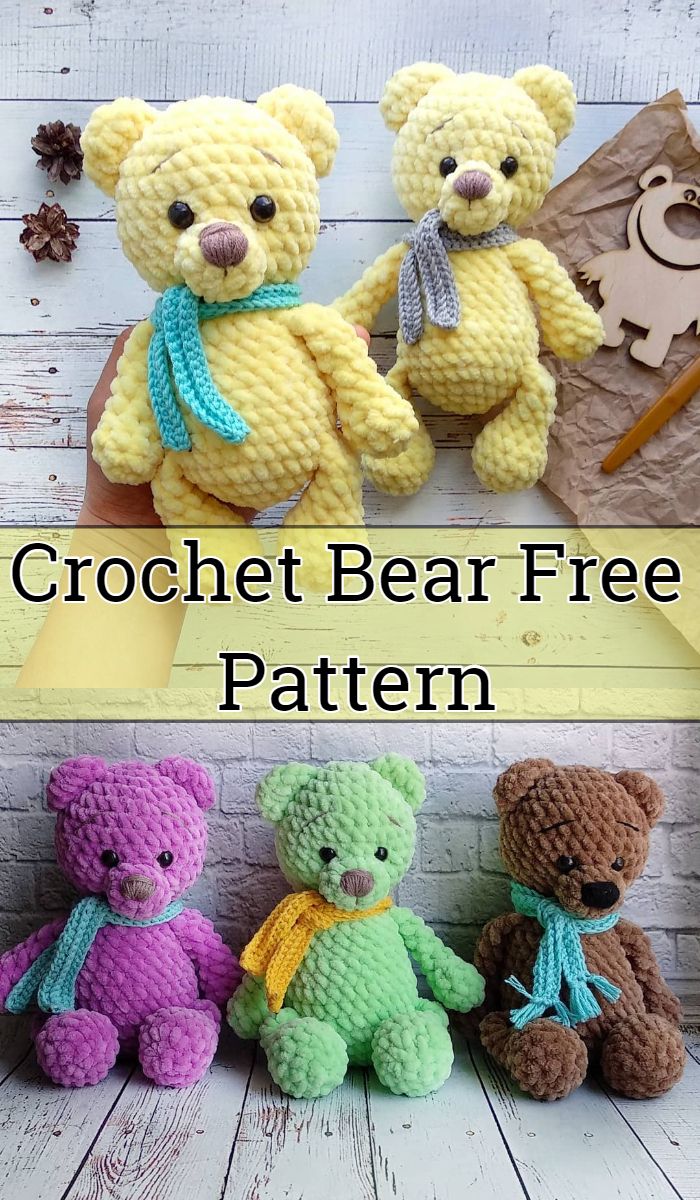 This pattern is easy to crochet and works up quickly. The quick measurements of the bear help you focus on learning how to crochet basic stitches and sew amigurumi parts together. The crochet bear is a perfect gift for children. You will need some wool or another type of yarn, a crochet hook, and a needle. The size of the finished crochet bear depends on your yarn and hook size, but this pattern works well with worsted weight yarn and a G hook.
Sweet Amigurumi Bear Ideas Free Crochet Patterns: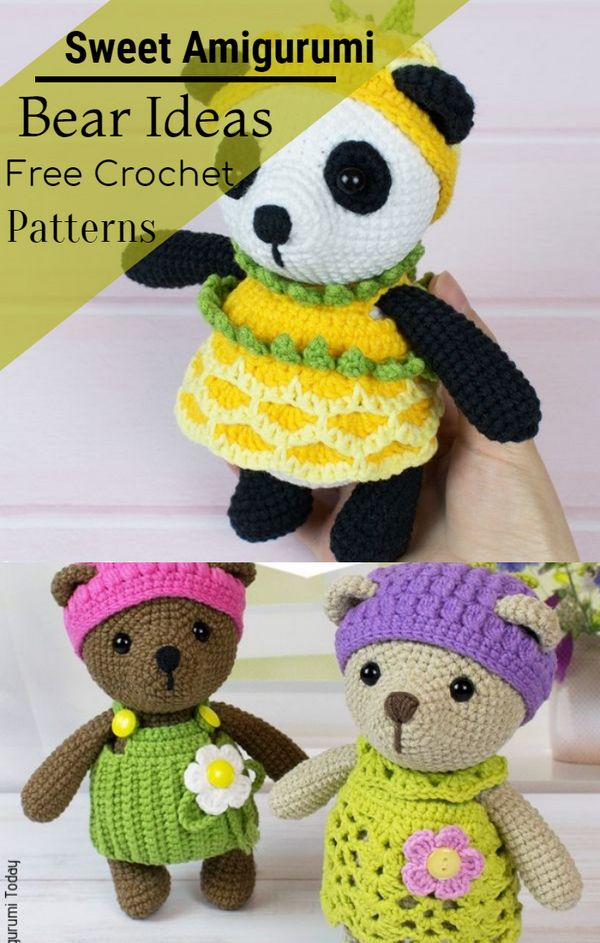 This crochet pattern teaches you to make an adorable Amigurumi bear. You'll need to know how to single crochet, double crochet, and half double crochet. Amigurumi is the perfect way to use up little scraps of yarn from that ball or skein of yarn you bought but didn't want to go through the trouble of making something big out of it. This post features free crochet amigurumi bear patterns for all skill levels. These crochet toys are great for any beginner but may also be used to add flair to more advanced patterns.
Free Crochet Bear Amigurumi Idea For Your Baby:
A crochet bear is the most beautiful and adorable project for your baby. Your baby will love it and will always stay happy in their childhood days. Crochet bear is a handcrafted crochet toy with an easy and fast-to-follow pattern, making it one of the best free crochet ideas for your kids to play with. This Crochet Bear Amigurumi Pattern is a must-have for any new baby. Create a custom bear by choosing your colors, or use these suggested colors to create your unique design.
kunsthome.com
Teddy Bear Free Pattern:
Teddy bears aren't just for children. They are also the perfect gift for any occasion: birthdays, anniversaries, Valentine's Day. This crochet teddy bear is easily made using worsted weight yarn and size F (3.75 mm) hooks. This pattern is for beginners of all ages. Crochet patterns like this are great if you'd like to learn how to crochet but aren't sure where to begin. The design is easy to follow, and you will have the teddy bear you have been dreaming of in no time.
Amigurumi Soft Bear Free Pattern:
This is an easy beginner crochet amigurumi soft bear pattern. It's perfect for using up leftover yarn! Make sure to give it a good blocking before you assemble your bear, and then it will look as professional as any other store-bought amigurumi. This is a wonderful crochet project that looks cute and brings a bit of warmth and softness into your house. The best part is that this bear goes well with anyone who has any decor at all; whether it be in your bedroom or the living room, he will fit right in!
Amigurumi Teddy Bear And Sandals Free Pattern:
Grab this Amigurumi Teddy Bear And Sandals Free pattern and learn how to crochet it. The good news is that this is a wonderful way for beginners to start learning how to crochet. The pattern will help you learn important skills like reading color changes, a basic understanding of knots, and more. This is a very easy and so-cute crochet pattern to make! It just takes a few hours to complete. You can make it a simple house decoration or give it to someone you care about.
Crochet Plush Teddy Bear Pattern:
This crochet pattern is designed to create a huggable teddy bear. In addition to the complete pattern and materials list, it includes full-color photographs at every step of the design process. This pattern is perfect for beginners who have never worked with yarn and makes an excellent gift for anyone on your list! The teddy bear you will make using this pattern is suitable for all ages. It's easy to make, and you will have fun making it!
Amigurumi Teddy Bear Free Pattern:
Crochet Amigurumi Teddy Bear Free Pattern will help you create a cute and cuddly teddy bear with your hands in a short time. After that, you can decorate it with your choice of colors and design the bear with some beautiful eyes that make it more attractive than others. Children also like it due to its soft nature and sweet size. The Crochet Amigurumi Teddy Bear is a great pattern for all skill levels who want to make a fluffy, cuddly teddy bear. The pattern has a variety of stitches that add texture and dimension to the piece, so you can customize it to fit your style.
Plush Bear Amigurumi Free Pattern:
Amigurumi is the Japanese art of knitted or crocheted small stuffed animals and amigurumi dolls. It is also commonly referred to as "yarn bombed" or "yarn bombing." They are used like softies to make props for photographs, animations, exhibitions, and movies. This plush bear amigurumi is the perfect pattern for beginner crocheters and more talented ones, as it's really simple and uses basic stitches. This cute pattern also works well with whatever leftover yarn you have lying around!
Boco Bear Amigurumi Crochet Pattern:
This Boco Bear Amigurumi Crochet Pattern is a super simple pattern that uses basic stitches and easy assembly to create the cutest bear friend you will ever want to make. Made with 100% acrylic yarn, this crocheted bear can be created in any color you like; pick your favorite and get started today! This Pattern is a cute teddy bear that would make an ideal gift for any occasion. The pattern includes easy-to-follow directions with lots of pictures to guide you through every step.
Free Easy Crochet Bear Pattern:
Free Easy Crochet Bear Pattern is the perfect crocheted bear pattern for anyone to make. The pattern includes instructions for a medium-size teddy bear and an extra large-size teddy bear. Just follow the instructions, and you'll be sure to create a lovable little bear to cuddle with anytime! This free, easy crochet bear pattern is a wonderful gift for children, family, or friends. You will love how easy it is to create this adorable bear that can be customized in many ways.
Free Crochet Buttercup Bear:
If you like the look of the Crochet Buttercup Bear but don't want to spend the time searching for the right yarn color, this pattern is for you. This is a very easy and quick amigurumi crochet pattern. The Crochet Buttercup Bear will be a lovely addition to your loved ones who need something extra special in their lives. This colorful bolster can be customized to suit your needs and will become a favorite resting spot for any child!
yellowpinkandsparkly.blogspot.com
Dawson The Teddy Bear:
Teddy bears are the most popular gift for children, especially young boys. This free crochet pattern allows you to create a fun teddy bear that will please anyone who receives it. The pattern is suitable for beginners, with detailed instructions and photographs of each step. If you can hold your yarn and hook, you can make this cute pattern! This little teddy bear will be perfect for celebrating your mom. Here is a free crochet pattern that you can work up using only two types of yarn - basic and worsted weight.
Cuddle Me Bear Amigurumi
This Cuddle Me Bear is the perfect Amigurumi for children and adults alike. The crocheted bear is soft and easy to cuddle. This is a great project for new crocheters! If you're looking for an easy, quick project that's cute and fun, then this amigurumi pattern is perfect! Follow the detailed step-by-step pattern to make you're own adorable cuddle me bear, Amigurumi. all you need are some basic stitches and a few supplies that can easily be found at most craft stores and department stores. Try this fun and easy pattern today!
Sleepy Bear
Ever wondered what the difference between an amigurumi bear and afghans is? They both have their beauty! And yes, that is exactly what this free crochet pattern for a sleepy bear will teach you. On top of learning how to make a bald head, you'll also learn how to delete stitches from a pattern in a very simple way. This adorable sleepy bear is so sweet you want to make an entire cuddle-worthy coterie for your child. The perfect present for that new little bundle of joy, this sleepy bear will be a reminder of their first years as they grow up!
Amigurumi Raspberry Bear
Make this free crochet amigurumi raspberry bear used as a decoration for your kitchen or as a gift for kids and adults. This cute little guy is a very easy project using single crochet stitches and is manufactured using all straight lines, so you'll never get lost, even if you are new to crocheting. Get your kid started on the road to knitting with this quick and easy project while introducing him to math through measurement, counting, color recognition, and much more!
Amigurumi Bear In Pullover
A great technique to develop and use your yarn with a minimum waste of material. This free crochet pattern comprises a single stitch and the simplest increase and decreases techniques. Work the neckline differently so it can be easily adjusted for any size! This crochet amigurumi bear pattern is so easy and fun that you'll want to make one for your child's toys collection. These little bears will be great friends for their stuffed animals.
Cake Bear Amigurumi
This is a really simple crochet bear; with this pattern, you can make it within a few hours. You can make your own Christmas gifts for your friends, family, or just for yourself! Here is a free crochet bear cake amigurumi pattern just for you. The Crochet Cake Bear is a great amigurumi crochet pattern. This would make a fantastic gift made using super bulky weight yarn. Little girls will love playing with the bear and pretending it's a real cake!
Animal Amigurumi Bunny
The free crochet animal amigurumi bunny pattern will help you get started with crocheting toys. The large size and cute face make this project a breeze for beginner crocheters and an excellent choice for more experienced makers looking for a quick weekend project to make great gifts or home decor items. This free pattern will help you create your amigurumi using different yarn colors. The crochet pattern is easy, and the finished product is a beautiful bunny you can give away as a gift or keep for yourself.
Honey Teddy Bears In Love
This beginner crochet pattern for teddy bears in love shows you how to turn a pair of simple circles and squares into a sweet couple of honey bears. The pattern includes detailed information on how and where to join new colors and use different hooks and yarn weights to create variations on the basic design. The stitch is not hard at all, so even if you are a beginner crocheter, you will be able to make a lovely bear in love.
Baby Bear Lovey
Crochet baby bear lovey is a free crochet pattern you can make in any size to achieve the desired size for your little one. It gives you a beautiful way to make a low-cost gift for birthdays, or even just as a "sending baby smiles" gift to the grandparents who don't live close enough to visit often. This free crochet baby bear lovey pattern is easy to follow and make, requiring only basic stitches. If you are new to this crochet craft, make this a great first project. The finished product will look great as an addition to any nursery decor or as a gift for someone special.