Blankets are a classic baby shower gift that can be made for any gender and with various stitch patterns. The most common crochet stitch is double crochet—even if you're new to crocheting or need to learn the basics, it's something you can master in just a few easy steps. Many of these blankets are done in single and double crochet, but you can add texture by incorporating different stitches such as shell, puff, and even bobble! Remember that the more stitches you add, the more dense the blanket will be, so choose the right pattern for your needs.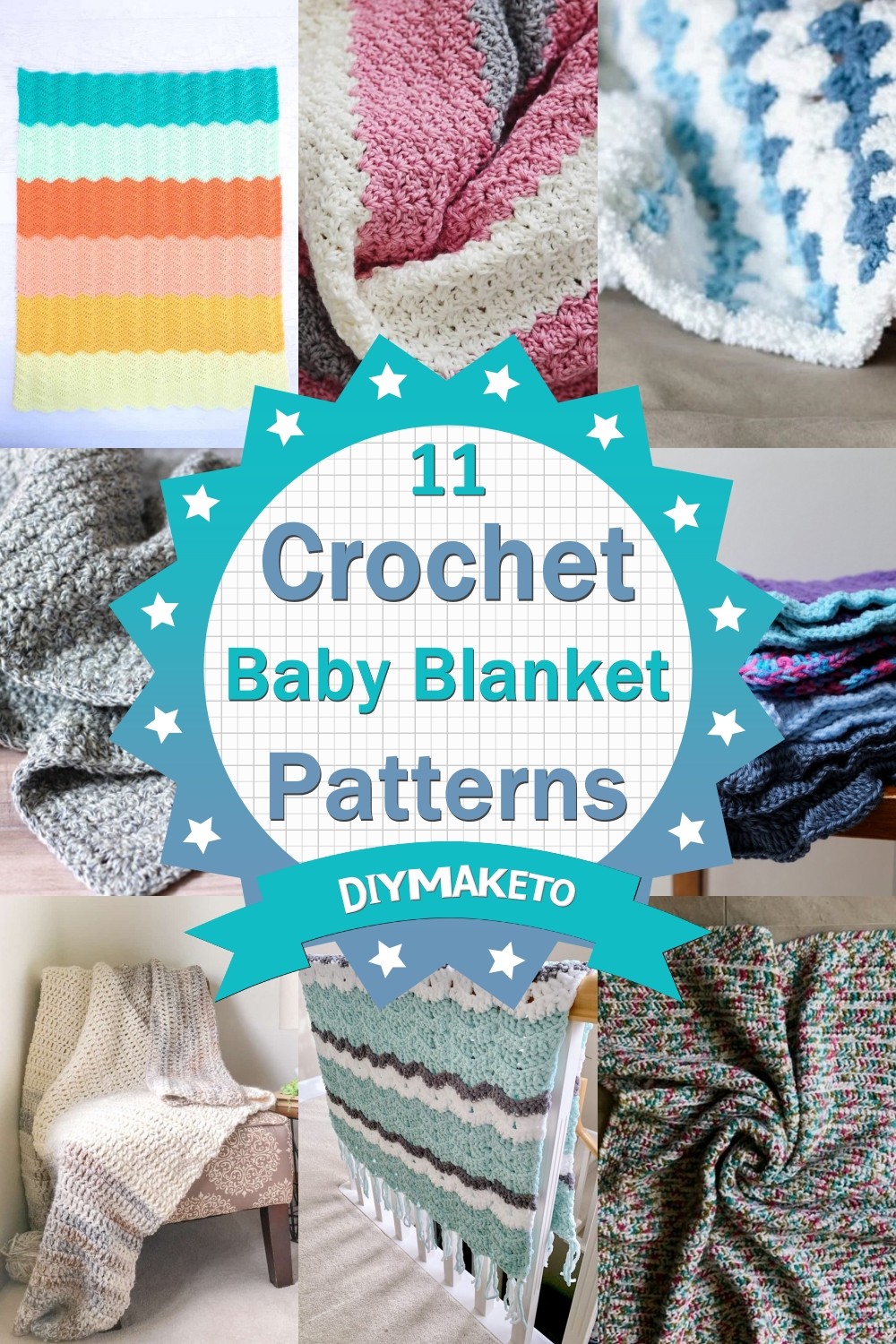 Double crochet is so simple even a beginner can create a gorgeous blanket. Baby blankets are especially versatile since they're so small they can be used as stroller blankets, nursing covers, play mats, car seat covers, and more. These double crochet stitches will work to make any of these projects. Some of the patterns below use specialty stitches like clusters or bobbles or different sizes of double crochet. Still, you should get the hang of all that by reading through this brief and trying out a few stitches before you put the project together.
Here are 15 easy patterns for making your own easy double crochet baby blanket patterns—these projects include blankets that use blocks, stripes, various color schemes, and other designs.
Tips For Crochet Baby Blanket Patterns
Double crochet baby blanket patterns are perfect for beginners and advanced crocheters alike. Whether you love the look of a basic granny square or want to try something more modern, there is a double crochet baby blanket pattern that will suit your needs.
Here are some tips to keep in mind when choosing the right pattern:
Choose a soft yarn. If you're planning on giving this as a gift, it's best to use a soft, natural fiber like cotton or wool. This will ensure that even if the recipient is sensitive to certain fibers, they won't react negatively to your gift.
Choose a pattern with easy-to-follow instructions. For example, if you're new to crocheting, it can be tricky to get used to reading patterns and following along with them, so choose one with clear instructions and photos if possible.
Pick an easy pattern if you're just starting, but don't be afraid to try something more advanced if you've been crocheting for a while!
Double Crochet Baby Blanket Patterns
Crochet Baby Blanket Patterns
Keep your baby snug and warm with this easy crochet baby blanket. The design features an eyelet stitch, which makes the blanket extra soft. The vintage feel and modern colors make it perfect for any nursery. This crochet baby blanket pattern is the best choice for a soft and snuggly winter warmer. Stitch this up in your favorite yarn, whether it's just for a baby or you are crocheting for a mom-to-be. This is an excellent stitching project to work on while watching TV or chatting with friends.
Easy Double Crochet Baby Blanket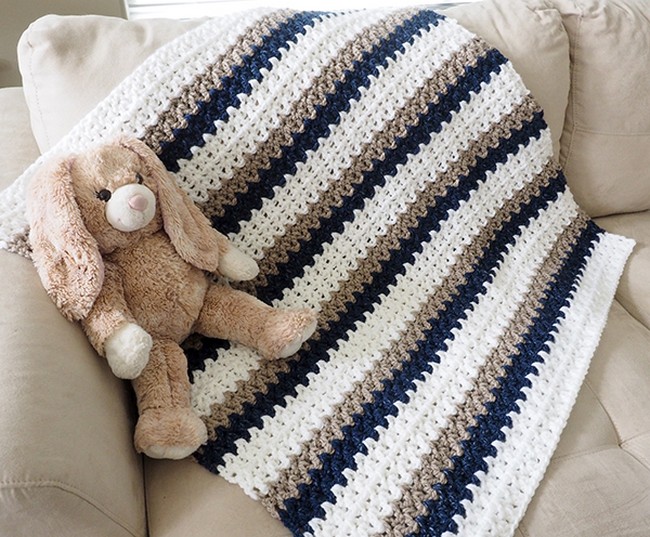 Beautiful crochet baby blankets can be bought for a friend or family member having a baby in the family. The double crochet baby blanket is the perfect gift for a new mom or a newborn. This easy-to-make and gorgeous yarn blanket feature 3 striped color appeal, which is wonderfully versatile for any decorating style. It can be used by itself or as a great accent piece to any room in the house, not just the baby's room. It makes a great going home from the hospital gift, too!
. Free Crochet Baby Blanket Pattern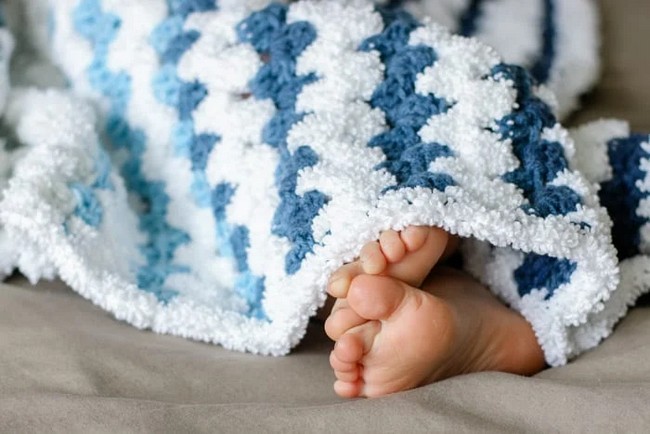 This durable crochet baby blanket was designed for winter protection and will keep your little one warm and cozy. Made with acrylic yarn, this handmade blanket is soft and breathable - perfect for newborns to babies up to 3 months old. This blanket is a great gift idea for first-time parents and newborns! This crochet baby blanket will keep your little bundle warm, no matter how cold winter is. Featuring an eye-catching and easy-to-work pattern, this is the perfect project for your next gift or yourself! Hand wash the item in cold water and lay flat to dry.
. Crochet Baby Blanket Size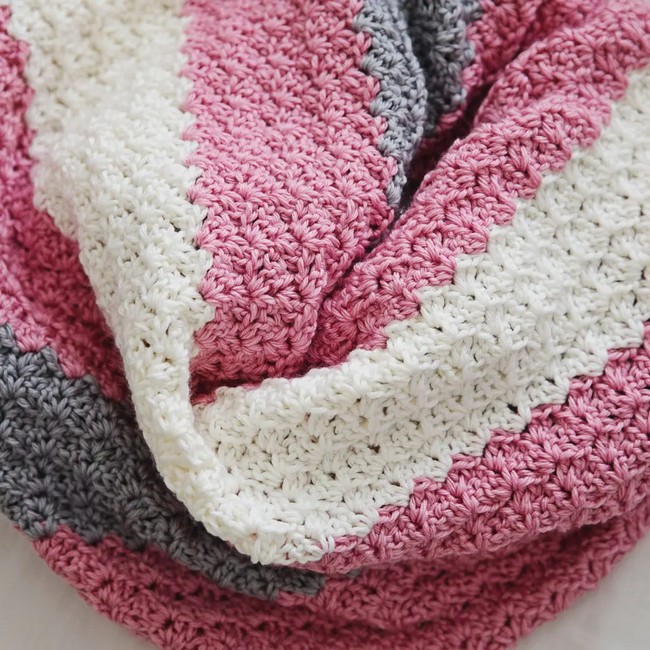 This sweet baby blanket is sure to impress your happy little one. This crochet blanket pattern is made with Knit Picks Comfy Worsted yarn, which comes in a wide range of colors, so you can make it pop with any color that catches your eye. This crochet baby blanket is the perfect cuddle for your newborn or toddler. Its larger size and sweet design are sure to impress at first glance. The blanket can be crocheted in any size or color you want if you have the right yarn on hand, so go ahead with your imagination!
. Double Crochet Afghans
Double Crochet afghans are one of the quickest, most useful, and best gifts you can make. They're so easy to crochet and make a wonderful gift for anyone who could use a warm blanket. Create and share your own double crochet afghan with our free tutorial collection. Crochet this double crochet afghan as a present for a newborn or as a baby shower gift. This blanket is perfect for keeping your baby warm, cropping up quickly to add comfort and warmth to the home. This easy-to-follow guide includes complete instructions, detailed photos, and a list of materials needed for this project - all so you can create an amazing blanket that's perfect for any occasion.
. Gender Neutral Crochet Baby Blanket
Gorgeous and modern, this crochet baby blanket is unlike any other. Featuring chevron stacks of color that are easy to crochet and sure to be a showstopper when you bring your baby to take their first photos. This blanket is so sweet and cozy and perfect for babies, kids, and adults alike. It features modern chevron crochet blocks of different colors that add dimension and texture to the blanket. This gender-neutral crochet baby blanket is the perfect item to welcome a newborn. Made with buttery soft acrylic yarn, this blanket will be a peaceful and soothing place for your little one to rest.
. Crochet Baby Blanket
Crochet baby blankets are the best gifts for new babies that will last a lifetime. This blanket pattern is easy and quick to make, making it a great project for beginners and experienced crocheters! Whether a beginner crocheter or even an expert, you can crochet this beautiful blanket. You only need some yarn of your favorite color and an easy-to-understand crochet baby blanket pattern to follow the pattern. It will be very helpful when crocheting this adorable handmade project.
. Double Stitch Crochet Blanket
Sometimes, getting your blanket on is best with a little extra stitch. This blanket has all the warmth you could ask for in a soft and plush double-knitted fabric. This Double Stitch Crochet Blanket features a timeless pattern for those who appreciate effortless style. A beautifully textured stitch in the pastel tones will bring a calm, serene vibe to your home. This blanket is soft and lightweight, making it perfect for all seasons, travel, and gifts. The richly textured knit is soft, thick, and warm and will last for years of cozy comfort. Please give it to a friend who needs tender loving care, or wrap yourself in this comforting, soothing blanket at the end of a busy day.
. Double Crochet Baby Blanket Pattern
You'll love this easy blanket when you start working with it. This pattern is made from double crochet stitches, so it's simple to learn! Check out this amazing crochet baby blanket pattern and make your own! Perfect for beginners, this crochet project will get you comfortable with the double crochet stitch and simple color changes. This lovely crochet baby blanket pattern works quickly and makes a beautiful keepsake that your little one will love. The holes in the double crochet stitches create a unique design, and the color changes create a pretty stripe pattern that goes through the entire blanket.
. The Hudson Crochet Baby Blanket Pattern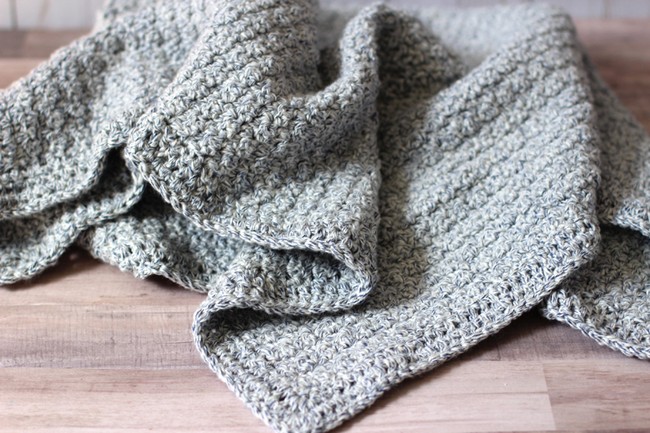 This cute crochet baby blanket uses only single and double crochet stitches, making it an easy pattern for beginners. Knit this sweet, simple blanket with the Hudson Crochet Baby Blanket Pattern. This quick and easy knitting project is perfect for beginners! The Hudson Crochet Baby Blanket Pattern is a dreamy, delicate afghan to keep your newborn snug and warm. The blanket starts with a criss-cross design at the center and works its way out in reverse stockinette clusters. It's perfect for gifting to the new arrival!
. Sprinkles Easy Crochet Baby Blanket
This colorful baby blanket is the perfect addition to any nursery. The chevron stripes make it extra special, and the crochet pattern is easy for beginners! The Sprinkles Easy Crochet Baby Blanket is a little bit of fun whimsy. This is a great project for new crocheters because it's mostly just single and double stitches, with an extra stitch thrown in occasionally. The pattern includes photos illustrating each blanket round, so it's easy for beginners to follow along. And once you've finished, this beautiful blanket is ready to give as a gift or keep for yourself!