Woodworking furniture is not easy. However, Adirondack chairs are extremely simple, enjoyable to build, and a great addition to any home. If you are looking for a project or want to work on your woodworking skills, there are many options for building Adirondack chairs. They come in all shapes, sizes, and materials and are perfect for anyone looking to add comfort and style to their outdoor living space. But they can also be quite expensive, especially if you're looking for a high-quality chair. This guide will provide you with seven different DIY Adirondack chair plans you can build on the weekend, ranging from the very basic to more complex designs.
Building your Adirondack chair is much easier than you might think. You can build a great one in the afternoon! There are many plans and styles of Adirondack chairs, but so many take up space. Here are a few of the best DIY Adirondack chair plans to help you get started on your own project. And you can easily transform these DIY-friendly pieces of furniture into your own unique designs by adding a few personal touches. Whether you're a beginner at DIY projects or an expert working on his craft, these plans will inspire you to build a piece of furniture that's as fashionable as it is functional.
Build a comfortable Adirondack chair from scratch by following these 7 free DIY Adirondack chair plans.
Benefits Of DIY Adirondack Chair  
The Adirondack chair is so popular because it's an easy DIY project that anyone can do, even if you've never built anything. But, there are a lot of benefits to building Adirondack chairs yourself that might not be immediately apparent, so let's take a closer look at them:
Cost Savings: You can build an Adirondack chair for about $50-$100 each, depending on your materials and how many you make. This is significantly cheaper than buying them pre-made from a store or online – but still high enough quality to last for years and years.
Customization: If you want something unique and different from everyone else, make your own! Plenty of designs are available online that can be customized to your liking – find one that fits what you have in mind and gets started!
Learning Experience: Building your own wooden furniture is a great way to learn new skills and improve existing ones. It's also rewarding! The more you build things yourself, the better you get at them.
Adirondack Chair Plans with templates: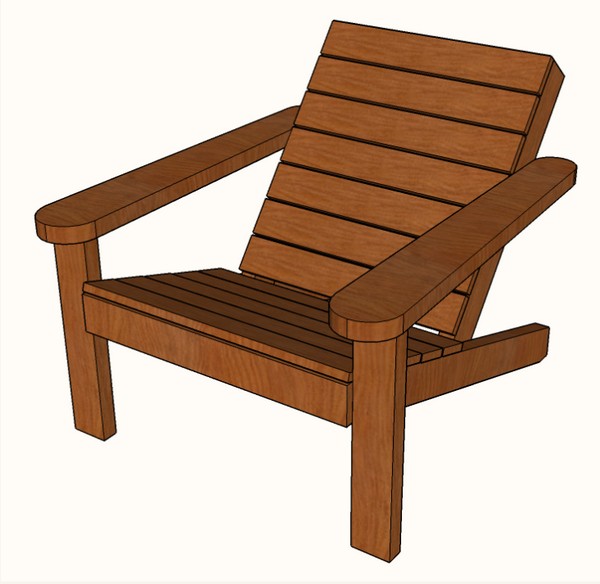 If you are looking for an easy chair-making project, then this Adirondack chair plan is just what you need. With our detailed plans and templates, you'll be able to build a beautiful chair that looks right out of the woods. The plans include all materials lists, templates, information on woodworking tools, and material requirements. You will be able to make a full-sized Adirondack chair that is sturdy and durable with minimal effort and clean-up after you finish your chair-making project. This chair was designed for you to build a sturdy and beautiful Adirondack chair that will last for years. It would be great for family or friends who want to get together and enjoy the beauty of nature.
Related:
Easy Modern Adirondack Chair Plan:
Are you interested in creating a timeless Adirondack chair? This design plan will provide step-by-step instructions on building an Adirondack chair that is sturdy, attractive, and comfortable. With only a few modifications to the standard size of the wood pieces, they can be altered to fit your personal needs. This plan is easy to follow, so even beginners can understand it well enough to build their own Adirondack chair. It includes templates, step-by-step instructions, and a list of tools required to complete this project.
Norm Abram's Adirondack Chair Plan:
You'll love how Norm Abram's Adirondack Chair Plan looks and performs. The slats are perfectly proportional for optimum comfort, with curved legs for a more traditional look. And with Norm's special Mitered Construction technique, you'll experience smooth joints that won't split or crack over time due to weather or water exposure from rain. These heirloom-quality chairs will last for years with little to no maintenance required. Constructed from pine, this fine piece of outdoor furniture will be at home in any setting!
DIY Pallet Adirondack Chair Plan:
This DIY woodworking plan ebook is used to build this amazing Adirondack chair from pallets or similar materials you have laying around. The instructions are thorough and easy to understand, with photos included where necessary. This Adirondack chair plan is a fun project anyone can tackle at home! This pallet Adirondack chair plan is a great way to test your skills and DIY skills. Pallet wood is easy to find and inexpensive, so you're just minutes away from having your own set of these beautiful chairs. You will need a few basic tools and materials for this project, but nothing too complicated.
See Also;
Make A DIY Adirondack Chair Plan:
This Adirondack chair plan is easy to build and is a great beginner woodworking project. Make a DIY Adirondack Chair Plan: with this Adirondack chair plan, you can make your chair with a few tools and simple instructions. This is a wonderful home project that requires little skill and no experience. Anyone can do it, even if they haven't picked up a tool in years. Please keep reading to learn more about this easy DIY Adirondack chair plan and see how easy it is to build yourself an Adirondack chair.
Free 2x4 Adirondack Chair Plan:
Looking to build a beautiful, comfortable Adirondack chair? Our free outdoor chair plan is the perfect way to get started. Made with 2x4s, this sturdy and attractive chair is perfect for your backyard, patio, or porch. It's simple enough for beginners and yet still looks great! Bring the beauty of traditional Adirondack chairs to your backyard for less than $150! You'll love building this chair, which will last you for years with little maintenance.
Free Adirondack Chair Plan Pdf:
A simple and easy-to-build Adirondack chair can be yours with this DIY Adirondack chair plan from Woodcraft. This free furniture plan will help create a beautiful, functional, and a highly comfortable outdoor piece for your yard. Add a touch of sophistication to your yard with this beautiful Adirondack chair. The customizable design offers modern styling and comfort, making it an ideal place to kick back with a cold drink on a hot summer day. With only a few power tools and some materials from your local home improvement store, you can create this functional piece for your outdoor living space!