These crochet pumpkin patterns will show you how to keep these symbols of autumn alive all year round (fall itself), making stuffed playmates, decorations, placements, and accessories that will stay refreshed and spread the delicious orangish charm everywhere! All these are super soft, quick, and easy for all skill levels!
Crochet Pumpkin Patterns

Fall colors are one of the most interesting shades for us, and now you can enjoy them the whole year with cozy home decor following these crochet pumpkin patterns. Beyond the yellow, brown, orange, and red, you can use any color you wish and make it as small as the hands of little ones. Even with basic skills, you can follow these crochet pumpkin patterns. So play, gift, and decorate with these crochet pumpkins!
Crochet Pumpkin Amigurumi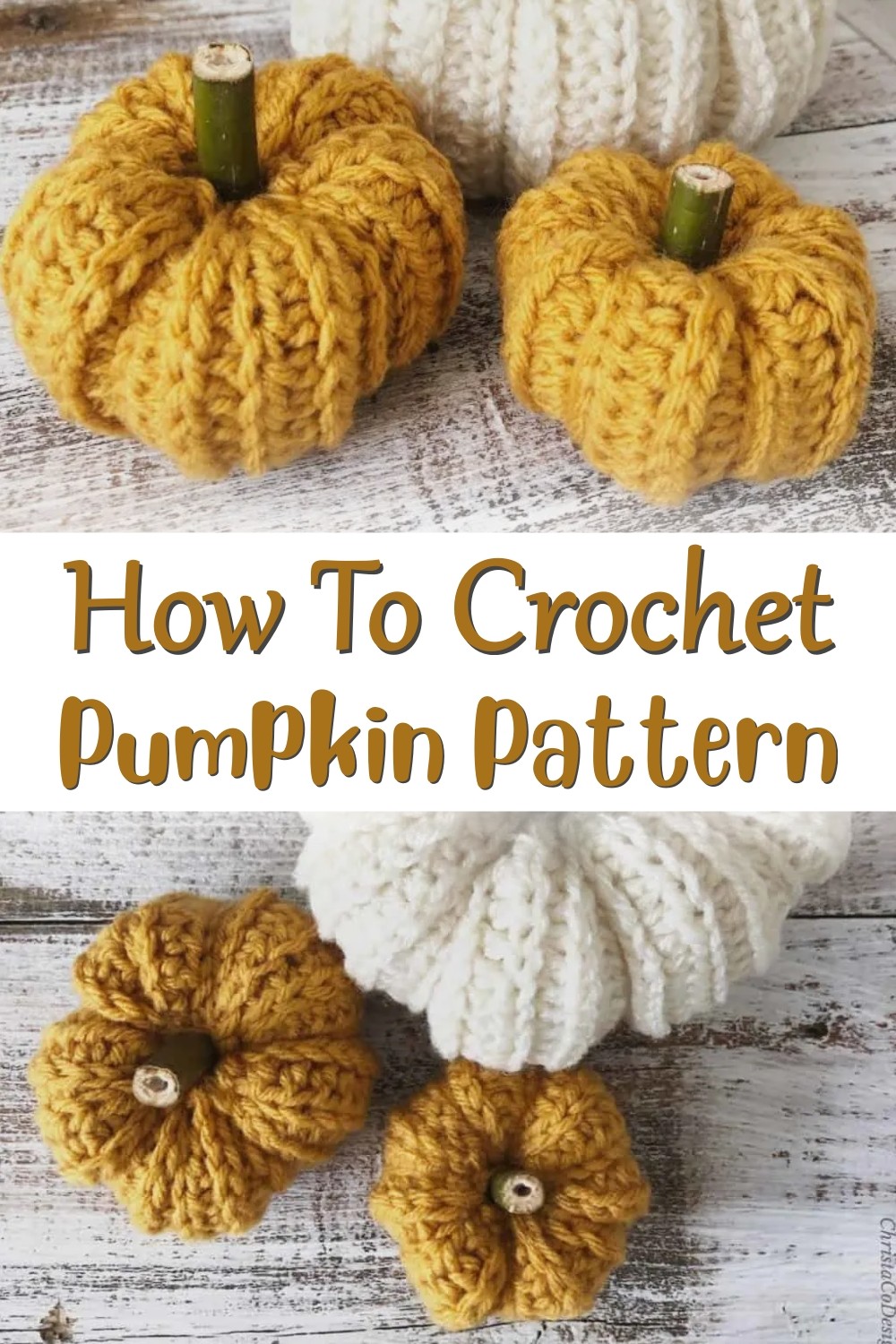 Uses: A festive and cute crochet pumpkin pattern, this ribbed textured pumpkin is great for autumn decor. Make one for Halloween, or use it as a treat for trick-or-treaters! It's the perfect decorative accent for your Thanksgiving table or any holiday season! The crochet pattern includes instructions to create a patterned pumpkin and a plain one, so you can make a functional pumpkin gourd or display one in your window.
Materials:
Medium worsted weight yarn
5mm crochet hook
Making: This ribbed pattern will work with chains, single crochets, and half-double crochets. The ribbed swirl creates an interesting texture as you create your pumpkin shape.
Crochet Little Pumpkin Placements
Uses: Our crochet little pumpkin pattern is great for your fall decorating. This cheerful and colorful pumpkin pattern comes in three sizes; you can crochet one for your front porch or several for a whole bunch of them in your favorite color. Whether you're a seasoned crocheter or just getting started, this pattern is fun and easy to learn. You can make a large or small pumpkin and use it year-round to add a bit of fall cheer to your home.
Materials:
Any worsted-weight yarn
Making: This crochet pumpkin pattern is a fun and easy way to make your little carved pumpkin. This pattern uses basic stitches and materials to make cute little pumpkins that anyone can enjoy.
Crochet Stuffed Pumpkin Pattern
Uses: You can make this whimsy pip pumpkin for your Halloween! It is a great conversation piece to add to your collection of pumpkins and will be perfect in any room of your house or garage. With its smiling face and adorable little black eyes and nose, this whimsical pumpkin pattern is too cute! The finished size measures approximately 9 by 11.
Materials:
Fine sport yarn
2.5mm crochet hook
Making: Crochet Pip The Pumpkin is a fun and simple pattern that works in back loops using single, double crochet, slip stitches, and increased stitches. You can make this pumpkin-shaped project any size you want!
Crochet Pumpkin Pie Earrings Pattern
Uses: You will love taking your jewelry collection to the next level with these beautiful, comfortable designs. Halloween is approaching, so why not make your outfit pop with these cute crochet pumpkin pie earrings? These crochet pumpkin pie earrings will get you noticed at any party or costume gathering. The perfect accessory for fall and winter, these earrings will make your outfit stand out while giving you the warmth and comfort of wearing an original handmade piece of jewelry.
Materials:
Cotton crochet thread
1.5 mm crochet hook
Making: This crochet pattern is for earrings with a chainless starting double crochet at the beginning of each round. This gives it the cleanest look and makes it easier to see what row your current stitch is in.
Crochet Easy Pumpkin Square Pattern
Uses: Looking for something fun and festive to make this fall? Look no further! This crochet, easy pumpkin square pattern is a great way to get into the season's spirit. From soft and cozy blankets to fun, statement pieces, our square patterns make it easy to create any blanket you desire--from baby blankets and throw pillows to full-size quilts and afghans.
Materials:
Cotton yarn
4mm crochet hook
Making: Make a crochet pumpkin square with this easy step-by-step instruction. The starting chain 2 is not counted as a stitch for this whole Pattern. It is to bring the yarn to a working height and ensure you have enough stitches. Start the next stitch in the same stitch, then complete all 12 chain stitches of your new row by adding another chain stitch in each row, as shown before and after each image.
Crochet Halloween Pumpkin Pattern
Uses: Crochet a pumpkin for your Halloween party with this easy-to-follow pattern. This great project is also fun and decorative, ideal for children and adults alike. The tutorial includes instructions for beginners and experienced crocheters, so whether you are looking for a cute decoration for yourselves or friends or want to try your hand at making one yourself, this pattern will not disappoint.
Materials:
Chunky yarn
2mm crochet hook
Making: To Make this pattern, fold the piece in half and make 20 sl st connecting the 2 sides by inserting your hook through the back loops of your sts on the top side and the sts of your beginning chain. Cut the yarn, leaving a long tail for sewing. Now, take the yarn tail, and with the help of your yarn needle, go in and out in every row to gather the opening and close the top. Once you go through all the rows, pull the yarn tail to close the hole. If you continue to have a little hole, make a few sts more to secure and close the hole completely. Hide the yarn tail inside your work.
Crochet Ribbed Pumpkin Pattern
Uses: Crochet a cute Halloween pumpkin that's sure to be the hit of any fall centerpiece. The ribbed pumpkin pattern adds eye-catching dimension and interest, while the alternating color combinations create a festive look. Crochet this fun holiday project with your favorite yarn, and include this pattern in your collection. Whether you use it as a centerpiece, table art or to put it on display in your living room, this crocheted pumpkin will surely be a hit!
Materials:
Chunky yarn
Making: This simple pumpkin is crocheted flat and seamed, then the bottom is gathered. Once the bottom is gathered, you stuff it firmly, then gather the top.
Crochet Pint Sized Pumpkin Pattern
Uses: You will love the pumpkin's big puffy cheeks, cute little nose, and that wonderful orange color! Make some beautiful decorations for your home or store them for later use. You can use this pumpkin as a fall centerpiece or place it at the corner of your table, keeping it safe from curious hands.
Materials:
Medium weight yarn
4mm crochet hook
Making: All pieces are made in the round, beginning with a magic ring. Once you have completed this first round, you will decrease stitches around the edge of each piece to finish them off.