Enjoy these free crochet boho patterns and make your crochet hobby most enjoyable. You don't have to work really hard to create a shabby review when it comes to crocheting something from these crochet boho patterns. These free bohemian crochet patterns are for both hobby hookers and avid crocheters and will surely satisfy your love for bohemian style. From laying boho garments to summer boho tops to standout boho fashion bags, the free patterns, visual guides, and step-by-step instructions are provided for all.
Explore this list of 20 free crochet Boho Patterns to see fantastic boho stuff to add to your wardrobe. From beginners to advanced skill levels, there are free patterns in the compilation for all. Moreover, the list provides unique boho jewellery patterns, and boho wall hangings patterns, too, will be loved dearly by all.
The bohemian fashion does not get out of trends every. It is always in the home decoration and fashion world. So, here you will find boho patterns for all home decoration to fashion garments that will rock for vintage festival fashion. In addition, you will learn lots of unique techniques to come up with intricate and straightforward boho details in the completed free crochet patterns. Put together the granny squares for whipping up excellent granny square fashion bags and combine two giant circles to make adorable bohemian fashion bags. Finally, crochet the giant Mandalas to whip up lovely circular vest patterns and style up the fashion-loving ladies more. Taking a round of these free bohemian crochet patterns will make you learn a lot more for sure.
1. Crochet Boho Tank Top Pattern
Are you a bohemian fashion enthusiast? So, make your way to gain a beautiful bohemian-inspired fashion look using the granny squares, the most popular motif in the crocheting world. Yes, by putting together the granny squares, you can easily make this boho tank top, which will be the most excellent addition to your winter fashion wardrobe. Crochet 2 skeins of Caron Simply Soft in Bone and stitch it using a 4 mm hook to make this boho tank top. Finish with button closure. Here it would help if you had an intermediate skill level to whip up this boho tank top. Details here hookedonhomema
2. How to Crochet Boho Vibe Shawl
Bring great boho fashion vibes to your everyday look by wearing this crochet boho vibe shawl. One more graceful crochet boho pattern. The pattern looks like having intricate details but is fairly easy to crochet. Hook up the Red Heart Soft Yarn in Cinnabar with a 6mm yarn hook to whip up this fringed crochet shawl, something best to get for women's fashion. Use it as a lightweight wrap; it will surely bring warmth to your shoulders and upper body. The shawl is 72" wide and 33 ½" long. Details here yarnspirations
3. Boho Duster Cardigan Crochet Pattern
Satisfy your love for the boho fashion by wearing this boho duster cardigan, which is relatively easy to crochet with the provided free pattern. The best cardigan to crochet for your fall fashion wardrobe. It is long, warm, and has a fun flare in sleeves and at the hips. Grab the 500g of Lion Brand Worsted Weight Jeans Yarn in topstitch, khaki and corduroy colors to whip up this super adorable looking cardigan. With an intermediate skill level, you need a 5mm crochet hook to stitch this fantastic-looking cardigan. The pattern using the V-stitch as special stitches and 5 V-stitches is equal to 4". Details here hookedonhomema
4. Crochet Boho Tassel Bag Pattern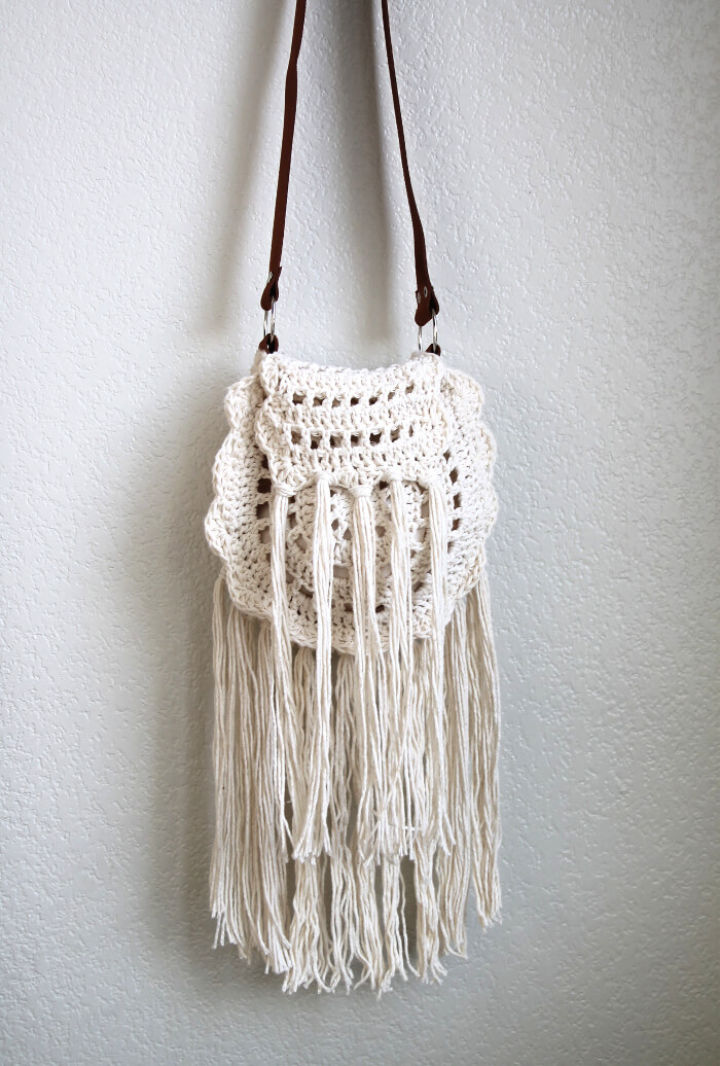 The smooth white flow of details is often the feature of a boho style that this tassel bag beautifully owns. A must-get crochet accessory to satisfy your love for your bohemian fashion. Grab 8 ounces of Lily Sugar'N Cream in Ecru or any worsted weight cotton yarn to stitch this boho tassel bag. Next, you need a half yard of unbleached muslin, rivets, rivet setters, leather strip, leather punch, and two steel rings to complete this boho tassel bag. Use the 5.5mm crochet hook to whip up this pattern. Half treble crochet is the special stitch used in this pattern. Details here persialou
5. Boho Crochet Bracelet Pattern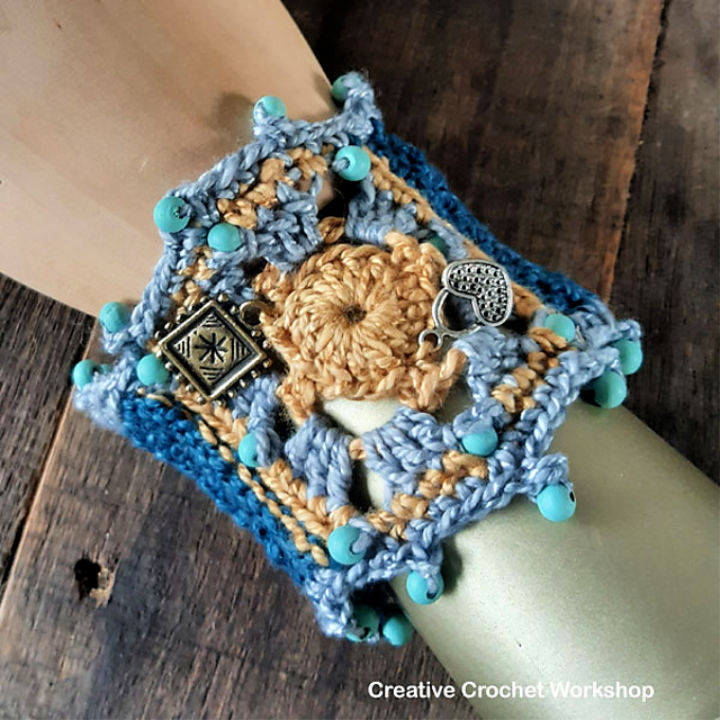 Want to do something fantastic with the leftover yarn? Then crochet this boho bracelet with the scrap yarn will make you gain the perfect bohemian-inspired fashion glance. The project is all about shaping and finishing and is one of the most accessible crochet patterns ever. This bracelet has medium size, but you can crochet it in any size you want. Grab 30g of Eco Fusion Bonbons in yellow, grey, and dark blue colors to whip up this crochet bracelet pattern. This boho bracelet pattern is to crochet with a 3.5mmhook. Don't forget to decorate it more using beads and charms. Details here creativecrochet
6. Boho Chic Crop-top Crochet Pattern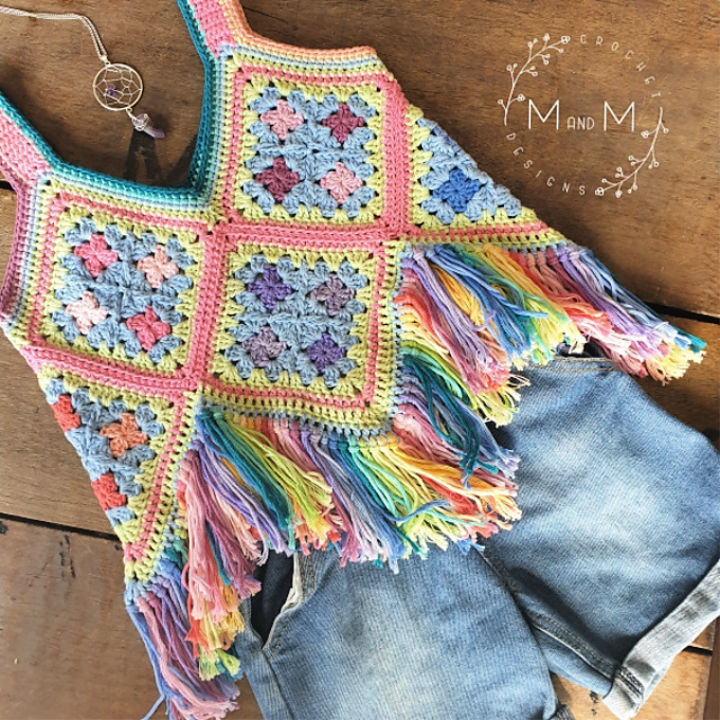 A big thanks to granny squares again for this chic crop top, an adorable crochet boho pattern that will make a sweet gift for the little girls in the home. The fringed and tasseled edging confirms it to be a perfect boho-inspired crochet garment. Crochet the 100% cotton Vinnis Nikkim yarn in blue, mint, and pink colors to stitch this exciting crochet young girl top. There is an extensive list of contrasting colors that you can add. Along with a 3.5mm yarn hook, you need a beginner skill level to hook up this boho crochet pattern. Details here mandmcrochet
7. Boho Crochet Bracelet Pattern Free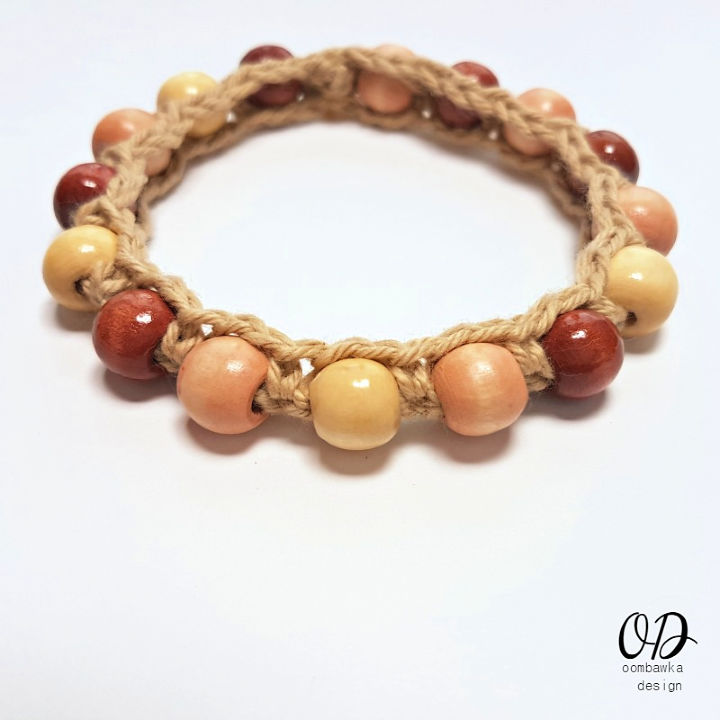 Not merely the crochet fashion garments, shoes, and winter warmers, the art of crocheting allow you to stitch lovely items of jewelry, too, this time in boho style. Peek into details of this boho crochet bracelet that looks lovely and graceful in beaded appeal. Crochet 8.4yds of Lion Brand Bonbons Yarn in tan color to whip up this gorgeous boho crochet pattern. Use the 2.25mm hook for this project and use your own choice of beads. Finish this bracelet with magnetic closure. Details here oombawkadesign
8. Free Crochet Boho Rainbow Pattern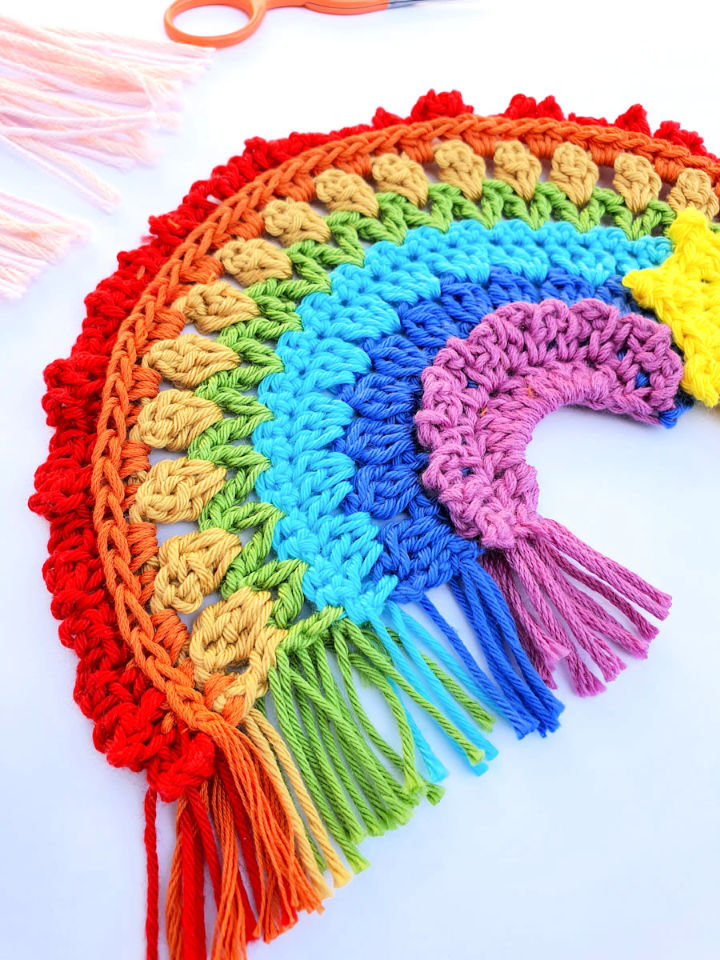 Wishing to bring rainbows to your home? Then why not croche them in the bohemian style to add a boho decor touch to your decors. Crochet the scrap yarn in 7 rainbow colors and choose any hook according to the weight of your selected yarn. Gauge is not necessary hair, but tassels are. The popcorn stitch, the V-stitch, and the 3 double crochet clusters are the special stitches used in this easy and quick crochet pattern. Hang this tasseled rainbow over the window for an instant graceful view. Details here thestitchfoundry
9. Street Fair Crochet Boho Purse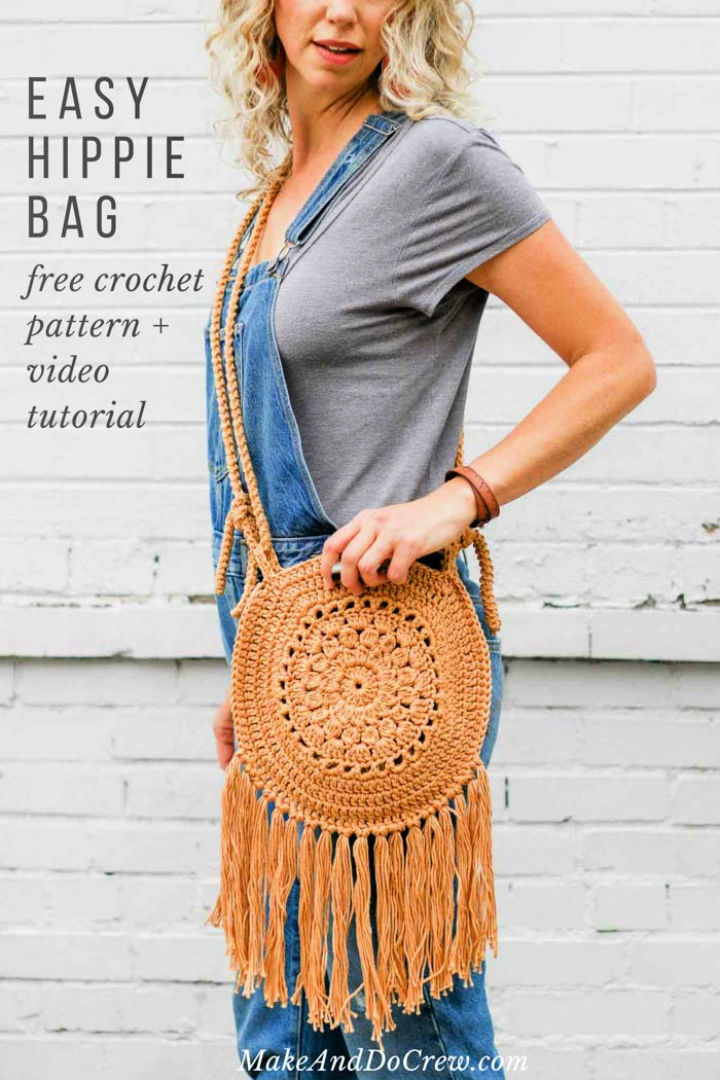 Are you handy at crocheting the best circles? The use of this technique to crochet adorable boho fashion like this street fair crochet boho purse. Crochet the Lion Brand 24//7 Cotton weight 4 yarn in camel color to crochet two big yarn circles. Work with the 5.75mm to make this 11.25" x 11.25" purse. The strap height is 20". The calculated gauge for this boho purse is 6 dc x 3.5 rows equal to 2". Create the foundation by making a magic ring and then work in rounds to complete the entire bag. Don't forget to add the fringed tassels. Details here makeanddocrew
10. Boho Wall Hanging Crochet Pattern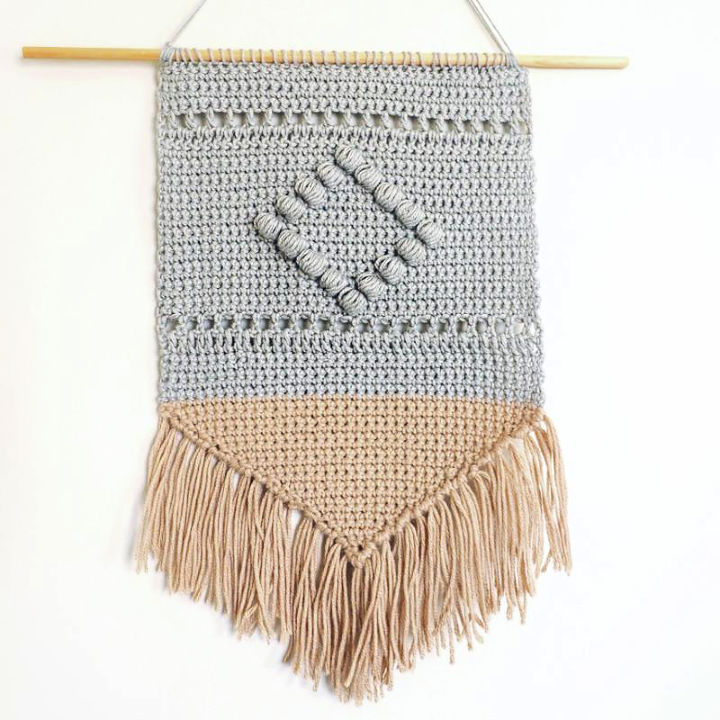 This boho crochet pattern is excellent for easy and intermediate skill levels and will surely grace up your bedroom. This is here a great-looking boho wall hanging to crochet with acrylic medium weight 4 yarn. Use the 4mm crochet hook to hook up this boho wall hanging. 7.5 sts and 9 rows equal 2", the best gauge for this wall hanging. The finished size of this wall hanging is 8" wide and 18" long, including the fringe. Another remarkable crochet boho pattern to stitch. Details here creamofthecrop
11. Free Bohemian Crochet Coasters Pattern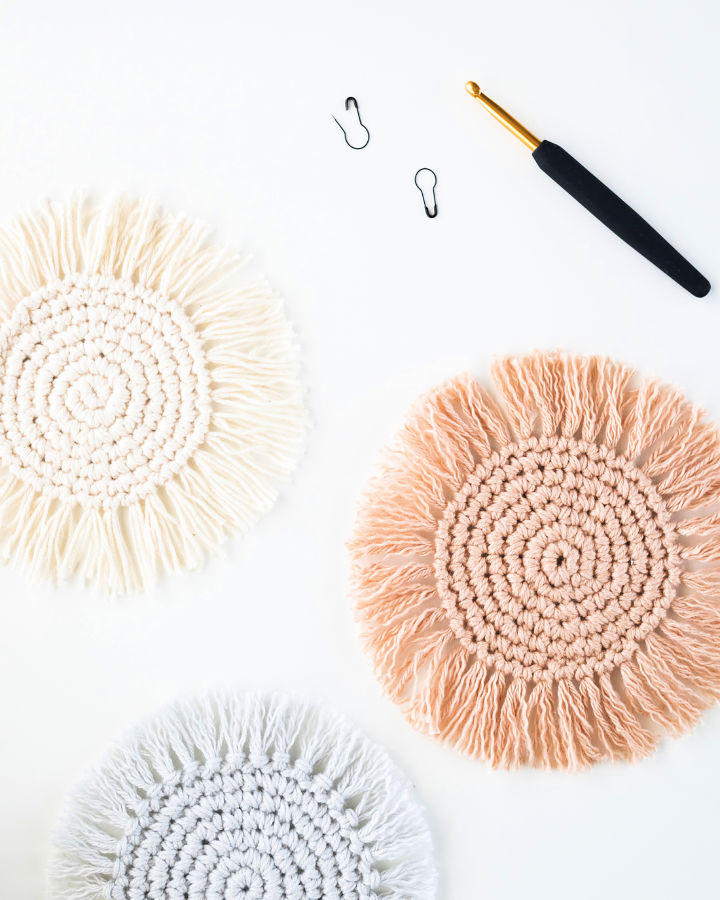 Bring the fantastic boho decor touch to your dining or coffee table too. Just crochet the great boho coasters at home that look great under the coffee cups and beverage mugs. Crochet 2 strands of cotton yarn, making lovely spiral crochet round and then finish with the tassel edging. The tassels or fringes bring the necessary boho appeal to these crochet coasters, crocheted to rock and inspire. Crochet worsted weight 4 dishes crochet yarn with a 5.5mm crochet hook to stitch this bohemian crochet pattern. forthefrills
12. Crochet Urban Nomad Boho Bag – Free Pattern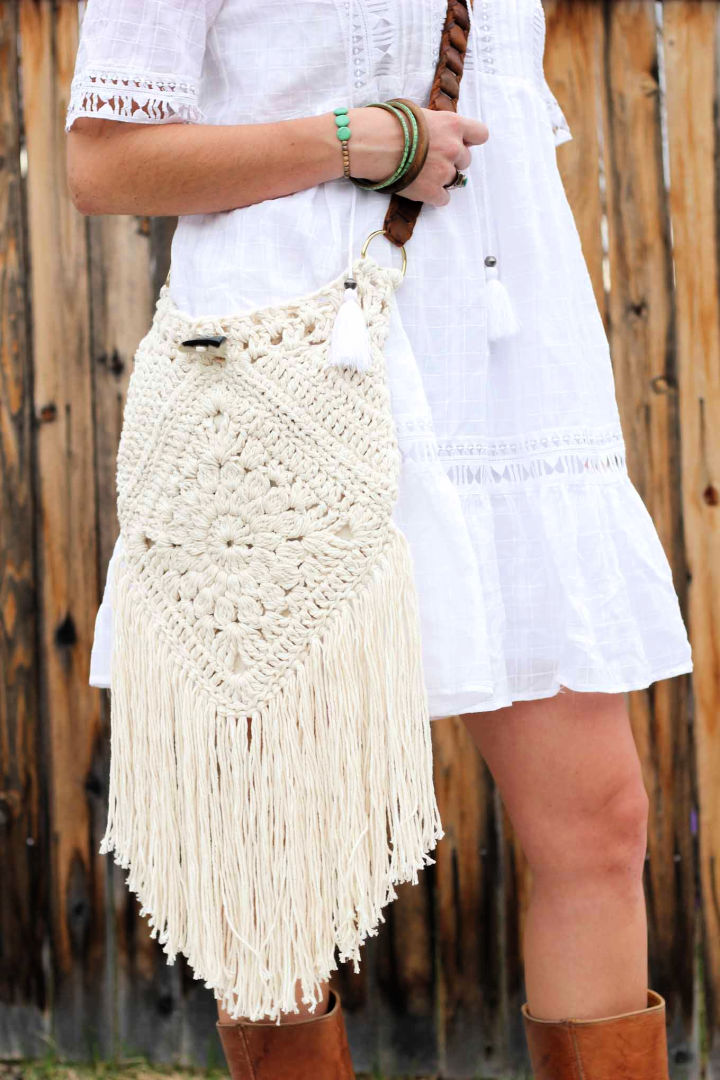 Want to wear that alluring boho look while looking modern at the same time? Then you only need this urban nomad boho bag over your shoulders. This handsome flowy bag that comes with fringes like the waterfall is 14" tall and 11.5" wide. Consider giving it as a sweet handmade gift, and it will be something must to add to your boho fashion wardrobe. Crochet 99 yards of crochet Lion Brand Kitchen Cotton yarn with a 6.5mm crochet hook to get this nomad boho bag made. Further, you need a 30" x 24" piece muslin fabric, toggle button, leather belts, and D-rings to complete this bag. Details here makeanddocrew
13. Free Boho Crochet Headscarf Pattern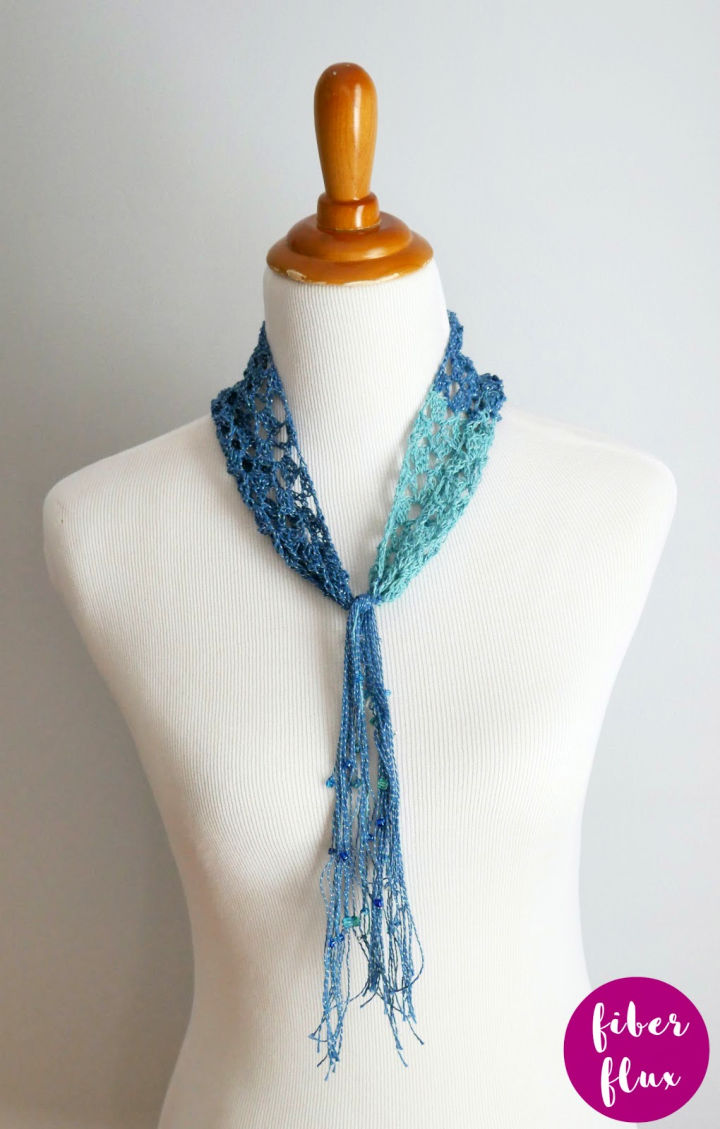 Rock your beach visits and picnics by wearing a special boho look. To do so, wear this boho crochet headscarf that is lacey but will bring tons of amazing visual details. Wear this scarf around the neck, too, for an elegant style statement. The scarf itself gains attention from the beaded fringe and will make a quick sweet handmade gift. Crochet 1 ball of Croquette Red Heart Yarn in tidepool colorway using a 3.75mm hook to whip up this boho crochet pattern, will win the heart at first glance. Details here fiberfluxblog
14. Heartland Boho Crochet Wrap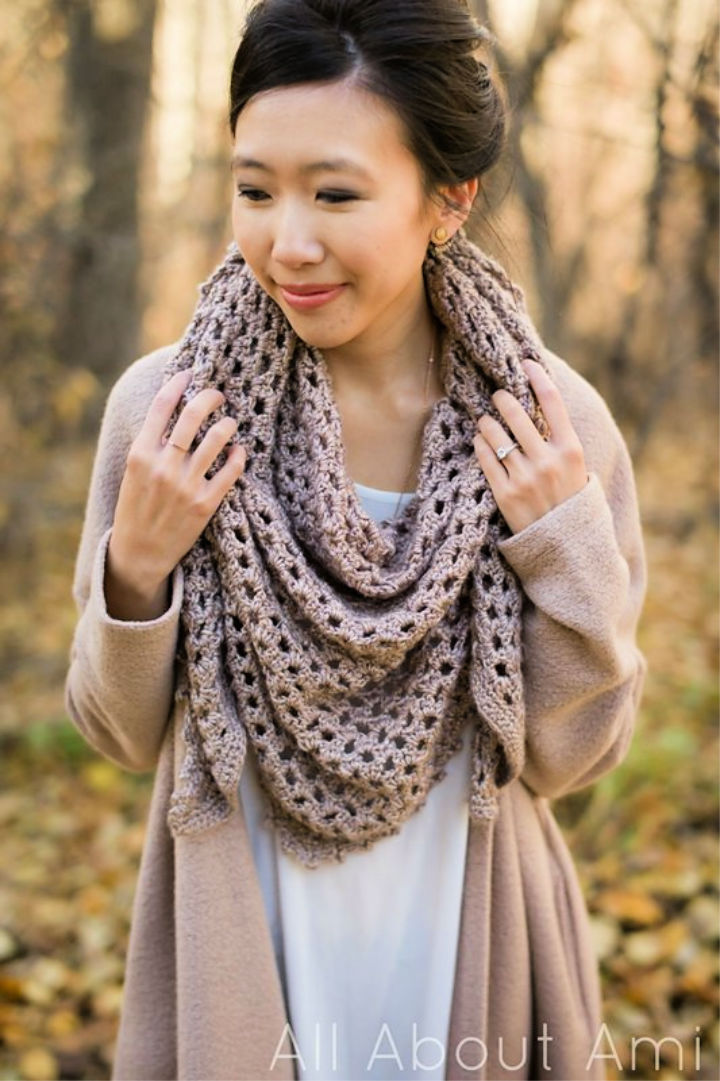 Gain the attention of the onlookers by wearing this a bit lacey crochet wrap. It features a mesh style openwork that is the whole reason behind its so raised elegance. Along with the basic stitches, you have to work in the shell and picot stitches also to whip up this interesting model of crochet boho wrap. Crochet Heartland Lion Brand Worsted Weight 4 yarn with a 4.5mm hook to stitch this nice-looking wrap. The finished size of this wrap is 78" wide and 29.5" tall and will make a sweet handmade gift to a style-loving lady. Details here allaboutami
15. Boho Crochet Baby Booties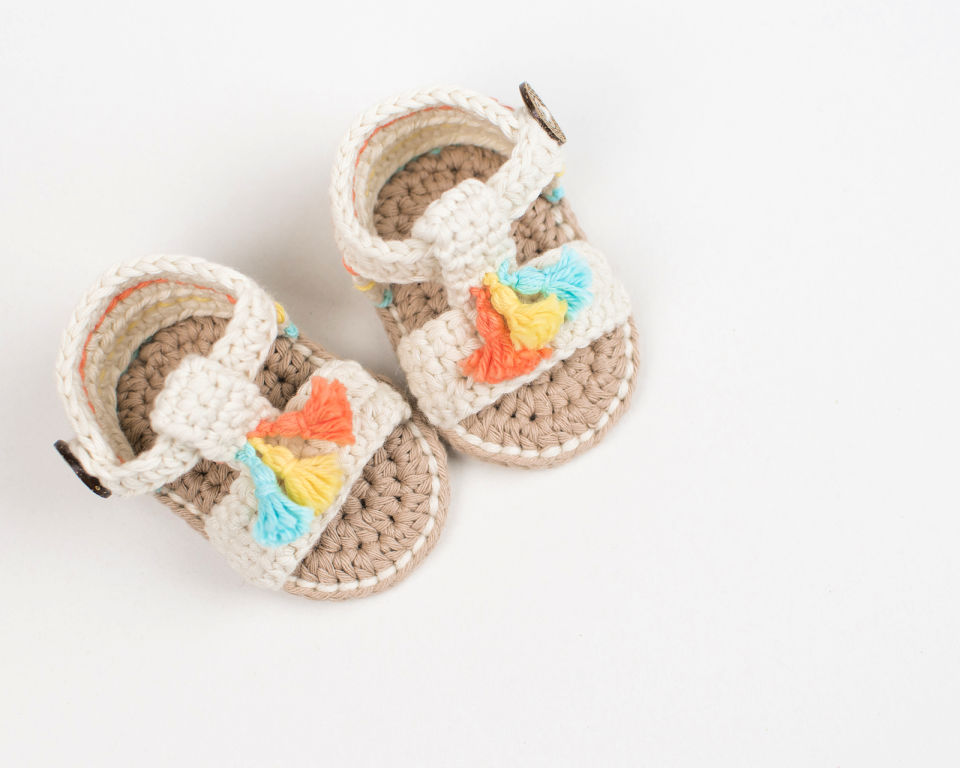 Bring that unbeatable cuteness to those little toes by crocheting these tiny baby booties in the special bohemian style. These cuties are the best baby shower gift to crochet and will bring tons of comfort to the tiny feet of a baby. Choose the Rico creative 100% cotton yarn to stitch the soles and upper part of the sandals. Use the Paintbox Yarn Cotton DK to crochet the 3 little lines and tassels. Here you have to work in the 3.5mm and 4mm crochet hook to get these adorable baby booties made. The size of these sandals is just perfect from 0-12 months. Details here crobypatterns
16. Free Hippie Crochet Bag Pattern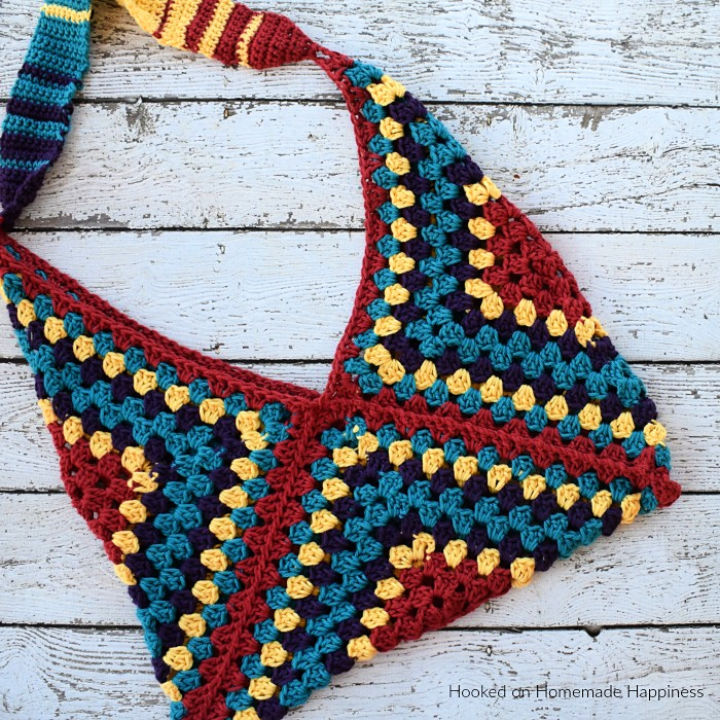 By wearing this handsome crochet bag over the shoulder, you will surely be catching a lot more eyeballs. Put together 3 granny squares to whip up this hippie crochet sling bag, a perfect bohemian fashion accessory to hook up in no time. If you know how to crochet a granny square, then the pattern is a piece of cake for you. Choose the bright colors of choice for this project and add the strap at the end. Crochet worsted weight cotton or acrylic yarn in 5 different colors to make this bag having finished size 17" x 27". Along with a 5mm crochet hook, you need a beginner skill level to stitch it. Details here hookedonhomemade
17. Bohemian Vest Crochet Pattern Free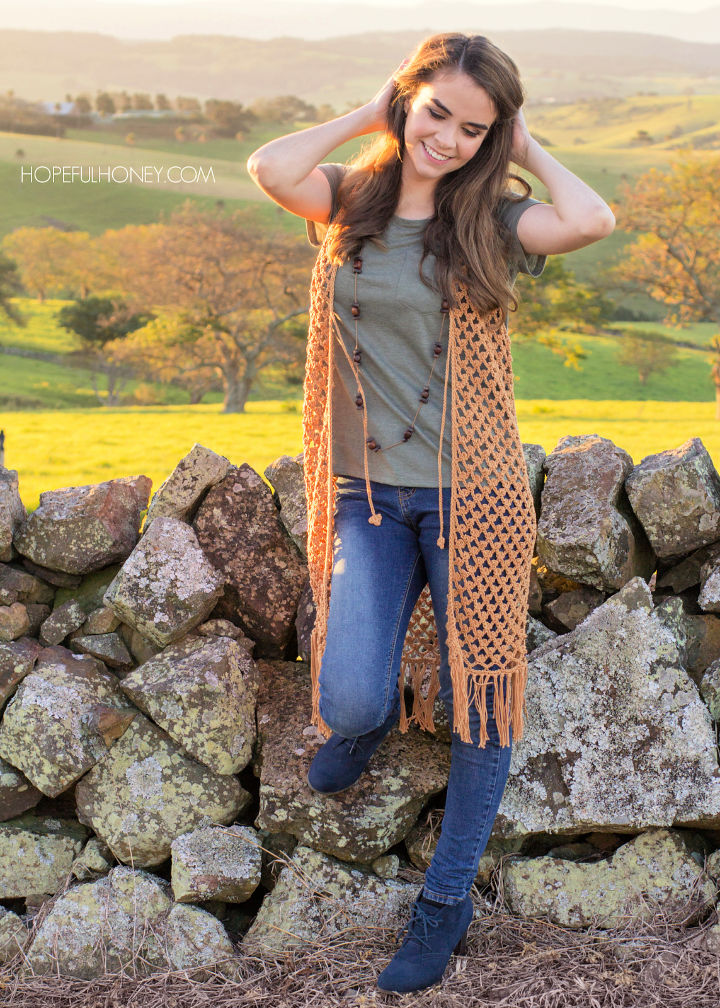 Are you a passionate lover of bohemian fashion? Then this bohemian crochet vest can be your new favorite thing. You need worsted weight 10ply and Lion Brand 24/7 Cotton yarn to get this bohemian beauty made that comes with the flowy fringe finish. The medium finished size will be 20.5" wide and 33.5" long. The perfect gauge for this pattern is, 18 stitches and 20 rows are equal to 4" or 10cm in single crochet. The picot stitch and single, double triple crochet decrease are the special stitches to use in this pattern. The best hook sizes for this pattern will be 3.5mm and 4.5mm. Details here hopefulhoney
18. Crochet Boho Vest Pattern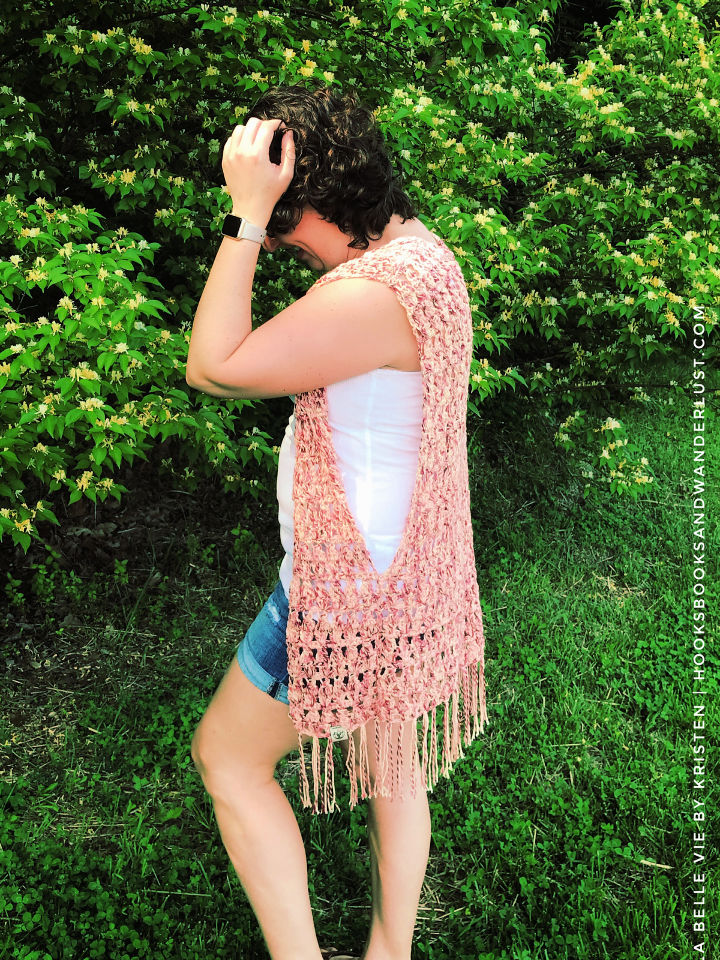 Enjoy the summer nights by wearing this precious boho vest, which will add a comfy layer of warmth to your shoulders. Crochet Lion Brand Comfy Blend Yarn with an 8mm crochet hook to whip up this boho vest that is a new bohemian beginner crochet pattern. 12sc are equal to 15 rows of sc that are equal to 4", is the calculated guage for this crochet pattern. Don't forget to add the final tassels, will give a nice finish to your vest. One of the most beautiful crochet boho vests ever made at home. Details here hooksbooksandwan
19. Boho Bohemian Crochet Vest Free Pattern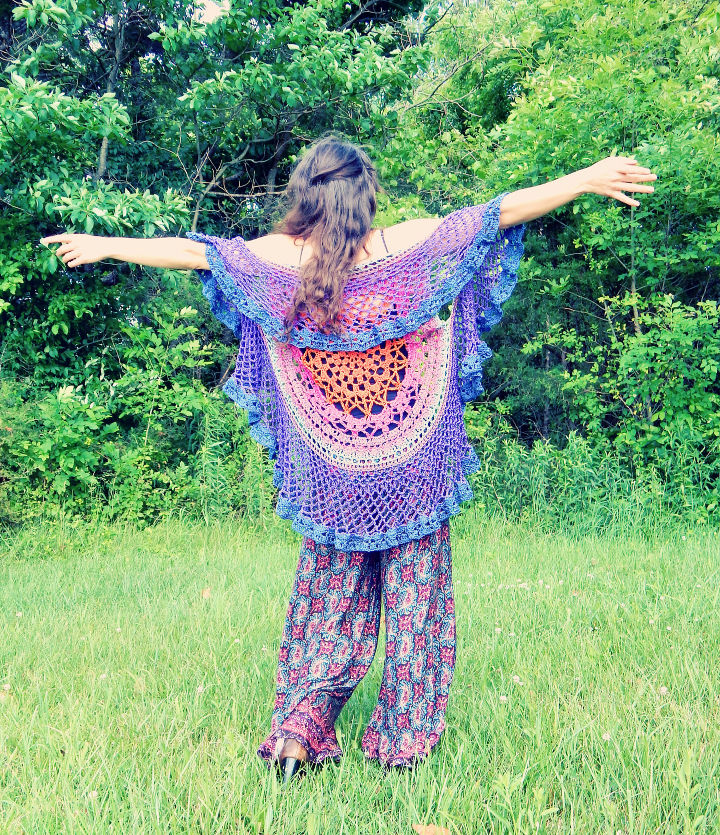 While being on a mission to hack the perfect bohemian fashion with your hook, then this lotus crochet circular vest can be your new favorite thing. The very basic skill required for this pattern is a crochet Mandala that you have to crochet with a magic ring foundation. This big mandala circular vest is to crochet with the Lion Brand 24/7 Cotton DK weight yarn. Use the 5.5mm hook to stitch your selected yarn weight, and the required gauge is, 3 Rnd across the diameter measure 3.25". The special stitches used here are the dc cluster and shell stitches. Details here moralefiber
20. Boho Picot Stitch Neckerchief Pattern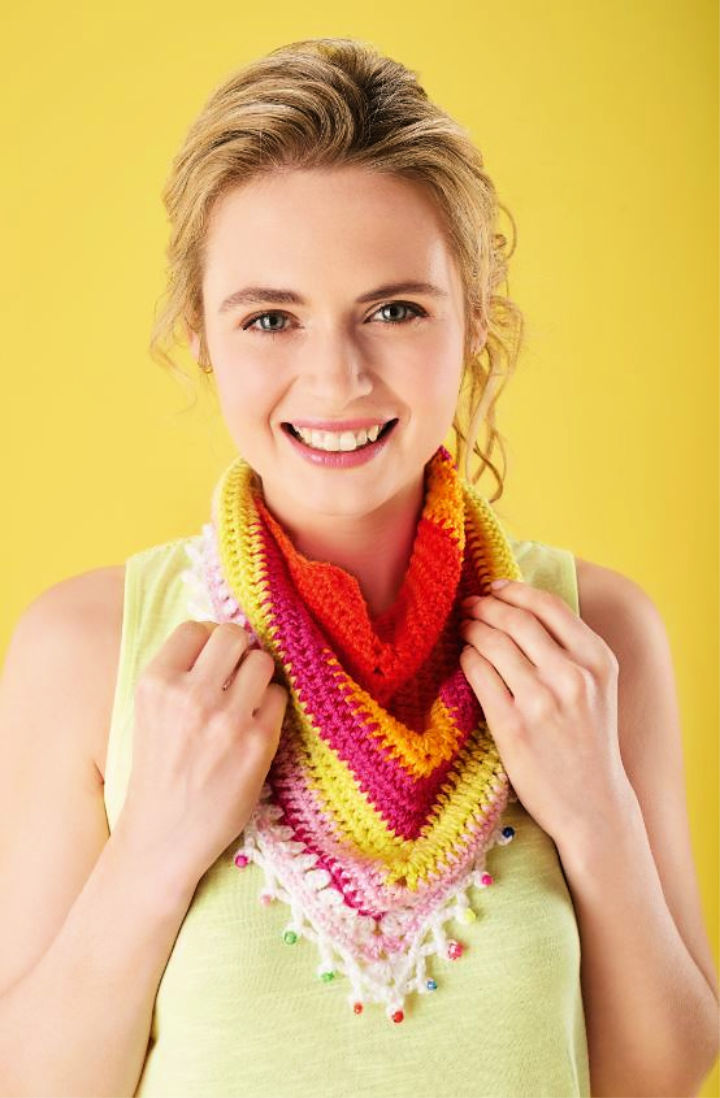 This boho crochet wonder is to do with the picot stitch, a precious boho festival neckerchief to crochet right in the comfort of your home. Just add the fringe edging all around you may come beaded for amazing visual grace and appeal. Choose your own yarn colors and weights to crochet this boho fashion accessory that is quick to whip up. This neckerchief will make a colorful neckwarmer or cowl too. Moreover, it can pair up beautifully with your t-shirts too for extra grace and charm. Details here topcrochetpatterns
Conclusion:
If you want to crochet the best fashion outfits, jewelry, and even home decor with your own crochet hook, then finally the list of easy boho crochet patterns is here! Along with free patterns, you will get visual guides, step-by-step instructions, and diagrams too to stitch a custom selected pattern like a pro! From making adorable shawls to boho tank tops to adorable boho shoes, you will get free crochet patterns for all! The list covers some best window and bedroom crochet decorations too crocheted in bohemian style! Crochet best-looking bohemian bracelets and other jewelry items too with bead accent with the help of provided free patterns here!