Whether you're a mom and your kids are Minecraft fans or have a niece or nephew who plays the game nonstop, crochet is one of the best ways to express your love and attention. With these Minecraft Crochet Patterns, you'll find all sorts of incredible Minecraft-themed motifs to use in blankets, pillows, and more.
Minecraft has been called millions of times over the years, and now it's time to bring you back home with this collection of Minecraft Crochet Patterns inspired by your favourite game. They're sure to provide hours of fun, whether the pieces are used for crochets and crafts or just collected on a shelf!
The Ultimate List of Free Minecraft Crochet Patterns
Covering all of your favourite Minecraft characters and blocks, this collection includes easy-to-follow crochet instructions that allow you to create all kinds of adorable Minecraft creations. This list contains a lot of fantastic Minecraft Amigurumi Patterns for all levels and skill types, including beginner, intermediate, and expert.
They can be made in an hour or less, and all the supplies you need to finish these projects are easy to find at your local craft store. Create eye-catching projects with these expertly crafted designs. These crochet Minecraft patterns are a great way to pass an evening with crochet hooks in hand.
How To Get Start With These Minecraft Characters Crochet Patterns:
Are you ready to get started with crochet? Minecraft crochet patterns free is your complete guide to incorporating some of the most popular characters from Minecraft into beautiful, one-of-a-kind pieces.
Below are some great projects for beginners and experienced crocheters alike. With this collection of quick Minecraft crochet patterns, you can be crafty like Steve and build something significant that no one has built before. From beanies to caps, blankets, clothes, and more, these blocks that say "mine!" will surely be a hit with your kids.
Uses And Scope:
Easy Minecraft Crochet Patterns are very Interesting to look at and explore. This can help you to make your own crochet stitches. These patterns will keep you busy, and the projects are fun for the whole family.
Minecraft crochet patterns can be used for all kinds of fun things. These simple designs make great gifts for Minecraft enthusiasts and unique decorations for a room or playroom. You can also use these patterns to create creative hats, dolls, or wall hangings. From hats and shirts to blankets and bags, there's no shortage of what you can do with your imagination. All patterns come with clear instructions that are easy to follow and understand.
These 15 lovely Minecraft Crochet Patterns are designed to be easy and fun to create and can be made into gorgeous accessories for you or your family, whether you're new to the art of crochet or have been crocheting for years!
Minecraft Crochet Blanket Pattern: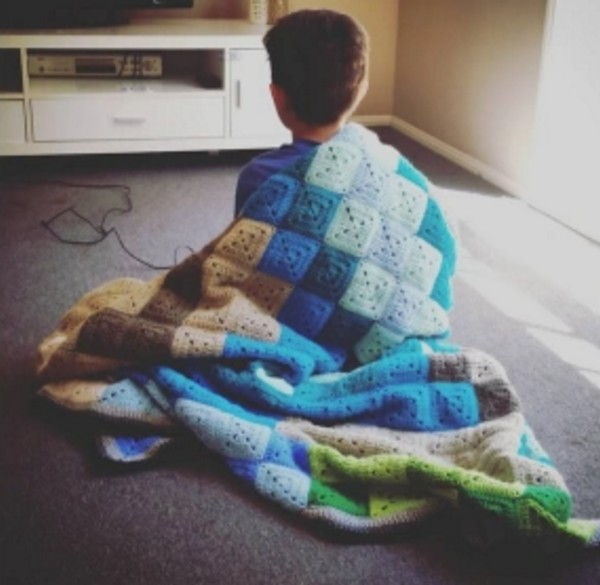 Crochet a cosy Minecraft blanket for kids and adults! This pattern provides everything you need to know to complete a crochet blanket, from the supplies and materials to create the texture, colouring, and crafting of this unique piece of craftsmanship. This project will keep you busy for quite a while. It will make the perfect addition to any Minecraft-themed room! So grab your hook and yarn, and let's make our own Minecraft pattern!
Minecraft Zombie Crochet Pattern:
This Minecraft crochet pattern free is the perfect gift for anyone who loves zombies, especially someone who is a fan of Minecraft. You can use this pattern to make a crocheted doll or keychain, which looks so cute! The tutorial is easy to follow and provides easy-to-read, precise instructions with photos for each step. Get started today with this easy project and share it with friends on social media to show off your crochet skills.
Minecraft Wolf Granny Square Blanket: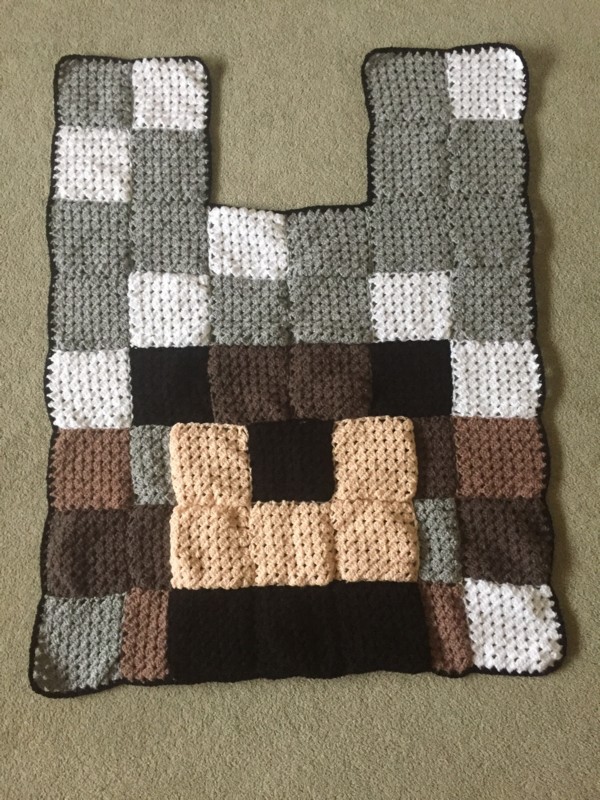 Everything your kid loves about Minecraft is pictured on this unique blanket. Perfect for a child's bedroom or snuggling on the couch, the Minecraft wolf crochet pattern features bright green diamond patterns and other iconic images from the video game. The blanket allows the creator to explore and indulge their creativity, creating a world that only exists in their mind. The perfect gift for any Minecraft fan, this pattern makes a great addition to any bedroom or sofa!
Minecraft Creeper Crochet Pattern Free:
If you love the video game, here's a new crochet pattern. It's the Minecraft Creeper! This is an easy project for a beginner, as it only uses single crochet and slips stitching. The creeper is 10-inches tall (so use large yarn). The best part about this free pattern is that it requires no sewing; all you have to do is whipstitch all the pieces together. Crochet this creeper with swinging arms and legs and sew it onto a bag or clothing as an adorable addition!
Minecraft Scarf Crochet Pattern:
This Minecraft Scarf Crochet Pattern is the perfect accessory for your next adventure through Minecraft! This scarf pattern would also make an excellent gift for any Minecraft lovers in your life! You will receive the easy-to-read pattern instructions and a full photo tutorial with step-by-step instructions. You can sell the finished items if you want to add income to your bank account. The pattern is written in US terminology and includes step-by-step photo tutorials to help you through the process.
Minecraft Steve Crochet Pattern Free: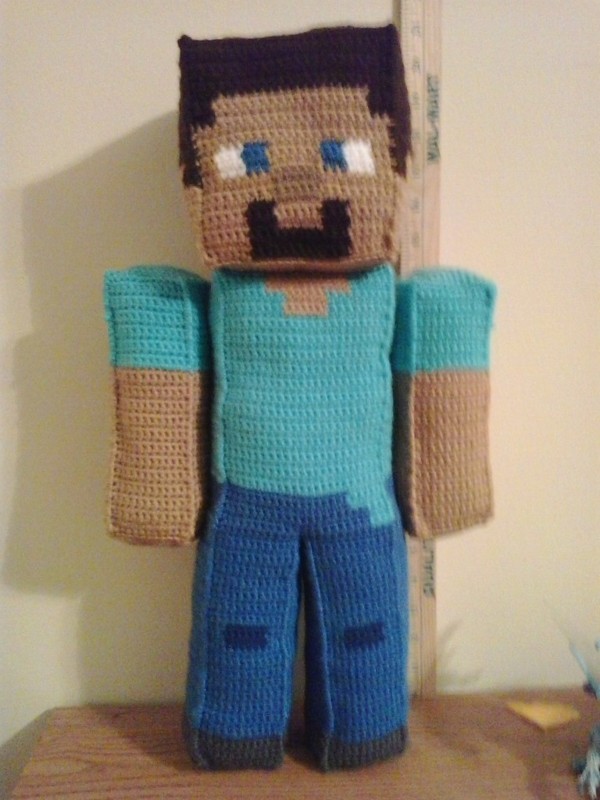 This free crochet Minecraft Steve pattern is simple and easy to follow. Even if you've never crocheted, you'll be making this instantly recognizable character in no time. With the suitable yarn and materials, it's also relatively quick to make, making it a fun craft project for kids and adults alike. There are no abbreviations, so you don't need to be an expert crocheter to follow along. The end result has a nice amount of bulkiness, which helps it look like the real Minecraft steve!
Minecraft Crochet Hat Pattern Free: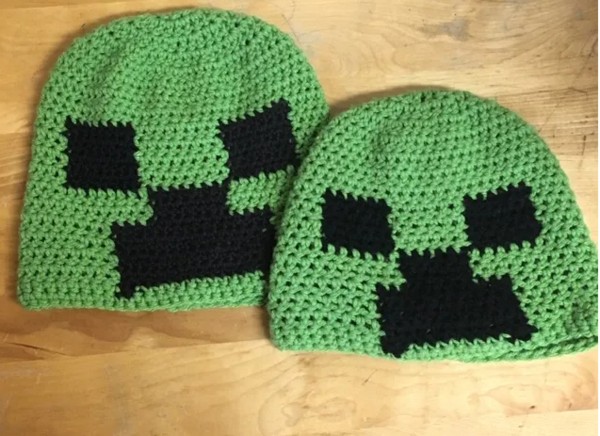 This free crochet pattern for the Minecraft Hat features a diamond texture and a top knot, which looks great on both boys and girls. It is sized to fit most children - please see below for dimensions. Though not necessary to make this crochet hat, we included instructions on adding holes so it could be used as an adult hat. Follow along in our step-by-step video tutorial to learn how to make this adorable Minecraft hat. And for more awesome Minecraft crochet patterns and gifts, check out this list!
Minecraft TNT Blocks:
Minecraft's TNT Blocks have been around for a very long time. Now you can finally display your love for the iconic explosiveness of this game in your own home. The square-shaped artwork is a great accent piece that any fan will love on their wall or in a room full of other Minecraft toys. This colorful, highly-detailed building block set features a variety of explosive configurations, including a stackable TNT block and TNT resource pack so players can detonate whenever and wherever they like.
Minecraft Bee Crochet Pattern:
The crochet Minecraft bee free pattern is the perfect project for anyone who loves making crochet amigurumi and is a big fan of Minecraft. This pattern includes a detailed list of materials, step-by-step instructions with helpful photos and diagrams, tips to help you create this cuddly little bee, and even a place to write down your favorite color combinations so you can make them again. If you love bees and Minecraft, this pattern is perfect for you. This project is suitable for beginners.
Minecraft Axolotl Crochet Pattern:
This amigurumi axolotl is an advanced beginner-level crochet pattern. We designed it to be modular, so you can change many things about the axolotl, making it appear more like your Minecraft character or other favorite video game character. The axolotl Minecraft crochet pattern is easy to follow and includes many photos, mugshots, and notes for questions. It's an easy pattern, suitable for any intermediate crocheter or advanced beginner. You'll need a size G crochet hook, worsted weight (4) yarn in 6 colors, fiberfill stuffing, and a needle and thread to sew the pieces together at the end.
Minecraft Sheep Crochet Pattern: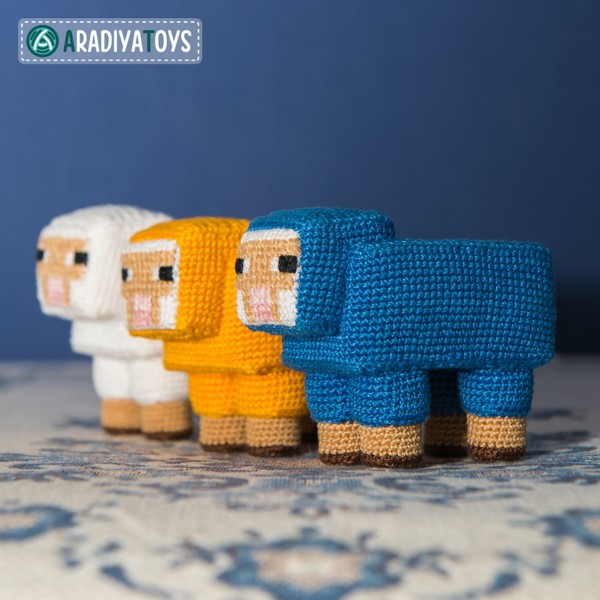 This super cute Crochet Minecraft sheep pattern free is perfect for any Minecraft fan. Make these for Easter baskets or as a gift for any occasion. This excellent project for beginners uses only basic stitches and materials. This pattern is perfect for beginners looking for a fun project. The pattern includes easy-to-follow step-by-step instructions, pictures, and links to video tutorials. You will need to learn how to single crochet and make single crochets into the back loop only, as well as how to crochet in a round.
Minecraft Creeper: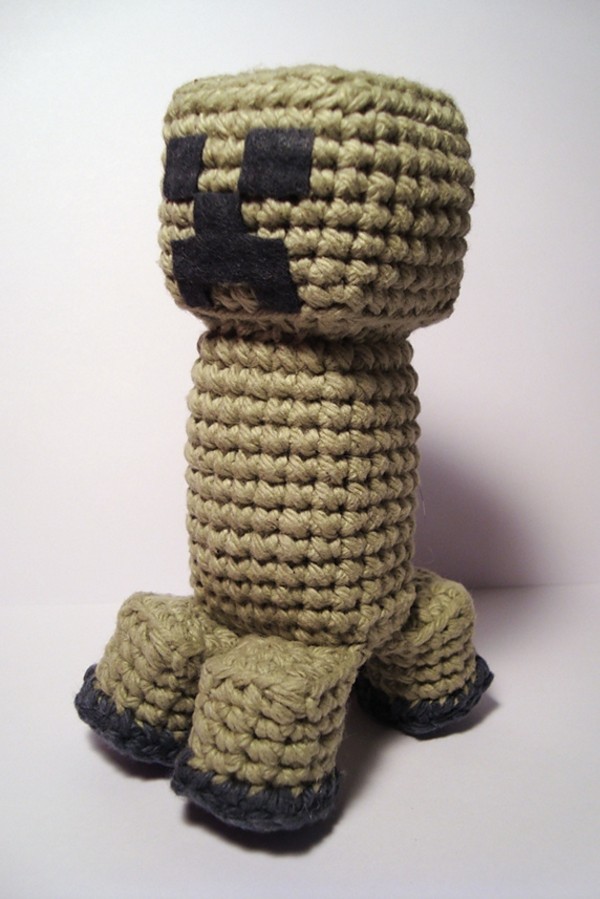 Get crafting with this creeper crochet pattern! This pattern is for an expert and advanced crocheter who is comfortable with single and double crochet stitches. Sewing the pieces together is optional, but it brings your creation to life. This Minecraft Creeper is the perfect project for any fan of the popular game. Crochet using the color scheme of your choice and make your own Minecraft character! You'll love the finished project, so get crafting.
Crochet Minecraft Hat:
Crochet this fantastic Crochet Minecraft Free Pattern and make your own version of the famous game. The pattern includes easy-to-follow instructions, detailed photos, and a video tutorial link. This is an easy crochet pattern suitable for beginners and advanced crocheters alike. It's a great way to keep your head warm while playing games in the winter or just hanging out with your friends. With this pattern, you can make a hat for yourself or three hats to give as gifts!
Minecraft Creeper Blanket: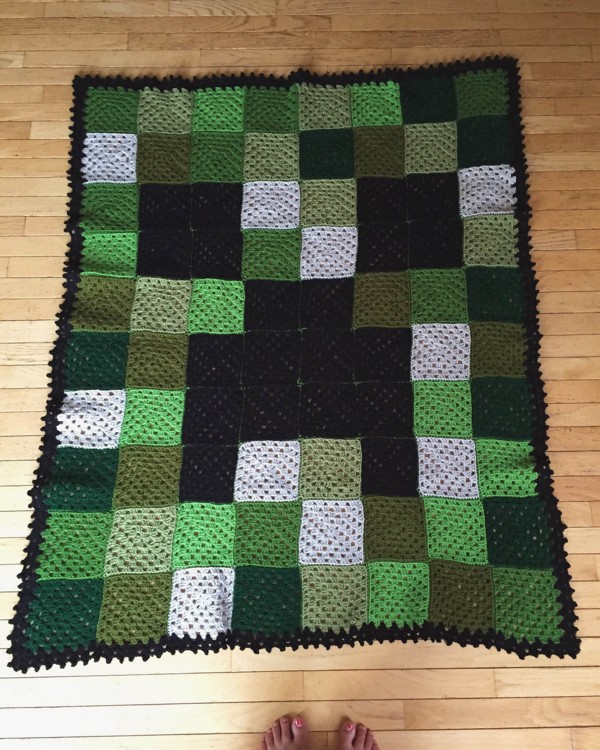 Do you have a Minecraft lover? Are you looking for a fun crochet project? This Minecraft Crochet blanket free pattern is the perfect gift! Crochet this Creeper crochet blanket as a decoration or use it to keep warm while watching movies. It is a unique and fun way to show your love of Minecraft. The Minecraft Creeper is perfect for any gamer or nerd lover in your life. It is soft, durable, easy to wash, and an incredible gift for birthdays, holidays, and of course, Christmas! It's designed to look like a creeper and is an excellent throw for your couch or bed.
Crochet Minecraft Cube: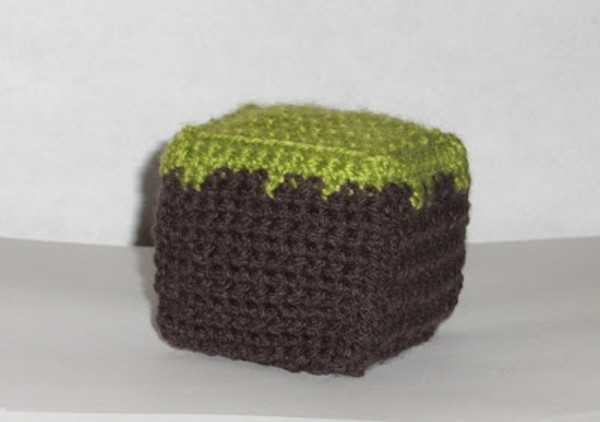 This crochet Minecraft dirt block cube is the perfect accessory for any Minecraft-themed room. This cube has a cozy home-like feel that will make it hard to put down. Whether you're an adult or a child, this item will add a touch of warmth and comfort to your home. The instructions are easy to follow and very detailed with pictures and numbers, so there's nothing that a beginner crocheter can't do. This soft and cuddly crocheted block cube is just like the one in Minecraft and makes an excellent gift for any player.