Free crochet patterns are always a hit with crafters, but they're especially great when you have time to plan out your holiday crafting sessions. These 25 free bunny crochet patterns are perfect for decorating Easter baskets or adding to a child's collection of stuffed animals. Crocheting also does not require any special equipment—all you need are your hands and some yarn. This makes it super simple to do cute little projects without worrying about investing in the right tools. There are tons of crochet patterns out there, but we've rounded up 25 of our favorites—each with helpful links to tutorials and free patterns!
Crochet Bunny Patterns
These Free crochet bunny patterns are a great way to work on your crochet skills, make a cute little animal friend, and get into the Easter spirit without spending any money. Many of these crochet amigurumi are easy enough for beginners to follow, so if you're new to crochet or haven't made something in a while, these projects are a great way to practice. There's an adorable stuffed animal pattern for everyone: classic floppy-eared bunnies, squishy teddy bears, and tiny baby bunnies. These patterns are ideal for kids' toys and gifts, but there are also plenty of adult-sized options.
These 25 free crochet bunny patterns will smile on anyone's face! Let creativity and imagination run wild with these adorable designs.
You Can See: Free Crochet Bear Patterns
Supplies needed for Free Crochet Bunny Patterns
You can find the supplies needed for Free Crochet Bunny Patterns at your local craft store. Here are some suggestions:
1. Yarn (in white, gray, and light green)
2. Hooks in sizes H and G
3. Polyester fiberfill (for stuffing)
4. Yarn needle (for sewing the pieces together)
Beginners Crochet Bunny Free Pattern:
Love crocheting? This is a perfect pattern for beginners. You will learn how to create these adorable little bunnies, and they are so easy to make that you could make a few in no time! This is a super fun pattern for the beginner crocheter! The guided tutorial is a great way for you to learn not only how to crochet but also how to make this Bunny. This adorable little Bunny is a great project for beginner crocheters. And, it also makes a great gift!
Mini Crochet Bunny Amigurumi Free Pattern:
Make this adorable Easter bunny amigurumi for a kid or yourself. This perfect project will practice your crochet skills and make a cute Easter gift. Crochet bunnies are so cute, and they may be used on spring and Easter days. They also can be used as keychains or toys. This is a great pattern to make if you want to learn how to crochet amigurumi. Follow this free pattern, or modify it to your liking.
Little Crochet Bunny Applique Free Pattern:
Sew a little love for the season with this crochet pattern for an Easter Bunny Applique! Make it into a pillow, place it on some stretchy clothing, and make everyone smile. The applique is decorated but has a very sweet style that would work well with many different designs and colors. Made with just single crochet and chain stitches, you can finish one in no time. Use it to decorate toys, gifts, and more!
Cottage Garden Bunny Crochet Pattern:
This Cottage Garden Bunny is the perfect addition to your Easter basket! This Bunny will fit right in with any spring or Easter décor. This crochet pattern is easy to make and is perfect for all skill levels. It works quickly; it only takes about one and a half hours from start to finish! This cute and cozy little Bunny will brighten up any room, and the pattern includes a photo tutorial to help you make your own from start to finish.
Easter Bunny Egg Garland Crochet Pattern:
This pattern is a perfect addition to any Easter celebration. It would also be great as a decorative piece in any house room all year long. This bunny ear hat crochet pattern teams up with a simple egg garland to create an adorable Easter setup. The happy bunnies featured on this garland bring joy to any space they decorate! This pattern includes everything you need to make the garland, including how to make the tiny bunnies.
Crochet Fluffy Bunny Pillow Pattern:
This crochet fluffy bunny pillow pattern is best for kids to play pillow, especially for children about to have a baby girl. You can crochet this Fluffy Bunny Pillow with me or make it a gift for your amigos. Perfect for the Easter season, this cute bunny pillow is adorned with colorful chicks and tulle! Crochet it up in various colors to add a touch of whimsy to any room. The instruction is easy to follow and simple enough for beginners in crochet.
Crochet Bunny Rabbit Blanket Pattern:
If you love the Bunny, then this crochet blanket is for you! This simple project is perfect for beginners and advanced crocheters alike. The blanket pattern is worked in rows rather than rounds, which makes it easy to find where you left off if you get interrupted or want to set it down temporarily. And the colors are customizable, so you can make a rabbit blanket that is your style.
Crochet Baby Bunny Toy Pattern:
This crochet baby bunny toy pattern will help you make a small-sized toy bunny that is great for kids to play with. It is easy enough for beginners and fun for adults too! You can adjust the size and yarn weight to make it bigger or smaller, use any yarn of your choice, and change colors too. This baby bunny toy pattern is perfect for girls and boys. Use it as a gift, or make a whole "bunny farm" as a nursery decoration or baby shower gift. This sweet little Bunny will surely be loved by the new mom and her little one!
Crochet Bunny Pillows Pattern:
This is a very cute and easy-to-make project for Easter. The pattern comes with step-by-step instructions and photos, which makes it easy to follow. You can also change the yarn color or use buttons to make them unique. This Crochet Bunny Pillows Pattern can be used for Valentine's day, Easter, or any other holiday. Great for beginner to advanced crocheters. Above all, it's fun and practical.
Crochet Classic Stuffed Bunny Pattern:
This crochet bunny pattern is easy to follow and makes a great baby shower gift. The most difficult part of the pattern is sewing the pieces together but if you spend some time filling out your piece and stuffing it properly it will be very easy. You can crochet this classic Bunny stuffed animal to give as a gift, decorate your home, or use it as a special toy for your kids. This is a complete written pattern with detailed photos and explanations.
Little Crochet Bunny Pattern:
Little Crochet Bunny Pattern is a great project for beginners who want to learn how to crochet. You can change the yarn and colors and make this little Bunny in any colors you like. It is a great idea for gifting as well! This little Bunny is so sweet and cute that you will want to make them for every child on your gift list or yourself. The pattern includes crochet diagrams and written instructions to make this Bunny from the head down to his adorable feet.
Cute Bunny Amigurumi Pattern:
The Cute Bunny Amigurumi Pattern is a beginner pattern that is suitable for anyone who loves to create adorable things. This pattern can be adapted to any yarn, and with various sizes, you will always find yourself making more than one simultaneously. This adorable pattern for a bunny makes an excellent gift for your friends or family. This unique pattern comes with clear step-by-step instructions on crocheting the little Bunny.
Adorable Bunny Amigurumi Pattern With Hat:
This super cute bunny amigurumi pattern would make the perfect gift for Easter or any other special occasion. The adorable Bunny wears a gorgeous crochet hat and little knitted cozy feet. It comes with detailed instructions, so you can crochet your own little rabbit! This pattern does a perfect project for beginners and intermediate crocheters alike.
Amigurumi Bunny In Pajamas Free Crochet Pattern:
This Amigurumi Bunny In Pajamas Free Crochet Pattern is so cute! Kids will love having a stuffed animal to snuggle with at nap time, and you'll love how easy it is to make. Simple and sweet, this Free Crochet Pattern is the perfect project for beginners or children. You can make your own Bunny with step-by-step instructions and pictures in about 2 hours. Use this guide to learn more!
Gentleman Bunny Amigurumi Pattern:
Are you looking for the perfect crochet project? Crochet your own little Bunny and make him an outfit. This project is perfect for beginners! You will learn how to create a seamless join, increase and decrease stitches, and sew on eyes, ears, and nose before creating a lovely handmade gift. This gentleman bunny pattern is the perfect gift for any male friend or family member. The complete tutorial is easy to follow and provides clear step-by-step instructions for all pieces.
Lalyla Easter Bunny Egg Free Crochet Pattern:
The lovely pink egg is great for decorating the home or giving it to a friend as an Easter gift. This project is fun for those who want to try out some new stitches and color combinations. A perfect gift for kids and adults, this Easter Bunny Egg is worked up in a simple stitch, using basic crochet stitches. Even if you are new to crochet, this project is easy to do. It is made without any yarn cutting and can be completed in one sitting!
Crochet Big Flappy Ear Bunny Amigurumi Free Pattern:
This is a very easy crochet pattern for beginner skill levels. The bunny amigurumi pattern can be added to any other animals you like to make them as big or small as you want. Use vibrant colors like fuchsia, yellow and black to bring this Bunny to life in your home or as part of your collection. The guide below shows you the complete procedure. This is a very easy crochet pattern for beginner skill levels.
Pretty Bunny Amigurumi In Pink Dress: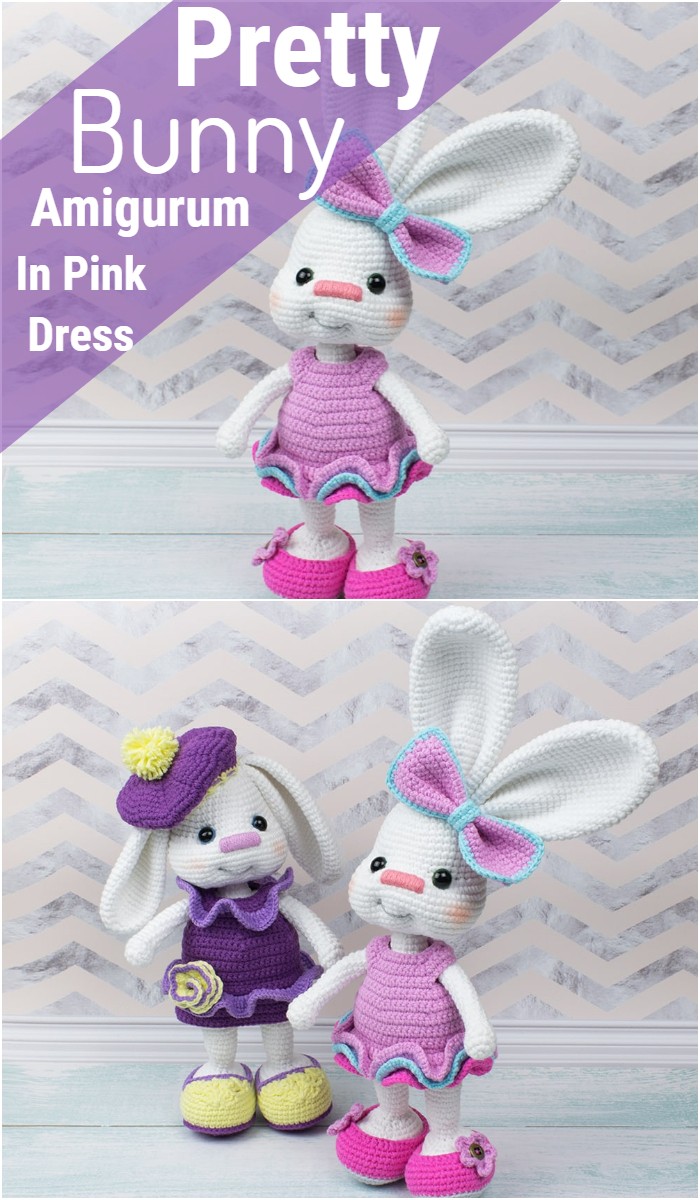 Pretty Bunny Amigurumi In Pink Dress is the best gift for kids and toddlers. You can also use this Bunny as home decor, and it is soft enough to sleep with these bunnies. This doll has lovely details, making them all the more adorable! You need to add this Bunny to your collection or give it as a gift to someone special who loves bunnies. This is a great gift for all ages!
Easter Bunny With Egg Crochet Pattern:
Spring is the perfect time to play with yarn and crochet! This Easter Bunny With Egg is a fun crochet project that your little ones will love. This soft and fluffy Easter bunny is a charming addition to the holiday. This pattern is easy to follow and quick to make so that you can whip up this adorable rabbit in time for spring. This pattern is easy enough for beginner crocheters but looks impressive too.
Sunny Bunny Crochet Pattern:
Sunny Bunny is the perfect gift for a newborn baby or toddler; she has big floppy ears, little bunny feet, and a wide smiling face. She's very soft and pretty to cuddle with, which makes her the ideal toy for little ones. The pattern contains clear instructions, photos of each stage for clarity, and an easy-to-follow tutorial on making Sunny's body in one piece. Go through this guide to learn more!
Amigurumi Rabbit Free Crochet Pattern:
This Free crochet pattern is for Amigurumi Rabbit, which is easy to crochet and sure to be a hit with your kids or grown-ups. You can use different yarn colors to make the rabbit look like it has a coat, but you can also keep it plain if you don't want to add accessories. This amigurumi rabbit-free crochet pattern enables you to build this cute little guy easily. It's an excellent project for people new to amigurumi, as it is rather straightforward and all the materials required are easy to obtain.
Simple Bunny Toy Free Crochet Pattern:
This quick and easy bunny toy pattern is the perfect way to use up those tiny scraps of yarn you have lying around. The ears are fast and fun to whip up; this sweet little Bunny can be made in a couple of hours or less. This is a very simple bunny toy that is perfect for any beginner. The pattern makes one Bunny and can be made out of any yarn you choose, as it is quite soft, so your furry friend will enjoy it!
Bernat Crochet Velvet Bunny:
Bernat Crochet Velvet Bunny is a bright and colorful addition to your child's toy collection. The plush toy has a fuzzy texture, super soft fur, and an embroidered, smiling face that will delight little ones. This Bunny is constructed from ultra-soft velvet material for smoothness, so your baby will enjoy the feel of it against their skin. This Bernat pattern uses Bernat Velvet yarn for a truly luxurious feel. The Bernat Crochet Velvet Bunny makes an excellent decoration for Easter or springtime.
Retro Crochet Bunny Pattern:
This little crochet bunny is so adorable; he's sure to be a hit at your baby shower or Easter celebrations. The pattern is easy, the instructions clear and concise, and it can be made in the afternoon. This is a great project for beginners and seasoned crochet-ists looking for something new! This adorable mini-crochet Bunny is perfect for cake decorations, birthday presents, or as a little friend to keep by your bedside. You can make it in just one round and a few hours.
White Rabbit Amigurumi Pattern Free:
This White Rabbit Amigurumi Pattern Free will be a great addition to your little one's collection of cuddly toys! It is an easy-to-follow pattern with lovely pictures for all your flower needs. You can make it for a baby shower, birthday, or Christmas gift. Made with any yarn but acrylic is recommended; it can be made to use as decoration, or it can be a toy for a child. This pattern is really easy and quick. This is the perfect pattern for beginners and great for all ages! You will also learn how to make a nose from felt - which is simple!