As a clever shooter, are you considering the cheap idea of reloading your ammunition for the long run? With these DIY reloading bench plans, you can neatly organize all essentials and create a spacious workspace for this hobby with same features like a working surface, storage cambinents for tools and supplies, and a section for the reloading machine, all utilizing your woodworking skills. Even when not for shooting, use a DIY reloading bench as a simple crafting area in your home!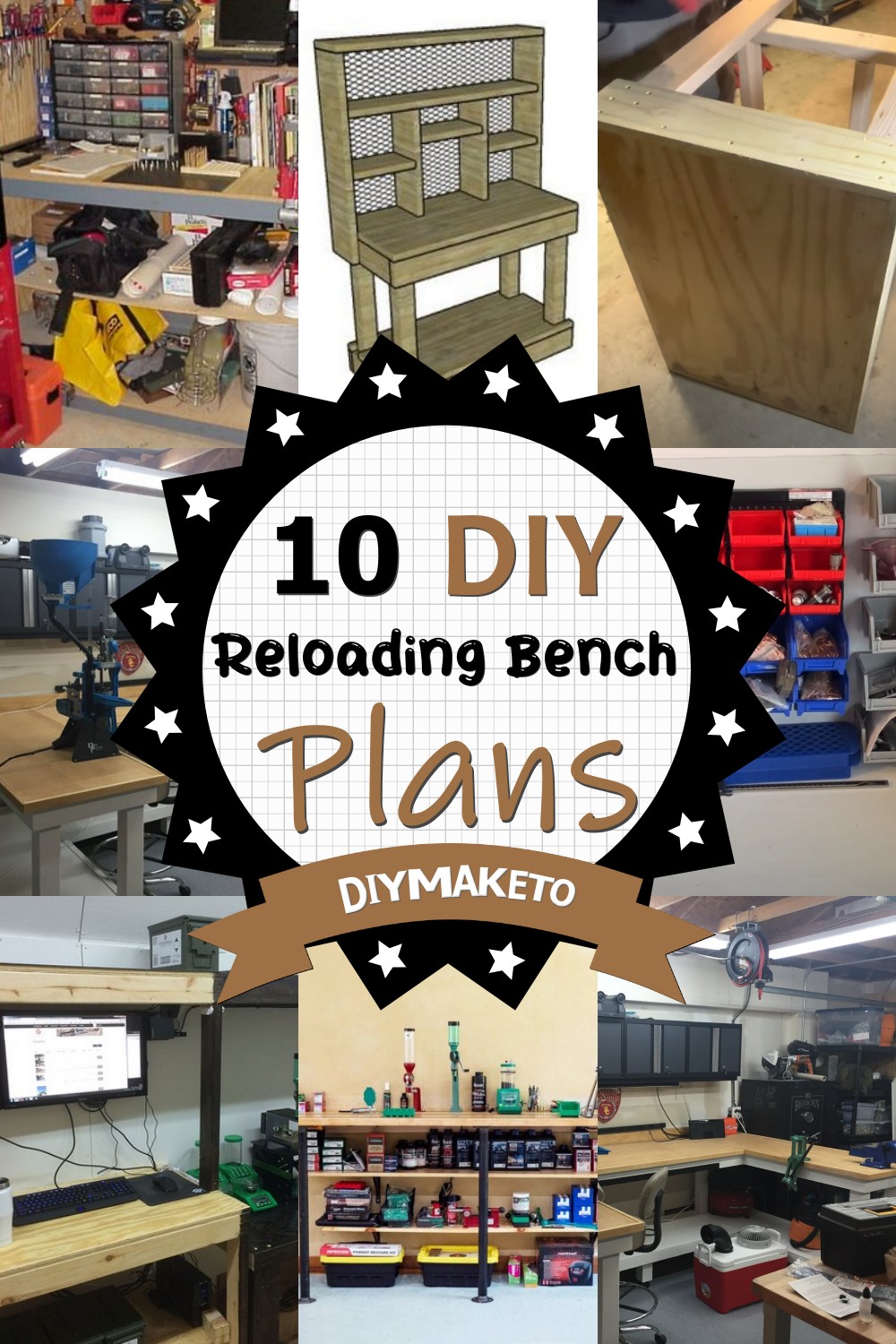 No doubt, reloading involves a lot of components that need a proper, accessible place. So, a DIY reloading bench offers the flexibility to customize the position and add or remove parts as required, making them better than market models. This adaptability saves money, aligning perfectly with your approach to reloading to practice with the bullets for all enthusaist. To make your job easier, our reloading bench plans come with comprehensive video tutorials guiding you through every step of the process.
Factors To Consider
Here are few factors to consider:
Storage and Bench Size: It's wise to have more space than you currently need, as your collection of relaoding materials may grow over time. Take the measurements of space to get best size to fit spot in the crafting area or gun room. Include various storage solutions such as shelves, drawers, bins for smaller items, or even a pegboard to hang items, since different materials might need unique storage options.
Hight: Ensure the height is comfortable for you, whether you prefer working while standing or sitting, especially on the work surface. A well-suited height will give better posture and improve your reloading efficiency.
Material: opt for a wood that can resist everyday wear and tear, such as plywood, to prevent flexing when a load is placed on top.
Building My First Reloading Bench For About $30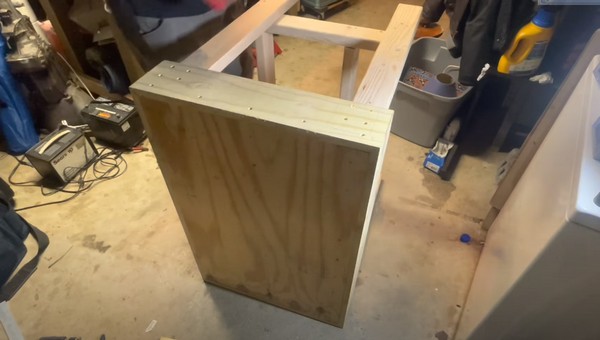 This DIY reloading bench tutorial lets you make a practical tabletop for loading your ammo. With just $30 or less, you can build your reloading bench primarily using scraped materials. This tutorial not only delivers a functional end product but also provides a satisfying and cost-effective DIY experience.
Easy And Cheap DIY Reloading Bench
Create an affordable and efficient storage solution for your weapons tools with a DIY reloading bench. With this easy-to-make bench, enhance your space conveniently at an approximate cost of only $50. It's a practical and budget-friendly way to optimize your storage quickly.
DIY Reloading Bench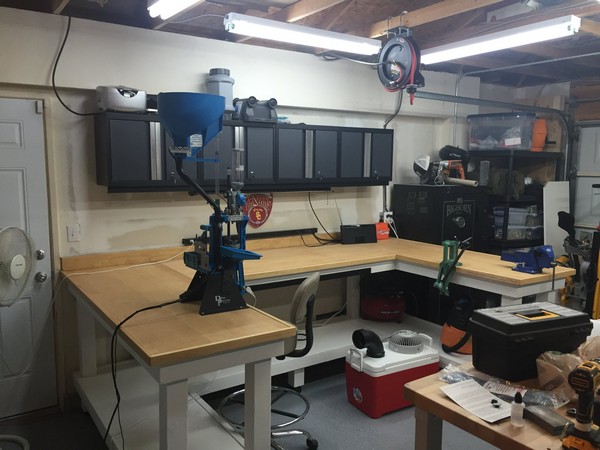 This DIY plan offers a step-by-step guide to creating a reloading bench for your workspace. Customize the bench to facilitate the loading and reloading of guns. The project involves woodworking for the construction of a sturdy tabletop and under-storage. This DIY reloading bench presents a practical solution for your workspace needs.
How To Build Ammo Reloading Bench:
The equipment reloading ammo can be dangerous without a stable, solid workbench. A reloading bench should be placed in a safe area that won't pose any risk to children or pets and is easy to get in and out of. It's also essential that the bench itself is sturdy enough for its purpose so that you don't come home from a long day at the range with damaged equipment due to the way the bench constantly wobbled when you were trying to make adjustments.
Difficulty: Easy
Ammunition Reloading Bench Plan:
Building a reloading bench can be a great hobby and provides an excellent workspace where you can make your own ammunition. This Reloading Bench Plan provides all the materials and instructions necessary to complete the work! You will learn to select the correct equipment, set up a safe and well-organized workspace, accurately measure powder charges, assemble cartridges precisely, and much more.
Difficulty: Advanced
Build An Ultimate Reloading Bench Plan:
The Ultimate Reloading Bench Plan has everything you could want in a reloading bench. This plan features a dedicated storage area for all your reloading supplies and plenty of room for seating. It's super-strong and sturdy thanks to a frame made from 2x4s, and it would also make for a great bench for doing general-purpose tasks around the house, like woodworking.
Difficulty: Moderate
DIY Corner Reloading Bench Plan: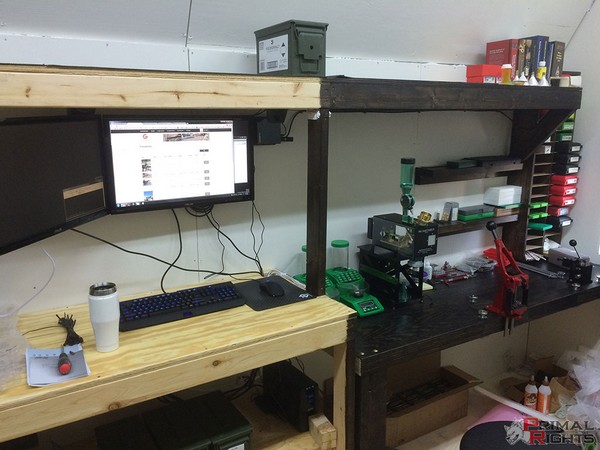 Give yourself the space you need to reload ammunition with ease. When you want to reload your own ammunition, you need to get a bench where you can do it. While there are various other options for this, this particular DIY corner reloading bench plan is quite common, easy to build, and offers a good amount of utility for reloading.
Difficulty: Advanced
DIY Ultimate Reloading Bench Plan:
This Plan is for building the ultimate reloading bench, including pictures and dimensions. You'll love this one-stop shop with all the information you need to build your own. This kit contains all the components necessary to build a full-functioning reloading bench to get straight to the most important part: manufacturing ammo!
DIY Reloading Bench Building Plan:
The DIY Reloading Bench Building Plan is the perfect thing to build in your garage and make your shooting experience more enjoyable. The bench framework incorporates 2x4s and 4x4s, while 2x12 creates a steady work surface. Adding to its functionality, 1x6 is utilized for the shelves and sides. This DIY build provides you with a reliable and spacious reloading bench.
Easy And Free Reloading Bench Plan:
You can save hundreds of dollars annually by reloading your bullets and shotgun shells. This bullet reloading bench is functional and safe so you can load rounds quickly, conveniently, and with no fuss. This safe and functional reloading bench will help you save a ton when it comes time to fill up your supplies so you never run out of ammo again.
See More DIY Projects
DIY Shooting Bench Plans: Explore our DIY Shooting Bench Plans, guiding you to create your own sturdy, convenient shooting space with minimal effort and cost.
DIY Brick Bench Plans: These simple DIY Brick Bench Plans guide you in building your durable, stylish garden seating from scratch with bricks.