Reloading bench plans are the perfect guide to help you build the best reloading bench. Reloading is a hobby to enjoy, and these plans can take a normal empty spot in your home and make it into a fully functional and useful area. They are made to fit every need and any space that you have available for your reloading needs. These seven DIY reloading bench plans are the perfect choice for people who are on a budget but still want to have all the important components when building a safe and durable bench. Save time and money with these plans for a DIY reloading bench, built small or with room to grow.
Building a reloading bench is fun and rewarding, but it can also be a lot of work and requires the skills of an accomplished carpenter.  Dedicated reloading benches are common in many gun enthusiasts' homes, but if you're looking to save money, it's also possible to build your own home. Reloading your own ammo is a great way to save money if you spend a lot on shooting, and it's a great skill to learn if you enjoy tinkering with tools. Many components of a DIY reloading bench can be found in most garages or purchased for less than $100.
Here are 7 DIY Reloading Bench Plans to help you build your own, use these plans to get started or use them as inspiration to create your own.
Uses Of DIY Reloading Bench Plans
Many people don't know that reloading your own ammunition can save you a lot of money. If you are looking for a new hobby that is fun, inexpensive, and potentially profitable, then reloading is the way to go!
Here are some of the uses of DIY Reloading Bench Plans:
Reloading is fun! It's like being a mad scientist in a lab mixing different powders and primers and coming up with something that goes boom!
If you're into hunting or shooting sports, reloading your own ammo will allow you to save money without sacrificing quality.
Reloading allows you to experiment with different bullets, powder combinations, and bullet weights. For example, if you have been looking for a good practice round but don't want to spend a lot of money on different brands or types that may not work well in your gun, reloading makes sense here.
How To Build Ammo Reloading Bench:
The equipment reloading ammo can be dangerous without a stable, solid workbench. A reloading bench should be placed in a safe area where it won't pose any risk to children or pets and where it's easy for you to get in and out of. It's also essential that the bench itself is sturdy enough for its purpose so that you don't come home from a long day at the range with damaged equipment due to the way the bench constantly wobbled when you were trying to make adjustments.
Difficulty: Easy
Ammunition Reloading Bench Plan:
Building a reloading bench can be a great hobby and provide an excellent workspace where you can make your own ammunition. This Reloading Bench Plan provides all the materials and instructions necessary to complete the work! You'll save money by reloading your own ammunition and have fun doing it. You will learn to select the correct equipment, set up a safe and well-organized workspace, accurately measure powder charges, assemble cartridges with precision, and much more.
Difficulty: Advanced
Build A Ultimate Reloading Bench Plan:
The Ultimate Reloading Bench Plan has everything you could want in a reloading bench. It is fairly easy to build but has lots of storage and features that are sure to please even the most experienced reloader. Building a reloading bench is a great way to get the most out of your hobby. This plan features a dedicated storage area for all your reloading supplies and plenty of room for seating. It's super-strong and sturdy thanks to a frame made from 2x4s, and it would also make for a great bench for doing general-purpose tasks around the house, like woodworking.
Difficulty: Moderate
DIY Corner Reloading Bench Plan: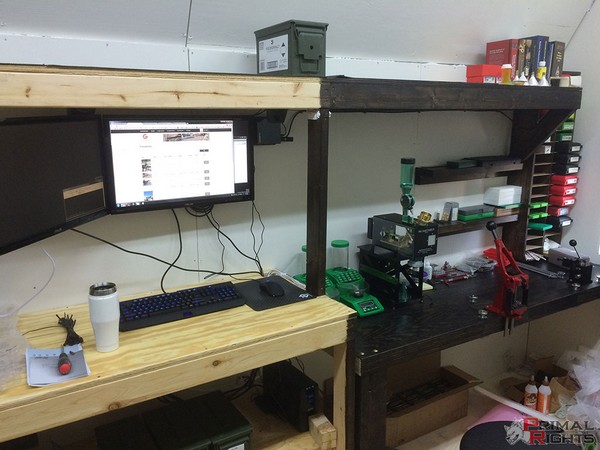 Give yourself the space you need to reload ammunition with ease. Building a corner reloading bench is a great option to upgrade your shooting prowess. When you want to start reloading your own ammunition, you need to get a bench where you can do it. While there are various other options for this, this particular DIY corner reloading bench plan is quite common, easy to build, and offers a good amount of utility for reloading.
Difficulty: Advanced
DIY Ultimate Reloading Bench Plan:
Plan for building the ultimate reloading bench, including pictures and dimensions. You'll love this one-stop shop that includes all the information you need to build your own!  This plan provides all the information you need to build a sturdy workspace for your projects and equipment. This kit contains all the components necessary to build a full-functioning reloading bench so you can get straight to the most important part: manufacturing ammo!
DIY Reloading Bench Building Plan:
Reloading bench plans can be a very useful tool for building a reloading bench. Knowing that the instructions will produce a product of the dimensions you desire with ease means that you can sit back, relax and enjoy the building process of your new reloading bench. The DIY Reloading Bench Building Plan is the perfect thing to build in your garage and make your shooting experience more enjoyable. Building one of these benches will provide years of service, something you can pass down from generation to generation.
Easy And Free Reloading Bench Plan:
You can save hundreds of dollars annually by reloading your bullets and shotgun shells. This bullet reloading bench is functional and safe, so you can load rounds quickly, conveniently, and with no muss or fuss. You can stop paying big bucks for your ammo now that you have this reloading bench plan. This safe and functional reloading bench will help you save a ton when it comes time to fill up your supplies, so you never run out of ammo again.