The pantry is a popular storage solution for kitchens, emphasizing practicality over decoration. So why not put your skills to the test and build one yourself? There are many DIY pantry cabinet plans available. There are simple woodworking plans that will give you a basic design that can be built with just a few tools, but if you want something more customized, there are also plenty of options for building your own custom pantry cabinet. The simplest plan focuses on the shape and size of the cabinet—you can make it as big or small as you need, and it doesn't even have to be built into a wall. If you're handy with a saw, hammer, and drill, this is a great project for you to try out.
The pantry cabinet is the ultimate space-saving and cost-cutting tool. It's a place to store all your dry goods, bulk foods, and leftovers (as well as other things like cleaning supplies) so that you can keep your main cabinets free of clutter and fresh food. Pantry cabinets are one of the most common DIY projects, and they make great gifts—not just for friends and family, but for yourself! You'll save money by being able to consume more of what you buy instead of letting it go stale. This list of plans will help you do just that.
Here are 8 DIY pantry cabinet plans to maximize your kitchen storage without sacrificing valuable countertop and floor space.
See More: 15 DIY Garage Shelving Plans
DIY Pantry Cabinet Plans
DIY pantry cabinet plans are a great way to save money and create your own custom-designed pantry. You can do it yourself, whether you want a simple shelf or an elaborate system. Here are some of the advantages of DIY pantry cabinets:
1. Save money. The cost of labor for the company that installs your cabinets is included in their quote. You can hire someone to help with the work or do it yourself, but either way, you'll pay less than if you just bought the cabinets ready-made from a store.
2. Customize your space. You can make your pantry fit your needs exactly by choosing the right size and style of cabinet and organizing it in any manner that suits you — no matter what kind of space you have available in the kitchen or laundry room.
3. Personalize your space with paint or stain finishes that match existing cabinets or furniture in your home, if desired!
DIY Kitchen Pantry Cabinet
Kitchen Pantry Cabinet
Small Pantry Max Storage
DIY Simple Pantry Cabinet
Tiny Pantry Closet With Max Storage
DIY Pantry Cabinet With Drawers:
This DIY pantry cabinet is a total game-changer! This is the easiest and most inexpensive way to get organized. The cabinet is super easy to build and will cost a fraction of what you'd spend at a home improvement store. This would be perfect for renters because it can easily be dismantled when you move out in two short years. This is a small but efficient DIY pantry cabinet. This one has adjustable shelves, drawers, and doors incorporating modular design and standardization. While assembling, you can also get multiple options from the hardware store, like nails, hinges, locks, and other stuff.
How To Build A Pantry Cabinet Plan:
This pantry cabinet plan is designed to store all your kitchen essentials. This DIY project can be built quickly with the help of tools and materials. You'll find detailed steps in the tutorial to help you build a stunning pantry cabinet from scratch without any expertise or experience. This project is easy if you have some woodworking experience or even if you don't. The measurements are based on the standard cabinet construction, and all tools are readily available. If your home has hardwood floors, this cabinetry won't scratch them or leave a mark.
Instant DIY Pantry Cabinet Plan: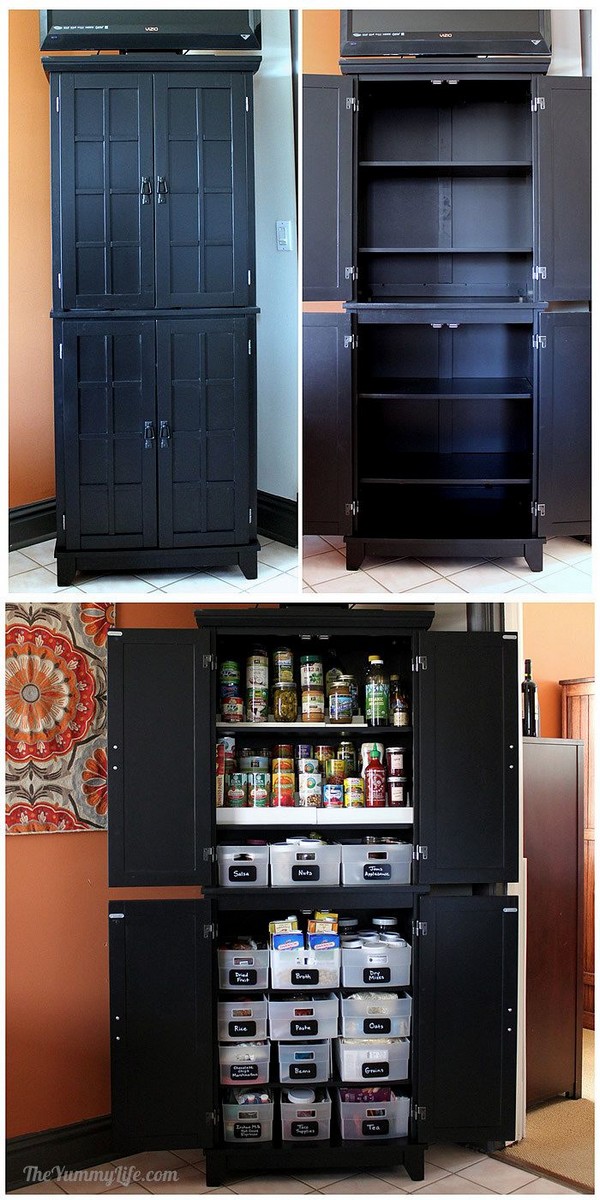 Are you looking to add extra storage space to your kitchen? Do you have a blank wall in the kitchen? If so, then this DIY project is perfect for you! With a few basic tools and supplies, you can have this cabinet installed in an afternoon!" This pantry cabinet plan is easy to make and costs less than $100. If you are short on space and have a few basic tools, this project is right up your alley. The plan provides all the information you need to take on this project.
Build A Kitchen Pantry & Shelves:
If you're a DIYer looking to build a pantry or shelves yourself, this is the right course for you. You will learn how to safely use different power tools, like circular and miter saws, and some advanced techniques to have a fully-functional pantry in your kitchen. This course walks you through every process step, including planning, cutting, assembling, and finishing your pantry. Get closer to each pantry and discover what makes it so functional and appealing.
2x4 DIY Pantry cabinet Plan:
Pantry designs can be fun to work on because you can use many different styles and create a unique pantry that fits your needs. If you have a small kitchen and want to maximize the space, this DIY plan is right for you! It's super easy to build and won't take more than a weekend. It is made of 2x4s (thickness of your choice), making it sturdy enough for storing items such as jars, cans, or other supplies. This DIY pantry cabinet plan will help you build your pantry at home. It is a great way to maximize space and keep your food fresh.
How To Build A Pantry Cabinet With Doors:
Pantry cabinets are excellent to have in any home. They are great for storing food but also a lot of other items around the house as well. A pantry cabinet is something that you can easily build yourself or have a carpenter build for you. They may be made from different materials such as wood and metal, but the good thing about these cabinets is that all of them usually come with doors because it helps keep everything contained within them, especially when it comes to food that might go bad quickly if left out of the fridge or freezer.
How To Build A Kitchen Storage Cabinet:
A kitchen storage cabinet is one of the most important DIY projects you can tackle in your home, as it can add charm and functionality to your home. This article will provide instructions on making a kitchen storage cabinet from scratch, from start to finish. Storage cabinet plans can greatly improve your home's looks, workflow, and overall storage capacity. With kitchen storage cabinets in place, you can clear out kitchen clutter and make more room for food preparation. These cabinets will provide an ideal place for storing pots, pans, cooking utensils, and other items you need close at hand.
Build A Freestanding Pantry Cabinet Storage:
Build a freestanding pantry cabinet storage rack to organize the clutter in your kitchen, basement, or laundry room. It's perfect for storing towels, linens, and other items you use often but don't want on display. Due to its strength and stability, this project is fairly easy to build with simple woodworking skills and materials, including plywood. This is a great addition to your cupboard or kitchen if you want to keep your flour, sugar, baking soda, bicarbonate of soda, etc., in one place and full view.