In the cold everyone wants to visit some hot place, how good if you have one in your home? These DIY outdoor fire pit ideas are the perfect choice in this regard. One of the most memorable gatherings is the party around a fire pit on a chilly winter night. You can snuggle on a cold night and also bake something over the fire. These DIY outdoor fire pit ideas will be helpful for you. These are quite fun and easy to make, using very inexpensive materials and minimal effort, but proper planning. So add this DIY outdoor firepit idea to your to-do list and make one for your home. If you want to have a decent Diy table near your fire pit, to keep a hot mug of tea or coffee on a chilly night; then our series of easy-to-make table ideas will help you.
An impressive collection of free and easy DIY outdoor firepit ideas is available here for you. Click here and get useful information about very inexpensive and very less time consuming DIY firepit ideas.
Make DIY Stone Fire Pit Idea In The Backyard:
How To Make A DIY Concrete Fire Feature Plan:
DIY Modern Concrete Fire Pit Idea from Scratch:
Make Your Own Small DIY Fire Pit:
DIY Fire Pit Idea With Custom Cap Stone:
DIY Fire Pit Idea From Tractor Wheel: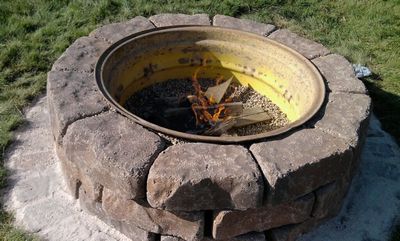 DIY Fire Pit Plan Using Concrete Tree Rings:
DIY Fire Pit Cover Idea And Game Table:
DIY Fire Pit Plan From Recycled:
How To Make Your Own DIY Fire Pit In just 4 Steps:
abeautifulmess
DIY Firepit Idea In 4 Easy Steps:
Want to make an easy DIY fire pit in your home's backyard? Here is the DIY fire pit in 4 easy steps. This DIY project is quite fun to make, and not much hard work needs to make it. All you need is, just the pavers, visit the home depot in this regard. Keep the 12 pavers in a circle shape, and another layer of 12 pavers over the first one. Then use the black solid paver blocks to make the ground of your firepit. In this way, the firepit is ready for your bonfire night. This project is straightforward; moreover, you can get more information by just a single click on the below link.
Other Project:
DIY Outdoor Fire Pit With Landscape Wall Stones:
The DIY fire pit with landscape wall stones will be an impressive addition to your garden beauty. With a planning and a little bit of effort, you can make this DIY fire pit; all you need is to smoothen the surface and pour the sand there, then put the landscape blocks in the circle make two to three circles, one on the other, and then keep the flat firepit bowl on the inner side of the blocks. Your DIY firepit with landscape wall stones is completed. You can get more information about this DIY project with a single click on the below link.
Easy DIY Outdoor Fire Pit Idea:
This DIY easy outdoor fire pit is quite easy to make if working with some patience. You need 68 Roth retaining wall blocks, 20 of which should be cap blocks 8 bags of drainage gravel, 6 bags of decorative rocks, and 2 tubes of construction outdoor adhesive. Firstly dig the land in a circle and make it lower than the normal surface, then makes it planer and uses the decorative rock to make the circle's boundary. Now put the wall blocks on the circle boundary, one layer over the other, and stick them together with adhesive tubes. Now throw the drainage gravel inside of the circle and fill it. Hence your DIY easy firepit project is completed. To get more information, click on the below link.
Circle Bench Around DIY Fire Pit Idea:
The DIY firepit is incomplete without benches around it. On a cold winter night, you need to sit somewhere near the fire; in this regard, this DIY circle bench around the firepit is a perfect choice. This DIY project is the very least expensive and beneficial one. All you need is just the dedication and proper planning. This DIY bench around the firepit is so famous, and you can get more information about it by following the below link.
Easy Grill DIY Fire Pit Idea:
Looking to make a DIY firepit bit different from the simple? This DIY fire pit kit with grill will surely be helpful to you in this regard. This firepit is different from others in many aspects. The DIY firepit with grill is in square structure, not round, there is a grill kit in it, it is easy to lift with you need two hours to remake it. Just smoothen the surface, pour the decorative rocks, and start making it. Make a squared structure with wall blocks and keep a grill kit inside it, and your DIY project is complete for your late-night bonfire party. Moreover, to get more information, just click on the below link.