In the cold everyone wants to visit some hot place, how good if you have one in your home? These DIY outdoor fire pit ideas are the perfect choice in this regard. One of the most memorable gatherings is the party around a fire pit on a chilly winter night. You can snuggle on a cold night and also bake something over the fire. These DIY outdoor fire pit ideas will be helpful for you. These are quite fun and easy to make, using very inexpensive materials and minimal effort, but proper planning. So add this DIY outdoor firepit idea to your to-do list and make one for your home. If you want to have a decent Diy table near your fire pit, to keep a hot mug of tea or coffee on a chilly night; then our series of easy-to-make table ideas will help you.
An impressive collection of free and easy DIY outdoor firepit ideas is available here for you. Click here and get useful information about very inexpensive and very less time consuming DIY firepit ideas.
Other Project:
Make DIY Stone Fire Pit Idea In The Backyard:
We all find it challenging to do bonfire parties because we can't go to the beach or hilly areas repeatedly. Let me give you an interesting, innovative, and unique solution to this, as the backyard is always a great option to turn into a fun zone. This time, we'll try to build a stone fire pit surrounded by a lengthy desk to provide a fun and amusing appearance to your backyard. You can construct it easily following the instructions we provided. It will be one of the most reliable and efficient fire pit ideas because we use the concrete base for its bottom the upper section is also made using the concrete filling in between the rock pieces. Its strong, sturdy structure and wide design made this fire pit great to deal with about 8-10 persons late-night bonfire party. They can cook their favorite food items, swing around it, and also make their hand toasty with the heat emitted out of this firepit.
How To Make A DIY Concrete Fire Feature Plan:
Here I will give you the easiest idea to make a concrete fire pit, it will be a great fun project, plus you can easily use it for a longer time. You have to follow some simple steps, make a wooden frame with respect to the size of firepit you need. First, pour some gravel to make a layer at the bottom, then place the iron mesh or wires inside for reinforcement and at last fill the concrete inside of it. After the concrete gets dry and holds its position, make it disassemble the wooden frame and smooth the outer surface of your fire pit. Again add the gravel inside your firepit above to the level you want to place the bowl; then fix the bowl and make it a bit sturdier by adding concrete as the boundary surrounds it. You can make your firepit look more attractive by adding the medium-sized Mexican pebble around the bowl up to the square boundary; it will be a decent fire pit and excellent to be in your garden.
DIY Modern Concrete Fire Pit Idea from Scratch:
Make a decent modern styled moveable fire pit for your home usage following this easier idea. Its creation will be too much easy and spends almost nothing, but you'll surely love the useabilties and beautification of this firepit idea. Start by making a concrete bowl by using the iron bowl; when it gest ready, fill it with the gravel half and put the wide holed iron or steel mesh; give your fire pit a finishing touch by adding medium-sized dark-colored ocean pebbles around. It will be a super exciting project plus an excellent option to make a portable firepit idea.
Make Your Own Small DIY Fire Pit:
Here I will tell you how to turn an old useless flower into a super-efficient versatile detachable firepit. It will be an easier idea plus excellent to make things sophisticated and useful without spending any special fortune. Because of the stylized appearance and number of useabilties, it will surely be your heartedly favorite firepit idea. Start by painting the flower pot in your favorite color (prepainted one is preferred), then add the smaller-sized sea rocks in it slightly near the top edge of your flower pot. Then displace or lessens the amount of gravel or sea rocks up to the level that fuel container gert fixed and also got surrounded by them. I suggest placing the container a bit up to the boundary of your flower pot; it will help to let the fire out easily.
DIY Fire Pit Idea With Custom Cap Stone:
Make this decent DIY fire pit with a custom capstone to add a touch of admirability and sophistication to your home décor. Because of the easier making and endless useabilties you and your family member will heartedly love it. Firstly, select the area where you want to make the firepit, then put the gravel layer underneath to provide a base for the wooden frame. Choose the wooden frame up to your needed size and fix it firmly to fill the concrete. When the concrete gets dry to remove the wooden frame and make the outer surface smoother; use an old iron tank according to the size of your fire pit, cut it in half, and place it inside the firepit, it will look too unique. Just keep in mind that you couldn't see the edges of the cutted tank from outside; after all of this, place a rectangular-shaped iron frame on the top of your fire pit, and your DIY fire pit project has been done.
DIY Fire Pit Idea From Tractor Wheel: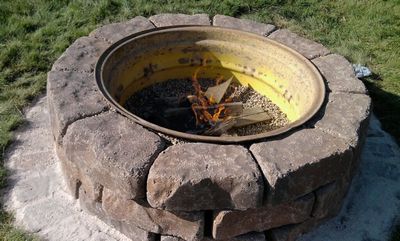 DIY Fire Pit Plan Using Concrete Tree Rings:
DIY Fire Pit Cover Idea And Game Table:
DIY Fire Pit Plan From Recycled:
How To Make Your Own DIY Fire Pit In just 4 Steps:
abeautifulmess
DIY Firepit Idea In 4 Easy Steps:
Want to make an easy DIY fire pit in your home's backyard? Here is the DIY fire pit in 4 easy steps. This DIY project is quite fun to make, and not much hard work needs to make it. All you need is, just the pavers, visit the home depot in this regard. Keep the 12 pavers in a circle shape, and another layer of 12 pavers over the first one. Then use the black solid paver blocks to make the ground of your firepit. In this way, the firepit is ready for your bonfire night. This project is straightforward; moreover, you can get more information by just a single click on the below link.
DIY Outdoor Fire Pit With Landscape Wall Stones:
The DIY fire pit with landscape wall stones will be an impressive addition to your garden beauty. With a planning and a little bit of effort, you can make this DIY fire pit; all you need is to smoothen the surface and pour the sand there, then put the landscape blocks in the circle make two to three circles, one on the other, and then keep the flat firepit bowl on the inner side of the blocks. Your DIY firepit with landscape wall stones is completed.
Easy DIY Outdoor Fire Pit Idea:
This DIY easy outdoor fire pit is quite easy to make if working with some patience. You need 68 Roth retaining wall blocks, 20 of which should be cap blocks 8 bags of drainage gravel, 6 bags of decorative rocks, and 2 tubes of construction outdoor adhesive. Firstly dig the land in a circle and make it lower than the normal surface, then makes it planer and uses the decorative rock to make the circle's boundary. Now put the wall blocks on the circle boundary, one layer over the other, and stick them together with adhesive tubes. Now throw the drainage gravel inside of the circle and fill it. Hence your DIY easy firepit project is completed.
Circle Bench Around DIY Fire Pit Idea:
The DIY firepit is incomplete without benches around it. On a cold winter night, you need to sit somewhere near the fire; in this regard, this DIY circle bench around the firepit is a perfect choice. This DIY project is the very least expensive and beneficial one. All you need is just dedication and proper planning. This DIY bench around the firepit is so famous, and you can get more information about it by following the below link.
Easy Grill DIY Fire Pit Idea:
Looking to make a DIY firepit bit different from the simple? This DIY fire pit kit with grill will surely be helpful to you in this regard. This firepit is different from others in many aspects. The DIY firepit with grill is in square structure, not round, there is a grill kit in it, it is easy to lift with you need two hours to remake it. Just smoothen the surface, pour the decorative rocks, and start making it. Make a squared structure with wall blocks and keep a grill kit inside it, and your DIY project is complete for your late-night bonfire party.