Looking for a DIY project to help you stay organized while adding functionality to your outdoor space? Look no further than DIY hose reel plans.
A DIY hose reel is essential for any gardener or homeowner who wants to keep their hose neatly stored and easily accessible. You can create a practical and aesthetically pleasing custom hose reel with the right tools and creativity. In this DIY roundup, we'll take you through creating your Garden hose reel, from selecting the materials to finishing your project.
DIY Air Hose Reel Ideas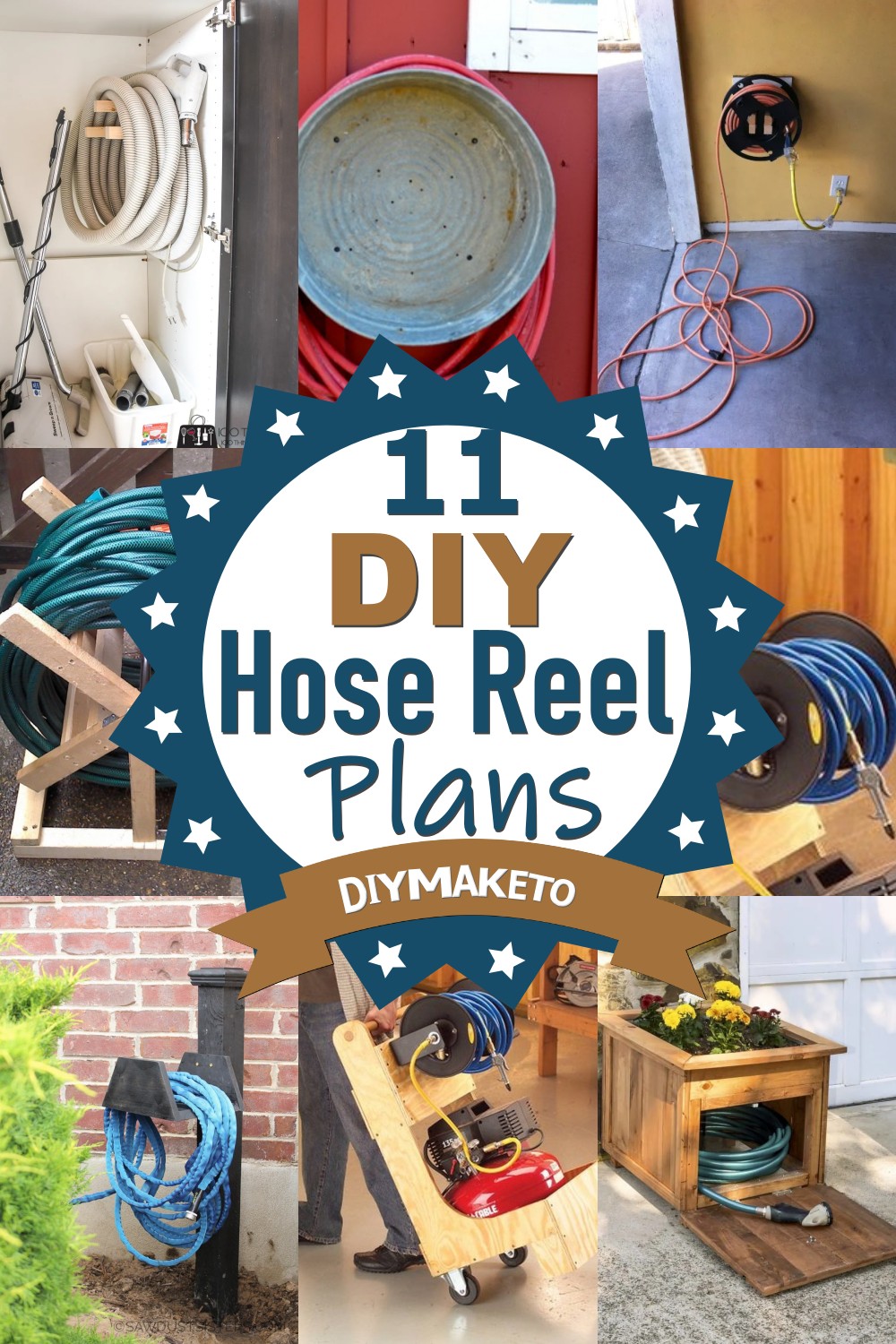 When gardening, storing your hose is a crucial part of the experience. It would help if you kept it tangle-free and protected from dirt and debris so you can use it quickly when it's time for watering plants, cleaning out your car, or washing the windows. A hose reel saves the day by ensuring you always have water at hand, even after those huge projects that take up all your time! Keep your garden hose neat and orderly with one of these DIY hose reel plans.
DIY Hose Reel Wood:
This project involves using plywood to create a sturdy and durable hose reel that swivels 360°, making it easy to access your air hose from any angle. And the best part? You can follow this tutorial to create your workshop's top DIY woodworking project. Not only will this hose reel make your workspace more functional, but it will also add a touch of personal style to your surroundings. Plus, the satisfaction of creating something with your own two hands is hard to beat.
Materials: up to 100' of air hose, various hose fittings ⅝, a sheet of plywood, wooden dowels, trim screws
Tools: Drill, router, drill press, circular saw, hammer
Difficulty Level: Moderate
DIY Hose Holder Idea With Pallet Wood Planter:
Storing the hoses is easy with this DIY Hose Holder Idea with Wood Planter. Made from pallets, the hose holder can be placed near the door where it can easily be accessed, and you don't trip on them. Learn how to make this beautiful rustic hose holder planter idea with pallet wood and a metal hanger. You will not believe how easy and inexpensive it is to make a garden hose holder out of pallet wood in your backyard!
Materials: Pallets, 2×2 boards, screws, glue, sealer, hinges, latch, L-brackets, right-angle brackets
Tools: Miter saw, planer, Kreg jig, nailer, tin snips, drill, staple gun, scissors
Difficulty Level: Moderate
DIY Air Hose Reel Plan:
This DIY Air Hose Reel Plan is for anyone with an air compressor and a place to store it safely. This project has everything you will need to build your nylon-reinforced hose reel and keep your shop looking neat and organized. This DIY project plan is an easy weekend project if you already have all the necessary tools and materials in your shop. If not, any hardware store will carry them at reasonable prices." Use these instructions to build your own homemade DIY Air Hose Reel Plan today!
Materials: Nuts, bolts, washer, glue, Dimensional lumber
Tools: Table saw, nail gun, drill, tape measure,
Difficulty Level: Easy
DIY Air Compressor Cart Plan:
A well-built cart can make moving your compressor around your workshop or garage easier and provide convenient storage space for your air tools and accessories. With a sturdy cart, you can effortlessly wheel your compressor wherever you need it without the hassle of multiple trips to fetch hoses, tools, and fasteners. You can create a customized diy hose reel cart plan that meets your needs and preferences with just a few basic materials and simple tools.
Materials: ½ plywood, air hose reel, caster wheels, ¾ plywood, Lag screws, nuts, washers, closet dowel
Tools: Drill, circular saw, jigsaw
Difficulty Level: Easy
Homemade Extension Cord Winder Mount Plan:
Create a homemade extension cord wrap to neatly and easily store your extension cords. The fitting will also allow you to neatly coil the excess cord in one neat, easy-to-manage place so that you always have access to it when needed. This DIY Hose Reel Mount will work for all extension cords, including power tools and appliances. The design uses commonly found materials and helps ensure your extension cord stays untangled.
Materials: Dimensional lumber, drywall screws and anchors, cord wheel, extension cord, plywood, screws
Tools: Hand saw, drill, chisel
Difficulty Level: Easy
Central Vac Hose Reel Plan:
This simple DIY central vac hose reel project is what you need! With just four pieces of scrap wood, you can create a custom hose reel to keep your central vacuum hose neatly stored and easy to access. This project is a way to repurpose scrap wood that might otherwise go to waste that causes to keep your home clean, tidy, and eco-friendly. From selecting the right scrap wood to assembling and finishing your project, you'll get all the information from the below link to create a practical and visually appealing solution for central vacuum hose storage.
Materials: ¾ plywood, 2" x2" lumber, wood glue, screws
Tools: Drill, circular saw
Difficulty Level: Easy
DIY Retractable Hose Reel:
Is your garage workshop in need of a modern makeover? Get ready to transform your workspace with the cutting-edge Ceiling-Mounted Air Hose Reel, the ultimate solution for decluttering and optimizing your garage shop. With air power now conveniently suspended overhead, you'll experience unparalleled efficiency and organization.
Materials: Air hose reel, air hose, copper tubing, fittings, dimensional lumber
Tools: Drill, soldering torch, stud finder tape measure, tube cutter, Adjustable wrench, air compressor, circular saw
Difficulty Level: Moderate
DIY Planter Box With Hose Reel Plan:
Love gardening but hate kneeling? This hose reel is the perfect way to keep your garden hose on a stand instead of dragging it across your yard. A hose reel planter can be put together in just a few steps, and it's one of the easiest DIY projects. You'll need to look for a sturdy piece of wood and a hose reel. Remember that you don't need new materials; sometimes, you can find these elements on your property.
Materials: Dimensional lumber, stain, plywood, screws, nails, glue, cable ties,
Tools: Miter saw, drill, nailer, clamps, paintbrush, coping saw
Difficulty Level: Moderate
How To Make A Hose Reel Out Of Wood:
This Homemade Hose Reel Plan is a great way to store your garden or pool hose. You'll be able to easily roll up your hose when you're done using it without having to waste time fumbling with tangled knots and kinks. I love our homemade hose reel. It took a few hours to build with a little lumber and hardware. It makes our yard look clean and tidy and holds about 50 feet of hose. This hose-reel plan is easy enough for anyone to follow yet sturdy enough for years of use in your garden.
Materials: Dimensional lumber, screws, threaded rod, washer, nuts
Tools: Circular saw, chisel, adjustable wrench
Difficulty Level: Easy
Upcycled Garden Hose Storage Idea:
The hose is a necessary accessory for every outdoor space. It's no secret that they can be difficult to store, and the traditional options leave much to be desired — like an ugly mess in your garden area or tripping over them as you walk in and out of the house. You can make your garden hose storage even if you don't. It's easy to do with just a few supplies. With just a little elbow grease, you'll have yourself a brand-new garden bucket hose reel that works wonders on all fronts!
Materials: Metal washbasin, screws
Tools: Drill
Difficulty Level: Easy
DIY Hose Reel Holder:
Embark on a delightful journey to craft an innovative DIY wooden garden hose holder that will bring charm and functionality to your outdoor sanctuary. Be guided by a comprehensive, step-by-step tutorial teeming with intricate details and vivid photographs, ensuring your success in this creative endeavor. Once your masterpiece is complete, bid farewell to the days of stumbling over unruly hoses, and welcome a new era of a harmonious organization that seamlessly blends with the enchanting beauty of your garden.
Materials: Cedar post, post cap, 1×12 board, 1×6 board, spray paint, concrete, level, water
Tools: Miter saw, Kreg jig, sander, drill
Difficulty Level: Moderate