Floating shelves are a great way to display decorative items without cluttering up your walls with nails, screws, and brackets. But if you don't have a lot of time or resources to devote to the project, it can be tempting to buy an already-made shelf instead of building one yourself—and that's fine! But if you're looking for something more challenging or want to get a little more creative with the design, these 15 DIY floating shelf ideas are sure to offer some inspiration. You can make them from pre-made boards or scratch and use various materials—even squares of plywood leftover from another project! You can use floating shelves for anything that needs to be displayed or stored in an organized way, whether it's books, knickknacks, or even your favorite mugs. The possibilities are endless with these versatile DIY shelves.
Floating shelves are an excellent way to add vertical storage to a room without wasting valuable floor space. They're also incredibly easy to make, especially if you have basic skills and access to a few power tools, as most of these designs require something as simple as a handsaw or drill. And while they're fairly foolproof and easy to install, they're not just for DIY newbies—you can find more complex designs if you want them, with all kinds of creative materials and styles, from rustic to perfectly polished. If you want your own set of floating shelves but can't decide which style is right for you, the options here should be enough to spark some ideas.
These 15 DIY floating shelf plans are the perfect way to keep everything organized on your walls while maintaining a sleek look.
See More: 34 Best DIY Loft Bed Plans For Adults And Kids
Tips To DIY Floating Shelf Plans
In this article, we will discuss how to build floating shelves. These shelves are the best choice for displaying your favorite items. They can be made from any material you like; wood is the best option because it's durable and easy to work with. The following are some tips you can use when making your floating shelves:
Use a tape measurer: Before starting the project, ensure you have all the necessary tools, such as a tape measurer and hammers. A tape measurer will help you determine the length of each shelf and how much space you need between them.
Make sure that all your tools are sharp: If your tools are not sharp enough, they will not cut through wood easily, so you will spend more time doing it manually instead of using power tools such as a drill or circular saw.
Make sure that your nails are straight: Nails can be used in many ways when building floating shelves; however, make sure that they are straight so that they don't stick out when you're done with them.
How To Build True Floating Shelves
The Fanciest Floating Shelves
How Can Floating Shelves
DIY Floating Shelves
4 Floating Shelves
How To Build DIY Floating Shelf With Invisible Hardware:
Floating shelves are a fun, easy way to add a little extra storage and style to your walls. It's great for displaying books and other knickknacks but can be used to help organize anything. Floating shelves are typically one big piece of wood that's put right against the wall, but how often have you seen them with visible hardware looking like they're made out of two parts? Not cool! This tutorial will show you to build a floating shelf using hidden brackets so it seamlessly blends into the wall.
DIY Floating Shelves Plan:
This DIY floating shelf plan is for you if you're looking for functional and beautiful shelves that can be a touch of both. They're perfect for any room in your home but also make a great addition to a kitchen or bathroom. With just a few tools and materials, you'll have these custom shelves up in no time! You don't need to spend much on impressive, sturdy floating shelves. Just follow these simple steps, and you'll be the proud owner of a stylish set of floating shelves in no time!
Easy Floating Shelves Without Bracket:
A floating shelf is a popular way to display items in a room, and you can easily make one home. These shelves use brackets and fasteners to hold things firmly in place, so it's easy to create a floating shelf that looks professional. Floating shelves are a spectacular way to display art, plants, and photos. These DIY floating shelves will also take about an hour and a half to complete.
How To Build A DIY Floating Shelf:
Building a Floating Shelf is a great way to show off your crafty side. It is also an easy project, even if you think you haven't done anything like it before. The project itself is pretty straightforward, but depending on your materials, it might take some time since you have to cut through the wood and sand away all the rough edges. This guide will help you build this fantastic project easily and allow you to have fun doing it.
Build Easy Floating Shelves:
Are you looking to add some flare and style to your room? This set of three floating shelves will significantly impact while keeping it affordable. The materials you need to build these floating shelves are included in the plan, with step-by-step plans that show you how to create three shelving units that any DIYer can follow. This easy-to-build floating shelf system is perfect for adding storage space to a garage, mudroom, and other where extra shelving is needed. It's sturdy and designed to fit securely onto any wall without the need for brackets, screws, or anchors. You can build this DIY project in less than A DAY. See how!
Floating Shelf For Less Than $10: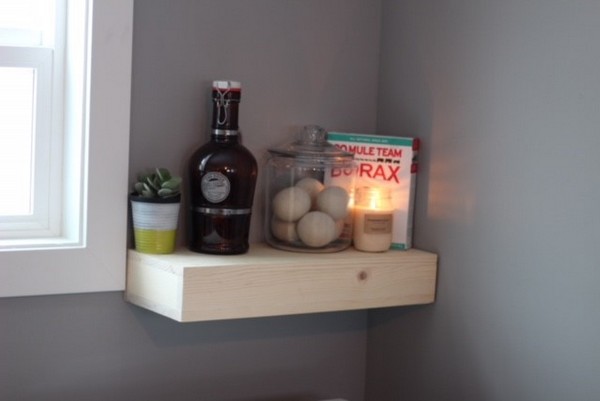 Are you searching for a way to add storage and display space to your home? This floating shelf frame is an easy project that can complete in just one day. The shelf is the right size for displaying photos, vases, books, and other items. This floating shelf is an easy build that takes less than two hours to create and costs about $7. It's a beautiful way to add style and storage to your home without breaking the bank or padding your walls with expensive artwork or bare shelves.
Easy & Cheap Diy Floating Shelves:
Floating shelves can be as stylish and thoroughly functional as they are simple to make. They're also easy to make the most of limited wall space in any room. Look at this idea floating shelves that offer practical utility on a budget, made from salvaged materials, DIY supplies, or discounted items. This is an ideal option if you're trying to maximize space in a small apartment or want some extra bookshelves. They're easy to make - they require minimal power tools and only take an afternoon.
Simple Floating Shelf Idea:
Do you love to read and have a vast collection of books at home? This floating shelf idea is perfect for displaying your prized collection in a very clever way. It's super easy to make and requires only two materials - some wooden dowels and cardboard rolls! This easy do-it-yourself floating shelf is a perfect way to maximize the storage space on a small wall or in the corner of your room.
Best Floating Shelves To Make:
Have a wooden frame and have been trying to figure out what to do with it? One of the easiest and more affordable ways to use that frame is to make floating shelves. They are easy to make and can create an excellent addition to a small home or apartment. A floating shelf is a way to make the most out of a small space. With these DIY floating shelves, you can display your favorite books, objects, and knick-knacks in a chic, stylish way that everyone will envy! You can build these yourself and make them fit spaces of all sizes.
Wood Floating Shelf Plan:
The Wood Floating Shelf Plan is an easy, affordable, and fun way to add storage and display in any room. The shelves are anchored by supports from the wall, which can be painted or stained to match your walls. Woodworking tools and materials are required: a skill saw, drill/driver, and a screw gun. This easy-to-follow DIY Wood Floating Shelf Plan will help create an elegant, floating shelf that makes your wall sing. And it is perfect for hanging on your family room wall.
DIY Floating Shelves Solid Wood:
This DIY Floating Shelves Solid Wood is a perfect addition to the home, making it look more charming and elegant. The shelves can hold books, pictures, and other decorative items to give your home a unique look. With this Floating Shelves Solid Wood, you will be able to solve your issue regarding space management and decoration simultaneously. These shelves are easy to install on any wall as they require a few screws or nails to mount them on the wall. You can also paint these shelves according to your choice, enhancing their look even more.
Make A DIY Floating Shelves:
Floating shelves are a way to display your favorite things in a room — but they can be expensive to buy. This easy DIY project will give you the same effect, only better – you get the freedom of choosing your wood without the cost or worry of finding one exactly right. All you need is an angled piece of wood, some plywood, and brackets for support. This DIY project can be completed in a weekend but have the look of custom-built shelving that has taken weeks to complete.
Turn Firewood Into DIY Floating Shelves:
Firewood is attractive and sturdy, but sometimes it's hard to find the right spot for it in your home. So instead of placing firewood on the floor or in a corner, turn it into floating shelves for an impressive display. Turning firewood into DIY floating shelves is one of the most creative ways to reuse lumber! These shelves are ideal for showcasing your favorite books, displaying home decor, or storing household essentials.
Easiest To Make DIY Floating Shelves:
Do you want to add floating shelves to your home decor? Then this tutorial is for you as it shows you how to make DIY floating shelves which are super easy to make and quite affordable. Use standard tools and supplies to create the most amazing floating shelves with these super easy steps. These DIY floating shelves are the perfect addition to your home or office. Making floating shelves can be much more than just some big old boards. They create a unique look for your space, and adding them to your room makes it more interesting.
Fast and Cheap DIY Floating Shelf:
This Fast and Cheap DIY Floating Shelf is perfect for small spaces that need a splash of color. The tutorial shows you how to make shelves from basic materials you can find at any hardware store, so don't be afraid to cut them down to size and paint them! This piece will add style and interest to any room. This is a simple project with an inexpensive effect. It's also easy to do and takes about an hour or so. After these floating shelves are finished, you'll have plenty of room for your books, DVDs, and knickknacks.